Predicting the Next Wave of Young NBA Studs to Sign a Contract Extension
Mike Ehrmann/Getty Images
Two NBA franchises have already tied their futures to their 2010 draft investments.
The Washington Wizards wasted little time throwing max money ($80 million over five seasons) at John Wall this summer. Then the Milwaukee Bucks pounced on Larry Sanders (four years, $44 million) before the former VCU star played his way into another price range.
And these should only be the beginning.
Team executives and player representatives have from now until October 31 to finalize contract extensions for these rising stars. The uncertainty ahead on next summer's restricted free-agent market could be fuel for both parties to get something signed soon.
With an already solid body of work and the potential for dramatic improvements down the line, all of these players deserve lengthy discussions from their current employers. But which conversations will result in contract extensions?
Quincy Pondexter, SF, Memphis Grizzlies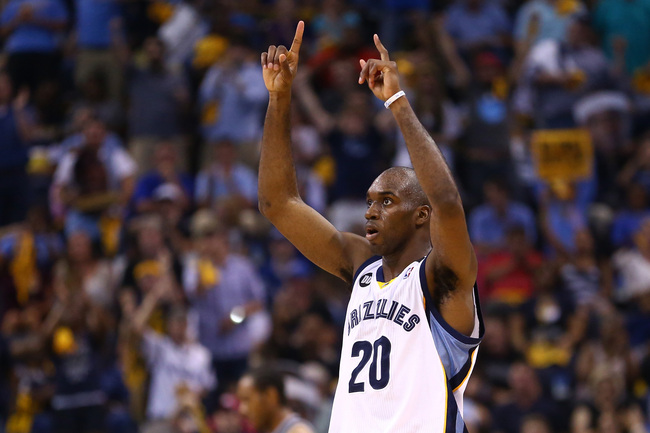 Ronald Martinez/Getty Images
With only 15 total starts to show for his first three NBA seasons, Quincy Pondexter doesn't have the body of work of a typical extension candidate.
That being said, his stock has never been higher. The Memphis Grizzlies may want to act now rather than risk him playing his way into the next tax bracket.
A "3-and-D" wing man, he's not likely to suffer from overexposure. He shined in the 2013 Western Conference Finals (15.3 points on 53.7/48.0 percent shooting) while taking on a greater workload, 32.1 minutes per game, than he had at any point during the regular season.
The Grizzlies need shooters in a bad way, and two-way contributors like Pondexter will have no shortage of suitors on the open market. Memphis would be wise to act now and set the market itself.
Greivis Vasquez, PG, Sacramento Kings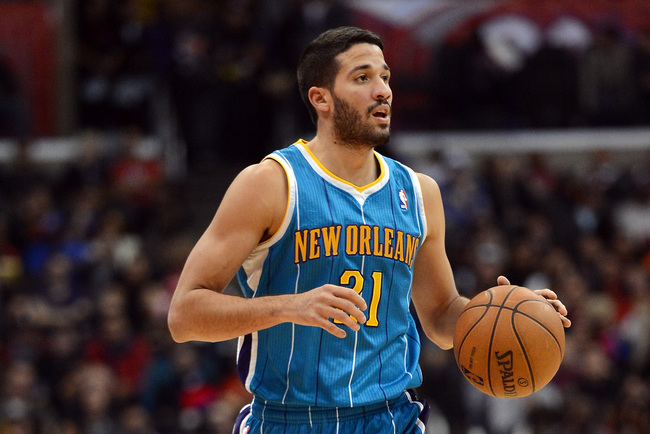 Harry How/Getty Images
Greivis Vasquez is already two franchises removed from the one that brought him into the league.
But the third stop on his NBA journey should be a permanent one.
The point-guard-crazed Sacramento Kings might not seem like the ideal fit, but the former Maryland Terrapin looks primed to build on his breakout 2012-13 campaign.
The 6'6" 211-pounder has the size to play either backcourt spot, meaning he should see floor time with Isaiah Thomas, Ben McLemore and Marcus Thornton. With DeMarcus Cousins drawing his own defensive attention, Vasquez should improve his shooting marks (43.3/34.2) and could climb even higher among the assists leaders (9.0 per game).
With new coach Michael Malone already singing his praises, via The Sacramento Bee's Jason Jones, the 26-year-old should have every opportunity at a monster season in 2013-14. The Kings might want to see him deliver on that promise first, but then again they won't be happy seeing his new price tag if he does.
Avery Bradley, SG, Boston Celtics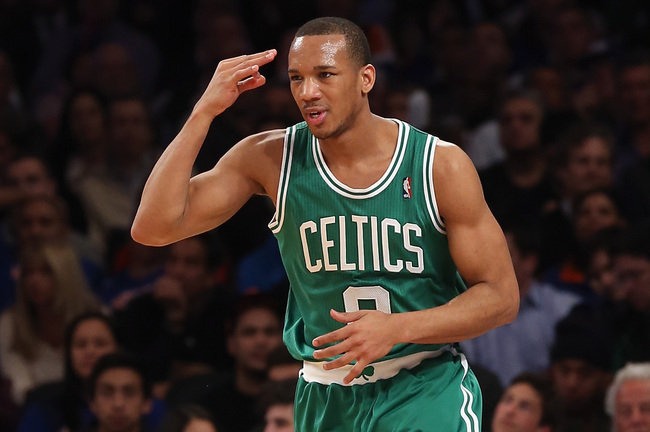 Bruce Bennett/Getty Images
The Boston Celtics are in the infant stage of their rebuilding process. From the coaching staff on down to the roster, the Celtics are painfully short on sure things.
Avery Bradley isn't one of them. His defensive gifts go nearly unrivaled among NBA guards, but he's still searching for both a true position and consistent offensive production.
On this roster, though, he's about as close as it gets to a proven commodity, at least among the always important 25-and-under group.
If he finds a way to blend his 2011-12 shooting success (.498/.407/.795) with his 2012-13 workload (28.7 minutes per game), he'd be the kind of two-way producer that Boston could build a team around. Of course, he'd also have a deservedly monstrous contract that would limit the Celtics ability to find another difference maker in free agency.
There's some risk involved with investing in him now, but perhaps not nearly as much as there would be with waiting.
Eric Bledsoe, PG, Phoenix Suns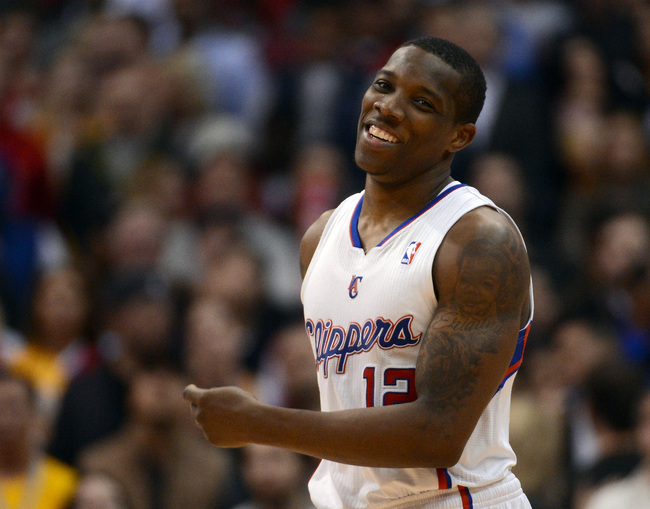 Harry How/Getty Images
Eric Bledsoe is a ticking time bomb. And that news couldn't be any better for Phoenix Suns fans.
Rarely do players receive this combination of natural ability, championship-level teaching and opportunity for success.
His "Mini-LeBron" nickname says everything you need to know about his physical gifts. In three seasons with the Los Angeles Clippers, Bledsoe picked the brains of the likes of Chris Paul, Chauncey Billups, Baron Davis and Robert Pack.
And now he's moved on to the Phoenix Suns, a team desperate for star power and free from any immediate expectations. The Suns can wait for Bledsoe's arrival; his 17.5 player efficiency rating in limited activity last season (20.4 minutes per game) suggests it won't be long at all.
The Suns gambled three years and $18 million on Michael Beasley last summer. How much could possibly be too much for a player with Bledsoe's ceiling?
Gordon Hayward, SG, Utah Jazz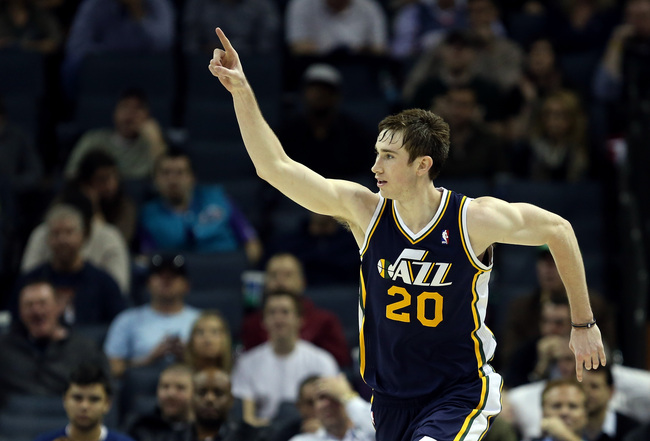 Streeter Lecka/Getty Images
Frontcourt teammates Derrick Favors and Enes Kanter are driving many of the preseason discussions surrounding the Utah Jazz, but Gordon Hayward will have the biggest say in the team maintaining any relevance in the Western Conference.
Unlike Favors and Kanter, Hayward's been to the lions den before. He's averaged at least 29 minutes and started more than 60 percent of his games in the last two seasons.
He's already shown the ability to impact all areas of the box score, but his production could skyrocket this season. Potentially the senior member of coach Tyrone Corbin's starting five, he could handle both the heaviest scoring and distributing loads on Utah's perimeter.
The Jazz don't have to act now. They'll shed nearly their entire payroll at season's end and could match whatever another team decides to offer Hayward.
But with his college coach Brad Stevens, now the head man with the Boston Celtics, presumably joining what was already a deep pool of Hayward's suitors, Utah might want to act now and save whatever dollars it can.
DeMarcus Cousins, C, Sacramento Kings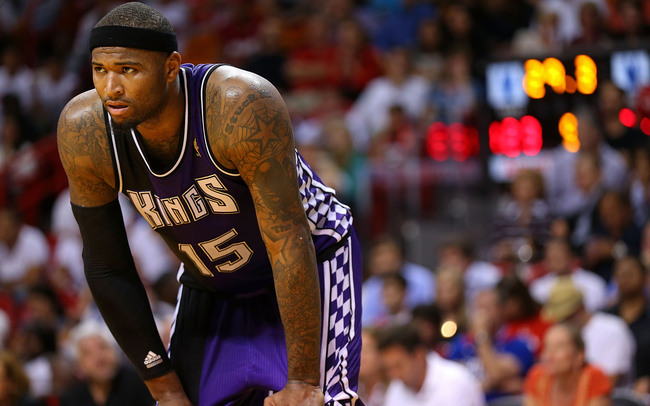 Mike Ehrmann/Getty Images
This appears to be no longer a matter of if the Sacramento Kings and DeMarcus Cousins will reach agreement on a contract extension.
It's simply a matter of when a deal gets done and how much it costs the Kings.
Cousins' agent, Dan Fegan, has already brokered the two extensions of the 2010 class to date, and he's reportedly seeking a maximum deal from Sacramento, via The Sacramento Bee's Jason Jones. New Kings owner Vivek Ranadive has big plans for Cousins, and, per Jones, the two sides have started negotiations.
There should be nothing keeping the Kings from giving Cousins a max deal. A freakish package of size (6'11", 270 pounds) and skills, he gives Sacramento its best chance to return to relevance in a stacked Western Conference.
The Kings will still rely on the hopes that Cousins finally matures and new coach Michael Malone convinces him to play both ends of the floor. But hope is so much better than the alternative.
Paul George, SF, Indiana Pacers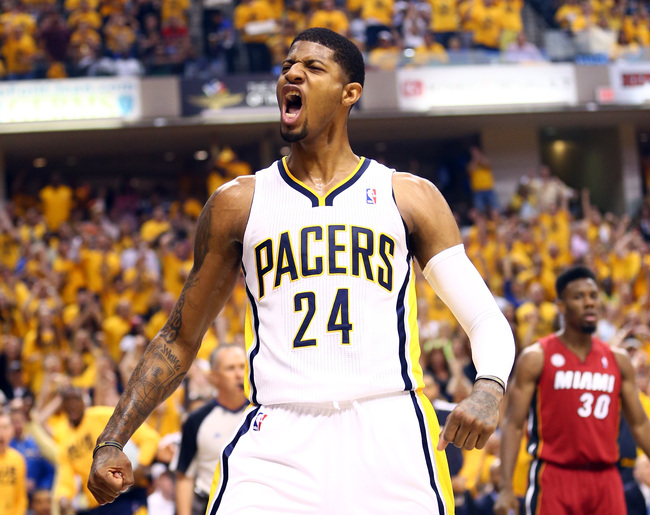 Ronald Martinez/Getty Images
The only contractual drama for Indiana Pacers rising star Paul George is whether he hits the jackpot this fall or has to wait until next summer. Either way, max money is headed his way in the near future.
It's hard to imagine a more dreamlike season for a young player than George's was in 2012-13. He made career first appearances on the All-Star, All-NBA and All-Defensive teams, and naturally took home Most Improved Player honors at season's end.
And somehow he found a way to raise the bar in the postseason. He led the Pacers to their first Eastern Conference Finals berth since 2004, where he held his ground and then some against four-time MVP LeBron James.
George said he's hoping for a maximum contract, via Chris Tomasson of FOX Sports Florida, and Pacers president Larry Bird said he plans to match any offer for George if he becomes a restricted free agent, via Scott Agness of Pacers.com.
So why not save the drama—if you can call it that—and get this deal done now? Nothing short of a catastrophic injury will lower George's price tag.
Keep Reading