NFL Week 1 Picks: Teams That Need to Win Opening Game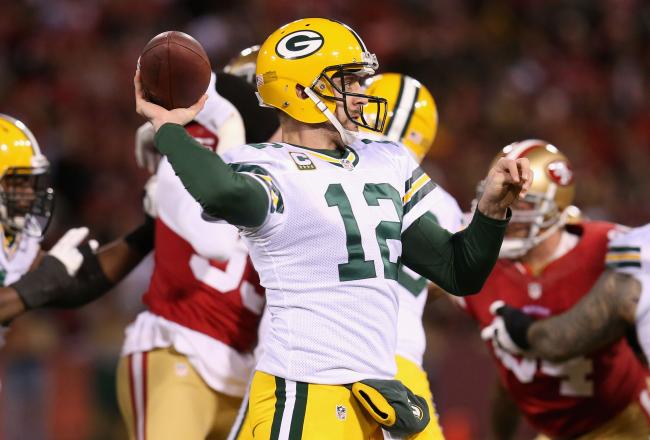 Aaron Rodgers needs to lead the Packers to victory in Week 1.
Stephen Dunn/Getty Images
It's never too early for NFL teams to play in must-win games, and the Green Bay Packers are one of the teams that need to come away with a victory in Week 1.
There are several key matchups in the opening week. None of the teams on this list are playing division rivals, but that doesn't take away from these games.
Week 1 is just as important as games in December, so keep an eye on certain teams this week.
Here is the full schedule for Week 1:
NFL Week 1 Schedule

| | | | | |
| --- | --- | --- | --- | --- |
| Date | Time | Away | Home | Predicted Winner |
| 9/5 (Thursday) | 8:30 p.m. | Baltimore Ravens | Denver Broncos | Broncos |
| 9/8 (Sunday) | 1 p.m. | Cincinnati Bengals | Chicago Bears | Bengals |
| 9/8 | 1 p.m. | New England Patriots | Buffalo Bills | Patriots |
| 9/8 | 1 p.m. | Miami Dolphins | Cleveland Browns | Dolphins |
| 9/8 | 1 p.m. | Minnesota Vikings | Detroit Lions | Vikings |
| 9/8 | 1 p.m. | Oakland Raiders | Indianapolis Colts | Colts |
| 9/8 | 1 p.m. | Atlanta Falcons | New Orleans Saints | Falcons |
| 9/8 | 1 p.m. | Tampa Bay Buccaneers | New York Jets | Buccaneers |
| 9/8 | 1 p.m. | Tennessee Titans | Pittsburgh Steelers | Steelers |
| 9/8 | 1 p.m. | Seattle Seahawks | Carolina Panthers | Seahawks |
| 9/8 | 1 p.m. | Kansas City Chiefs | Jacksonville Jaguars | Chiefs |
| 9/8 | 4:25 p.m. | Arizona Cardinals | St. Louis Rams | Cardinals |
| 9/8 | 4:25 p.m. | Green Bay Packers | San Francisco 49ers | 49ers |
| 9/8 | 8:30 p.m. | New York Giants | Dallas Cowboys | Giants |
| 9/9 | 7 p.m. | Philadelphia Eagles | Washington Redskins | Redskins |
| 9/9 | 10:15 p.m. | Houston Texans | San Diego Chargers | Texans |
Kyle Newport
Here are a couple of teams that join the Packers with key opening games.
Chicago Bears (vs. Cincinnati Bengals)
Lovie Smith is out, and Marc Trestman is the new head coach. He's going to want to start his NFL coaching career off with a victory. Unfortunately for him, he was given the task of hosting the Cincinnati Bengals, who made the playoffs last season.
The Chicago Bears missed the playoffs last season despite going 10-6. The first game of this season is important to build momentum after going home disappointed in 2012.
Chicago started the 2012 season 7-1. Had it not been for five losses in a six-game stretch in the second half of the season, the Bears would've made the playoffs.
Will the Chicago Bears make the playoffs?
Now quarterback Jay Cutler needs to get his team back on the right track. He and Brandon Marshall were an unstoppable duo last year as the receiver had 1,508 receiving yards and 11 touchdowns on 118 catches.
This will be a chance for receiver Alshon Jeffery to bounce back from an injury-plagued rookie season and live up to his potential. He will be expected to keep defenses from doubling Marshall.
Running back Matt Forte had only 163 rushing yards through three games, so he will look to get off to a better start this season.
The defense ranked fifth in the NFL last year but lost Brian Urlacher to retirement. The unit ranked eighth in the NFL in rush defense and allowed only 101.7 rushing yards per game last season. If the defense can stop BenJarvus Green-Ellis, the secondary can double A.J. Green and make Andy Dalton beat it with his other receivers.
This game will feature two elite receivers matched up against great defenses. Chicago needs this game to start off a new era the right way and start a run at the playoffs.
Green Bay Packers (at San Francisco 49ers)
Unlike the Bears, the Packers made the playoffs last season. They are favored to win the NFC North again, so their game against the San Francisco 49ers could be the difference in going to the Super Bowl and going home early.
The Packers need this game in case a tiebreaker decides who has home-field advantage in the playoffs. In 2012, the Packers had to go to San Francisco in the divisional round. There's a big difference in playing a playoff game at Lambeau Field in January and playing in San Francisco.
As last year's playoff loss showed, the Packers need to play at home in order to make a run at the Super Bowl. The team went 4-5 on the road last season compared to 8-1 in Green Bay. The 49ers were the only team to beat the Packers at Lambeau, but it was a one-possession game.
This game will also show what the Packers are made of. They have had all offseason to think about the blowout loss. The Packers lost last year's opener to San Francisco. This is a chance to gain the mental edge on the 49ers.
Aaron Rodgers won't have Greg Jennings, but he still has plenty of playmakers. He has Jordy Nelson, Randall Cobb and James Jones. Eddie Lacy was brought in to improve the running game.
Green Bay finished 11-5 and San Francisco finished 11-4-1. That opening loss would've come back to haunt the Packers had they had the same record.
The Packers should have no problem making the playoffs, so grabbing the tiebreaker over one of their competitors will be key in Week 1.
Pittsburgh Steelers (vs. Tennessee Titans)
After missing the playoffs last season, the Steelers need a win in Week 1 to gain some confidence. They get to host the Tennessee Titans, so anything less than a victory would be a disappointment.
The Steelers allowed only 90.6 rushing yards per game last season, which was the second-best average in the league. Shutting down Chris Johnson will make this game easy for the Steelers. They also had the top pass defense, so it's unlikely that Jake Locker will be able to beat them with his arm.
Will the Pittsburgh Steelers make the playoffs?
Pittsburgh is going through a lot of changes on offense. It doesn't have the running back position settled, and it lost a fast receiver in free agency. The offensive line is being rebuilt, so it could be a long year.
However, the Steelers expect to win.
They lost three of their first five, including a loss at Tennessee, and five of their last seven games in 2012.
After the Titans game, the Steelers will have three straight games, including two on the road, against teams that won 10 games last season.
Winning the opener will be important for Pittsburgh to give the team confidence entering a tough stretch. A loss in the opener could send the team to a very disappointing season.
*All information is courtesy of NFL.com
This article is
What is the duplicate article?
Why is this article offensive?
Where is this article plagiarized from?
Why is this article poorly edited?