UFC Fight Night 28: Yushin Okami vs. Jacare Souza Head-to-Toe Breakdown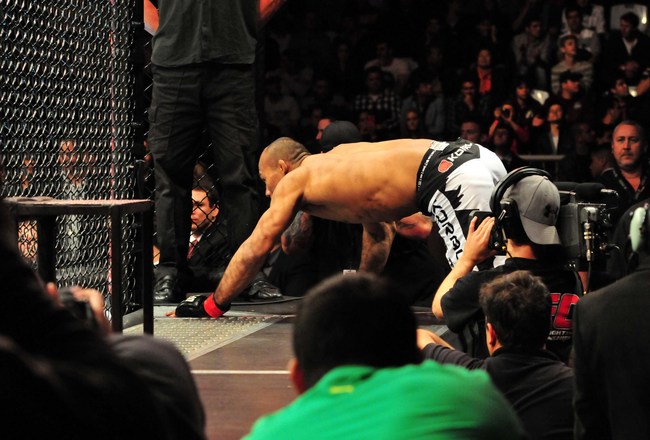 Jason da Silva-USA TODAY Sports
UFC Fight Night 28 features one of the most anticipated middleweight bouts of the year. No. 3-ranked Yushin Okami will meet No. 5-ranked Ronaldo "Jacare" Souza.
Okami brings in a three-fight win streak. After getting back on the winning track with a TKO over Buddy Roberts, Okami has grabbed two decisions over top-level talent in Alan Belcher and Hector Lombard. A win over Jacare would move him back into a position to demand a title shot.
Jacare made an impactful UFC debut against Chris Camozzi to run his win streak to four. The swift submission created a buzz around him, and a win over Okami will move him into title contention as well.
This is a fun middleweight encounter with a lot on the line.
This is your head-to-toe breakdown heading into Wednesday night's co-main event action.
Striking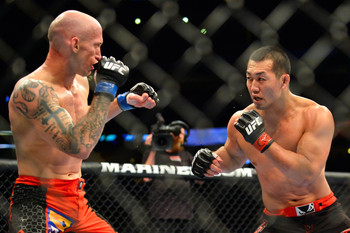 Ron Chenoy-USA TODAY Sports
Jacare has developed his stand-up quite well. He has turned in some stunning performances.
The Brazilian makes this a close fight on the feet. He is more dynamic than Okami and possesses the power to stop anyone.
Okami has good boxing skills. He is not as known for using kicks and knees, but they are in his bag of tricks if he needs to pull them out. The difference between the two is the style in which they prefer to strike.
Okami holds the edge due to his more diligent and thoughtful approach. He can slow down Jacare on the feet. His straight left will be a big weapon in this fight. Okami's punches are straight and hard. The striking is a coin flip, but I'll take Okami on the feet.
Edge: Okami
Grappling
Gary A. Vasquez-USA TODAY Sports
This is a close category, and I am sure many will disagree with giving Okami the edge.
On the ground, Jacare has the clear advantage. He's one of the best submission grapplers in the world regardless of weight class. However, on the feet Okami will be able to stymie the Brazilian.
Okami's clinch is draining for his opponents. He can control Jacare against the fence, take him down and use his extremely heavy top game to give Jacare less space. From the top position Okami will be difficult to submit.
I give a very slight edge to Okami due to his overall grappling ability. The clinch makes the difference.
Edge: Okami
Submissions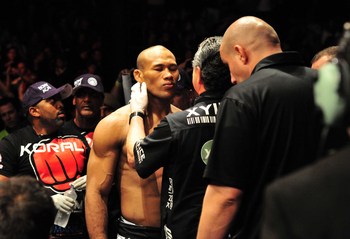 Jason da Silva-USA TODAY Sports
This one is a no-brainer. Jacare is one of the world's best in this category.
That is not to discredit Okami. He has a credible submission attack of his own, but more importantly in this fight he has good submission defense.
It's just not on the level of Jacare. Or even close.
In a straight jiu-jitsu match this would be Jacare all day. Thankfully for Okami, there is punching allowed in MMA. That can certainly alter Jacare's submission game should the fight hit the canvas. Okami will want to avoid being placed in a dangerous position, but that's hard to do against Jacare.
The Brazilian has the clear-cut advantage here.
Edge: Jacare
X-Factors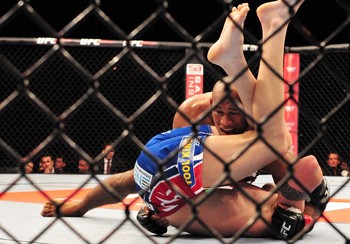 Jason da Silva-USA TODAY Sports
Jacare's X-Factor: Keep Off the Cage
Okami can be a grinder at times, and his size and strength pose significant problems against the fence. Jacare will want to keep his back off the cage. If he doesn't, that will help Okami clinch against the fence.
If Okami can lean on Jacare, it will help slow him down. Over the course of a 15-minute fight it can tire Jacare out. Okami has done this to many fighters, and it is effective. It isn't the most eye-pleasing, but it helps get him the "W."
Jacare needs to circle well.
Okami's X-Factor: The Jab
Okami has solid boxing skills, and the jab is the key to his success in this fight.
The jab will allow him to create distance, touch Jacare up and set up his other strikes. It is one of the most effective strikes in all of MMA. Jacare is an excellent fighter, but on the outside he is not nearly as effective. Okami can keep him there.
If he can find a home for his jab it will be a big factor in picking up the win.
Prediction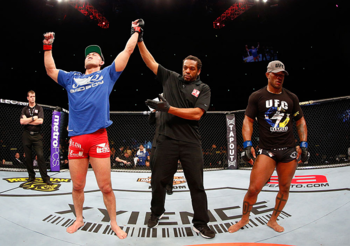 Photo by Josh Hedges/Zuffa LLC/Zuffa LLC via Getty Images
Heading into this fight it is all about Jacare. That's what happens when you make a big UFC debut.
He certainly has the ability to win this fight and to stop Okami on the feet or on the ground. It is just tough to go against Okami in high-level fights. The longtime middleweight contender has the ability to grind his opponents down.
That's the difference. Okami's grinding style will wear on Jacare.
Jacare will need space to generate offense, and Okami will not give that to him. It will be four in a row for the former title contender, and Jacare will lose the momentum he generated with his first UFC performance.
It won't be pretty, and it won't be exciting, but it will be effective.
Prediction: Okami defeats Jacare by unanimous decision
Keep Reading