8 Things We Learned About the Houston Texans During Preseason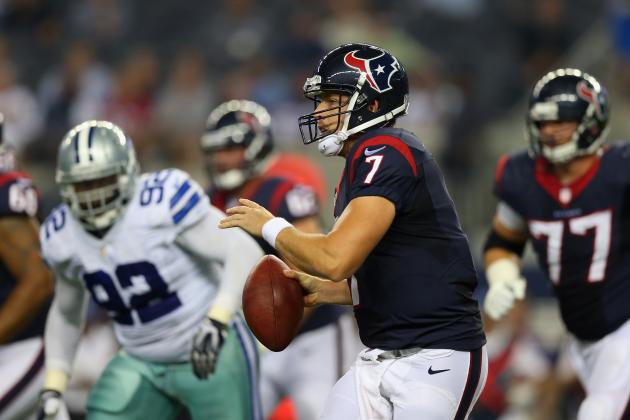 Ronald Martinez/Getty Images

With opening kickoff just days away, one question hangs above the Houston Texans—a question that has plagued the team for years, refusing to go away.
Are the Texans good enough to win a Super Bowl?
With preseason now concluded, the answer seems more clear, but, alas, it is still an impossible question to solve.
Still, the preseason should has provided us with several positives and negatives about the current Texans squad. What can we extrapolate from the four preseason games and conclude about the 2013 Texans?
Read on and find out.
Begin Slideshow

»
Jonathan Daniel/Getty Images

When it became clear that the Texans were not going to re-sign Shaun Cody—the team's starting nose tackle—Earl Mitchell, the longtime backup, became the favorite to become the starter.
Mitchell, after learning this news, decided not to squander his opportunity. He dedicated himself to a tough offseason workout schedule, and the results were immediately clear.
Mitchell absolutely dominated during the preseason, showing an uncanny ability to constantly break into the offensive backfield.
His speed and quick footwork were easy to see, and he gave offensive linemen fits. Even John Sullivan, the Minnesota Vikings center who earned first-team All-Pro honors last season, could not find a way to slow down the motivated nose tackle.
Mitchell should be a great contributor to the Texans defense this season.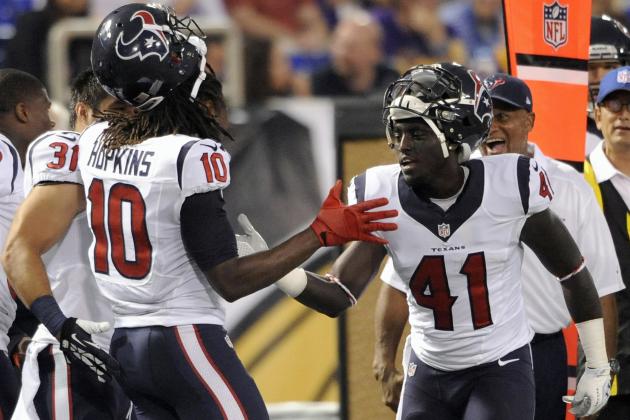 Hannah Foslien/Getty Images

Although DeAndre Hopkins was injured early on in the second preseason game against the Miami Dolphins, he still managed to make a significant impression in his one-and-a-half preseason games.
The most notable play came against the Vikings with T.J. Yates at the helm.
Hopkins ran a streak route down the right sideline, and it looked like the play was doomed from the start. Vikings' cornerback Bobby Felder was all over Hopkins; he was covering him flawlessly.
Still, Yates lofted the ball to Hopkins in what seemed like a prayer that had no chance of being answered. But then the impossible happened: Hopkins came down with it.
He jumped over Felder and snagged the ball before Felder could even make a play on it. It was a seemingly impossible catch, but it just highlighted exactly what Hopkins could do for the Texans defense.
Last season, the Texans were pitiful in the red zone. The Texans, with all their stars, should be terrific close to the goal line, but instead, they ranked in the middle of the pack in terms of scoring touchdowns in the red zone, according to Team Rankings.
Hopkins will immediately help this issue. His infallible hands and ability to outperform defensive backs will make him a dependable red-zone target.
The Texans spent a first-round pick on Hopkins, and it's looking like they were wise to do so.
Hannah Foslien/Getty Images

Before the preseason started, it would have been considered laughable to even suggest the idea that Case Keenum would overtake T.J. Yates for the backup-quarterback job.
After all, Yates did lead the Texans to their first-ever playoff appearance, and he did win the first playoff game in Texans' franchise history. He has both experience and talent. Why would the Texans ever consider demoting him?
Keenum, though, ignored all of the assumptions—as professional athletes must—and went on to have a fantastic preseason. He looked in command in the pocket, a sharp contrast to the 2012 version of him.
His throws were accurate and precise. He had a good feel for pressure and knew when to escape the pocket. All in all, he looked like everything one would want in a backup quarterback.
Not to be outdone, however, Yates also had a very good preseason. He was confident, mature and extremely effective.
At the moment, it appears Yates will hold on to the backup job, simply because of his experience. But Keenum is certainly closing the gap.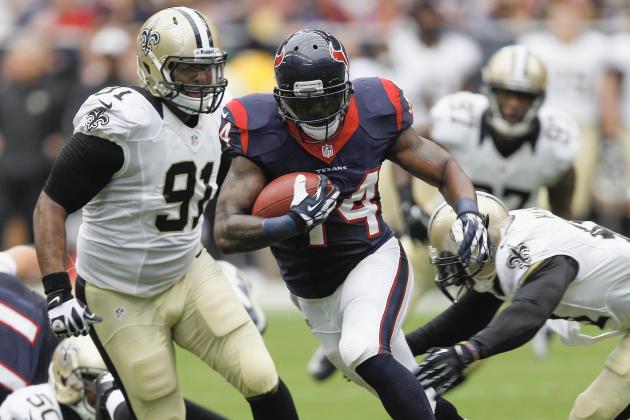 Bob Levey/Getty Images

As injury concerns about Arian Foster mount, there has been increasing talk about easing him into the regular season.
And while it is unlikely that the Texans will actually dramatically limit Foster's carries, they are certainly prepared to do so.
Ben Tate, the Texans' backup running back, had a great preseason, and he looked like the incredible 2011 version of himself. He was quick on his feet, he attacked the hole with ferocity and he looked ready to go.
And Cierre Wood, the third-string back, looks to be a perfect fit in the Texans' zone-blocking scheme. He is a one-cut running back who knows how to utilize his vision very effectively.
Sound familiar?
While no one wants to see Foster on the bench for an extended period of time, the Texans have the option to rest him more than they did last season, which they should definitely take advantage of.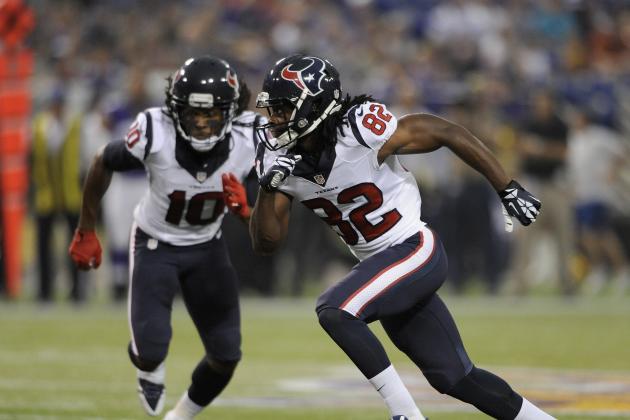 Hannah Foslien/Getty Images

The ball hung in the air; Keshawn Martin waited patiently under it, ready to take off.
And take off he did. Martin made multiple New Orleans Saints' defenders miss and sprinted toward the end zone for a breathtaking punt-return touchdown.
But things—as they always seem to do when the Texans' special teams is involved—went wrong. The touchdown was called back. Brandon Harris was flagged for an unnecessary block-in-the-back penalty.
Although the touchdown was called back, it still highlighted just how explosive Martin can be. Put the ball in his hands, whether it's a returner or a receiver, and he can do big things.
With proper blocking in front of him—which is a concern with Joe Marciano returning as the special teams coordinator—Martin can provide a huge spark for a Texans special teams unit that is in desperate need of one.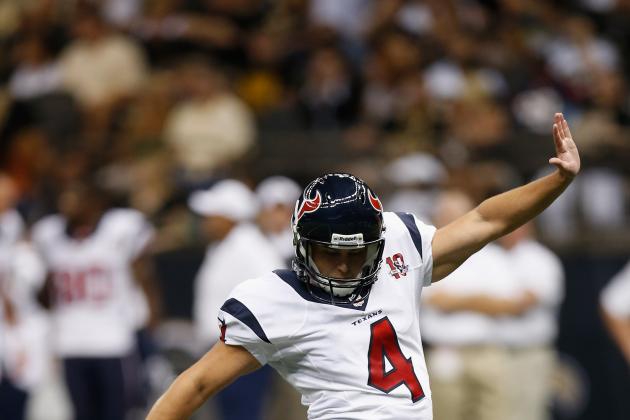 Chris Graythen/Getty Images

Keshawn Martin will not be the only one to drastically improve the special teams' unit this season. Randy Bullock and Shane Lechler will both help to revolutionize special teams play.
Bullock—who will get his chance to start after being stashed on injured reserve (IR) last season in favor of Shayne Graham—looks to have a very powerful leg. He can knock down long field goals, and he is able to consistently kick the ball out of the end zone, which will, of course, prevent the Texans' special teamers from actually having to tackle the returner.
Lechler has been one of the best punters in the league for his entire career. He will make it extremely difficult for opposing team's to beat the Texans in the field-position battle.
And Jon Weeks is an awesome long snapper, which should go without mentioning.
Look for the Texans to enjoy much more success on special teams in 2013.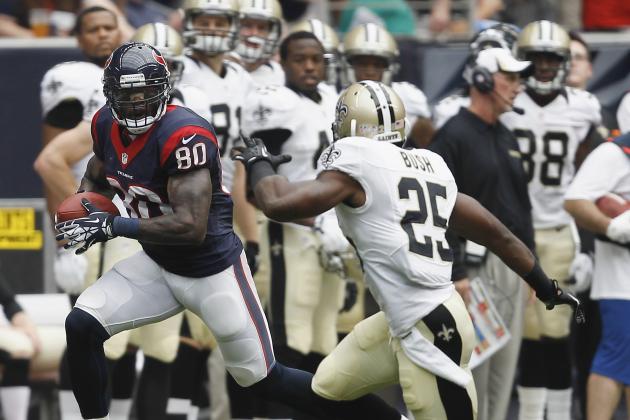 Bob Levey/Getty Images

Every year, Andre Johnson gets a little bit older. And every year, critics claim that Johnson will finally break down and lose his star status.
So far, Johnson has silenced those critics whenever he has taken the field. And if the preseason is any indicator of regular-season success, then he will continue to do so this year.
Johnson was his usual dominant self throughout the preseason, but his most eye-popping performance came against the Saints, when he hauled in seven receptions for 131 yards in just one half of football.
Johnson will continue to be a favorite of Matt Schaub's and a nightmare for defenses this season.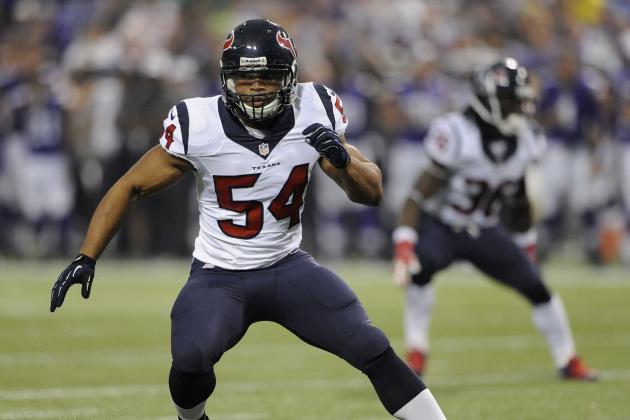 Hannah Foslien/Getty Images

After Sam Montgomery and Trevardo Williams were drafted in the third and fourth rounds, respectively, they were expected to come in and immediately contribute to the Texans defense.
Now, though, they will rarely see the field. In fact, Williams will never see the field, as he was stashed on IR to make room for other outside linebacker prospects.
And Montgomery failed to make a positive impression during the preseason; he was outshined by undrafted free agents Willie Jefferson and Justin Tuggle.
The Texans expected big things out of the two draftees. But now, it looks like the two will have to put a considerable amount of work into their games before they receive significant playing time.