10 Things We Learned About the Philadelphia Eagles During the Preseason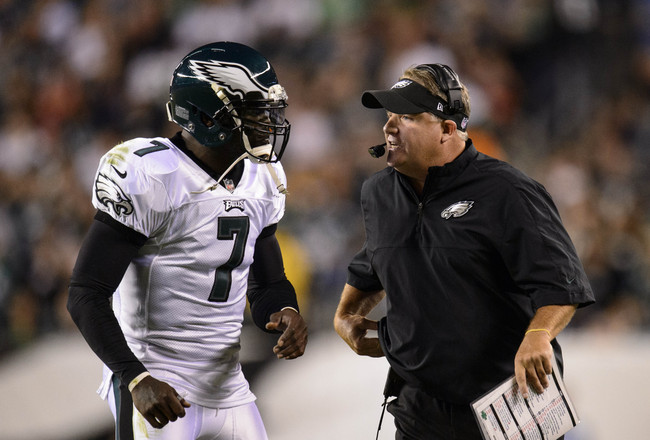 Howard Smith-USA TODAY Sports
While we're happy to wave goodbye to preseason football, these have been four of the most compelling exhibition games the Philadelphia Eagles have ever played. After 14 years of the same head coach in Andy Reid, any change would have been met with more intrigue than usual. The fact that Reid's replacement is the innovative Chip Kelly piqued interest to a whole other level.
Like all coaches, Kelly, no doubt, was careful not to give away many secrets at these glorified scrimmages, so the offensive and defensive schemes we saw were vanilla, at least by his standards. That doesn't necessarily mean there was no intel to be gained, though. We actually learned quite a bit about the Birds this summer.
There is sure to be far more revealed in the coming weeks and months, but we're still one week away before the Eagles kick off their season in Washington on September 9. Until then, let's run down what we've been able to learn about the team based on what they showed during the preseason.
Chip Kelly's Offense Should Be Prolific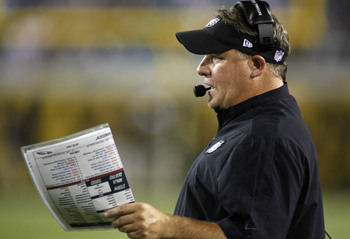 Phil Sears-USA TODAY Sports
It didn't seem to matter who was under center, who was toting the rock or for whom the passes were intended. The Eagles offense experienced few problems moving the ball up and down the field against their opponents during the preseason.
Philadelphia's 397 yards-per-game average was good for third in the NFL this summer. They were also second to only the Houston Texans with 23.8 first downs per game.
Sure, those numbers were amassed in meaningless preseason contests, which aren't always the best indicator of what's to come. However, you can count on the Eagles continuing to pile up the yards every week in Coach Kelly's up-tempo offense if for no other reason than they'll get more plays in than the competition.
The Eagles were averaging 74.25 plays from scrimmage, highest total in the NFL. In 2012, seven of the top eight teams in plays from scrimmage finished with a top-10 offense.
Of course, it doesn't hurt that there are no shortage of playmakers on the Eagles either. Michael Vick, LeSean McCoy and DeSean Jackson are still among the most dynamic athletes in the league, and they appear primed to do some serious damage to opposing defenses this season.
Chip Kelly's Offense Doesn't Require a Mobile QB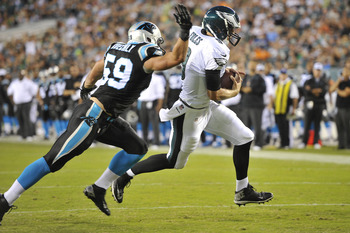 Joe Camporeale-USA TODAY Sports
If you thought Kelly needed a mobile quarterback for his offense, think again. This summer, Nick Foles proved a signal-caller doesn't necessarily need to possess track-star speed or even clock a sub-5.0 in the 40-yard dash to run this version of the spread.
Foles was able to dink and dunk his way down the field rather expertly through most of the preseason, completing 21 of 25 pass attempts for 208 yards with an interception in the first three games. The second-year field general even showcased a little giddy-up in his step, taking off a few times on zone-read keepers. He even punched one in from seven yards out.
It really shouldn't come as that big of a surprise. Kelly has said time and time again, he doesn't require extraordinary speed from his passers, while the fact that the Eagles used a fourth-round pick on Matt Barkley should have been proof enough.
That doesn't mean a true dual threat like Michael Vick isn't ideal, but should the Birds' starter falter for any reason, Foles appeared more than capable of stepping in and running the offense.
The Eagles Will Run the Ball More Than They Did Under Andy Reid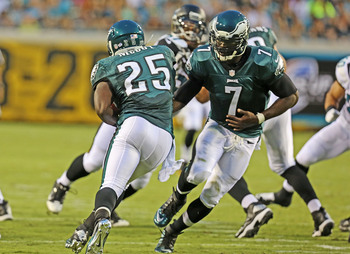 Brian Cleary/Getty Images
You're probably thinking they couldn't run it less than they did under Andy Reid, but there's no denying the NFL has developed into a pass-happy league. Case in point, six quarterbacks eclipsed 600 pass attempts last season, doubling the league record set just one year prior.
We're not likely to see a quarterback drop back 600 times in a Chip Kelly offense anytime soon, perhaps ever. While the pro game has steadily shifted in favor of the aerial attack, Kelly still believes strongly in pounding the rock.
In Kelly's four seasons as the head coach at Oregon, the team never averaged fewer than 42 carries per game. While he won't achieve anything quite like that at the next level, it was evident there will be more balance within the offense.
In particular, it seems Coach Kelly really likes handing the ball off down at the goal line. It's interesting to note that Eagles' quarterbacks threw for just three touchdown passes during the preseason, while the running backs and Nick Foles combined to carry the ball across the goal line a whopping seven times.
The Eagles Will Use a Ton of Tight Ends
Rob Carr/Getty Images
It's no secret Kelly loves tight ends. Maybe some things you just have to see to believe.
That the Eagles will employ two tight ends much of the time is no surprise. It's not even unusual. There is a reason there are four on the roster, though—it's not unlikely all of them will see action.
At one point during the preseason, the Birds were experimenting with four tight ends on the field at the same time. OK, you're not likely to see that in a regular-season contest, but three? You can count on it.
The Eagles practiced their share of three-tight end sets this summer. It's possible, if not likely, at some point this year, we'll see a formation where Brent Celek has the in-line tight end, James Casey is in the slot and Zach Ertz lines up as a wide receiver.
Or you could see two tight ends lined up outside or two in the backfield. Kelly means business with this, and the ability to move all of these huge bodies around the formation should give opposing defenses fits.
Jason Peters Is Healthy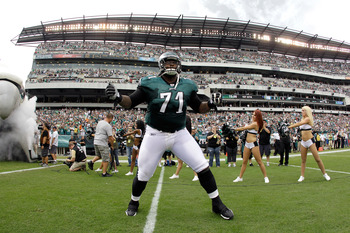 Rob Carr/Getty Images
The 2012 campaign was over for the Eagles before it even got started. It ended that April for all intents and purposes when left tackle Jason Peters—the Birds' best player and, arguably, the most dominant offensive lineman in the NFL—was lost for the year to a ruptured Achilles tendon.
Naturally, there were concerns as to whether or not Peters would make a full recovery from one of the more devastating injuries in sports. His age (31) and massive frame (6'4", 340 lbs) only stand to complicate a comeback, especially considering outstanding athleticism was what set the four-time All-Pro apart from the rest.
While Peters only played in one preseason game, it was convincing. Now nearly a year-and-a-half removed from surgery, he didn't need any help in pass protection and appeared to have no trouble getting to the second level on running plays, which is where he really earns his paycheck.
Even as far back as May, offensive line coach Jeff Stoutland was telling reporters they wouldn't know Peters had ever been hurt just from watching him. Having the chance to see him at camp this summer and in these preseason games, it's difficult to disagree.
Offensive Tempo Won't Be a Problem for the Officials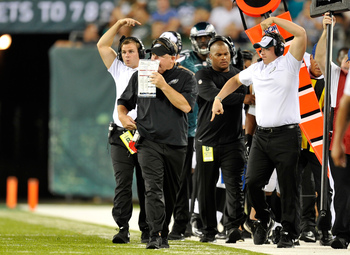 Joe Camporeale-USA TODAY Sports
When Kelly came on board, I didn't think there was anything particularly groundbreaking about his up-tempo offense. The NFL has featured no-huddle offenses for decades. Peyton Manning and Tom Brady go no-huddle all the time. The only difference in Philadelphia is how the plays are communicated in from the sidelines.
There was a brief dust-up during training camp, however, when a story in the Wall Street Journal quoted the NFL vice president of officiating, Dean Blandino, as saying the "referees control the tempo" of the game, not the offense. Kevin Clark's story tied it in to Kelly's rise with the Eagles, and a controversy was born.
For what it's worth, Chip never voiced or showed any concern, and it didn't take very long to find out why. From the very first preseason game on, the Eagles offense was able to operate at its desired pace, just the way you would expect from watching the all-timers do it for so many years.
Special Teams Are Greatly Improved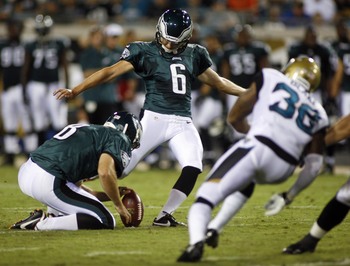 Phil Sears-USA TODAY Sports
There really isn't one phase of special teams where we haven't witnessed a marked improvement over the past few years under Andy Reid.
The most obvious strides are in the return game. On kickoffs, the Eagles are averaging 26.4 yards per return while holding their opponent to 19.8, compared to last year when they averaged 21.0 and allowed 24.7. Similarly on punts, Philadelphia returners are going for 14.3 versus 6.6 for the other team, as opposed to gaining 10.3 while surrendering 13.6.
Speaking of punting, Philadelphia's punters have already downed eight inside the 20-yard line through four preseason games. Last season, they pinned only 22 in 16 regular-season games in 2012.
It's hard to say exactly what is behind the turnaround—perhaps simply more focus on this aspect of the game—but it's real. The Eagles will be better on special teams this season, and make no mistake, some of these momentum-swinging plays will be the difference between winning and losing games.
The Defensive Line Is a Strength
Rich Schultz/Getty Images
At least there is one area to be positive about on defensive coordinator Billy Davis' unit. The Eagles appear to have a very deep, versatile group of defensive linemen, all but one of whom is older than 25.
The front office is hoping for big things out of Fletcher Cox, the 12th overall pick in last year's draft. They were less certain about their second-rounder from the same class, Vinny Curry, as the book on him is he's better suited for a 3-4, but he's looked unstoppable.
The club also used a third-round pick in 2013 on Bennie Logan, who can line up at end or nose tackle and figures to make an immediate impact this season.
What Eagles brass may not have been counting on is the collection of young, largely unheralded players who have carved out important roles. Two years ago, Cedric Thornton was an undrafted free agent—now he's a starter.
Clifton Geathers has been bouncing around the league since he was taken in the sixth round by Miami in 2010, but he made the club. And undrafted rookie Damion Square out of Alabama should be in the rotation as well.
Isaac Sopoaga, the 31-year-old nose tackle signed away from the 49ers during the offseason, is almost an afterthought as the group's elder statesman—and he's a starter. It's a good thing this is shaping up to be a strength, because behind them, the defense might be a bit of a mess.
The Defense Is a Work in Progress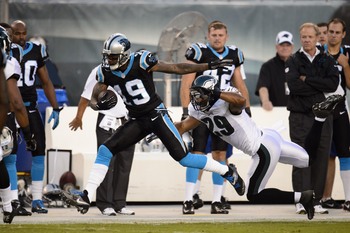 Howard Smith-USA TODAY Sports
Defensive coordinator Billy Davis is tasked with transitioning the Eagles' defense to a 3-4 alignment. As if that wasn't enough, his unit is rolling with three new starters in the secondary.
Buckle your seatbelts.
Bear in mind, Philadelphia already had a defense that tied for the third-most points allowed in 2012, and opposing quarterbacks posted a passer rating of 99.6—the second-most efficient mark in the league. Now they're trying to radically overhaul the entire defensive scheme, which involves moving defensive ends Trent Cole and Brandon Graham to outside linebacker.
The results have been uneven to put it mildly. The Birds finished the preseason ranked 27th in total defense, and Davis himself admitted, after their first game, the unit is a work in progress. It looks like that's the way it's going to stay for now.
Turnovers Are Still a Huge Problem
Joe Robbins/Getty Images
The single biggest issue for the Eagles over the past two seasons has been turnovers. Their defense sure didn't create many, while their offense was busy creating plenty.
Philadelphia was 31st out of 32 teams with a minus-14 turnover margin in 2011 and tied with Kansas City for the worst margin in the NFL with an astounding minus-24 a year later.
Unfortunately, that trend appears to have carried over into 2013, at least so far. The Birds were once again bringing up the rear with a minus-five this preseason—only the San Diego Chargers have been worse.
It will be interesting to see if anything can turn their fortunes around. Vick has been one of the biggest offenders in terms of giveaways throughout his career, but the miscues have not been limited to the quarterback. The defense, meanwhile, managed just one takeaway through the first three preseason games until the New York Jets' backups coughed up the ball three times in the finale.
Nothing changes the momentum of the game quite like turnovers, and no stat correlates more with winning or losing. The Eagles have two options: figure out how to correct this or remain stuck in reverse.
Keep Reading

Philadelphia Eagles: Like this team?