Predicting How 2013 NHL Rookie Standouts Will Fare During Sophomore Seasons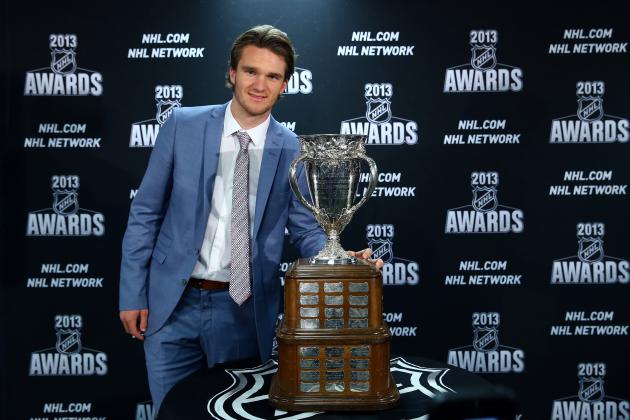 Bruce Bennett/Getty Images

Over the course of the lockout-shortened 2013 NHL campaign, a number of rookies emerged as budding stars and will be looking to build off of their strong first-year performances heading into 2013-14.
No, it wasn't a class that featured slam-dunk superstars, as was the case following the last lockout, when Alex Ovechkin and Sidney Crosby took the league by storm in 2005-06.
Nonetheless, there were a handful of promising young talents who appear destined to have long, productive careers at the NHL level. But in order to take the next step in that direction, they'll need to avoid slumping during their sophomore seasons.
Heading into the 2013-14 season, here's a look at how each of last year's top rookies will fare as NHL sophomores.
Begin Slideshow

»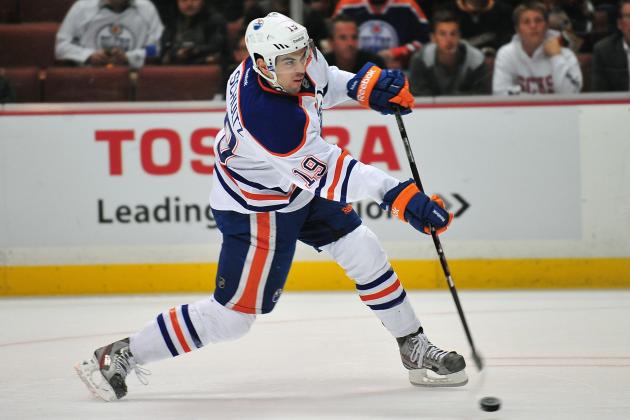 Gary A. Vasquez-USA TODAY Sports

Last year, Justin Schultz made his highly anticipated NHL debut with the Edmonton Oilers, and at least during the early stages of the season, the offensive rearguard did not disappoint.
Though he struggled to stay consistent at times, Schultz demonstrated that he's capable of producing at both ends of the rink, but that was obvious after he set the AHL on fire with Oklahoma City while the new CBA was being resolved.
Now, with the Oilers appearing to be on the verge of something special, Schultz will be the focal point of the team's defensive unit for years to come, and he'll take the next step in his development as an all-around defender this season.
After putting up 27 points and earning NHL All-Rookie Team honors, the bar is set high for the former Anaheim Ducks second-rounder, but Schultz will be an impact player during his second season.
Prediction: Schultz may not eclipse the 50-point barrier, but he'll be more reliable in his defensive end, and if he's outstanding early on, he could challenge for a surprise berth on Team Canada's roster for Sochi.
Projected stats: 15 goals, 36 assists, 51 points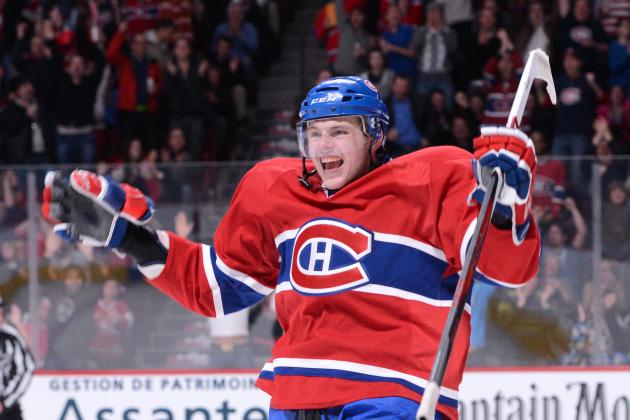 Richard Wolowicz/Getty Images

By all accounts, former No. 3 overall pick Alex Galchenyuk was ultimately the second-best rookie forward on his team to Calder Trophy finalist Brendan Gallagher last season. The Team USA staple seems to be a safe bet to become an All-Star in the future.
Though he finished sixth among all rookies in scoring with 27 points, the skilled 19-year-old demonstrated the type of game-breaking talent that solid the Canadiens on him just over a year ago.
After helping the U.S. win gold at the 2013 World Junior Championship, Galchenyuk potted the shootout goal that clinched the bronze medal for the Americans at the World Championships just over four months later.
He's got the talent, skating and competitiveness to be a force in the NHL, but it may be another year before his name's even on the same page as the league's top scorers.
Prediction: Galchenyuk is a sublimely talented young forward, and given that Montreal is counting on him to produce (as the Habs did last season), it's safe to say the Canadiens will give their prized prospect top-line minutes. If that's the case, Galchenyuk will keep pace with the team's leading scorers.
Projected stats: 24 goals, 31 assists, 55 points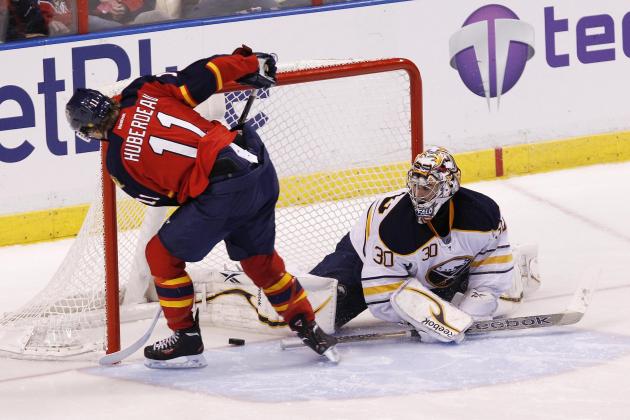 Robert Mayer-USA TODAY Sports

As the league's reigning Calder Trophy winner, Jonathan Huberdeau has arguably more pressure on him to replicate his first-year performance in 2013-14, because at least as of now, he's the cream of the crop in this class.
Last season, Huberdeau put up 31 points on a mediocre-at-best Panthers team, and though it doesn't look like he'll have much more help up front, the former No. 3 overall pick has more than enough talent to get a reasonable amount of points on his own.
He's got the size, speed and offensive instincts to tally somewhere between 50-60 points, but whether he eclipses those numbers depends heavily on how well the Panthers bounce back from a terrible 2013 campaign.
Prediction: It won't be pretty, because he'll have to do a lot on his own, but Huberdeau is simply too talented to be contained, even without any top-flight forwards to play with.
Projected stats: 26 goals, 33 assists, 59 points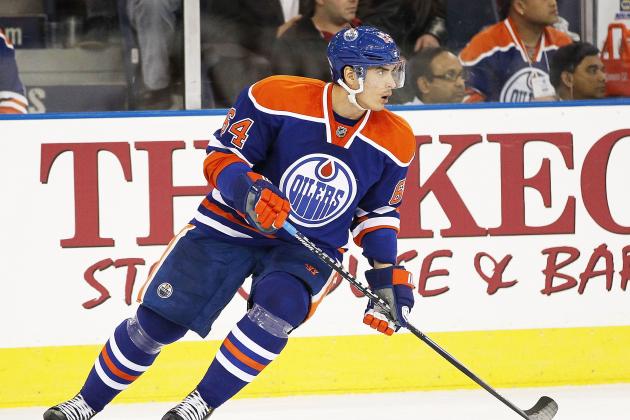 Perry Nelson/Getty Images

The Oilers are stocked with high-end offensive prospects, and last year, latest No. 1 overall pick Nail Yakupov did not disappoint in his debut.
In addition to showing a flair for the dramatic and a love of celebrating, Yakupov put up 31 points, leading all NHL rookies in scoring.
A great finisher (17 goals as a rookie) with an elusive shot and an ability to disappear in the offensive zone, Yakupov has all the tools to be an elite NHL sniper. And given that he's got a trio of young, talented teammates up front, getting scoring chances shouldn't ever be a problem.
Prediction: He'll keep putting the puck in the net, especially after another season of skating alongside Sam Gagner. The addition of David Perron should help as well, and that's why Yakupov will hit 30 goals.
Projected stats: 31 goals, 24 assists, 55 points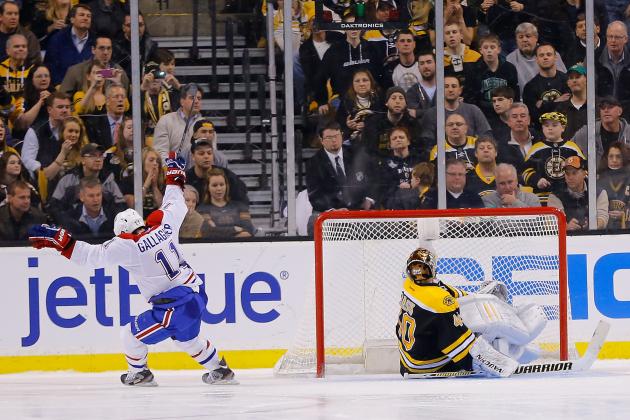 Jared Wickerham/Getty Images

Brendan Gallagher came out of nowhere to establish himself as one of the Montreal Canadiens' franchise cornerstones going forward, as the 21-year-old emerged as a two-way force with a surprising amount of offensive upside.
Possessing the necessary amount of sandpaper and skill, Gallagher lead all Canadiens rookies with 28 points in 44 games last season, notching 15 goals along the way.
Though just 5'8", Gallagher's grit and competitive streak enabled him to become one of Montreal's most consistent offensive threats, and he showed a tendency for scoring big goals for the Habs.
Going forward, Gallagher figures to be a staple in Montreal's top six, but it'd be premature to guarantee that he'll eclipse the 52-point full-season pace he ended on last year.
Prediction: Gallagher has all the tools to be a productive two-way forward with lots of offensive potential, but after such a fairy tale of a rookie season, it won't be too surprising if he takes a slight step back statistically as a sophomore. But that's just fine, because Gallagher's destined for stardom anyway.
Projected stats: 23 goals, 26 assists, 49 points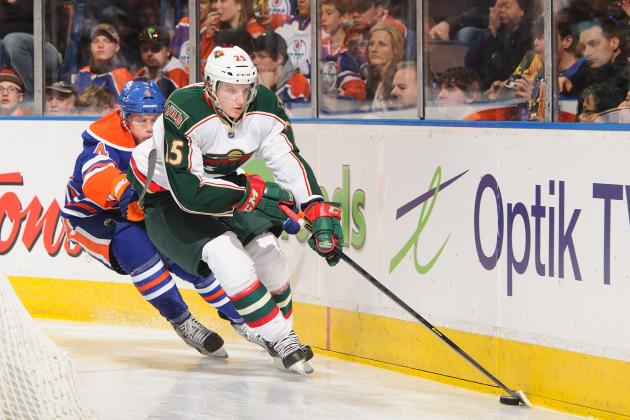 Derek Leung/Getty Images

The Minnesota Wild enjoyed big contributions from two fresh faces on the blue line in 2012-13, as Ryan Suter and Jonas Brodin became the team's two most reliable defenders.
Suter's play was obviously expected and, to a degree, Brodin's was as well. But the Swedish rookie certainly set the bar high for himself, as he led all rookies in ice time with more than 23 minutes a night, which was nearly 1:30 more than the second-most used rookie.
At 20, Brodin has demonstrated the sort of hockey sense, poise and maturity that has made him a top-flight prospect, but it's difficult to say whether the Wild even believed the former No. 10 overall pick would be this good, this early on.
He showed some offensive potential, notching 11 points, but it's his mobility and skating ability that have the Wild so excited about his future with the franchise.
Prediction: Still no eye-popping offensive numbers, but Brodin will continue to play big minutes for the Wild, and at some point in the not-so-distant future, he'll start to give Suter competition as Minnesota's No. 1 rearguard.
Projected Stats: 6 goals, 21 assists, 27 points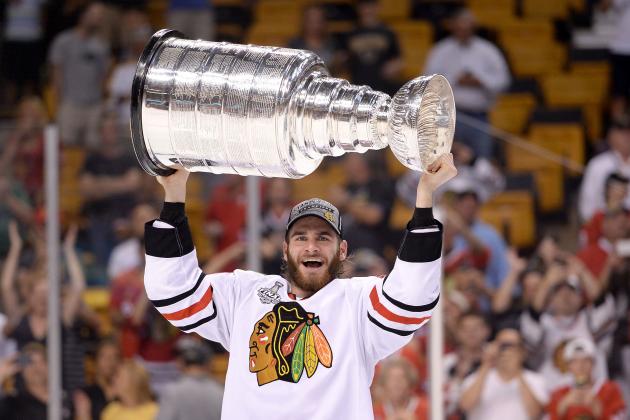 Harry How/Getty Images

For Chicago's Brandon Saad, it will be tough for his second year to be as memorable as his first full NHL season, as the Pittsburgh-area native enjoyed a rookie campaign to remember.
Not only did Saad earn a Calder nomination and a spot on the All-Rookie Team, but the 20-year-old played a key role in helping the Blackhawks win their second Stanley Cup in four years.
With 27 points during the regular season, and another six during the postseason (including a goal during the Cup Final), Saad has demonstrated that he can produce at the NHL level, and that's why he'll be counted upon to play an even bigger role as a sophomore.
He's big, physical and smart with the puck, and with a ton of talent around him in Chicago, there's no reason that Saad can't keep putting up impressive numbers during his second year.
Prediction: Saad will be skating with at least one very skilled linemate, so it's logical that he'll build on his rookie season, especially given that his early-season performance could earn him a spot on the U.S. Olympic roster.
Projected stats: 22 goals, 26 assists, 48 points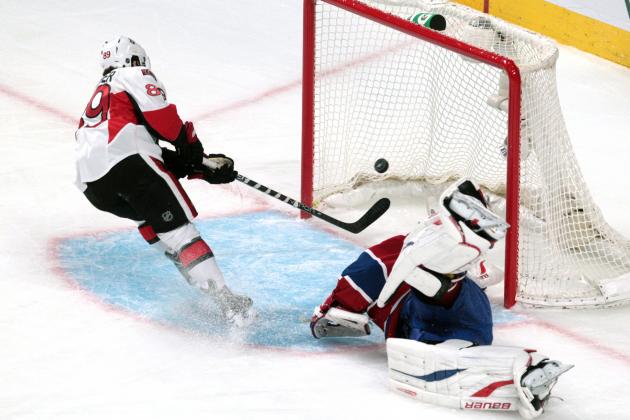 Jean-Yves Ahern-USA TODAY Sports

After being dealt by Tampa Bay midseason, Cory Conacher finished up what ultimately was a very impressive rookie campaign, especially for an undrafted 23-year-old forward.
But Conacher has been proving people wrong for years, as the 5'8" pivot landed a roster spot in the NHL after a superb four-year career at Canisius College, a rather unheralded NCAA Division I program in Buffalo.
His 29 points as a rookie will serve as a starting point for the offensively gifted fourth-year pro, and with the Senators looking better and better, it's possible that he could score at an even more rapid clip in 2013-14.
That being said, after having stopped skating alongside Steven Stamkos and Martin St. Louis following the trade, Conacher's production tailed off slightly, so it'll be interesting to see how he fares during his first full season in Ottawa.
Prediction: Conacher will continue to produce offensively, but he'll have to pay more attention defensively to cement a top-six spot in Paul MacLean's lineup, because the Sens bench boss places an emphasis on team defense. Nonetheless, Conacher will get his points.
Projected stats: 18 goals, 26 assists, 46 points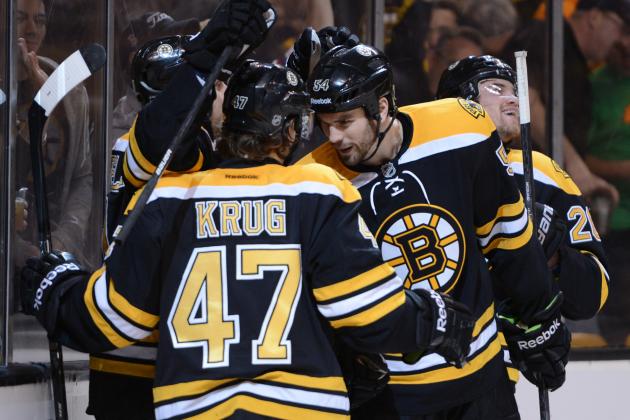 Michael Ivins-USA TODAY Sports

Until the postseason, the hockey world barely knew who Torey Krug was, but that all changed in a hurry.
That's because the former Michigan State University rearguard quickly established himself as a future NHL standout during his brief playoff cameo with the Bruins.
During his 15-game stint with the Eastern Conference champion Bruins, Krug was surprisingly effective offensively, especially during Boston's Round 2 clash with the Rangers.
In that series, Krug potted four goals, including a pair of highlight reel lamp-lighters. Suddenly, the 22-year-old undrafted defender became a hot commodity in Boston.
Though it's tough to say how he'll do over the course of a full season, there's no mistaking Krug's poise, skill and creativity with the puck, so it's not a stretch to say that he'll be a mainstay on the Bruins' second power-play unit.
Prediction: Krug won't be scoring at the clip he was during the postseason, but he's got the talent and hockey sense to put up reasonably impressive numbers from the back end. That being said, the Bruins' focus will be on getting him to be as good in his own end as he is in the attacking zone.
Projected stats: 10 goals, 19 assists, 29 points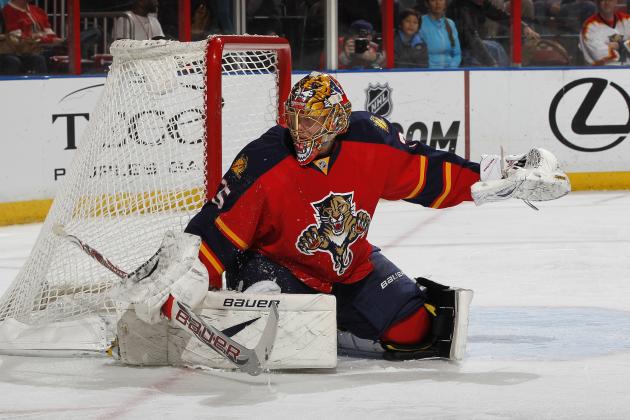 Joel Auerbach/Getty Images

While the Florida Panthers may have suffered through a decidedly difficult decade, the team has racked up a core of pretty impressive young players, and that group includes 23-year-old goaltender Jacob Markstrom.
Markstrom's ascent to the NHL hasn't been quick, as he spent the majority of two seasons in the AHL before finally becoming a fixture in the Panthers' net in 2013.
After starting in 23 games, Markstrom will be counted upon to play a bigger role during his second full NHL season, because the Panthers envision him as the club's emerging franchise goalie.
No, his numbers weren't overly impressive during his first season in Sunrise, but that's more a product of the talent (or lack thereof) around him than his individual play, so as the Panthers improve, so too will the Swedish stopper's stats.
Prediction: Markstrom will be better in 2013-14, but due to the Panthers' continued rebuilding project, it may be a year or two before the former second-rounder begins to put up respectable numbers.
Projected stats: 24 wins, 28 losses, 3 overtime/shootout losses