10 Things We Learned About the Raiders During Preseason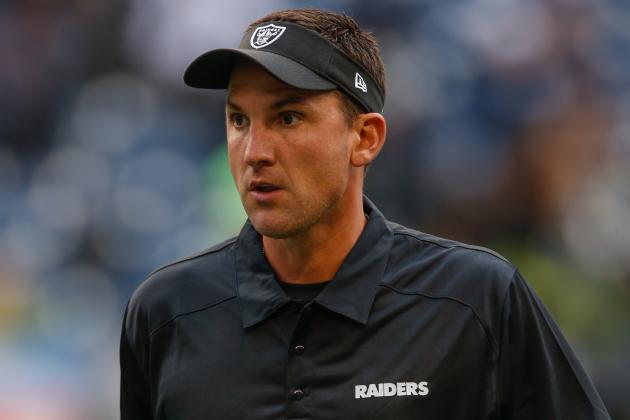 Otto Greule Jr/Getty Images

The Oakland Raiders still haven't announced who their starting quarterback will be. There is also uncertainty along the offensive line and with the wide receivers.
We did learn a few things about head coach Dennis Allen's team during training camp, however. Some of it good, some of it not so good. Take a look:
Begin Slideshow

»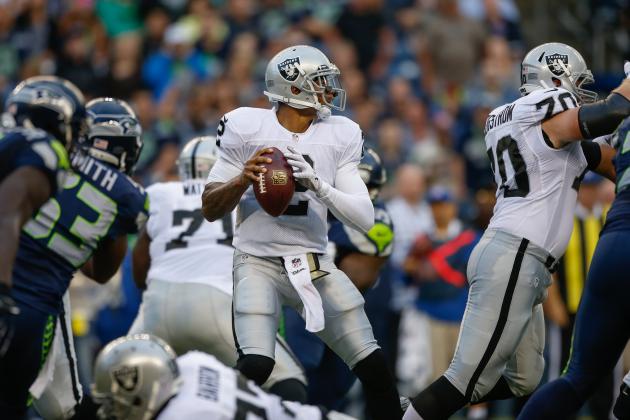 Otto Greule Jr/Getty Images
Terrelle Pryor's athleticism may give him the edge
Terrelle Pryor. Matt Flynn. Matt McGloin. We know for certain one of the three will be named starting quarterback by second-year coach Dennis Allen sometime within the next day or two. We can also say for sure that whoever it is that gets the gig won't exactly have a lot of job security.
Pryor would appear to be the better fit for the position because of his mobility and athleticism, but he's still very raw as a passer. Flynn, the No. 1 QB throughout the offseason, was underwhelming in the preseason and training camp. He's also nursing a sore throwing arm. McGloin, an undrafted free agent from Penn State, has the tools but not the experience.
Might the Raiders be tempted to use some kind of QB rotation? Anything's possible given the situation.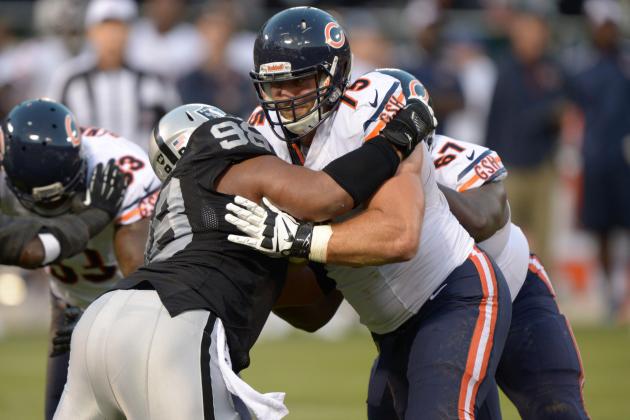 Kirby Lee-USA TODAY Sports
Vance Walker
For the last decade the Raiders have ranked among the NFL's worst-run defenses, no matter how many changes the team made to its defensive front. This season should be different.
General manager Reggie McKenzie cleaned house, replacing underachieving veterans Richard Seymour and Tommy Kelly with run-stuffing defensive tackles Pat Sims and Vance Walker. Sims, in particular, holds the key to Oakland's run defense. The former Cincinnati Bengal missed much of camp while injured but looked sharp in the final preseason tune-up.
The defensive ends (Lamarr Houston and Jason Hunter) are solid but unspectacular against the run.
Overall, the Raiders have much better depth along their defensive line. Backup tackles Christo Bilukidi and rookie Stacy McGee will be a big part of the rotation in the middle.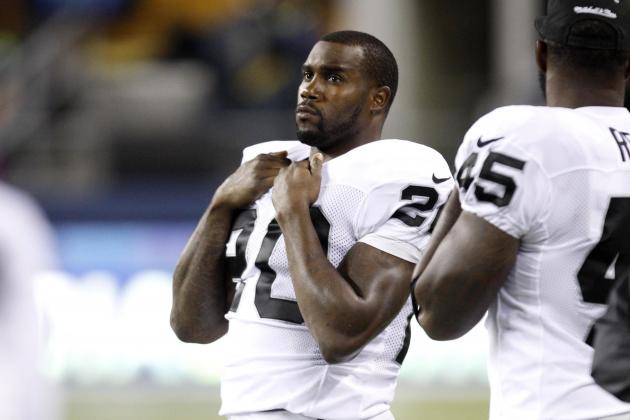 Joe Nicholson-USA TODAY Sports

The Raiders spent the offseason building their offense around the potential of oft-injured running back Darren McFadden. They swapped out the zone blocking schemes that hindered the former Arkansas standout, beefed up the fullback position and played him sparingly in the preseason in order to keep him fresh for when the lights go on.
That said, McFadden needs to respond in a big way if the Raiders are to have any chance, and he must do it right away in Week 1. There is already too much uncertainty surrounding the rest of the offense, and if McFadden and the running game get off to a slow start, things could get real ugly for Dennis Allen's team.
Simply put, this is a make-or-break year for McFadden. His contract in Oakland expires at season's end, and if he has any hopes of cashing in, he has to stay healthy and be productive.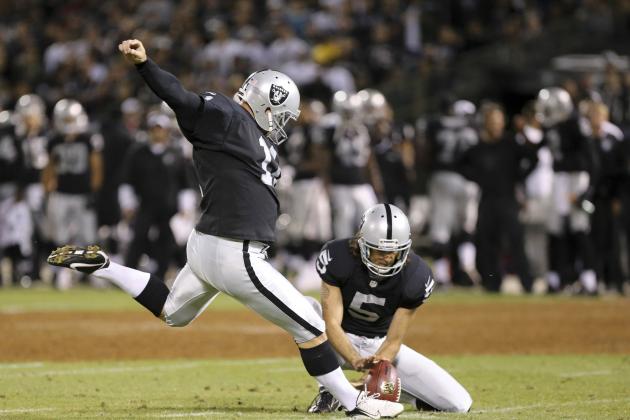 Kelley L Cox-USA TODAY Sports
Sebastian Janikowski
With so many questions about the offense and defense, it's been easy to overlook the one unit that actually can contend with the best of them in the NFL. The Raiders special teams, with a boost from first-year coach Bobby April, just might be the strength of the entire franchise at this point.
Sebastian Janikowski is coming off another strong preseason, and there's a good chance that at some point in 2013 the Raiders kicker will break the NFL record for career field goals of 50 yards or longer. He also has a fat new contract in his back pocket after making 31 of 34 attempts last season.
Jacoby Ford's return after sitting out all of 2012 will also spark the return units. Ford, the speedster who doubles at wide receiver, already holds the Raiders career record of four kickoff returns for touchdowns. If Philip Adams doesn't pan out on punt returns, look for Ford to assume those duties as well.
The coverage teams are also improved. The biggest question is whether punter Marquette King and his powerful leg can be consistent enough.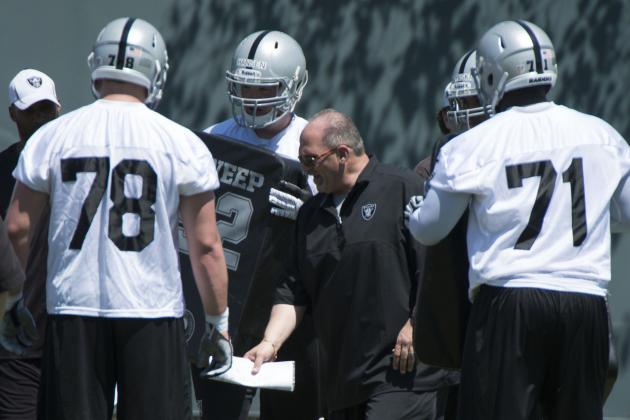 Kyle Terada-USA TODAY Sports

Tony Sparano inherited an offensive line that was in pretty bad shape to begin with, and the outlook hasn't changed much since. If anything, the situation worsened with the loss of injured left tackle Jared Veldheer.
Outside of center Stefen Wisniewski, the Raiders don't have much else to offer up front.
Second-round pick Menelik Watson, a native of England who has been playing football for just two years, replaces Veldheer. Khalif Barnes, whose job Watson was originally supposed to take, remains at right tackle. The guards aren't much better, with Mike Brisiel on the right side and Lucas Nix, an undrafted free agent in 2012, on the left.
Wisniewksi has Pro Bowl potential, but the other four could just as easily be back on the bench at some point.
Sparano, the former Miami Dolphins head coach, will have to pull off quite a magic act to get this group to produce.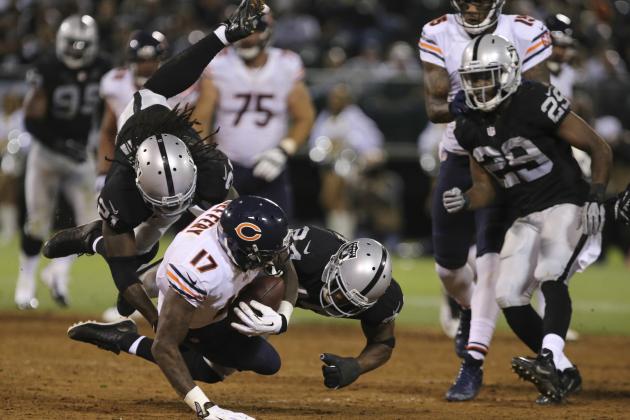 Kelley L Cox-USA TODAY Sports
Woodson tackles Chicago's Brandon Marshall
He turns 37 in October, is entering his 16th NFL season and has already logged more games by himself than the other three members of Oakland's starting secondary combined. Father Time might be trying to catch up to Charles Woodson, but the player teammates call the "old man" still has some gas left in the tank.
The former Heisman Trophy winner proved that in training camp and in his few brief appearances during the preseason when he quieted critics who suggested he call it a career.
Once recognized as the best pure run-defending cornerback in the pros, Woodson doesn't mix it up like he once did, nor is he the man-to-man coverage beast he was earlier in his career.
What he does have to compensate for his decreasing natural talent is a ton of savvy and smarts. Woodson wisely puts himself in positions to make plays, relying on a combination of experience and intense film study that he does each week.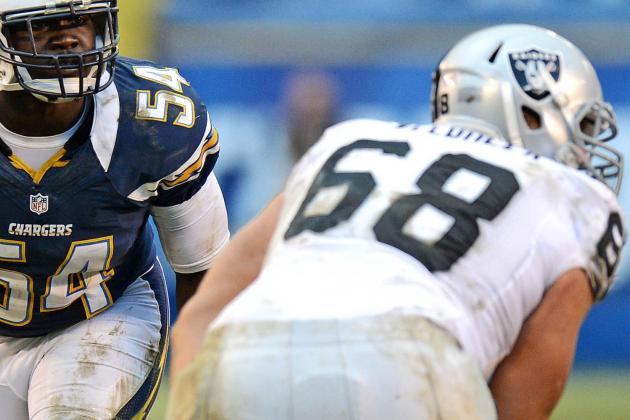 Jake Roth-USA TODAY Sports

Jared Veldheer isn't just the Raiders' best offensive lineman. The argument can be made that Oakland's left tackle is the best player on the entire offense, making it critical that the front office work as quickly as possible to give the former third-round pick a new deal.
Veldheer's contract, signed during his rookie season in 2010, expires at the end of the 2013 campaign. He's making slightly more than $1.5 million after barely making more than the minimum during the first three years of the deal.
That's chump change for a player like Veldheer, and the Raiders need to do everything they can to make sure he doesn't hit the free-agent market. General manager Reggie McKenzie is weary of signing players to long-term contracts but has done so in the past for those he sees as long-term fixtures.
Veldheer doesn't just need a new contract. He deserves it, and he deserves to get it done before the end of the year.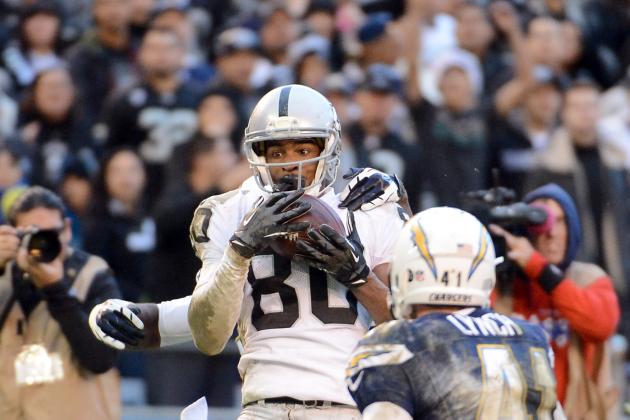 Harry How/Getty Images
Rod Streater
It's hard enough trying to compete in the NFL with mediocre quarterbacking and an offensive line that has struggled with pass protection. Throw in a wide receiving corps that has yet to identify a No. 1 target, and the mess becomes even more pronounced.
For two years, Denarius Moore tried and failed to convince fans he's capable of being the centerpiece of the Raiders wide receivers. Jacoby Ford hasn't been able to stay healthy long enough to get his bid in.
Rod Streater, an undrafted free agent who emerged as the team's most reliable downfield threat a year ago, showed flashes of playing at that level again in the preseason. Rookie Brice Butler has also looked strong at times.
Yet there is no clear No. 1 receiver among the bunch—something that could work both for and against the Raiders.
On one hand, defenses won't know who to concentrate their coverages around as opposed to playing a team with a defined top guy, like Calvin Johnson of Detroit. On the other, not having a clearly defined No. 1 receiver puts even more stress on the quarterback.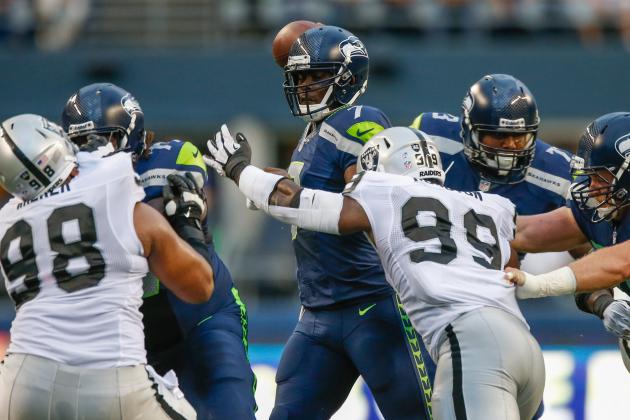 Otto Greule Jr/Getty Images

An upgraded secondary won't do the Raiders any good if opposing quarterbacks are allowed to stand in the pocket and wait for a receiver to become open, something the team saw a lot of during the preseason schedule.
A year after owning one of the NFL's least effective pass rushes, the Raiders generated just five sacks during the four preseason games and barely generated much heat on any of the quarterbacks they faced.
Getting defensive tackle Pat Sims back will help, but Oakland needs more from defensive ends Lamarr Houston and Jason Hunter. Undrafted rookie Ryan Robinson can also supply pressure from the edge.
It's not just the defensive line that needs to up its game. Defensive coordinator Jason Tarver needs to ramp up the blitz packages and take advantage of some of the speed Oakland has in the secondary and at linebacker.
Otherwise, it will be another long and frustrating season for the silver and black.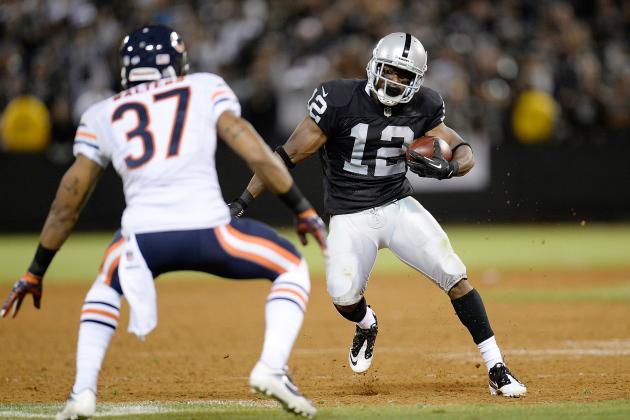 Thearon W. Henderson/Getty Images

At 5'9" Jacoby Ford is the smallest player on the Raiders' 53-man roster. He might also be the team's X-factor.
Although he's been slowed by a series of injuries that have limited his playing time the past two seasons, Ford remains one of the fastest, if not the fastest, wide receiver on Oakland's roster. Additionally, he's got better than average hands and is one of the few Raiders players with game-breaking potential.
Ford also doubles on special teams as a kickoff returner, and that's where he will likely make his biggest impact. The Raiders obviously liked what they saw of Ford in the preseason, which is why NFL record holder Josh Cribbs was let go.
Coincidence or not, Oakland has struggled to make big plays both offensively and in the return game in the two years that Ford has been hurt. Getting him going is vital to the Raiders chances for success this season.