Fantasy Football 2013: Hottest Matchups to Exploit in Week 1 Action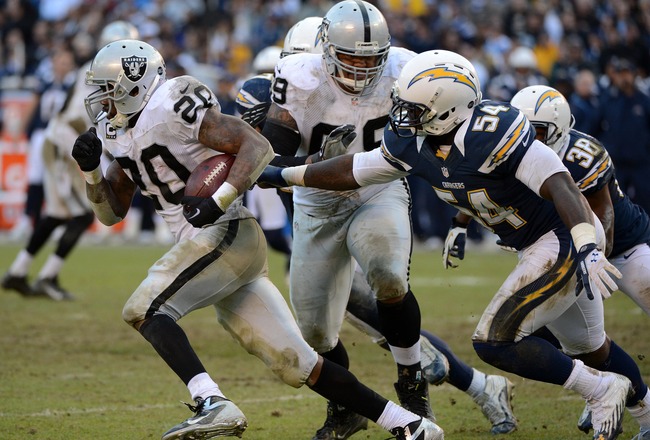 Donald Miralle/Getty Images
The preseason is now done, your fantasy football draft is complete, and Week 1 is finally set to commence. And now it's time to exploit the matchups.
Finally, we can look forward to real football and the games that count. And while it's hard to dissect Week 1 matchups based on last year's statistics and trends, it still does give us a good base to speculate on.
With all of that said, here are six players (ranked in order of fantasy relevance) who should be able to exploit their upcoming Week 1 matchup.
Disclaimer: The obvious starts (Adrian Peterson, Aaron Rodgers, Calvin Johnson and players of that ilk) will be exempt from this exercise. What you will see are the fringe No. 2 or No. 3 running backs and wide receivers who should be inserted into lineups because of the juicy matchups they face this week.
6. Steve Johnson, Buffalo Bills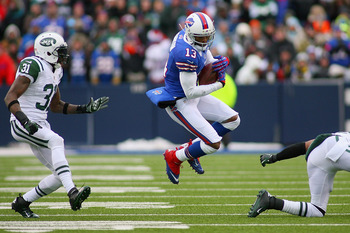 Rick Stewart/Getty Images
Most likely drafted as a fringe starter and matchup play, this is the time to utilize the enigmatic Steve Johnson.
Johnson should have a fine day against the Patriots and their still slightly weak pass defense. Last year, the Patriots gave up 271.4 receiving yards per game to go with 27 touchdowns allowed.
Besides, the Bills should be trying to play catch-up, and while Johnson's quarterback, Jeff Tuel, is not the most optimal guy to be getting him the ball, Johnson should get a ton of targets nonetheless.
5. Shane Vereen, New England Patriots
The Bills are a team in rebuilding mode, and their defense last year was one of the main reasons they struggled. Although the Patriots (who will take on the Bills in Buffalo) are putting some new parts together, this could still end in a lopsided affair in favor of New England.
That could work to Shane Vereen's favor. Even if it's a close game, Vereen should still get plenty of work.
Last year, Buffalo allowed 145.8 rushing yards per game while giving up 23 touchdowns (most in the NFL) on the ground. Although fellow back Stevan Ridley will get the bulk of the carries, Vereen's versatility should be put to good use. As a result, Vereen makes for a high-end No. 3 running back or flex position.
4. DeSean Jackson, Philadelphia Eagles
Elsa/Getty Images
With Jeremy Maclin out for the year, the Eagles' pass offense will revolve around DeSean Jackson this season.
New coach Chip Kelly's hurry-up offense should help Jackson thrive this year. And Jackson and the Eagles could not have asked for a better Week 1 matchup. On Monday night, Philadelphia will take on Robert Griffin III and the Washington Redskins in the nation's capital.
This has all the makings of a shootout. Last year, the Redskins allowed 292.6 receiving yards per game while also giving up 31 touchdowns. With Jackson and his quarterback, Michael Vick, healthy and on the same page, they should have no trouble starting the season in style.
3. Pierre Garcon, Washington Redskins
With the game between the Redskins and the Eagles likely headed toward a shootout, Pierre Garcon is one of the players who could benefit in this matchup.
With Robert Griffin III slated to start, Garcon and Griffin should pick up where they left off last year, when Garcon averaged 14.4 yards per catch. Garcon is clearly RGIII's main weapon, and RGIII will look to Garcon to exploit a rebuilding Eagles defense.
Just last year, the Eagles gave up a league-leading 33 receiving touchdowns. So, it's not out of the realm of possibility that Garcon scores in this affair while also racking up the receiving yards in the process.
2. Daryl Richardson, St. Louis Rams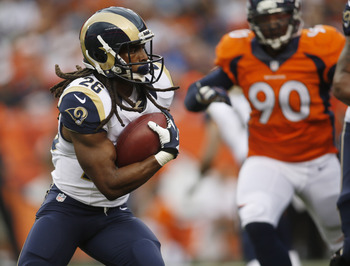 Chris Humphreys-USA TODAY Sports
With Rams coach Jeff Fisher giving Daryl Richardson the vote of confidence to be his primary ball-carrier in St. Louis, Richardson should reward his coach with a solid effort in Week 1.
After all, the Rams have a great matchup Richardson can exploit. The Rams will be going up against the Arizona Cardinals at home on Sunday. The Cardinals were terrible against the run last year, and don't expect that to change much this year. In 2012, the Cardinals gave up 137 rushing yards per game.
With the game being at home and Richardson having a point to prove, expect him to come through with flying colors.
1. Darren McFadden, Oakland Raiders
Well, Darren McFadden is healthy to start the season. So far, so good on that front.
With that said, McFadden should be a slam dunk option to start as a No. 2 or No. 3 running back this week, as he faces a vulnerable defense in the Indianapolis Colts on Sunday.
Last year, the Colts gave up 137.5 yards on the ground while allowing 5.1 rushing yards per carry. With the Raiders likely starting Terrelle Pryor, the Raiders will want to commit to the running game early with their best offensive weapon in McFadden getting plenty of carries.
The Raiders may have to play catch-up in this game, but if they have any shot of winning, they will have to feed McFadden early and often.
Keep Reading