Recruits Michigan Must Land to Finish with No. 1 Overall 2014 Recruiting Class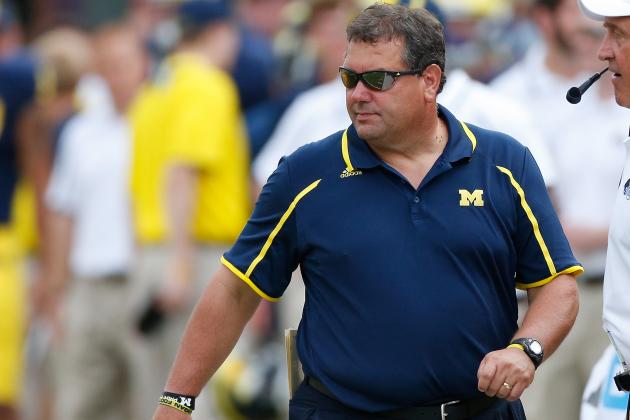 Gregory Shamus/Getty Images
247Sports
Michigan has an excellent recruiting class, as it is currently ranked No. 8 by 247Sports. Head coach Brady Hoke has established himself as one of the best recruiting head coaches in the county, and has his sights set on the No. 1 spot.
However, Michigan must jump over seven programs with strong classes before February. In order for the Wolverines to reach their recruiting goal, they will have to land a few more talented recruits. Fortunately for the people in Ann Arbor, several elite uncommitted prospects have serious interest in their program.
Michigan could have a real shot at a stud running back expected to land in the SEC. A trio of recruits from Los Angeles like Big Blue, while a defensive end could be a lock to pledge to Michigan in a few months.
Player evaluations are based on review of tape at Scout.com, Rivals, 247Sports and ESPNU.
Begin Slideshow

»
The Wolverines would love to sign Dwight Williams, a 4-star linebacker from Los Angeles. He is one of the best athletes at his position in the country, is a fierce competitor and could also play safety.
Williams, who is 6'1" and 205 pounds, has great speed and range. He can sift through traffic laterally, beat bigger offensive linemen to spots on the field with good angles and meet running backs with force. While Williams can be effective when blitzing, it is his ability to be a factor in pass coverage that sets him apart from other 'backers.
Williams' speed and athleticism would be assets to Michigan's defense in the Big Ten.
A big cornerback at 6'0" and 186 pounds, Parrker Westphal excels in zone coverage. He displays great instincts and awareness, sees the entire field and can challenge bigger receivers.
Westphal, a 4-star recruit from Illinois, can give a receiver cushion at the line, sink his hips and explode to jump a passing lane after reading a route. He'll peel off his man in zone coverage to go make a play on the ball, as well as squeeze the line of scrimmage off the perimeter to support the run.
Michigan defensive coordinator Greg Mattison has to be excited at the thought of coaching 4-star defensive tackle Malik McDowell. The Michigan native is 6'7", 290-pounds and has played defensive end in high school.
McDowell has good quickness at the snap, is adequately athletic for a big man and flashes great short-area quickness to explode to running backs in the trenches. His size and strength allow him to play big at the point of attack, evidenced by McDowell's ability to anchor versus running plays.
He would be an excellent addition to Michigan's recruiting class, as McDowell would become a starter early in his career.
Big Blue would be wise to continue its pursuit of 5-star athlete John Smith. With his explosive speed, outstanding agility and great work ethic, Smith would be a star in Ann Arbor.
A southern California native, Smith plays for powerhouse Long Beach Poly. The 6'1", 200-pounder can launch into his routes quickly as a receiver, sharply cut to detach from a cornerback and has solid hands to pluck passes.
However, Smith could be an even better safety, as he possesses rare movement skills, loose hips, great field vision and the speed to play with great range. Should he elect to sign with Michigan, the Wolverines offensive and defensive coaches will likely fight over him.
The best athlete on this list, Adoree' Jackson is a 5-star cornerback who could easily play on offense in college. Michigan could use his speed and explosiveness at receiver and in the return game.
Jackson, a 5'9.5" and 182-pounder who plays in Los Angeles, is also an accomplished long jumper. As a cornerback, he can mirror receivers at the line thanks to excellent agility, has surprising strength to press and his loose hips and burst out of transition allow him to quickly close on the ball.
Michigan will have stiff competition for Jackson, but the Wolverines have to continue putting the press on him.
Big Blue needs more impact defensive ends on its roster, so 5-star prospect Da'Shawn Hand may indeed be its most important recruiting target.
Hand, a 6'4", 254-pound Virginia product, has above-average quickness at the snap, great athleticism and impressively fights to pressure the passer with toughness. A strong player, Hand can set the edge versus the run, stack blocks at the point of attack, shed with power and make tackles on running backs.
He would play immediately at Michigan, where he is expected to sign, says 247Sports.
If Michigan is serious about landing the No. 1 recruiting class in the country, it will continue to recruit Leonard Fournette, a 5-star running back who many perceive as the nation's best player.
Fournette, who is from New Orleans, is 6'1" and nearly 230 pounds. He can attack a defense as a downhill runner, powerfully break tackles and push piles to gain yards after contact. However, Fournette also has great speed, adequate elusiveness and can quickly skate through alleys.
He is also a great receiver out of the backfield who can work on the perimeter and make a big impact in the passing game. Although LSU and Alabama are the two main schools in his recruitment, Michigan is being considered, according to 247Sports.
Michigan fans, many of your beloved Wolverines' top recruiting targets can be seen on the 2014 Bleacher Report College Football Recruiting Heat Map! This is a great interactive tool to help locate the top prospects in the country!
Edwin Weathersby is the College Football Recruiting Analyst for Bleacher Report. He has worked in scouting/player personnel departments for three professional football teams, including the New York Giants and Cleveland Browns.