Stock Up, Stock Down for Every Major 2013 MLB Award Race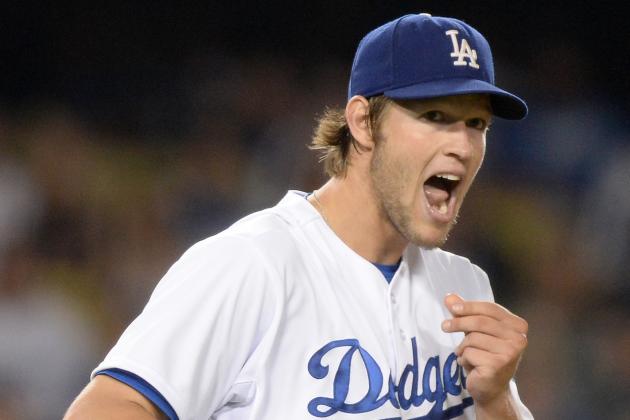 Harry How/Getty Images

With the calendar flipping to September, we will now see the best that baseball has to offer in the pennant and awards races.
Frequently we see the narrative of the pennant race determine which players win awards. Mike Trout was the American League MVP last season until Miguel Cabrera won the Triple Crown. Buster Posey led the San Francisco Giants into the postseason with a brilliant September that carried him to the NL MVP.
This year, even though we can officially declare a few races over—enjoy your second Cy Young award, Clayton Kershaw—there is enough debate about most of of the major awards that it should make for an interesting final month.
For this, I am presenting a ballot as I would fill it out right now with some notes on the player and where I view their stock in the awards race at this moment. I list the top three candidates in each category, except for the NL and AL MVP awards, where I will list the top five. I will also include a list of players rising and falling at the end of each page.
These are the choices as I would list them, not what I think will happen when voting occurs in four weeks. With that in mind, let the debate begin.
Note: All stats courtesy of Fangraphs and Baseball Reference unless otherwise noted.
Begin Slideshow

»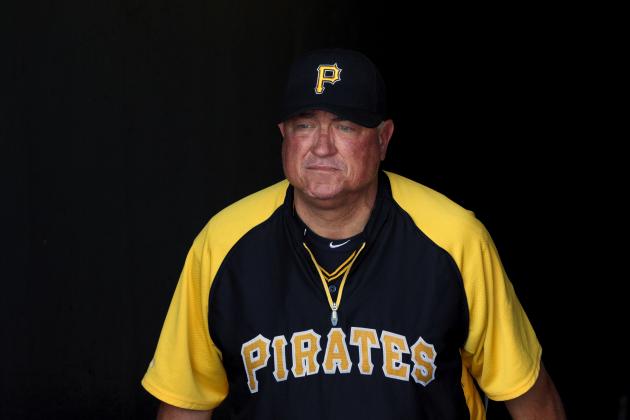 Jason O. Watson/Getty Images

For the Manager of the Year awards, we are going to deviate from the formula mentioned in the intro. There isn't going to be any change in these results over the next four weeks in my opinion, so I figured we could just talk about everything together.
This is a tricky category to project because I try to pay attention to in-game strategy and tactical moves, but that is just a small part of what goes into being a manager. You also need someone capable of relating to 25 athletes every day for seven months.
If we were just judging based on tactical stuff, I guarantee you the person I put atop the NL Manager of the Year rankings would be much closer to the bottom because he's quite terrible with strategy.
NL Manager of the Year: Clint Hurdle, Pittsburgh Pirates
I don't care what the Dodgers do the rest of the year or how good Atlanta has been this season. The fact that the Pirates are leading the NL Central after 137 games and are as close to a lock for the postseason as anyone in that division makes Clint Hurdle the runaway winner.
It also helps Hurdle's case that some of the best strategic managers in the NL (San Diego's Bud Black, Washington's Davey Johnson) are with teams having disappointing seasons. But the second the Pirates hit 81 wins, Hurdle can start dusting off a spot in his trophy case.
Rising: Don Mattingly (Los Angeles), Fredi Gonzalez (Atlanta)
AL Manager of the Year: John Farrell, Boston Red Sox
One year ago, the Red Sox, one of the most storied franchises in all of North American sports, were a joke. Bobby Valentine was leading an already-sinking ship further into the ground. We were wondering how long it would be before they could contend again.
Now, under John Farrell's leadership, the Red Sox own the best record in the American League and are going to win the East with a 5.5-game lead over Tampa Bay.
Since Oakland and Baltimore emerged last year, it lowers the chances for Bob Melvin and Buck Showalter, respectively. If Cleveland weren't in the midst of a collapse thanks to an offense that has disappeared in the second half, Terry Francona would get a lot of love in this category.
I will say to watch out for Joe Girardi. The Yankees have endured more high-profile injuries, not to mention dealing with the A-Rod situation, so there is going to be a lot of sympathy coming Girardi's way if the Bronx Bombers get in the postseason.
Rising: Joe Girardi (New York), Ned Yost (Kansas City)
No. 1 Wil Myers, OF, Tampa Bay Rays
Myers is the strongest all-around candidate in a dreadful American League field of rookies. He boasts a solid .283/.346/.450 slash line and 1.7 fWAR despite playing in just 63 games thus far. The 22-year-old ranks fourth among AL rookies in home runs (nine) even though he didn't debut until June.
Unfortunately, Myers isn't leaving a strong impression on voters after hitting .209/.317/.314 with five extra-base hits in August. He is the best candidate almost by default, so a strong finish will make the award his.
Stock: Down
No. 2 Chris Archer, SP, Tampa Bay Rays
After a couple rough patches in August with two starts that lasted a total of 6.2 innings, Archer found his groove in his next three outings, racking up 21 innings with just 13 hits allowed, four earned runs, 14 strikeouts and two walks.
Only Oakland's Dan Straily has more innings pitched than Archer among AL rookies, but Archer plays in a better division and those last three starts came against above-average offensive teams in Toronto, New York (at least in the second half) and Los Angeles.
With another strong month under his belt, Archer could swoop in and steal his teammate's award.
Stock: Up
No. 3 Jose Iglesias, SS, Detroit Tigers
Any conversation about Iglesias for Rookie of the Year starts and stops with his defense. Don't be fooled by his current .318/.365/.399 slash line because most of that came in the first 38 games with Boston.
Since the start of July, Iglesias is hitting just .251/.297/.302 with seven extra-base hits in 179 at-bats. His defense hasn't been stellar as far as metrics go, with the 23-year-old being credited with allowing one run on defense despite a decent 3.2 UZR.
Playing with the Tigers will give Iglesias a boost because he will be the everyday shortstop and contribute a lot to a playoff team with the glove, but I can't envision him climbing higher than this spot because of the offensive limitations.
Stock: Down
Rising: Martin Perez (Texas), Dan Straily (Oakland), Brad Miller (Seattle)
Falling: Nick Franklin (Seattle), Cody Allen (Cleveland), David Lough (Kansas City)
No. 1 Jose Fernandez, SP, Miami Marlins
Lost in the midst of Puigmania, not to mention being stuck in the abyss known as Miami, Jose Fernandez has put together a fantastic rookie season that has made him the odds-on favorite to win NL Rookie of the Year in a crowded field.
The 21-year-old leads all rookies with 3.9 fWAR, averages more strikeouts per nine innings (9.81) than any rookie with enough innings to qualify for the ERA title, has an ERA nearly half a run lower than the No. 2 rookie (Cincinnati's Tony Cingrani, who only has 97.2 innings) while also boasting the lowest FIP (2.69) and xFIP (3.01).
Yeah, even with Yasiel Puig doing what he's done, Fernandez is the candidate to beat. The one thing that gives me pause is knowing the Marlins will shut him down soon, preventing him from adding to his stellar totals over the final weeks of the season.
Stock: Down (Only because of the innings restriction)
No. 2 Yasiel Puig, OF, Los Angeles Dodgers
There are things we tend to forget about Puig. He's just 22 years old, playing his first full season in professional baseball after leaving a poverty-stricken country to sign a huge contract last year with one of the premier franchises in all of sports and was anointed the "Next Big Thing" just weeks after his debut.
Put all that together, and is it any wonder why Puig walks around with an aura of confidence that some call immaturity?
Just look at Puig as a baseball player. He changes the game in so many ways, with his bat, throwing arm and speed. Does he have things to work on? Absolutely; very few 22-year-olds can say they don't. But the total package is incredibly exciting and points to a bright future.
Stock: Up
No. 3 Julio Teheran, SP, Atlanta Braves
It was a close call for third place between Teheran, St. Louis' Shelby Miller and Los Angeles' Hyun-Jin Ryu.
For me, the difference is that Teheran averages more strikeouts and fewer walks per nine innings than Ryu, and has thrown 21.1 more innings than Miller.
Teheran also does it in a division that isn't quite as pitcher-friendly as the NL Central (Pittsburgh, Chicago and Milwaukee all rank in the bottom 10 in runs scored) and NL West. (Petco Park, AT&T and Dodger Stadium are two of the worst offensive parks in baseball this year, according to ESPN Park Factor Ratings.)
Stock: Up
Rising: Hyun-Jin Ryu (Los Angeles), Shelby Miller (St. Louis), Tony Cingrani (Cincinnati)
Falling: Didi Gregorius (Arizona), Jedd Gyorko (San Diego), Gerrit Cole (Pittsburgh)
No. 1 Felix Hernandez, Seattle Mariners
The race between the top two candidates is incredibly close. Detroit's Max Scherzer has fewer "dud" starts (five innings or less) than Hernandez, five to three. But Hernandez has more starts of at least seven innings with one or fewer earned runs, nine to five.
Scherzer also has the benefit of pitching in the AL Central, where Kansas City, Minnesota and Chicago all rank in the bottom half of baseball in runs scored. Hernandez has three teams in his division that rank in the top 10 in that category (Texas, Oakland, Los Angeles).
Hernandez and Scherzer had bad starts last week against good teams, so one great performance here or there could swing things in either direction. For now, though, my gut says to go with King Felix.
Stock: Down
No. 2 Max Scherzer, Detroit Tigers
You'll notice one stat I didn't point out was win-loss record because it really does nothing to tell us how well a pitcher performed. For instance, Scherzer should have had a loss last week against Oakland, but the offense bailed him out with a no-decision after Torii Hunter hit a walk-off home run.
Scherzer's record doesn't define his candidacy, though the narrative of being 19-2 will carry him to the award. What does matter is the right-hander ranks fifth in the AL with 190.1 innings pitched, second in strikeouts per nine innings (9.88), second in FIP (2.72) and fifth in xFIP (3.14).
Stock: Up
No. 3 Yu Darvish, Texas Rangers
Trailing far behind Hernandez and Scherzer is Darvish, who continues to rack up strikeouts like Hugh Hefner adds girlfriends. The 27-year-old currently strikes out 12.16 per nine innings. If that rate holds the rest of the year, it would be the highest since Randy Johnson in 2001 and seventh-highest in history, according to Baseball Reference.
There are two things that hurt Darvish's candidacy against Hernandez and Scherzer. First, as a result of missing time on the DL, Hernandez has a 20-inning edge over Darvish. Second, aside from two starts against Houston, he's only worked into the eighth inning one other time, against Detroit on May 16.
But Darvish's electric arm is so fun to watch and has put him squarely in the mix for the No. 3 spot in the AL Cy Young race.
Stock: Up
Rising: Chris Sale (Chicago), Derek Holland (Texas), Hiroki Kuroda (New York)
Falling: Doug Fister (Detroit), James Shields (Kansas City), Hisashi Iwakuma (Seattle)
No. 1 Mike Trout, OF, Los Angeles Angels (Stock: Up)
No. 2 Miguel Cabrera, 3B, Detroit Tigers (Stock: Up)
I wanted to talk about both Trout and Cabrera together because I am sure this is where most of the debate will come from.
Cabrera is the best pure hitter in baseball, no doubt. He is having a significantly better season than his historic 2012. Few, if any players, can change a game with the bat the way Miggy does.
However, therein lies the problem. Cabrera's only value comes when he is in the batter's box. He is a below-average baserunner and rates as the worst defensive player in the American League this year by UZR (-15.5) and defensive runs saved (-17).
Trout may not quite be at the level of Cabrera with a bat in his hands, but it's certainly a lot closer than some might try to argue. It also helps that Trout can do more than Cabrera. Even though Trout rates as a mediocre defender this year with minus-eight defensive runs saved, his UZR of 3.9 is decent, and he also rates as a well above-average runner with 8.3 baserunning runs above average.
Considering Trout plays a more valuable position than Cabrera, plays it better than Cabrera plays his, and adds more offensive value in a variety of ways, he gets the edge for the MVP.
No. 3 Chris Davis. 1B, Baltimore Orioles
After a stellar first half when he hit .315/.392/.717, Davis has come back down to earth after the All-Star break with a performance more in line with what we should expect moving forward (.253/.358/.527).
The top two players in the AL are locked. Everyone else is just battling for third. Davis still has the edge because his power output is so far beyond what anyone else in the league has done.
Stock: Down
No. 4 Josh Donaldson, 3B, Oakland Athletics
He got lost in the All-Star shuffle. He gets very little national attention because he plays in the west (and in Oakland). But Josh Donaldson has been the best all-around third baseman in the American League this season.
Manny Machado is an elite defender at the hot corner, but his .298/.326/.447 slash line can't touch Donaldson's .292/.370/.480 mark. Evan Longoria is right behind Machado on defense, but his offensive numbers have taken a dive recently to the point where he's 30 points behind Donaldson in OBP.
Donaldson has had his problems in the second half (.252/.350/.387), but his overall offensive numbers at third base are still as good as anyone in the AL not named Cabrera. He also does it playing in a division with big ballparks that make it difficult to put up numbers (Oakland, Seattle, Los Angeles).
Stock: Down
No. 5 Robinson Cano. 2B, New York Yankees
Even with 25 home runs, Cano is having his worst slugging season since 2008 with a .508 percentage. That is a testament to how consistently great the Yankees second baseman has been in his career.
What Cano has lost in pop, which isn't much, he's made up for with a better approach at the plate and career-best .383 on-base percentage. The soon-to-be-free agent remains a solid defender at second base with four runs saved.
If the Yankees make it into the postseason, don't be shocked if Cano winds up third in AL MVP voting.
Stock: Up
Rising: Jacoby Ellsbury (Boston), Adrian Beltre (Texas), Felix Hernandez (Seattle), Max Scherzer (Detroit)
Falling: Manny Machado (Baltimore), Evan Longoria (Tampa Bay), Dustin Pedroia (Boston)
No. 1 Clayton Kershaw, Los Angeles Dodgers
It's a good thing Kershaw had a poor start against Colorado on Monday because it gives us something to talk about. It is the first time all year the 25-year-old has looked human but does nothing to hurt his Cy Young stock.
In fact, thanks to Matt Harvey's injury and Adam Wainwright's issues last week, this could turn into a walk for Kershaw. He leads the NL in innings (209), ERA (1.89), WHIP (0.92), strikeouts (201) and has a sizable lead over the No. 2 pitcher in bWAR, Colorado's Jhoulys Chacin (7.1 to 5.8).
Even if Harvey hadn't gotten hurt, Kershaw would still be the clear No. 1 choice in this category because he would have a 15-20 inning edge by the time the season ends. If this vote doesn't end up being unanimous at season's end, it would be a major upset.
Stock: Up
No. 2 Adam Wainwright, St. Louis Cardinals
The dog days of August and September may have caught up to Wainwright. He has given up 18 hits, 15 earned runs, three home runs and four walks in his last two starts against division-rival Cincinnati.
But even the best starters are allowed a mulligan on occasion, especially for Wainwright, who has otherwise been terrific in 2013. He has the best strikeout-to-walk ratio (6.45) in baseball, ranks second in innings and xFIP.
Kershaw has the award locked up, but Wainwright should be a solid No. 2 in this category if he can right the ship.
Stock: Down
No. 3 Mat Latos, Cincinnati Reds
It can be easy to overlook Latos, especially since he pitches in the same division as Wainwright, but the Reds' top starter has been fantastic this year. He's fifth in the NL with 184 innings pitched, sixth in FIP, eighth in ERA, ninth in strikeouts and 10th in xFIP.
Latos isn't locked into this spot, by any means. He's benefited from some easy competition with nine starts against Chicago, Pittsburgh and Miami. Even though the Pirates are going to be a playoff team, that offense is nearer to the bottom in baseball.
Stock: Up
Rising: Cole Hamels (Philadelphia), Cliff Lee (Philadelphia), Patrick Corbin (Arizona)
Falling: Matt Harvey (New York), AJ Burnett (Pittsburgh), Mike Minor (Atlanta)
No. 1 Andrew McCutchen, OF, Pittsburgh Pirates
In an incredibly close race for the NL MVP, Andrew McCutchen gets a slight edge over Clayton Kershaw. The Pirates' young star leads the league in fWAR (6.6), ranks third in OBP (.399) and fourth in wRC+ (153) while rating as a well above-average defensive player in center field with nine runs saved and a 4.9 UZR.
This is one of those instances where the storyline of the Pirates (possibly) making the playoffs will reward the best player in the league with the MVP. McCutchen, at least to this point, has earned the right to be called the top player in the NL.
Stock: Up
No. 2 Clayton Kershaw, SP, Los Angeles Dodgers
One of the things that's always perplexed me when you see stories about why pitchers can't win the MVP is the they-don't-play-everyday argument. While that part is true, when you factor in the number of outs they are responsible for, not to mention how much greater their influence over the outcome of a game is than the average player, it all evens out.
Kershaw has been as valuable as almost any player in the National League this year. I have him just behind McCutchen because what Cutch is doing this year as an up-the-middle player warrants acclaim, but I am certainly open to Kershaw taking the honor if he keeps up his current pace.
Stock: Up
No. 3 Joey Votto, 1B, Cincinnati Reds
It seems trendy to fault Joey Votto for having one of the best batter's eyes in baseball. Since he takes so many pitches, the 2010 NL MVP hasn't put up the home run totals he used to.
Still, it is hard to argue with a first baseman who, even without that power, slugs .496 and leads the league by 12 points with a .429 on-base percentage. Oh yeah, Votto also ranks second in wOBA at .400, behind Carlos Gonzalez (who gets an artificial boost from Coors Field).
Stock: Up
No. 4 David Wright, 3B, New York Mets
Don't you feel bad for David Wright? I mean, he did get more than $100-plus million extension in the offseason, so it's hard to feel too bad for him. But the starting lineup manager Terry Collins has to put out there is laughable.
At least Wright has more than held up his end of the bargain with a .309/.391/.512 line and his usual plus defense at the hot corner. He also ranks third in WAR (5.7) despite being limited to just 105 games and sixth in wOBA (.391).
Stock: Down
No. 5 Paul Goldschmidt, 1B, Arizona Diamondbacks
Arizona signed Goldschmidt to a five-year extension at the start of the season that now looks like one of the better bargains in baseball. The young first baseman has evolved into one of the best all-around players at his position, hitting for more power with better defense than I anticipated coming out of college.
Only McCutchen, Votto, Shin-Soo Choo have gotten on base at a higher clip than Goldschmidt (.398). His .537 slugging percentage ranks second in the NL, his isolated power of .244 ranks third, and wOBA of .398 ranks fourth.
Stock: Up
Rising: Carlos Gomez (Milwaukee), Matt Carpenter (St. Louis), Yadier Molina (St. Louis)
Falling: Adam Wainwright (St. Louis), Ian Desmond (Washington), Matt Harvey (New York)
If you want to talk baseball, feel free to hit me up on Twitter with questions or comments.