Biggest Questions Facing New York Giants in Week 1 Contest with Dallas Cowboys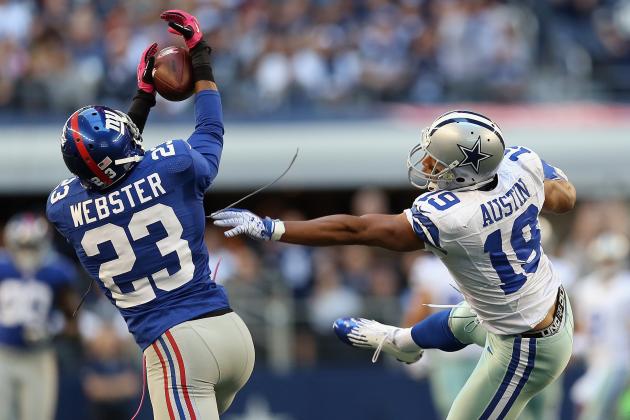 Ronald Martinez/Getty Images
It may only be Week 1, but Sunday's clash in Dallas is a big one for the Giants.
Disdain is the only way to describe the mutual feeling between two division rivals in the NFC East. Fortunately for the players, they won't have to wait long before getting their hands on each other.
The New York Giants have squared off against the Dallas Cowboys on six different occasions in Week 1. Big Blue has somewhat shockingly lost each of those contests. The schedule-makers have once again ungraciously greeted New York with a date in Dallas to kickoff the 2013 season.
If the Giants want to change a history that has not been kind to them, they will need to address several question marks.
This particular rivalry has been filled with animosity and wildly entertaining games in recent years. In 2012, the defending champion Giants dropped to 0-1 as Dallas spoiled their home opener in front of a national audience.
Expectations are always high for each of these storied franchises. The hatred for one another is tangible as well. For these reasons, the 2013 opener in Dallas is a highly anticipated one.
Tom Coughlin's team has critical questions facing them heading into Week 1. Success in responding to these challenges will lead the Giants to victory in a pivotal divisional matchup. Here's a look at the five biggest question marks New York faces against Dallas this Sunday night.
Begin Slideshow

»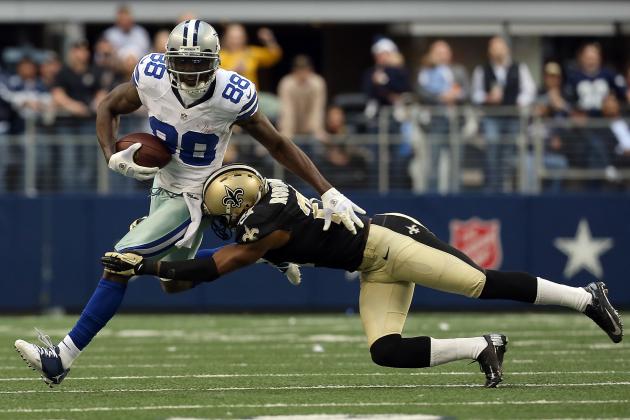 Tom Pennington/Getty Images
Dez Bryant is a perennial threat.
In Dez Bryant's final seven games of 2012, he recorded 47 receptions, 792 yards and nine touchdowns. Week after week, the former Oklahoma State standout proved he is the best receiver in the NFL not named Calvin Johnson.
There are two ways New York can neutralize this superstar who continues to improve.
Throwing double-teams in the direction of Bryant is the most effective way to spoil his evening. Corey Webster is a savvy veteran who can cause problems at the line of scrimmage. Webster does his best work jamming receivers. Once separation is reached, however, he tends to lose his bearings.
Help for Webster will come over the top by way of Ryan Mundy, who recently joined New York this offseason after spending his entire career in Pittsburgh.
Open space after the catch is where Bryant is most dangerous. New York must cap his explosiveness with sound tackling by its safeties throughout the course of the game. One slip-up and Bryant will hurt you.
Pressuring Tony Romo consistently is another way New York can slow down Bryant. Anticipate the combination of Linval Joseph and Cullen Jenkins to be effective in getting in Romo's face. This underrated strength of Perry Fewell's defense could hurry Romo into some bad throws in key moments.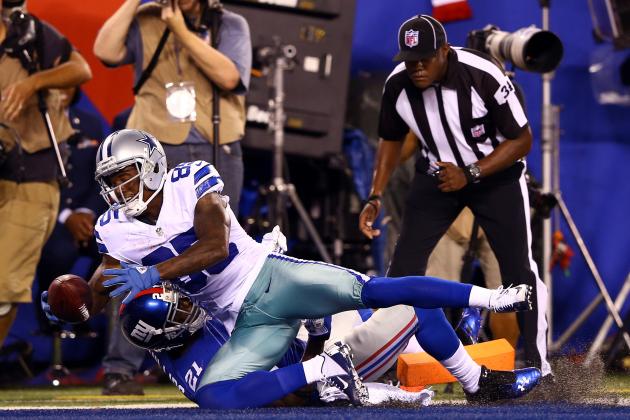 Al Bello/Getty Images
Ogletree torched the Giants last season.
Last season's opener was a bit of a fluke when you consider the exploits of Kevin Ogletree. Going up against the likes of Michael Coe and Justin Tryon, Ogletree had eight catches, 114 yards and two touchdowns.
Even though Ogletree now finds himself with the Tampa Bay Buccaneers, New York must be wary of the various weapons at Tony Romo's disposal.
After ripping the Giants' secondary to shreds, Ogletree was a non-factor in 2012. This ultimately says more about the lack of depth at cornerback for New York than it does about this particular receiver.
Aaron Ross is back in the fold and Prince Amukamara and Jayron Hosley are each one year older, but the Giants still possess a below-average pass defense.
While all of the attention will be on Dez Bryant, Miles Austin and Jason Witten, the Giants cannot allow the "Ogletree factor" to beat them. 2013's version of this comes in the form of Terrance Williams. The rookie third-round pick out of Baylor must be shut down effectively by Hosley and Ross if New York wants to leave Dallas with a victory on Sunday night.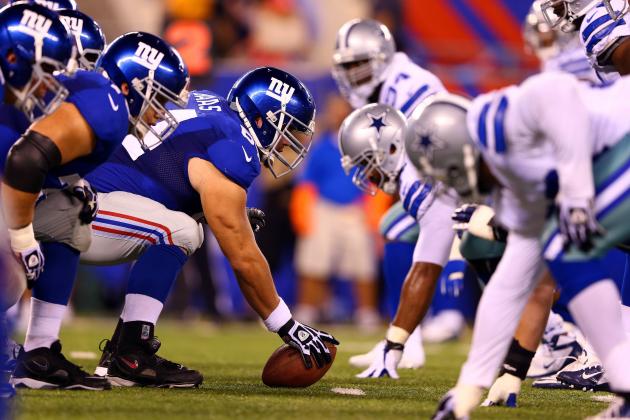 Al Bello/Getty Images
New York has to be solid in the trenches.
With all of the skepticism surrounding the New York Giants' offensive line, you may be shocked to know Eli Manning was sacked fewer times than any other quarterback in the NFL last season. Injuries and old age, however, have begun to catch up to New York's offensive line.
The season hasn't even started and the Giants are already shuffling their personnel up front.
Injuries to center David Baas and right tackle David Diehl have presented a challenge for offensive coordinator Kevin Gilbride. This may force the Giants to slide Kevin Boothe over to the center position and insert rookie Justin Pugh at right tackle.
Pugh's start at right tackle on Sunday will be a baptism by fire.
New York's first-round pick in 2012 is not quite ready to start at tackle in the NFL. Look for the Giants to help Pugh by lining up a tight end next to him or assigning a running back to chip opposing rushers.
A patchwork group will be called upon to protect Eli Manning in Dallas. This group's level of success is the biggest key to victory for the Giants this Sunday.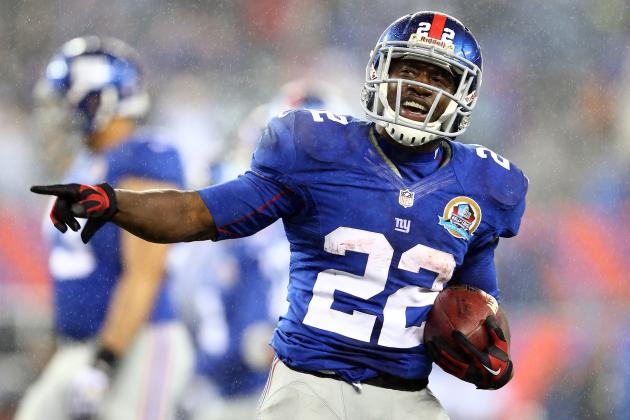 Elsa/Getty Images
David Wilson has star potential.
Sunday night presents the ideal opportunity for David Wilson to announce his arrival amongst the NFL's elite running backs. While last season saw Doug Martin (31st overall pick in 2012) explode for 1,454 yards, Wilson (32nd overall pick) failed to make a major impact as a running back.
Martin's rapid ascent after being selected just one spot above Wilson is likely a source of motivation for the Giants running back this season.
Another factor aiding Wilson is the injury sustained by Andre Brown this preseason. New York's backfield unequivocally belongs to the former Virginia Tech track star after Brown broke his leg in late August.
In their No. 1 running back, the Giants have a dogged competitor, one who is on the cusp of being a fan favorite and dynamic playmaker.
The ball will be in David Wilson's hands early and often Sunday in Dallas. If this effervescent neophyte can answer the call, expect the Giants to spring the upset.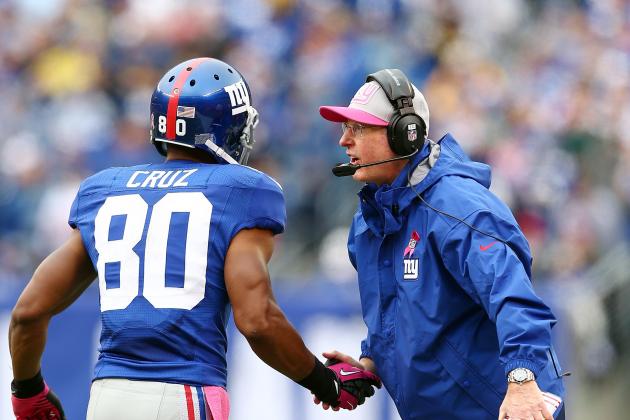 Elsa/Getty Images
Tom Coughlin will expect his team to look sharp early in Dallas.
All 32 teams face this question mark heading into Week 1. The ones who respond best will ultimately come away victorious.
New York was humbled by Dallas after opening last season in such a flat manner. 2013's opener will be no different if Tom Coughlin's team cannot shake the rust early.
Dropped passes and missed assignments plagued the Giants in that Wednesday night affair. While the Cowboys nearly shot themselves in the foot with 13 penalties, the big plays overwhelmingly fell in their favor. New York's rust and post-Super Bowl hangover proved to be too much to overcome.
Aside from the penalties, Dallas looked crisp in gaining 433 yards in hostile territory. New York, meanwhile, managed a measly 269 yards as an offense. If the Giants want to reverse these figures in 2013, Eli Manning will need to move the chains early and establish a solid rhythm with his receivers.