Texas A&M Aggies vs. Sam Houston State Bearkats Complete Game Preview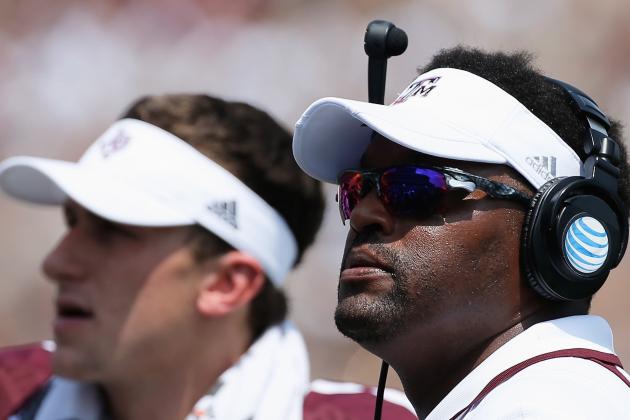 Scott Halleran/Getty Images

Texas A&M faces off against FCS powerhouse Sam Houston State this Saturday following a week filled to the brim with drama and national criticism. Starting quarterback and defending Heisman Trophy winner Johnny Manziel has been forced into the spotlight once again, and with sharks circling, the sophomore must be on his best behavior against the Bearkats.
As for the game, below is all the info you need to know:
Time: 7 p.m. ET, Saturday, Sept. 7
Place: Kyle Field, College Station, Texas
TV: Fox Sports pay-per-view
Radio: Texas A&M Sports Network
Spread: Texas A&M by 45, according to vegasinsider.com
*Unless otherwise noted, all quotes were obtained firsthand.
Begin Slideshow

»
Scott Halleran/Getty Images

Showing Up
It may seem ridiculous, but considering the talent differential between these two squads, A&M is almost surely guaranteed a victory as long as it puts its best foot forward. Sam Houston State may be one of the nation's better FCS opponents, but the Aggies are still No. 7 in the country and will be playing at home.
Don't Underestimate Sam Houston State
Kansas State made this mistake last week against North Dakota State and took a bullet for the rest of the BCS in the process.
Quick trivia: Who lost to North Dakota State in the FCS title game the last two seasons? Sam Houston State.
In conclusion, the Bearkats are certainly capable of pulling off the largest upset since Appalachian State over Michigan in 2007, but the task won't be easy. With Kansas State's corpse as a warning, this A&M coaching staff should have no trouble helping their team see the danger.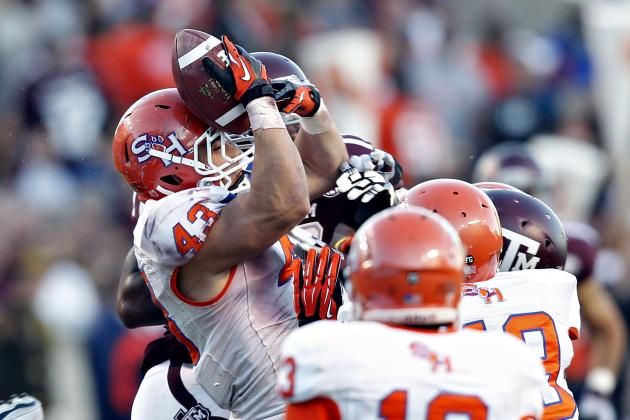 Bob Levey/Getty Images

Take Advantage of Mismatches
With the Aggies still holding out on a few starters due to suspension—particularly on defense—Sam Houston State must use that edge to surge to a quick lead and take the Kyle Field effect out of the equation early. Furthermore, the Bearkats may gain the upper hand if A&M is distracted, a likely event due to the Aggies' visitors next Saturday: No. 1 Alabama.
Utilize Every Star Player & Trick Play
For Sam Houston State, this is its Alabama game and is most certainly circled on every player and coach's schedule. Pulling off a David vs. Goliath win at Kyle Field would be a program-defining victory—one the national media would never forget.
Scott Halleran/Getty Images

Johnny Manziel
The reigning Heisman Trophy winner will return to center stage Saturday, and this time around he will have the opportunity to play more than just the second half. After completing 6-of-8 passes for 94 yards and three touchdowns against Rice, expect Manziel to put up big numbers in the air and on the ground against the Bearkats.
Brandon Williams
The sophomore transfer running back missed a majority of the offseason and fall camp due to a foot injury, and Sam Houston State marks his first day back on the turf. According to offensive coordinator Clarence McKinney, it will be a relief to have Williams back on the field, if only for the solace of him not bugging the coaching staff anymore.
True Freshmen Defenders
Due to the large number of suspensions both against Rice and Sam Houston State, the A&M defense has been forced to rely on much younger talent than anticipated at critical roles across the unit. Ranging from defensive tackle to cornerback, true freshmen have filled in for their veteran counterparts, and seeing their further development against Sam Houston State should prove interesting.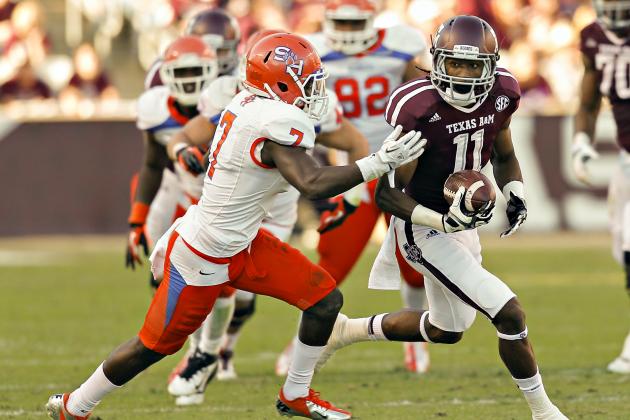 Bob Levey/Getty Images

Brian Bell
The Bearkats' quarterback performed admirably in last week's 74-0 victory over Houston Baptist, going 5-of-9 for 90 yards and two touchdowns. Against A&M, though, expect to see the starter the entire game as Sam Houston State will look to Bell to make big plays.
Steven Hicks
Last week against Rice, the A&M defense had a rough time slowing down Owls running back Charles Ross. Be sure Sam Houston State tailback Steven Hicks has seen that tape, as he'll be looking to build on his strong statistics from last week, which ended with 17 carries for 99 yards and one touchdown.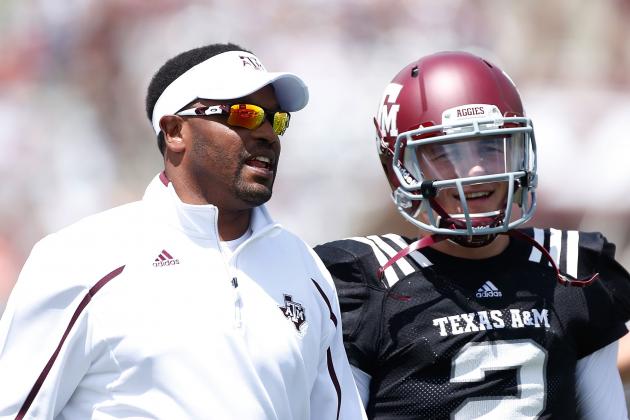 Scott Halleran/Getty Images

During the Aggies' weekly Tuesday press conference, Texas A&M head coach Kevin Sumlin broke down Sam Houston State in the simplest terms possible—don't underestimate this team. According to Sumlin, many of A&M's starters who played second string in last year's 47-28 victory over Sam Houston State failed to impress during their time on the field.



Seeing North Dakota State go in to Kansas State and win last weekend is all you need to see to be prepared. Last year, we had our starters playing in the first half. The backups lost the second half 28-6. When you turn on the tape from the second half, you saw a lot of those guys playing last Saturday. That gets their attention.



As for senior running back Ben Malena, he believes A&M must treat Sam Houston State as if it were another conference opponent.



You can look at their game last year and realize that they're not a team to mess with. They went to the national championship in their division two years in a row. If you don't come out, this team will come out and beat you. We know that we have to prepare this week and we have to be ready for them. They have some great players, some former Division I players. They have some great talent. You can't overlook schools. We have to prepare for them like they're a conference opponent.



Scott Halleran/Getty Images

After A&M's drama-filled showing against Rice, Manziel and the starting offensive corps will kick off the game with a passion, scoring easily throughout the first half. With the negative media surrounding the 20-year-old quarterback, Manziel will play with a chip on his shoulder and no remorse.
As for the defense, a slow start similar to Rice will transpire, but a spark from the offense as they light up the scoreboard will propel the youth-infused unit to hold off the Bearkats the majority of the game.
Prediction: Texas A&M 63, Sam Houston State 24