Full Score Predictions for NFL Week 1 Action
Doug Pensinger/Getty Images

After what has seemed like an eternity, we are finally on the doorstep of the NFL regular season.
The 2013 season is set to officially kick off on Thursday night at 8:30 p.m. ET. Roughly three hours after that, the league should have its first winner and loser of the season.
Trying to determine which teams end up on the right side of victory is far from an exact science (unless you're that one guy in the yearly office pool that no one likes). However, it just wouldn't feel like the beginning of a new NFL season if we didn't give it a shot.
Because every franchise is currently undefeated, the following predictions are largely based on a combination of each team's 2012 record, preseason performance, coaching tendencies, offseason roster movement, injuries and suspensions.
Since no good game preview is truly complete without a final score prediction, we've decided to toss those in too.
Enjoy!
Begin Slideshow

»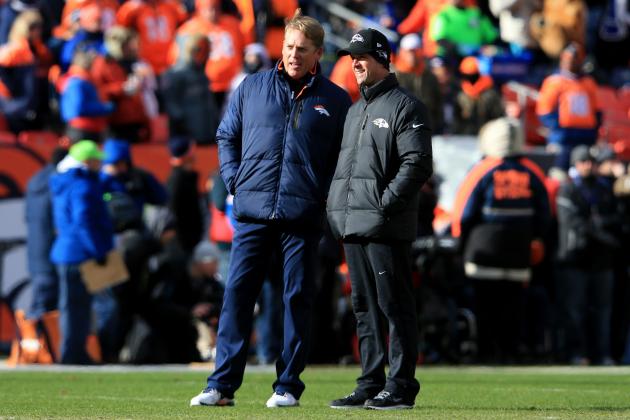 Doug Pensinger/Getty Images

Keeping in line with tradition, the first game of the 2013 season will feature the defending Super Bowl champion Baltimore Ravens.
Thanks to a scheduling conflict with the Orioles, however, the Ravens won't be playing at home. Instead, Thursday night's game will take place in Denver, the site of the Ravens' incredible double overtime playoff victory over the Broncos back in January.
While this has the makings of another exciting game (complete with a playoff atmosphere), there is a very strong chance that the final outcome will be a little bit different.
While the Broncos will bring a largely unchanged roster to the contest, Baltimore has a very different look on both sides of the ball. Defensive leaders Ray Lewis (retirement) and Ed Reed (free agency) are both gone, and last year's top receiver, Anquan Boldin, was shipped to San Francisco during the offseason.
Over the long haul, the Ravens' revamped defense—which includes former Broncos standout Elvis Dumervil—may be actually be better than last season. However, Denver's offense, with new additions Wes Welker and Montee Ball, should be largely improved as well—which is saying something, as the Broncos offense ranked fourth in 2012.
Expect plenty of offense and a very fired-up Denver crowd on Thursday night in a game that could come down to one or two late-game drives.
Ravens quarterback Joe Flacco should play a solid game of football, but Peyton Manning will be better.
Final score prediction: Denver 30, Baltimore 21
Jared Wickerham/Getty Images

Early Sunday afternoon, the New England Patriots will travel to Buffalo to take on the division rival Buffalo Bills in what could be a very telling game for both teams.
The Bills are about to embark on a new era with head coach Doug Marrone and rookie first-round signal-caller EJ Manuel, who was announced as the starter for the game on Wednesday, according to Chris Brown of BuffaloBills.com.
The Patriots, meanwhile, uncharacteristically find themselves in an offensive transition thanks to a reformulated receiving corps and a question or two at the tight end position.
While quarterback Tom Brady is likely to keep the Patriots' passing game rolling, New England may actually look to test Buffalo's run defense (ranked 31st in 2012, allowing 145.8 yards per game on the ground) with a solid dose of the ground game.
Expect the Bills' rookie quarterback to be a bit overwhelmed in his first NFL start and more than a little outmatched by Brady and Co. on the scoreboard.
Final score prediction: New England 31, Buffalo 20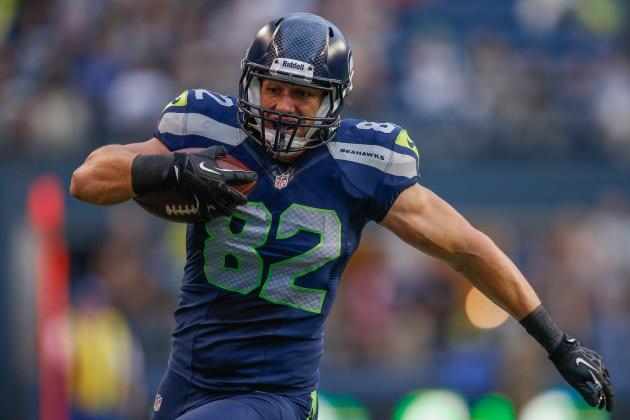 Otto Greule Jr/Getty Images

One of last season's biggest surprises was Seattle Seahawks quarterback Russell Wilson, who quickly went from being an unheralded third-round draft pick to leading his team to an unexpected playoff run.
Heading into this year, the Seahawks sit atop many various power rankings and should remain legitimate Super Bowl contenders throughout the regular season. However, a tough cross-country trip to face the Carolina Panthers may have Seattle opening the season with a loss.
While the Seahawks should be one of the most complete teams in the league in 2013, traveling to the East Coast will provide a challenge.
Also challenging Seattle will be Panthers quarterback Cam Newton and 2012's 12th-ranked offense (360.7 yards per game), which will provide a solid test for one of the league's most heralded defenses.
Expect a classic quarterback duel between Wilson and Newton, with experience and home-field advantage giving the Panthers quarterback a slight edge in one of the few upsets of opening weekend.
Final score prediction: Carolina 23, Seattle 21.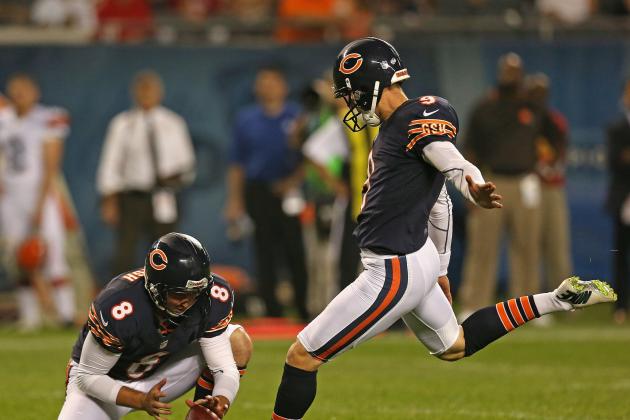 Jonathan Daniel/Getty Images

Sunday's contest between the Cincinnati Bengals and Chicago Bears will likely be a hard-fought affair between two teams that finished the 2012 season with an identical 10-6 record.
The difference between the two is that 10-6 was good enough to earn Cincinnati a second consecutive playoff appearance, but it left Chicago on the outside and cost head coach Lovie Smith his job.
The Bears are likely to suffer through a few early growing pains as new head coach Marc Trestman implements a number of changes, especially on the offensive side of the ball. However, his experience working with quarterback over the years could have Jay Cutler playing at the highest level of his career by midseason.
Unfortunately, these early-season adjustments may cost Chicago a few winnable games at the beginning of the year, with this being one of them.
A consistent Bengals offense was bolstered during the offseason with the drafting of rookie running back Giovani Bernard and tight end Tyler Eifert. While Cutler is a superior quarterback to Cincinnati's Andy Dalton, his rocket arm may not be enough to counter the Bengals' expanded arsenal of offensive weapons.
Final score prediction: Cincinnati 24, Chicago 20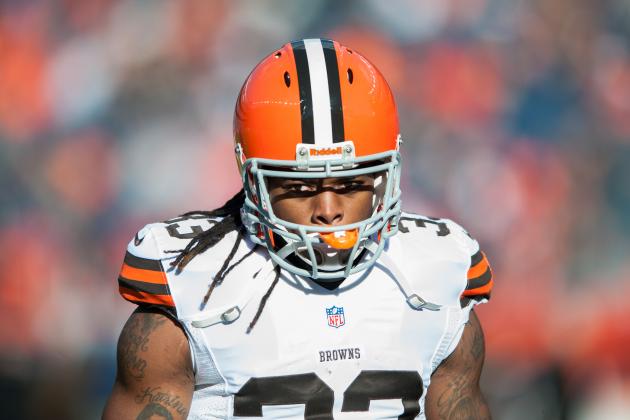 Dustin Bradford/Getty Images

A few years down the road, a Miami Dolphins-Cleveland Browns matchup may be one of the hottest tickets in the AFC. For now, however, it remains a battle between two young, but improving franchises with a lot to prove.
The Dolphins will look to improve on year one of the Joe Philbin/Ryan Tannehill era and to showcase their offseason's worth of new additions early and often against the Browns in Week 1.
Cleveland, meanwhile, will be hoping to avoid starting the Rob Chudzinski era with a thud.
This game features a battle between two second-year quarterbacks in Tannehill and Cleveland's Brandon Weeden, who won the starting job during preseason over journeyman Jason Campbell.
While Tannehill has the higher athletic upside (not to mention the aid of youth), Weeden will have the assistance of star running back Trent Richardson.
Expect Cleveland to pound the Dolphins defense (which ranked 20th against the run in 2012) with a steady diet of Richardson. And expect Browns defensive coordinator Ray Horton to keep Tannehill on his heels with a variety of blitzes throughout the game, which could give Cleveland the edge in a battle of up-and-coming young teams.
Final Score prediction: Cleveland 27, Miami 17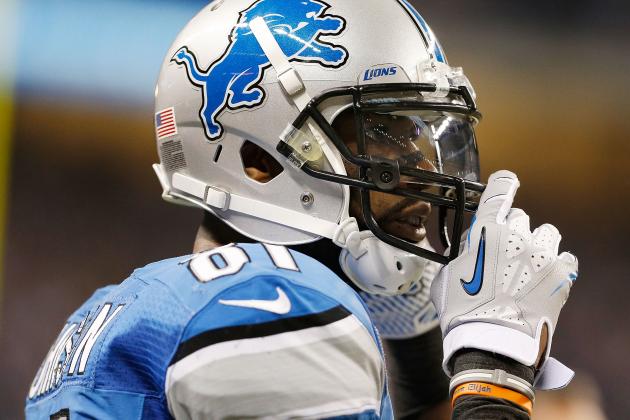 Gregory Shamus/Getty Images

NFC North division rivals will clash when the Minnesota Vikings travel to Detroit to take on the Lions on Sunday afternoon.
A surprise playoff team a year ago, the Vikings are likely to lean on all-world running back Adrian Peterson in this contest, which certainly gives them the edge in the ground game.
However, the Lions and star receiver Calvin Johnson possess the more explosive offense and should consistently pressure the Vikings with their quick-strike capability. The question will be if Detroit can protect quarterback Matt Stafford and avoid costly mistakes.
If this game comes down to the wire, Detroit will be in position to walk away with the victory thanks to its ability to attack downfield on a consistent basis.
Final score prediction: Detroit 31, Minnesota 27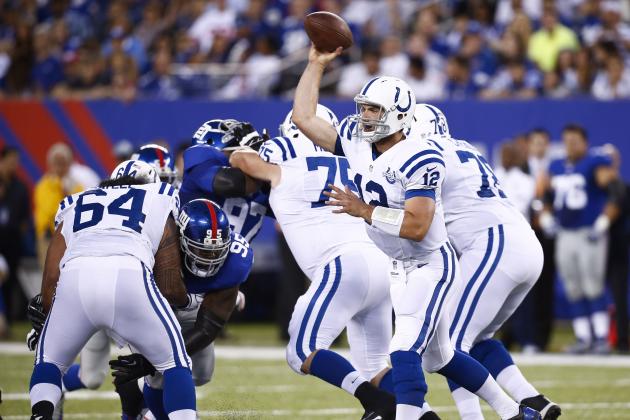 Jeff Zelevansky/Getty Images

Sunday's contest between the Oakland Raiders and Indianapolis Colts may be one of the biggest mismatches of the weekend, thanks to a significant gap in quarterback talent.
The Colts' Andrew Luck appears to be one of the league's next elite quarterbacks, while the Raiders appear unsure of who they even want under center.
Former supplemental draft selection Terrelle Pryor appears set to start for Oakland. While his athletic ability does lead to a lot of intriguing possibilities, Pryor is unpolished as a passer and is likely to be severely outmatched if this game turns into a shootout.
The one thing the Raiders do have going for them is the presence of running back Darren McFadden, who is one of the game's best when healthy.
Expect a relatively close game at the outset, but things could quickly get out of hand as Luck and the Colts looks to build on last season's offensive excellence.
Final score prediction: Indianapolis 30, Oakland 17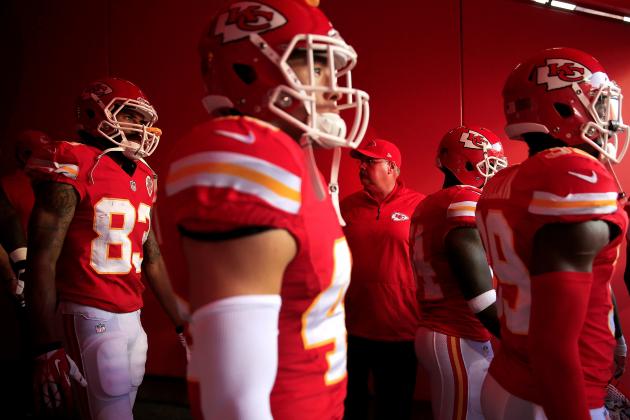 Jamie Squire/Getty Images

When the Jacksonville Jaguars host the Kansas City Chiefs on Sunday, they will be facing a very different Kansas City team than the one we saw a season ago.
New head coach Andy Reid is a proven winner and should have new quarterback Alex Smith in clear command of the offense right out of the gate. That could spell trouble for the Jaguars and their embattled quarterback, Blaine Gabbert.
While the Chiefs should be able to move the football effectively against the Jaguars defense, Jacksonville will likely face difficulty responding.
Gabbert already found himself on unstable ground entering the season. A thumb injury and the absence of suspended star receiver Justin Blackmon will make for an even shakier situation to start the season.
Expect the Chiefs to win a hard-fought battle between teams that appear to be headed in different directions this season.
Final score prediction: Kansas City 24, Jacksonville 13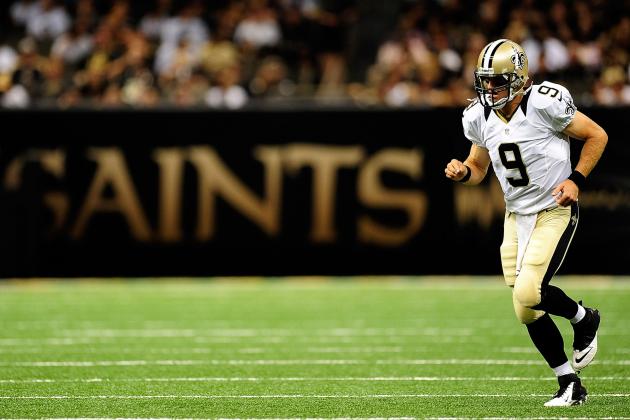 Stacy Revere/Getty Images

The game between the division rival Atlanta Falcons and New Orleans Saints may prove to be one of the most exciting games of kickoff weekend.
This should be a fun offensive showdown between quarterbacks Matt Ryan and Drew Brees, complete with plenty of passing and plenty of scoring.
The addition former Rams running back Steven Jackson gives the Falcons offense an added dimension, which is likely to keep the Saints defense on its heels throughout the contest.
On paper, the Falcons should walk away as easy victors, especially considering the historically bad defense the Saints fielded a season ago. However, the return of suspended head coach Sean Payton will have the Saints, and their deafening home crowd, fired up to face their bitter rivals, which will give New Orleans a clear edge in the intangibles department.
This is a game that could come down to a last-minute shootout. If so, Brees' experience and tenacity could allow the Saints to pull off the upset.
Final score prediction: New Orleans 33, Atlanta 31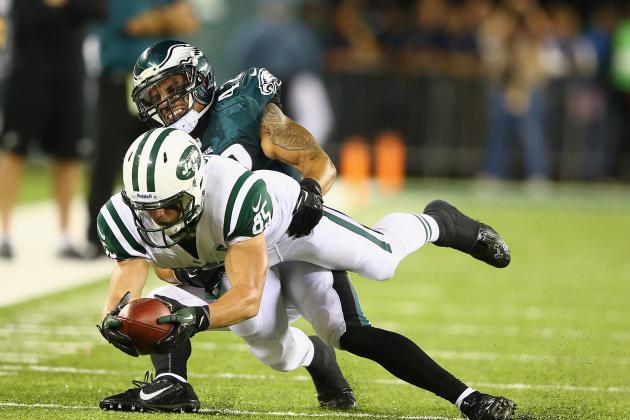 Al Bello/Getty Images

There will be a number of stories to follow in Sunday's game between the Tampa Bay Buccaneers and New York Jets, including the return of cornereback Darrelle Revis to face his former team. However, the biggest story is the Jets' quarterback position, where it seems no one wants to emerge as a clear-cut starter.
Veteran Mark Sanchez won't start thanks to his preseason injury. Instead, rookie Geno Smith will be given the nod, even though he is far from ready, according to Brian Costello of the New York Post.
Buccaneers quarterback Josh Freeman still has a long way to go toward proving he is Tampa Bay's long-term answer at quarterback, but he should be able to out-duel Smith.
While the Bucs are far from a powerhouse, the Jets simply appear to disorganized to walk away with a victory against this veteran team, especially this early in the season.
Expect the Buccaneers to go up early and ride star back Doug Martin to an easy victory on Sunday.
Final Score prediction: 24, New York 13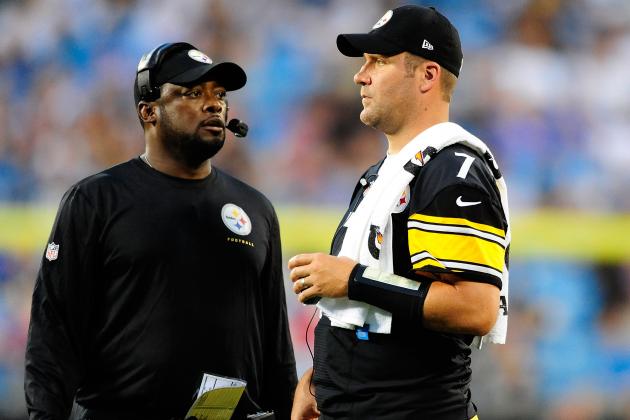 Grant Halverson/Getty Images

The Pittsburgh Steelers seem to find themselves at a crossroads entering the 2013 season. Long the powerhouse of the AFC North, the team has recently been overshadowed by the play of the Baltimore Ravens and Cincinnati Bengals within the division.
Of course, this should only provide Pittsburgh with plenty of motivation as the team hosts a Tennessee Titans team still looking to find its way.
The Titans could emerge as a playoff contender in the next year or two, but they are likely to suffer through their fair share of struggles early in 2013 as the team tries to decide whether or not Jake Locker is a permanent solution at the quarterback position.
Expect running back Chris Johnson to test the Steelers defense early and often, but last year's top defense (275.8 yards per game allowed) will likely prove too much over the course of the game.
Final score prediction: Pittsburgh 20, Tennessee 16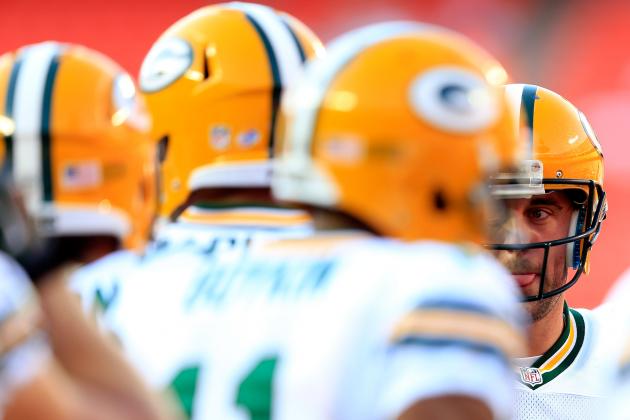 Jamie Squire/Getty Images

Sunday will also feature a playoff rematch between the San Francisco 49ers and Green Bay Packers, which should prove to be one of the more enjoyable contests of the weekend.
During the 2012 postseason, the Packers were dominated by the 49ers offense and watched as quarterback Colin Kaepernick set a new playoff rushing record for a quarterback with 163 yards on 12 carries.
However, the Packers have had an entire offseason to study game film and come up with a way to at least slow the multi-dimensional quarterback on the ground.
Green Bay has its own talented quarterback in Aaron Rodgers, who should find a way to keep pace with the 49ers offense and new receiving threat Anquan Boldin.
Unfortunately, San Francisco has the clearly superior defense in this matchup, which likely means the Packers will again find themselves on the wrong side of defeat. Just don't expect things to get quite so out of hand this time around.
Final score prediction: San Francisco 31, Green Bay 27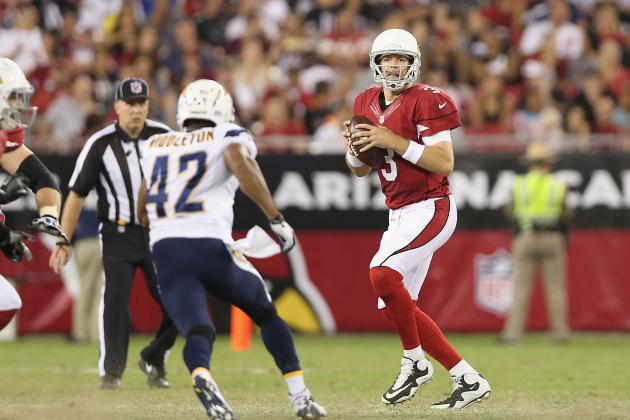 Christian Petersen/Getty Images

One of many divisional matchups this weekend pits the St. Louis Rams and Arizona Cardinals against each other as both teams try to make a move in the now-mighty NFC West.
The Cardinals have a new head coach in Bruce Arians and a new quarterback in former Raider and Bengal Carson Palmer. Quarterback was Arizona's biggest issue a season ago, and if Palmer can play at even a mediocre level this season, the Cardinals could be one of several surprise playoff teams in the NFC.
However, they will have a tough time trying to knock off a St. Louis team that finished last season with a 4-1-1 record in divisional play.
Expect Rams head coach Jeff Fisher to come up with a sound defensive game plan to counter an improved Cardinals team and for quarterback Sam Bradford to provide just enough offense for St. Louis to come out on top in one of the more underrated games of kickoff weekend.
Final score prediction: St. Louis 26, Arizona 20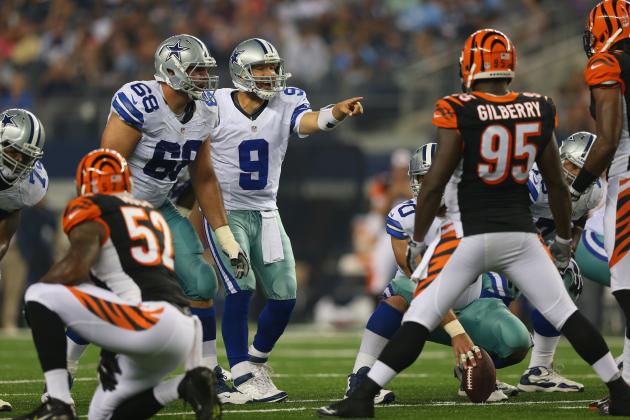 Ronald Martinez/Getty Images

Both the New York Giants and the Dallas Cowboys spent much of the 2012 season in contention for the NFC East crown. Expect the division to again be close this season, with an early divisional victory going a long way to determining the final standings.
This should be one of the most hotly contested games of the weekend as the two hated rivals look to beat each other into submission.
While neither the Cowboys (294.8 yards per game) nor the Giants (290.2) have been especially impressive on offense this preseason, these teams know how to dish out the damage to one another on the scoreboard. Expect an unusually high amount of scoring as Eli Manning and Tony Romo go head-to-head in a shootout for early divisional dominance.
The deciding factor in this game could be the presence of new Cowboys defensive coordinator Monte Kiffin, who has his unit playing a much more disciplined brand of football than his predecessor.
Though the Giants should still be considered legitimate a playoff contender, the Cowboys should emerge with a hard-fought win as long as Romo can avoid costly mistakes.
Final score prediction: Dallas 31, New York 27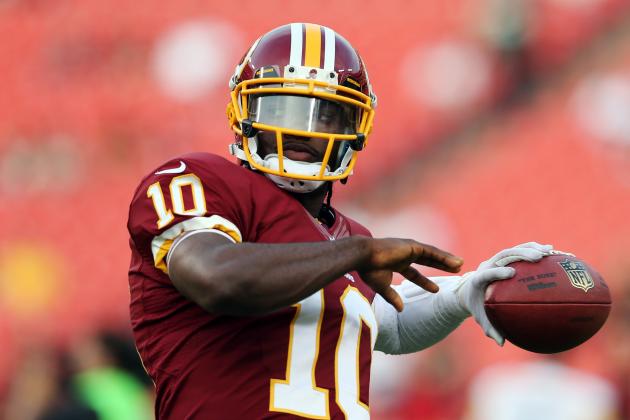 Rob Carr/Getty Images

The first of two Monday night games features what should be a very exciting and very fun matchup between NFC East rivals Washington Redskins and Philadelphia Eagles.
In any other game featuring the Redskins, all eyes would likely be on star quarterback Robert Griffin III, who is set to see his first action since suffering a devastating knee injury in last season's playoff game against the Seahawks.
However, the presence of polarizing new Eagles head coach Chip Kelley will ensure that the nation's attention is equally divided when Monday Night Football kicks off its 2013 broadcast season.
Expect to see an up-tempo, attacking offense from Kelly and his offense, which should lead to plenty of scoring in this game and throughout the regular season. However, the Eagles defense, which ranked 27th this preseason (356 yards per game), is likely to give up a lot of yardage to Griffin, Alfred Morris and the rest of the Redskins offensive attack.
The Eagles have the look of a very dangerous team, once the offense finds its stride, but things may be difficult in the early goings of 2013.
Expect Washington to win the first meeting between these two teams, but also expect Philadelphia to provide an entirely new challenge the next time these two meet.
Final score prediction: Washington 34, Philadelphia 24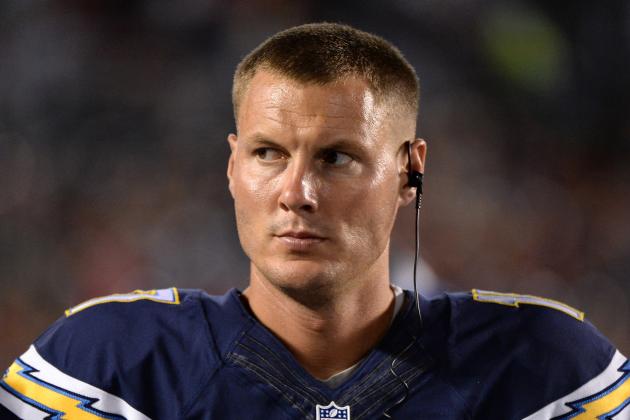 Harry How/Getty Images

The second game on Monday night features a matchup between a Houston Texans team looking to make a return trip to the postseason and a San Diego Chargers team hoping to stay out of the AFC basement.
On paper, this looks to be a pretty sizable mismatch. The Texans were one of the league's most complete teams a season ago (ranked eighth offensively and ninth defensively in scoring), while the Chargers are looking for a turnaround under new head coach Mike McCoy.
However, McCoy has a track record of getting the best out of his offenses and could have quarterback Philip Rivers and the rest of the Chargers offense geared up for a surprisingly competitive game.
Nagging injuries for Texans running back Arian Foster and home-field advantage could even thing up even more for the Chargers.
That said, while this should be a competitive game, balance and continuity on the part of Houston will likely be too much for the upstart Chargers to overcome.
Final Score prediction: Houston 24, San Diego 20