5 Reasons the Miami Dolphins Will Prevail over the Cleveland Browns in Week 1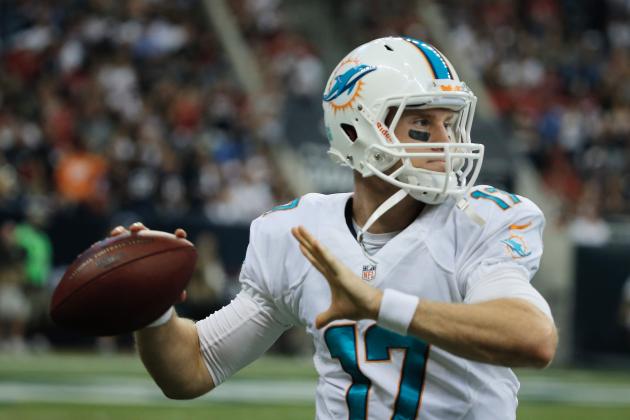 Scott Halleran/Getty Images

The Miami Dolphins and the rest of the NFL finally get down to playing real football as the Dolphins travel to Cleveland to take on the Browns this Sunday.
In the words of South Florida's most famous Northeast Ohio-native: "It's about damn time!"
Will the Dolphins be giving that answer to the question: "What do you think of making the playoffs for the first time since 2008?"
That will be answered later, but the first step to answering this question comes on Sunday.
The Dolphins will be facing a team in Cleveland that is very similar in recent history to them, and like the Dolphins, the Browns hope to turn their fortunes around with a great 2013 campaign.
The two teams are very similar in so many ways that this game is a tough one to prognosticate.
But the Dolphins not only can prevail in Cleveland on Sunday, they most likely will. Today we're going to look at the reasons why they will win.
Now in the interest of disclosure I'd like to point out that unlike last year (when I only wrote this slideshow when I felt the Dolphins would win), I will be writing this slideshow every week. Even for both games against New England will I point out why the Dolphins will prevail, even if I don't think they will.
Along with the five reasons I'll give saying why the Dolphins will win, one slide will be dedicated to why they might not (or in some cases won't) come away victorious.
Either way, this promises to be a fun slideshow that I'm hoping readers will look forward to every week in the same way that we will look forward to every Miami Dolphins game this season.
Hopefully this season lasts deep into January.
Let's begin.
Begin Slideshow

»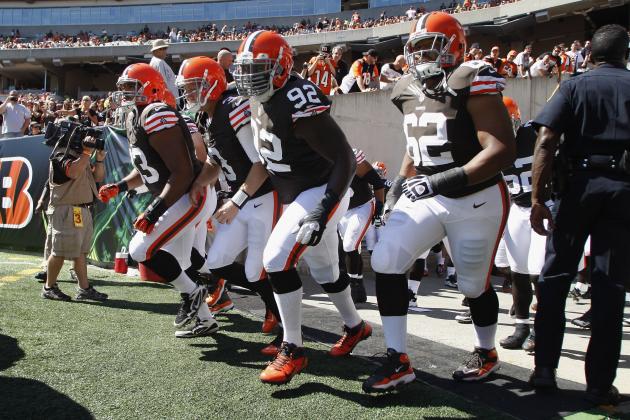 John Grieshop/Getty Images

I look at the Cleveland Browns offensive line in astonishment, as they have clearly built the kind of offensive line the Dolphins have been going for since the beginning of the Bill Parcells-Jeff Ireland-era.
On the left side you have Joe Thomas, who's arguably the best left tackle in the NFL today. Unlike the Dolphins' original choice at left tackle, Thomas has maintained his high level of play since the Browns drafted him in the first round of the 2007 NFL Draft.
On the right side you have Mitchell Schwartz, a second year player who has continually improved, making it on Pro Football Focus' all-rookie team last season with a grade of plus-16.1 (which was among the top 22 tackles in the NFL last season).
Then at center you have Alex Mack, a 2010 Pro Bowl center whose play has remained consistently good throughout his career.
This will be a tough test for Miami's front seven, which is supposed to be one of the best in the NFL.
But like with most walls, there are holes. Cleveland has two big ones at guard with John Greco on the left side and rookie Garrett Gilkey on the right side.
Greco is himself a fine player, however it's telling that he still had to fight for his job going into training camp this season (something that neither of the two tackles and center Mack had to do) before finally beating out Jason Pinkston.
Is he himself a weakness? Not really, but keep in mind that he does get to play next to one of the best left tackles in the league.
On the other side you have Garrett Gilkey, who's a converted tackle forced to play guard due to injuries suffered by Shawn Lauvao and Jason Pinkston during the preseason. How Gilkey responds to a new position will be a big test, especially since on his side he will expect to see plenty of Cameron Wake, Jared Odrick, Randy Starks and Koa Misi rushing through.
Will it be enough for the Dolphins to prevail, and could the weak link in the Browns offensive line be enough to unleash a flood of swarming 'Phins getting into the backfield to stop Trent Richardson in his tracks while keeping the pressure on Brandon Weeden?
Or could Gilkey be fortunate to have a good offensive line around him and not stick out too much, and maybe even show some improvement and development at his position?
I'm going with the first one here, this Dolphins defensive line is far too good to not exploit the weak spot of a team's line.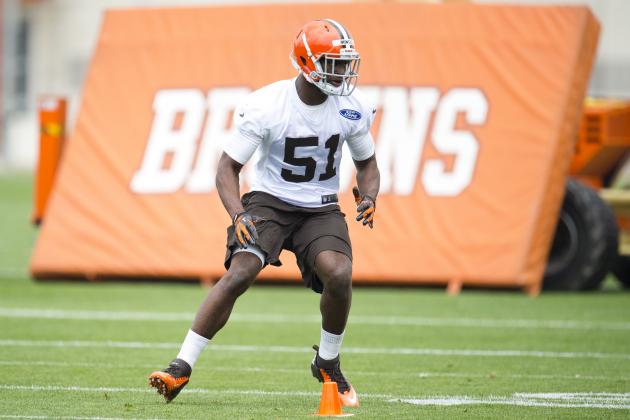 Jason Miller/Getty Images

The Dolphins have had their fair share of injuries during the preseason, from Dustin Keller to the continuing nagging injuries of Jamar Taylor, Dion Jordan and now Will Davis.
But the Browns are suffering on that front as well, and have a suspension to boot.
On the previous slide we talked about the injuries to guards Shawn Lauvao and Jason Pinkston that necessitated rookie and converted tackle Garrett Gilkey start his first NFL game as a guard. But there are more absences in Cleveland that will also hurt the team.
Let's start with first-round pick Barkevious Mingo, who is back to practicing with the team but is still questionable for Week 1 due to a bruised lung suffered in Week 2 of the preseason (per Mary Kay Cabot of The Cleveland Plain-Dealer).
Mingo is only participating in individual drills for now, but it's likely that the Browns will keep him out of Sunday's game as a precaution.
The biggest loss for the Browns will be that of suspended wide receiver Josh Gordon. Gordon's suspension was for using illegal substances (not PEDs) and will cost him the first two games of the season.
It will also cost the Browns as we dive deeper into the Browns offense and how it matches up against Miami's defense.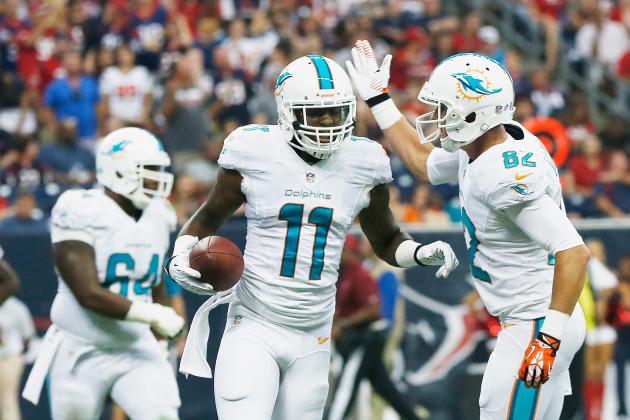 Scott Halleran/Getty Images

Cleveland's defense is very good, almost to the point of being scared of it.
For this reason it seems like citing their numbers from last season would be foolish, as the Browns defense got better due to the acquisitions of Paul Krueger and Desmond Bryant, as well as the continued development of their young players on defense.
The Browns also have a new defensive coordinator in Ray Horton, hecomes from the Arizona Cardinals where he built up a respectable and sometimes devastating defense that is known for its aggressiveness.
Oh wait, what happened last season when the Dolphins faced that Arizona defense, which had slightly better personnel in the secondary than this season's Cleveland Browns?
Ryan Tannehill had a field day going 26 of 41 for 431 yards and a touchdown, coming within a missed Dan Carpenter field goal of winning the game. Brian Hartline had 12 catches for 253 yards and his only touchdown of the season thanks to a play-action pass that went 80 yards for the score.
The only problem on offense was turnovers. However those mistakes came courtesy of Miami's non-Hartline and Davone Bess wide receivers and a rare missed block at the end of the game from Richie Incognito, with some Tannehill inexperience thrown in.
Two of those factors are gone, the other was a fluke.
That Arizona defense had more overall talent than this Cleveland defense, especially in the secondary. Though, the Browns do have Joe Haden (much like the Cardinals had Patrick Peterson).
However unlike Peterson, Haden will have to cover Mike Wallace.
Wallace traditionally hasn't done too well against Haden, but that's where Miami's other receivers should pick up the slack.
Who do the Browns have to cover Brian Hartline? Who will likely serve as Tannehill's safety valve in this game and is my pick to have the best game on offense?
It will be the passing game that wins it for Miami, as the Browns run defense right now is better than Miami's running game. While it will be a wash on the ground, expect Miami to win it in the air.
After halftime, we will explain how Miami will win it in the air.
This will be a recurring theme in these articles: a halftime break where I include some music, along with my picks for the other NFL games.
Today's song: Halftime by Nas off his classic Illmatic album.
Lines courtesy of Bovoda on Yahoo Sports.
Home teams are in caps.
Baltimore (+7.5) over DENVER
Denver lost to the Ravens in the AFC Divisional Playoffs due to their secondary, lack of running game and John Fox.
None of that has changed, and their front-line defense has only gotten worse. While I'm not a believer in the Ravens this season, I do expect to see them get the win over Denver to open the season.
PITTSBURGH (-7) over Tennessee
This is a Steelers team with a lot of questions on both sides of the ball, but you don't necessarily have to answer those questions just yet to beat the Titans.
New England (n/a) over BUFFALO
There's no line yet according to Bovada (other sites list the Patriots as favored anywhere between nine and 10.5) due to not knowing who the Bills quarterback will be.
Does it really matter though?
Atlanta (+3) over NEW ORLEANS
This game will be decided by fewer than three points. Both teams are too even, with Atlanta having a slight edge due to a slightly better defense.
NEW YORK JETS (+3) over Tampa Bay
I don't like the Buccaneers any more than I like the Jets. If anything, I could see the Jets turning in an upset in Week 1 and uplifting everyone's hopes.
After that, don't expect the Jets to win anymore for a while. This pick is more about how I feel about the Buccaneers (which will flop due to being overrated and undisciplined) than how I feel about the Jets.
Seattle (-3) over CAROLINA
This will probably be the most fun game to watch on Sunday afternoon. I expect a shootout, with Seattle prevailing in the end.
Miami (+1) over CLEVELAND
I'm explaining the reasons in this piece and will give you my score prediction at the end.
Kansas City (-3) over JACKSONVILLE
Anyone outside of Kansas City really interested in this game?
Minnesota (+5.5) over DETROIT
I know everyone expects the Vikings to regress, but they still have Adrian Peterson whereas the Lions defense still concerns me plenty. That point spread just feels a tad too high.
Cincinnati (+3) over CHICAGO
The Bears' offensive line still resembles Swiss Cheese, the Bengals defensive line is one of the best in the game.
ST. LOUIS (-4.5) over Arizona
I went back and forth over this game simply because St. Louis has the same over-hyped sticker that Tampa Bay seems to have, however they are at home for this game, so they should pull out a win.
Green Bay (+4.5) over SAN FRANCISCO
I actually think the 49ers win this game outright, but the Packers will keep it closer than they were able to in their last two meetings.
DALLAS (-3) over New York Giants
The Cowboys will prevail over the Giants at home for the first time since they opened Jerry's World.
Philadelphia (+3) over WASHINGTON
The Eagles offense can cause enough confusion to pull this one out and start off the season hot before the rest of the NFL catches up to it. While the 'Skins are the better team that will have the better record, for this game, I see the Eagles pulling it off.
Houston (-3.5) over SAN DIEGO
Expect Houston to repeat their opening day performance from last year against the Dolphins. There will be turnovers, there will be sacks, and 3.5 points is way too low of a line here.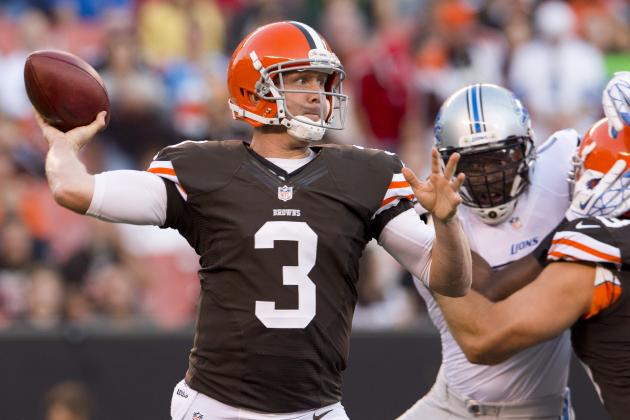 Jason Miller/Getty Images

Yes, I expect the Dolphins to win this game, however it's not going to be a cakewalk.
Here's a list of reasons why the Browns might come away with the victory.
Cleveland's Front Seven vs. Miami's offensive line

The Browns have their issues at guard. The Dolphins have their issues at guard as well, and possibly at left tackle. We will see how well Jonathan Martin progressed in the preseason once he's thrown into the fire.
Also being tested: John Jerry, who spent the last two preseason games playing himself into shape. How good of a shape he is in will be something to look at as he matches up with Cleveland's linebackers looking to shoot the gaps.
Norv Turner has the Browns offense looking respectable
This is only based off of the preseason, and there's another preseason trend with said offense that I will get to later. However, Norv has managed to always do a great job as an offensive coordinator, and from what we saw in the preseason, his tenure in Cleveland will be no different.
Also keep in mind that Turner's offenses do very well when he has an elite running back (Emmitt Smith with the Cowboys in the '90s, Ricky Williams with the Dolphins from 2002-03, Frank Gore with the 49ers and LaDainian Tomlinson with the Chargers, and Trent Richardson was drafted early to be an elite running back and will get an elite running back number of carries.
That could be a scary proposition with an already good Browns offensive line blocking for him.
Miami's secondary outside of Brent Grimes
You know how I said Miami's offense matches up with Cleveland's defense in regards to the Dolphins receivers vs. the secondary? Well, it goes the same way, only without the deep threat.
Grimes should throttle Travis Benjamin, but the wide receiver to watch will likely be Davone Bess, who will line up in the slot.
You know, opposite Nolan Carroll, someone who Bess probably knows plenty about.
Miami has injury problems of their own
I can't single out Cleveland's injury issues without looking at Miami's. There are nagging injuries to corners Will Davis and Jamar Taylor that could keep them out of the game on Sunday. Dion Jordan isn't exactly a guarantee for Sunday's game either, however it is looking like he will play and be a major part of the Dolphins game plan.
However, the biggest injury issue is still that of Dustin Keller. Miami will have to deal with this injury for the whole season, as Keller was expected to be the main red-zone threat.
The Dolphins will eventually find ways to score in the red zone, and the hope is that they can find one in this game. But it is a concern that the Dolphins might find themselves settling for field goals once they get into the red zone, which could be the difference between a win and a loss.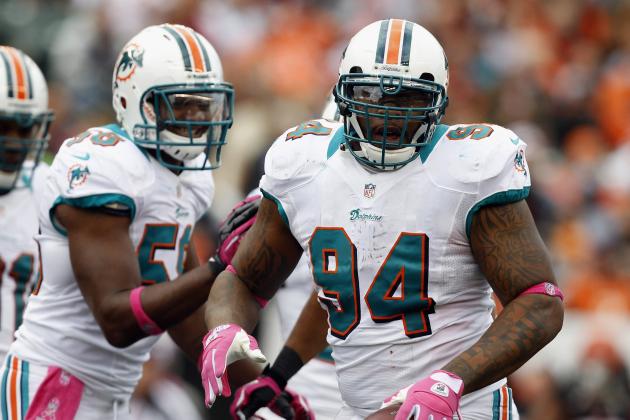 Matt Sullivan/Getty Images

I mentioned how it's possible for Trent Richardson to be a huge factor for the Browns in the last slide, and that remains true (especially with Norv Turner at offensive coordinator).
However, it's not like Miami's run defense is chopped liver. Far from that, it's actually quite good and should be improved from last season.
That's right, I said improved from last season, when they had a top-15 run defense allowing on average 108.4 yards per game.
That average is skewed by how well running quarterbacks did against the Dolphins last season as well as late-game drives where teams ran the clock out on the Dolphins due to leading the Dolphins at the end.
How could this Dolphins run defense starts up the middle, where they have two Pro Bowl defensive tackles in Randy Starks and Paul Soliai, as well as Jared Odrick on the inside (he was effective defending the run as a defensive end).
On the outside along with Wake you have Olivier Vernon, who practically earned his starting spot due to how well he played against the run.
Then take into account Miami's secondary and how they've been able to stop the run well, especially Reshad Jones and Chris Clemons when they're cheating towards the run.
Expect Miami's safeties to be ready to stop the run as Cleveland lacks their deep threat in the suspended Josh Gordon. This should limit Richardson, forcing the game into Brandon Weeden's hands.
That's exactly where the Dolphins want it to be decided.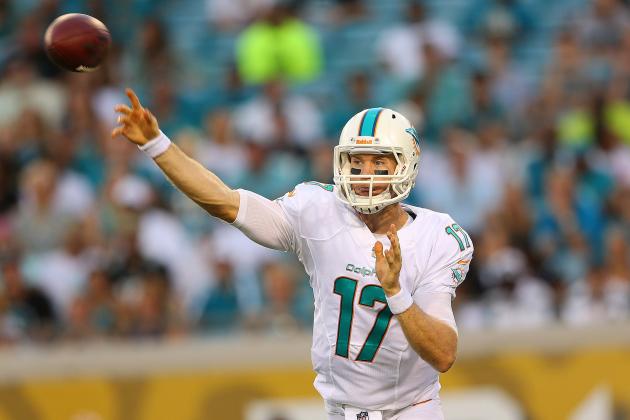 Mike Ehrmann/Getty Images

This isn't a reason I will use often this season (not with the likes of Drew Brees, Matt Ryan, Tom Brady and Ben Roethlisberger on the schedule), but it's more than applicable here.
The Dolphins have a better quarterback than the Browns, and on top of that, their quarterback has a few more weapons at his disposal.
Both Tannehill and Weeden had similar numbers last season, with Tannehill throwing for 3,294 yards, 12 touchdowns and 13 interceptions in 16 games, while Weeden had 3,385 yards, 14 touchdowns and 17 interceptions in 15 games.
It should be noted that last season, Weeden had the better offensive line and a better arsenal of weapons around him than Tannehill did. Also important: Tannehill won seven games, Weeden won five.
Isn't that how quarterbacks are supposed to be judged, and not based on numbers?
This season, Tannehill's weapons are greatly improved, while Weeden has one of Tannehill's old receivers. I'd give the edge to Tannehill because I'll take a wide receiver team of Brian Hartline, Brandon Gibson and Mike Wallace over the Browns' Josh Gordon-less team.
Even with Gordon, I'll still take the Dolphins receivers.
I stated earlier that this game will not be decided on the ground (both teams have strong running games but stronger run defenses), but in the air. In that case, I'd give the edge to Ryan Tannehill.
That's why I'm picking the Dolphins to win this game by a score of 24-17.
Thomas Galicia is the host of Dolphins Central Radio, which has new episodes every Monday. Check out the last episode, where he talks to Dolphins linebacker Dannell Ellerbe.