Two warriors wait on their wounds to heal as John Cena and Sheamus have been forced to do their recent battles in hospital recovery rooms and rehabilitation centers.
As two of WWE's top stars recover from injury, their fans must be as impatient to see them back in the ring as those men are to be back between the ropes. Fortunately, both the Cenation leader and The Celtic Warrior have only reported good news via Twitter.
Eyes will continue to focus on both Cena and Sheamus as they work to get back to the ring, as the weapons they use in their WWE battles slowly return to fighting condition. Sheamus' shoulder isn't ready for clubbing chests yet, but he remains positive and is taking advantage of his time off.
Sheamus
The All-Star Money in the Bank ladder match left Sheamus hurting—and not just because he lost. The brawler took a number of nasty falls, any of which could have either caused or aggravated the injury. Had any normal person taken this spill, they would have torn more than a labrum.
As WWE.com informed fans in early August, Sheamus suffered a torn labrum in his left shoulder, which required surgery. Sheamus shared his uneasiness about going under the knife with his Twitter followers, still using his trademark sense of humor.
Witness my false confidence as i meet my surgeon Dr Dougas. It may be the drugs. #SaveOurSheamus pic.twitter.com/3QzR06VZfD

— Sheamus (@WWESheamus) August 13, 2013
On Aug. 13, the doctors completed the surgery successfully, leaving Sheamus with a bit of a bionic limb.
Six anchors inserted in my left labrum. Thanks to Dr Dougas & staff... Shoulder's stiff, rehab starts tomorrow. #roadtorecovery

— sheamus (@gui_zulu) August 26, 2013
The anchors are designed to keep the labrum attached until it can reattach itself to the bone. Dr. Howard J. Luks, an orthopedic surgeon, wrote on his website that it takes two to three months "before you can start to put any significant stress onto your shoulder" after this procedure.
In the meantime, Sheamus has begun physical therapy, which likely involves minimal movement for the moment.
Started with physical therapist Kevin Wilks this week, awesome man for one man. #SheamusInRehab pic.twitter.com/Xlta20qpcm

— Sheamus (@WWESheamus) August 15, 2013
The former world champ has seemingly been in good spirits, staying active on Twitter and attending the Wizard World Comic Con alongside AJ Lee in Ohio later this month. Not having to travel with WWE has also allowed Sheamus to visit and enjoy his homeland.
Reciprocating, i mean, recuperating in Dublin at @EverleighGarden... #Wateringcan pic.twitter.com/2PuSyTKnV0

— Sheamus (@WWESheamus) August 30, 2013
Standing outside the house I grew up in on North Great Georges Street. #LoveDublin pic.twitter.com/qUzlcLgoik

— Sheamus (@WWESheamus) September 1, 2013
Being able to be home far more often than he could on WWE's grueling schedule likely means Sheamus will return refreshed both mentally and physically.
John Cena
Cena lost the WWE Championship to Daniel Bryan at SummerSlam and then bowed out, readying himself for surgery, recovery and being away from in-ring action.
While his elbow may have been the more noticeable part of his injury, it was a torn left tricep that started all the trouble. He delayed surgery until after SummerSlam, a surgery that WWE.com says will keep him out for four to six months.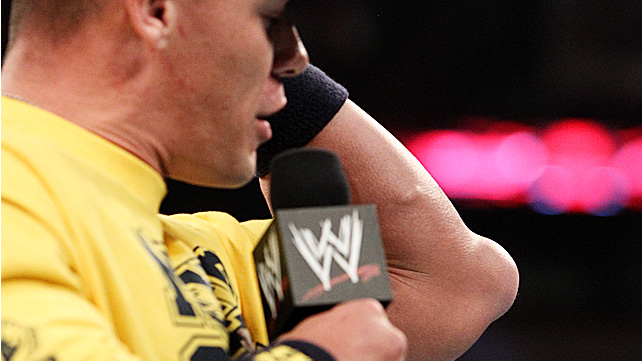 To fix the issue, Cena went to the renowned Dr. James Andrews, a surgeon who has worked on a long list of athletes, including WWE wrestlers Shawn Michaels, Edge and CM Punk.
After the post-SummerSlam surgery, Cena tweeted that it was a success.
Surgery went very well, Dr Andrews has more than done his part, now I will do mine. #playitclean #roadbackisnow @WWEUniverse @ESPN @eonline

— John Cena (@JohnCena) August 21, 2013
He was initially unable to move his arm more than a week after the operation, but he has since updated that his mobility in the limb increased just a touch.
Allowed 2 move arm 5 degrees. Stitches out in 4 days. Then @S_C_ @kanyewest I'm bout 2 go H.A.M. @WWEUniverse I will b #evenstronger

— John Cena (@JohnCena) August 30, 2013
That's not quite the degree of motion required for doing the Five Knuckle Shuffle, but it's a step forward. More recently, Cena tweeted a picture of his gnarly scar with his soon-to-be-removed stitches in full view.
13 days. 1 big scar. 0 patience.Mondays r tough @WWE roster enjoy now, because ill b back #evenstronger pic.twitter.com/ipOP9KBpAq

— John Cena (@JohnCena) September 2, 2013
Those stitches are scheduled to be removed Tuesday, but seeing the state of his arm makes it clear that Cena's not hopping back into the fray anytime soon. Both he and Sheamus could conceivably come back by the Royal Rumble, but it will depend on their rates of recovery and how well their rehabs go.
So far, both Superstars have showed off their hunger and impatience to return, so there's no doubt that they'll put in work come rehab time. Fans are going to be able to watch Sheamus and Cena's journeys back, one photo and one tweet at a time.