Manchester United: 10 Questions Reds Fans Would Love to Ask David Moyes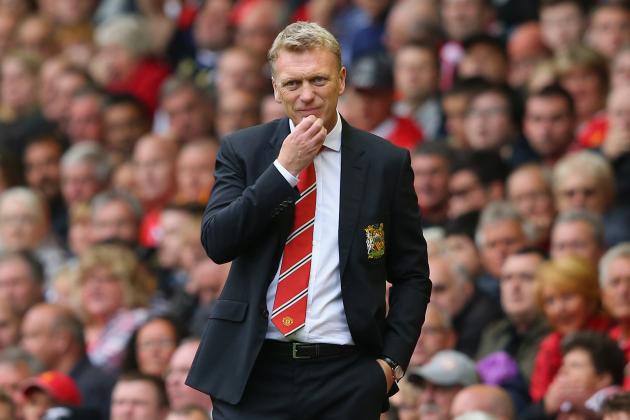 Alex Livesey/Getty Images
Moyes watches on vs. Liverpool
Though it's not time for panic yet at Old Trafford, David Moyes' tenure as manager has gotten off to somewhat of a rocky start.
Through three games, United only have four points of a possible nine, failing to score in their previous two games vs. Chelsea and Liverpool.
Also a point of concern for many supporters was Moyes' ineffectiveness in the transfer window.
A summer that began with hopes for world-class players like Cristiano Ronaldo, Gareth Bale, or Cesc Fabregas is ending with only the acquisition of a good, not great player in Marouane Fellaini.
Moyes' struggles to reel in his first transfer targets and get results early on will have Reds fans wanting to ask him quite a bit.
All stats and info via ESPNFC.
Begin Slideshow

»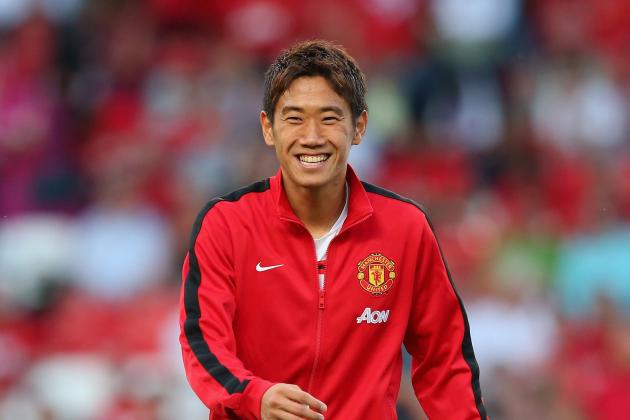 Alex Livesey/Getty Images
Kagawa looking happier than he probably is right now
After a strong end to his first season in the EPL, it seems Kagawa may have to prove himself again to David Moyes' liking.
He had six goals and three assists last season, but the Japanese international hasn't seen a single minute of EPL action, even with the team's inconsistent wing play.
While it would be unrealistic to think he'd start over Rooney as the team's talisman, he is certainly a player of high caliber who could be utilized on the wing or in the center if needed.
According to an article from ESPN UK, his lack of playing time stems from his absence in the preseason due to the Confederations Cup.
He reportedly wants to "fight for his place," but that attitude could change by January if Moyes doesn't give him a fair chance.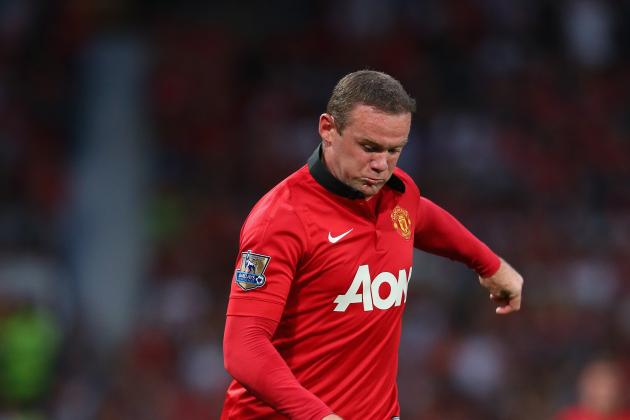 Alex Livesey/Getty Images
Wayne Rooney during his dominating performance vs. Chelsea
Only a few days removed from an inspiring performance vs. Chelsea, Wayne Rooney is out with a head injury, per The Telegraph.
The English forward was sorely missed in United's 1-0 loss to Liverpool and is imperative in their quest to win the title.
He will miss both of England's World Cup Qualifiers, and David Moyes predicts he will be sidelined for about three weeks.
The sooner he returns, the better.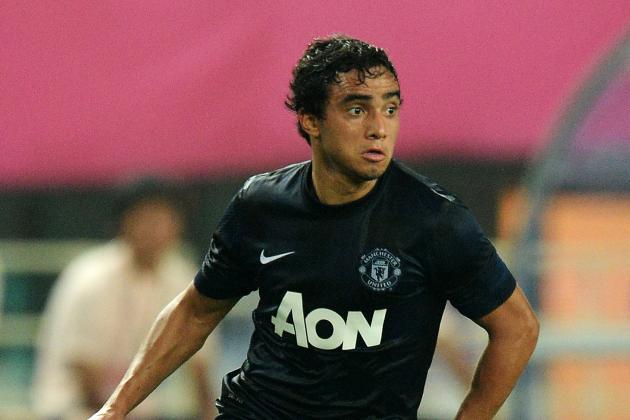 Atsushi Tomura/Getty Images
Rafael looking focused vs. Cerezo Osaka
Another player who United will be hoping to get back soon is Brazilian right-back Rafael da Silva, who suffered a hamstring strain following the Community Shield.
Per the club's official website, he was ruled out for four weeks in early August and Moyes was hoping to have him play vs. Liverpool.
Though Phil Jones is a serviceable replacement, da Silva was arguably the team's best defender last season and key to their success.
His return to the squad would obviously bolster the back line and allow Jones to help out in the midfield and replace a struggling Tom Cleverley.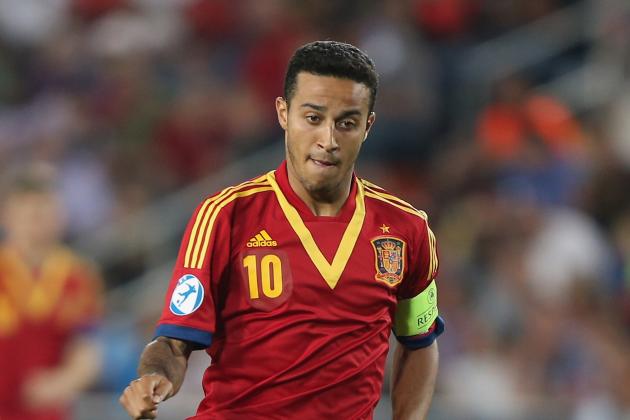 Ian Walton/Getty Images
Thiago on the ball in the UEFA U-21 European Championship
Per The Metro, United were painstakingly close to acquiring the services of former Barcelona prodigy Thiago.
Though it could have been their Champions League silverware or their familiar face in the form of manager Pep Guardiola, it's not known what happened to have broken the midfielder's "strong links" to United.
An amazing young talent who would've solved many of United's midfield woes, fans have to wonder whether something more could've been done to bring him to England.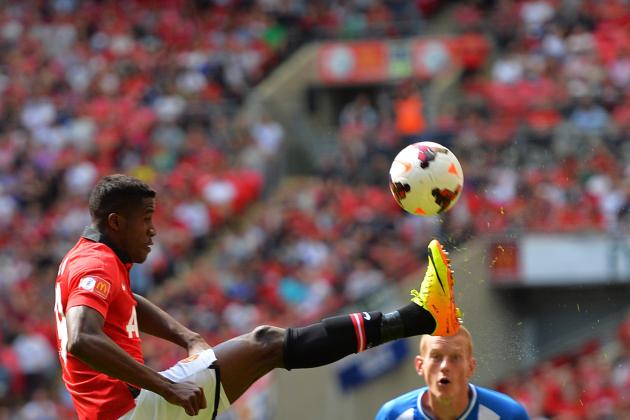 Mike Hewitt/Getty Images
Zaha bringing the ball down vs. Wigan in the Community Shield
Bought for £15 million in the January transfer window, as The Mirror reported, it's obvious that Zaha is a talented player.
The 20-year-old winger had eight goals and nine assists last year for Crystal Palace, en route to helping the Eagles gain promotion to the top flight in England.
Even so, the Englishman is an unproven commodity given the fact he has never played EPL football and is still very much an unfinished product.
Could he replace Ashley Young or Antonio Valencia on the flanks this season or will he be limited to brief cameo appearances?
Only Moyes knows the answer to that.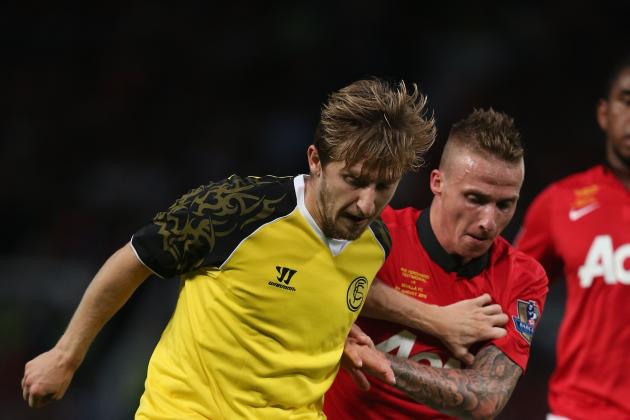 Clive Brunskill/Getty Images
Buttner getting physical vs. Sevilla
With yet another failed bid for Leighton Baines per The Guardian, as well as a loan deal for Fabio Coentrao falling through according to The Telegraph, it's quite obvious that David Moyes is looking to replace 32-year-old Patrice Evra.
Evra has been doing just fine so far, but it appears United's first-year manager would've rather had a more youthful Baines, 28, or Coentrao, 25, in his XI.
If age is at all a factor of Moyes' attempted ousting of Evra from the lineup, he'd be foolish not to give 24-year-old Alexander Buttner a call from the bench.
Though he only racked up four EPL starts last year, Buttner impressed in that small sample size with two goals and an assist, looking extremely lively from his left-back position. With better decision-making and defensive discipline Buttner could become a fine player.
If Moyes is truly adamant on ousting Evra, he should give Buttner chances to impress before plunging for Baines or Coentrao again in the January transfer window.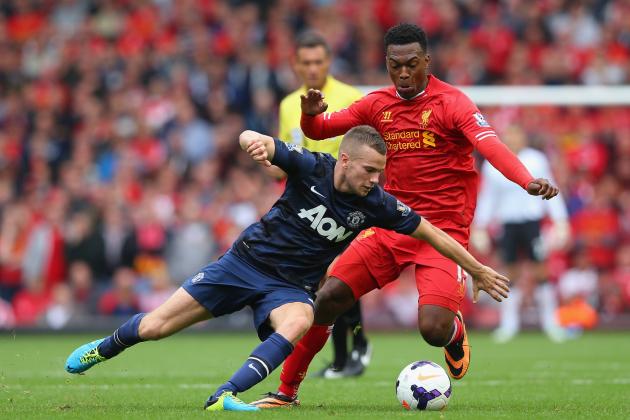 Alex Livesey/Getty Images
One of Tom Cleverley's many miscues vs. Liverpool
After a string of poor performances to start the season, many are calling for the benching of midfielder Tom Cleverley.
Though he lacks decent accuracy in his passes and is not an especially great threat in the final third, he continues to receive playing time due to United's lack of depth at the center midfield position.
Give Me Sport's Michael Hay called him "Manchester United's Most Overrated Star," mentioning the Englishman's complacency and lack of a true strength:
However Moyes doesn't have a player of Keane or Scholes' calibre. He instead has a midfield partnership of Michael Carrick and Tom Cleverley.

Carrick has excelled for the Premier League champions over the last 18 months or so - establishing himself as a regular for both Manchester United and England.

On the other hand Cleverley seems to have been picking up minutes without really impressing at Old Trafford.

...

While watching yesterday's game, it was hard to fathom what Cleverley actually offers to Moyes' side.

The majority of his passes were sideways, which could have been to do with the lack of movement in United's attacking third, but you would still look for an international midfielder to try and do something to change the outcome on the game.
With the transfer of Marouane Fellaini to United, per BBC Sport, Cleverley will have to earn every bit of his playing time.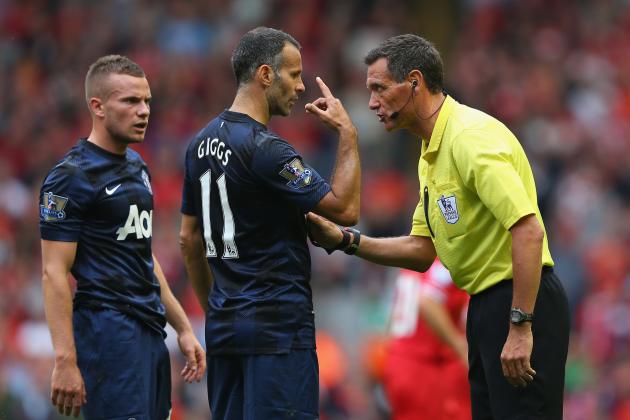 Alex Livesey/Getty Images
Ryan Giggs does the talking for United against Liverpool
At the age of 39, there's no doubt that Ryan Giggs' skill set is somewhat depleted.
Even without the same explosiveness he had 10 years ago, however, he still brings an amazing soccer IQ, strong technical ability and pinpoint passes to the table.
Above all else, he brings experience and composure to a side that should have more than enough with the likes of himself, Nemanja Vidic and Rio Ferdinand calling the shots.
However, against Liverpool on Sunday, United were completely outplayed and lacked the maturity and professionalism to will themselves back into the game.
Tom Cleverley looked utterly skittish, Danny Welbeck was way too fired up and Robin van Persie and Michael Carrick nearly got themselves sent off.
Mental breakdowns like these are completely uncalled for and will absolutely prevent United from repeating if they happen with much frequency.
Experienced players like Giggs are pivotal to have in the side to help prevent moments of ill-discipline and ocasionally provide examples of class like this.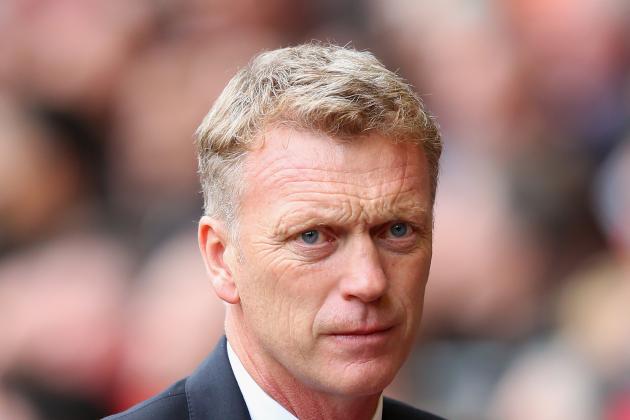 Alex Livesey/Getty Images
Success or a lack thereof could determine Moyes' activity in the January transfer window
Even though the central midfield has been improved, Moyes still may want to improve the squad in January if the club is not getting the desired results.
United are never known to be huge spenders in that window, but if it seems there is a glaring need in the squad or an injury then Moyes will likely try to fill it.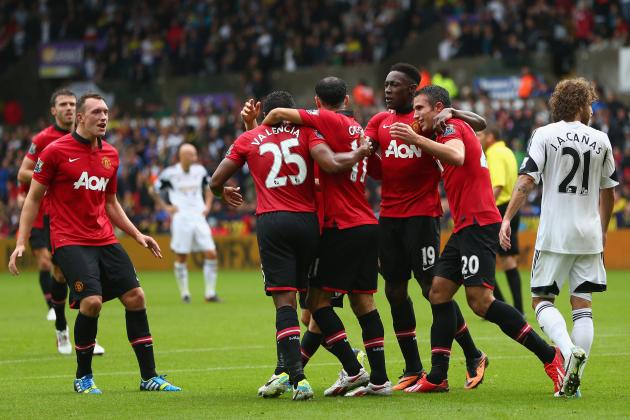 Michael Steele/Getty Images
The Reds celebrate a goal vs. Swanswa on opening day.
With 35 games remaining, United fans have a long way to go before deeming the season, team, or manager disappointing.
However, it's evident that some changes need to be made for the Reds to replicate their success from last year.
With Marouane Fellaini on the way, United's midfield will get a major boost, but that won't solve everything.
Ultimately, Moyes needs to take more risks and trust the players on his bench, such as Kagawa and Zaha, to produce at a high level if others are struggling (which is the case so far).
Although they may not be his first options at this point, Kagawa and Zaha have the electricity and creativity necessary to cultivate a fine run of form for the squad.
No one would expect Moyes to be hugely successful right away, but now that he's dealt with struggles he needs to make the appropriate changes and fixes if he wants to stick around for a long time.
A sixth-place finish won't cut it.