SEC Football 2013 Week Two Simulation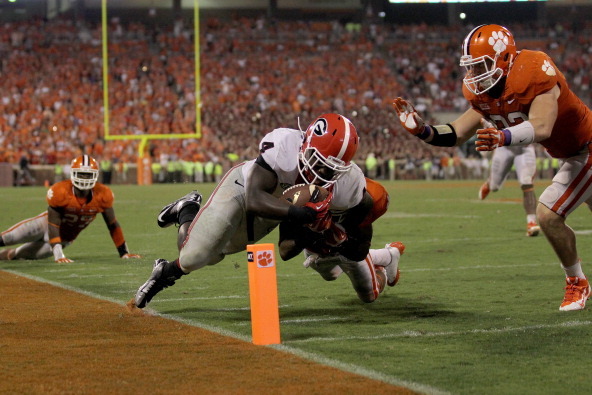 Streeter Lecka/Getty Images

The SEC has seen better weekends, sure, but Week 1 wasn't all bad. Auburn pulled off a win against a Pac-12 opponent, LSU brought home a top-20 victory and Alabama served Virginia Tech the way all of America expected them to.
Georgia broke all of our hearts in a classic, barely dropping a three-point decision on the road in Death Valley.
The mighty computer faltered in Week 1, losing against the spread and falling two games back to the inferior human. Of note: I did nearly as well against the spread as I did picking straight. That's weird.
This coming slate of games is, well, slightly less exciting. Week 2 features no SEC matchups and just one semi-interesting game with Florida's trip to Miami.
Let's see if I can keep the streak alive.
---
EA OVERALL: 8-5
ME OVERALL: 10-3
EA VS. SPREAD: 6-7
ME VS. SPREAD: 9-4
Begin Slideshow

»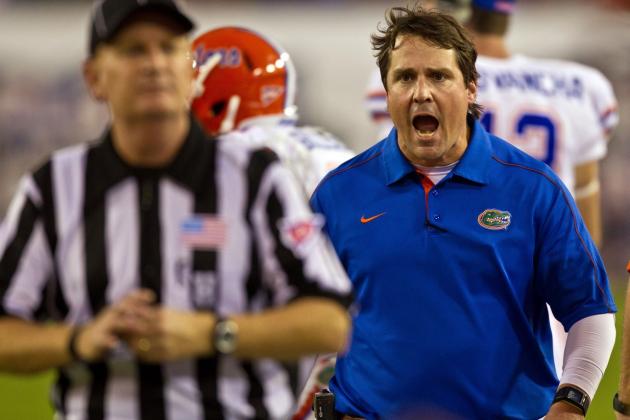 The SEC continues struggling against quality non-conference opponents as Florida drops the road decision.
The second quarter is a wild one, featuring three pick-sixes, two of those by Florida's Loucheiz Purifoy and Neiron Ball to enter halftime up 17-14.
A couple of huge fourth-quarter passes from Miami's Stephen Morris of 55 and 49 yards, respectively, seal the deal for the Hurricanes.
The Gators actually look better on offense, with a passing percentage over .500 (versus Miami's 12-of-31) and 23 first downs (versus 19). Getting beat on the long ball twice cost, what seemed to be, the better team the win.
At this point, I'm just not sold on Florida. Jeff Driskel was better than I expected in Week 1, but I just need to see proof before I pick the Gators to win against a solid opponent on the road.
---
EA PICKS: Miami to win, Miami (+2)
MY PICKS: Miami to win, Miami (+2)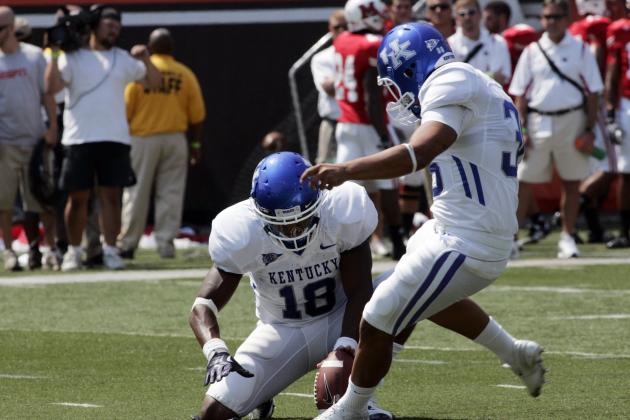 The Wildcats have a long way to go before reaching respectability. In the simulation, UK bounces back from a second-straight loss to Western Kentucky to squeak out a home win against Miami of Ohio.
Down 20-7 headed into the fourth quarter, the Wildcats need a miracle 21-point final 4:16 to edge out the Redhawks.
Maxwell Smith was perfectly average, hitting 18-of-36 passes for 245 yards and a touchdown while no Kentucky player rushed for more than 18 yards.
Even writing about this team's simulation is painful. I tend to agree with the simulation; this game will be closer than it should be, but I see UK pulling out the win.
---
EA PICKS: Kentucky to win, Miami (OH) (+13.5)
MY PICKS: Kentucky to win, Miami (OH) (+13.5)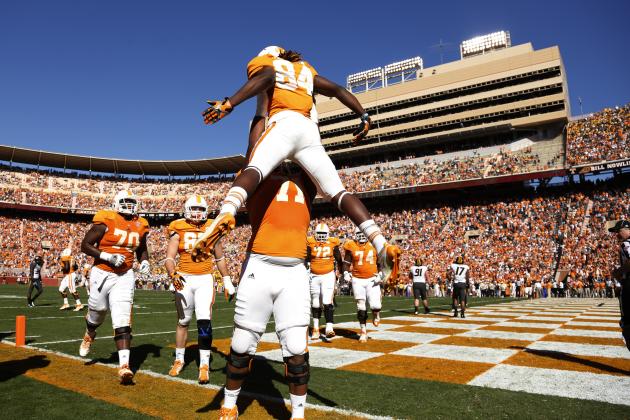 Joe Robbins/Getty Images

The Hilltoppers come a lot closer to making their argument for SEC inclusion than this score indicates.
Leading 13-6, WKU no doubt causes most of the nation to turn their heads and begin wondering why it hasn't yet heard from Mike Slive.
The aggressive defense wins the game for the Vols, featuring a third quarter including a 27-yard fumble recovery for a touchdown by Curt Maggitt (Seriously? What a name) and a 40-yard pick-six from non-rostered Eric Gordon.
WKU outgains UT 340-297 and notches eight more first downs. Tennessee's five forced turnovers were the difference.
Turns out EA Sports has seemingly drastically underrated Justin Worley. The game called for an average performance against FCS Austin Peay, and instead Worley hit 11-of-13 passes for 104 yards and three touchdowns. Butch Jones knows he's breaking in a new QB, and it shows.
The game again thinks Worley struggles, as he goes 11-for-28 in this one. I'm going to assume the Vols will rely more heavily on Rajion Neal and the rushing attack again.
---
EA PICKS: Tennessee to win, Tennessee (-13.5)
MY PICKS: Tennessee to win, Tennessee (-13.5)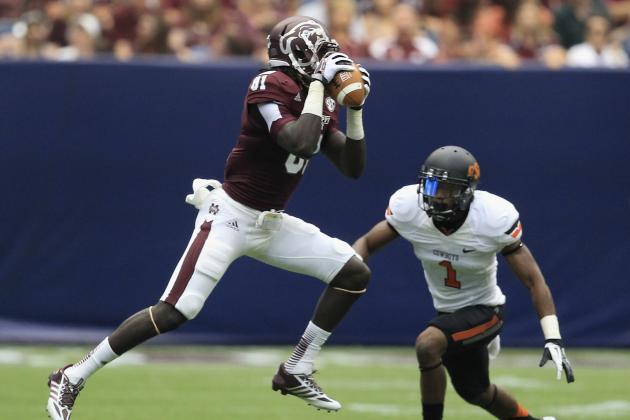 Bob Levey/Getty Images

The game against Oklahoma State was unkind to Mississippi State in several ways. The loss stings, particularly after dominating the first quarter, but losing your starting quarterback and both defensive backs (likely for the season) is even worse.
Not a whole lot to say about this simulation; Alcorn State is completely outclassed and the computer knows it. MSU racks up 524 yards of offense, 222 of those from Tyler Russell and 102 from LaDarius Perkins.
Keep a watch on backup QB Dak Prescott in this one to see how Coach Dan Mullen's offense adjusts for him, and to see if the run-heavy signal caller can actually hit his passes.
---
EA PICKS: Mississippi State to win, Mississippi State (-42.5)
MY PICKS: Mississippi State to win, Alcorn State (+42.5)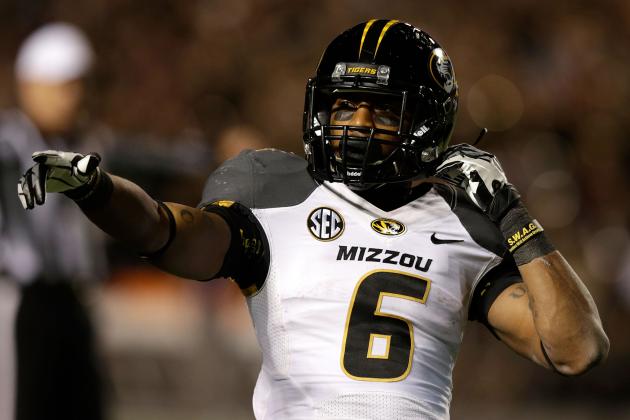 Scott Halleran/Getty Images

Toledo scared the Gators a bit less than I might have expected last week, but this is not a bad squad.
In the simulation, Missouri is never really in danger after scoring 21 straight points in the second quarter, each from a different player. The computer thinks this is a shootout, with 982 total yards and a majority of those through the air.
James Franklin goes 19-of-30 for 373 yards and three touchdowns on top of 100 yards rushing and a TD on the ground, breaking the 200 passer rating mark and making his statement for the Heisman.
Offense should be the theme for this one.
---
EA PICKS: Missouri to win, Missouri (-17)
MY PICKS: Missouri to win, Missouri (-17)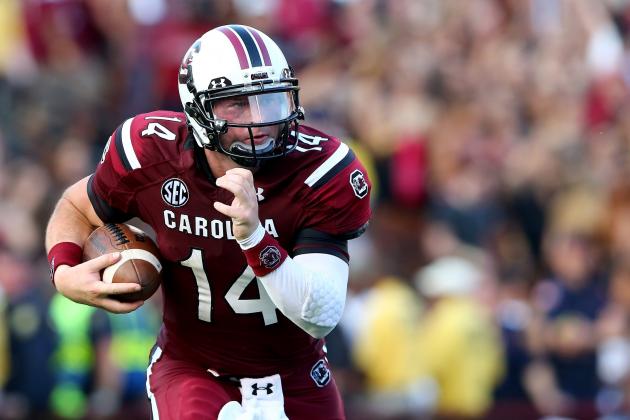 Streeter Lecka/Getty Images

When it comes to South Carolina, the computer is a bit schizo. It's predicted a UNC blowout (not even close to reality) and now a two-score win at Georgia?
This one stays close throughout, as the Gamecocks lead at halftime 21-14. A big-time drive capped by a three-yard QB sneak from Shaw pushes USC ahead by 14 with 3:03 left and effectively ends this one.
In typical USC/UGA fashion, everything is tight in this one. The score is intense, the stats are similar, and heads roll. Proverbially, of course.
Aaron Murray passes for 357 yards on 28-of-47 passing and two scores against Connor Shaw's 19-for-31 performance for 267 yards and two touchdowns. Shaw's ability to scramble intelligently was the difference, rushing for just 37 yards but adding another 14 points.
Not sure what the game has against Jadeveon Clowney. Granted, it called the subpar game against North Carolina, but this simulation calls for just three tackles. Not sure about that, buddy.
Georgia's offensive show against Clemson last week impressed me, and I'm calling this one for the Bulldogs.
---
EA PICKS: South Carolina to win, South Carolina (+6)
MY PICKS: Georgia to win, Georgia (-6)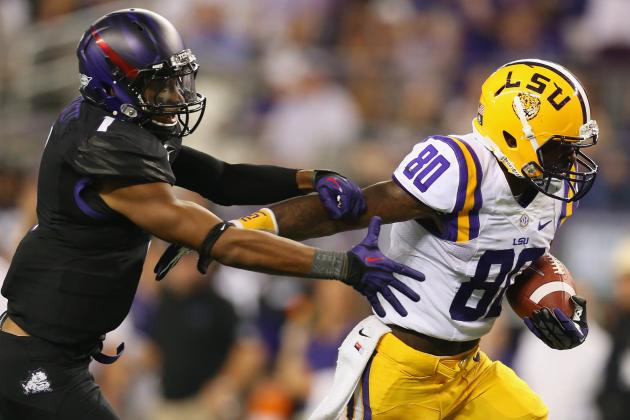 Ronald Martinez/Getty Images

LSU was a bit inefficient a week ago, dominating no. 20 TCU in every way but the scoreboard. I don't expect that to be the case against UAB.
After the first quarter, the Tigers are rolling and up 14-0. The entire offense decides last night's partying was a bit too much and naps until the fourth quarter when fans are rioting because the Blazers are winning in Death Valley 15-14.
Zach Mettenberger picks it up and throws for a couple of touchdowns and LSU scores 20 in the final quarter to send UAB back to Birmingham with a loss.
The computer has LSU allowing more yards to UAB than the Tigers did to TCU, which is just not going to happen. Mettenberger throws one pick, three touchdowns, and hits 18 of 38 passes.
Jeremy Hill was the real standout, averaging 7.5 yards a carry for 113 yards.
Not seeing a fluke game here.
---
EA PICKS: LSU to win, UAB (+34.5)
MY PICKS: LSU to win, LSU (-34.5)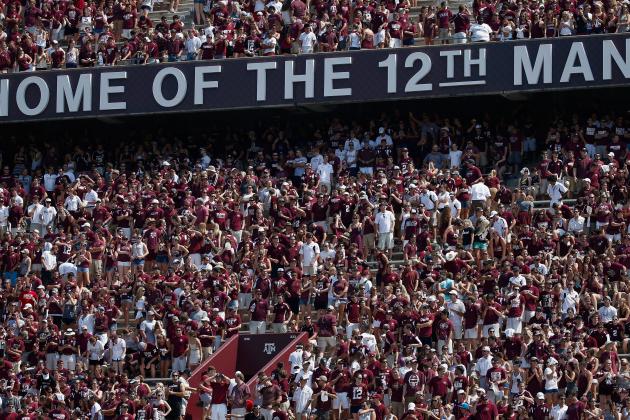 Scott Halleran/Getty Images

Now, come on EA. Rice scared the Aggies last week with Johnny Manziel out for the first half, and yes the defense wasn't great, but this is a little extreme.
This one is tied at halftime—what?—until a 13-yard sprint from Ben Malena gives A&M the advantage with 2:47 left in the third. Manziel somehow manages to impress despite the offense's struggle, hitting 26-of-41 passes for 274 yards and three touchdowns.
Not buying it.
---
EA PICKS: Texas A&M to win, Sam Houston State (+40.5)
MY PICKS: Texas A&M to win, Texas A&M (-40.5)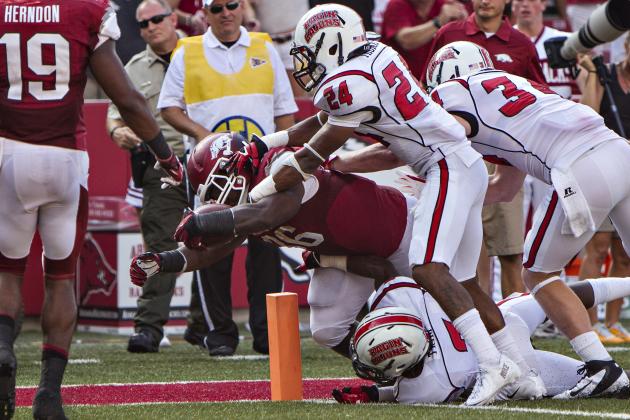 Wesley Hitt/Getty Images

Last week's win over Louisiana-Monroe actually impressed me, as it was never that close for the 'Backs.
This one goes exactly how it should, with Arkansas hitting about double the yards, first downs, and conversion numbers than Samford. Brandon Allen hits for four touchdowns and a 203.7 passer rating.
Sounds about right.
---
EA PICKS: Arkansas to win, Arkansas (-32.5)
MY PICKS: Arkansas to win, Arkansas (-32.5)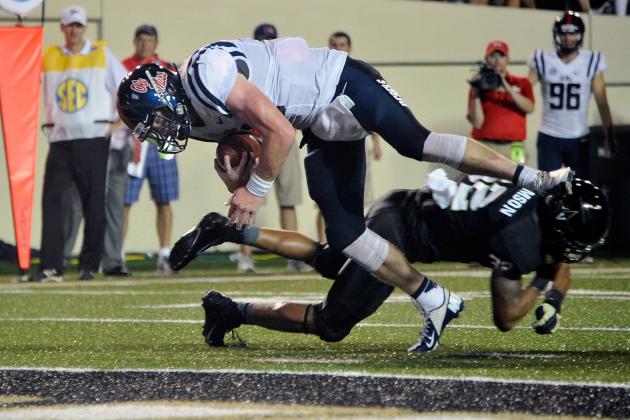 Frederick Breedon/Getty Images

Did you read the previous slide? Okay, you can skip this one.
The Rebels gutted out a huge SEC win on the road last week and this one will be a joyride.
Ole Miss outgains its opponent 541 to 141 and forces three turnovers. Bo Wallace sets the season's top passer rating thus far at 209.3 after hitting 15-of-21 passes for 227 yards and three touchdowns. Jaylen Walton rushes for 135 yards and Robert Nkemdiche only manages four tackles.
Yawn. The only challenge here is that 50 is a huge, huge spread.
---
EA PICKS: Ole Miss to win, Southeast Missouri State (+50)
MY PICKS: Ole Miss to win, Ole Miss (-50)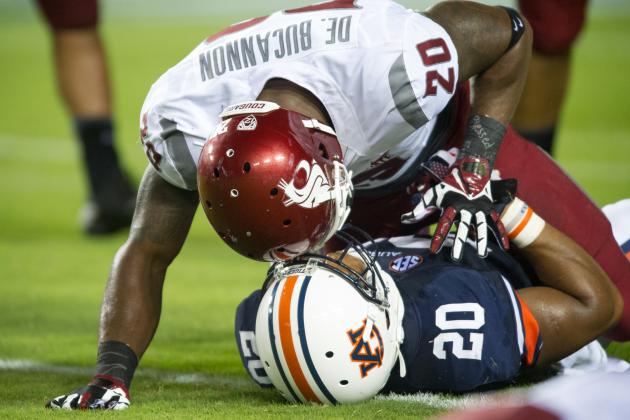 Michael Chang/Getty Images

Well, this is...unexpected.
Auburn got the win a week ago in a rare Pac-12/SEC bout and while offense wasn't the focus, I can't imagine a Guz Malzahn offense only managing 16 points and a Gus Malzahn defense allowing no points against Arkansas State.
The only touchdown in this one comes in the first quarter on a goal-line toss from Jonathan Wallace.
The defense was the highlight in this one, as Jake Holland and LaDarius Owens combine for 18 tackles, nine tackles for loss and 3.5 sacks. Wallace manages just a 10-for-25 accuracy for 112 yards.
I see this game going very, very differently. Color me shocked if there are less than 40 points scored in this one.
---
EA PICKS: Auburn to win, Auburn (-13)
MY PICKS: Auburn to win, Auburn (-13)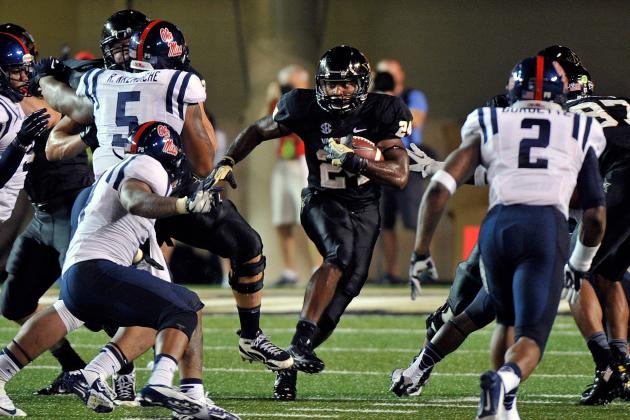 Frederick Breedon/Getty Images

The Commodores played a competitive, dynamic, SEC-level game at home against Ole Miss last week and are going to make noise this year despite the loss.
Though Austin Peay grabs a quick lead in the first quarter, Coach James Franklin's 'Dores respond with 21 points on two scores on the ground from Seymour to start the rout.
Vanderbilt's 440 yards of offense sounds about right, as does Wesley Tate's 119 yards rushing. Austyn Carta-Samuels gets injured after a 5-for-9, two-touchdown day and Patton Robinette puts in a suboptimal 12-for-28 performance in his stead.
Tennessee had no trouble with the Governors and I don't suspect Vandy will either.
---
EA PICKS: Vanderbilt to win, Austin Peay (+47.5)
MY PICKS: Vanderbilt to win, Austin Peay (+47.5)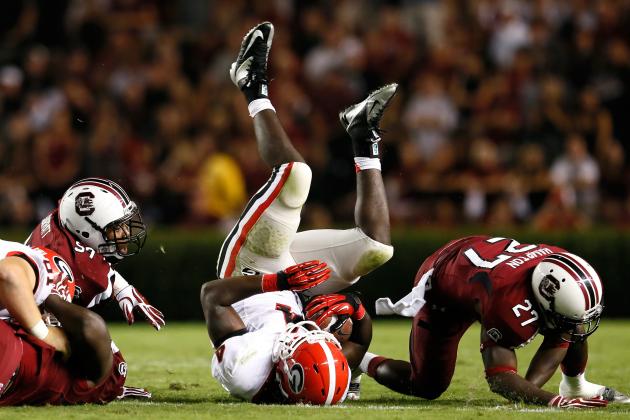 Kevin C. Cox/Getty Images

This week is full of cupcakes, easily headlined by South Carolina's trip to Georgia in a big-time top 15 matchup.
I'm not seeing any potential for non-conference upsets that don't involve Florida, though if you've been following the FCS you know that's not something to take for granted.
Here's to hoping I can keep up the computer domination.