Floyd Mayweather Will Finally Cement Legacy with Win over Canelo Alvarez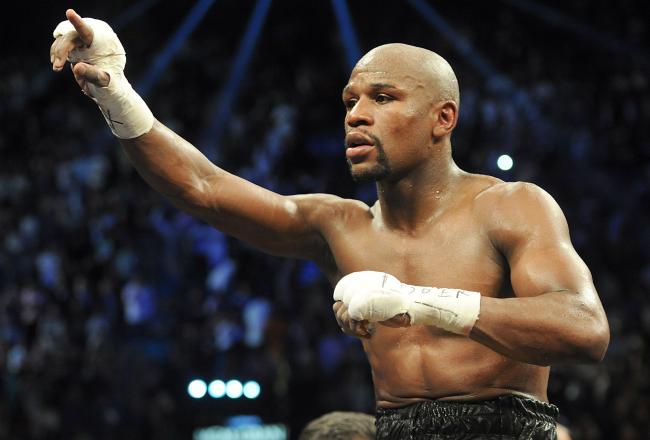 Jayne Kamin-Oncea-USA TODAY Spor
With a career record of 44-0, one would think that Floyd Mayweather should be considered one of the greatest boxers of all time.
That isn't necessarily the case, though, as his resume is often questioned. When Mayweather defeats Saul "Canelo" Alvarez on Sept. 14, however, it will finally validate everything he has worked for over the course of his storied career.
While it may be true that Mayweather hasn't faced many other fighters who will go down in history as among the best ever, that isn't necessarily his fault.
Mayweather has thrived during a down period in the sport, and although it's impossible to say whether or not he would have been as good 30 years ago against better competition, he shouldn't be punished as an individual because of when he was born.
After signing a six-fight deal with Showtime back in February, Mayweather could have made the decision to fade into the sunset against a bunch of cupcake opponents.
Whether his opponents are good or not, Mayweather is going to get paid, and his deal is going to be the biggest in all of sports.
Rather than resting on his laurels, however, Mayweather pursued the biggest fight possible.
It can be argued that Manny Pacquiao would generate more buzz due to the fact that fans have been calling for that fight to happen for years, but Pacquiao is coming off losses to Juan Manuel Marquez and Timothy Bradley, so his stock is down considerably.
Will you consider Mayweather one of the greatest boxers ever if he defeats Alvarez?
Alvarez, on the other hand, is a 23-year-old superstar who boasts a record of 42-0-1. He is viewed as the next big thing in boxing, so there is an inherent risk involved with fighting him.
An undefeated record is obviously something that means a lot to Mayweather, so the fact that he is putting it on the line against a fighter like Alvarez proves that he wants to cement his legacy in the eyes of the fans.
Mayweather has even agreed to move up from welterweight to light middleweight, although the bout will be contested at a catch weight of 152 lbs.
Even so, Mayweather is the one who is putting himself at a disadvantage from a physical standpoint.
While it remains to be seen how Mayweather will look in comparison to Alvarez at 152 lbs., it doesn't seem to be affecting his training as seen in this photo courtesy of Mayweather's Instagram account:
Some already feel as though Mayweather is one of the best of all time as he has defeated the likes of Miguel Cotto, Shane Mosley, Juan Manuel Marquez, Oscar De La Hoya and others, but many continue to downplay his accomplishments.
Mayweather has been written off a couple times over the past few years as there was a belief that Victor Ortiz would beat him in 2011 after 16 months away from the ring. Mayweather responded by knocking him out in the fourth round.
In his most recent fight, Mayweather took on Robert Guerrero after a one-year layoff. Mayweather dominated Guerrero for 12 rounds as he won with ease. Once more, there was a contingent of fans that picked against Mayweather, but he proved everyone wrong yet again.
Mayweather is easily the best defensive fighter of his era, and even though he is now 36 years of age, he hasn't shown any signs of slowing down. Mayweather's trash talk is much like fine wine as well since it seemingly gets better the older he gets.
According to Dan Rafael of ESPN.com, Alvarez's promoter, Oscar De La Hoya, believes that Alvarez is going to use his superior punching power to knock Mayweather out. Not surprisingly, Mayweather isn't convinced:
"Oscar said he was gonna knock me out also. Did you see what happened in that fight? People are entitled to their opinion," Mayweather said. "People are going to say what they're going to say. My job is to be the best I can be and continue to do my job. There's a reason I do record-breaking numbers."
Mayweather is 100 percent correct in his assessment as he continues to thrive despite the fact that some fans are still unwilling to give him his due credit.
Once he defeats Alvarez on September 14 to maintain his undefeated record and hand the Mexican star his first lost, Mayweather's naysayers will have no choice but to admit that he is one of the best to ever don boxing gloves.
Follow @MikeChiari on Twitter
This article is
What is the duplicate article?
Why is this article offensive?
Where is this article plagiarized from?
Why is this article poorly edited?