The 15 Tastiest Cupcake Games of College Football Week 2
Joe Robbins/Getty Images
There is nothing like a tasty cupcake every once in a while, but too many in one week can be a little too much.
That is what college football fans have to look forward to this weekend, as there will be more than 30 matchups pitting FBS schools against FCS competition.
But which games have the potential to be the biggest blowouts of the bunch?
Names like Louisville, Wisconsin, Clemson, TCU and Boise State will be taking on FCS competition, so there is a lot to choose from.
We have narrowed it down to 15. Here are the tastiest cupcakes Week 2 of the college football season has to offer.
*Games are selected based on predicted outcome of the final score
No. 15: Tennessee-Martin vs. Boise State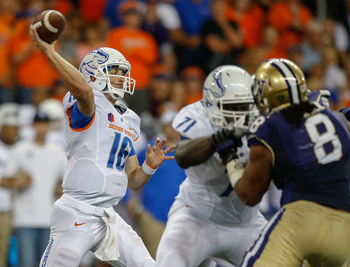 Otto Greule Jr/Getty Images
When: Saturday, Sept. 7, 3 p.m. ET

Even though Boise State comes into the game 0-1 and Tennessee-Martin is 1-0, this one is going to be ugly from the start.
The Broncos are coming off a 38-6 defeat at the hands of Washington. It was the worst loss of the Chris Petersen era at Boise State.
Tennessee-Martin knocked off Chattanooga 31-21 in its first game of the season.
There is no question that Boise State is going to be out for blood after last week. Expect the Broncos to roll in this one.
Prediction: Boise State 42, Tennessee-Martin 7
No. 14: Sacramento State vs. Arizona State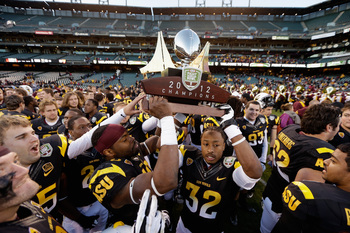 Ezra Shaw/Getty Images
When: Thursday, Sept. 5, 10 p.m. ET

This is the first game of the season for Arizona State. The Sun Devils did not play opening weekend, but Sacramento State did.
The Hornets were shut out 24-0 at the hands of San Jose State. Arizona State comes into this one with a solid defense, led by tackle Will Sutton.
The Sun Devils also have the ability to score in bunches.
Expect Sacramento State to be shut out for the second consecutive game. Arizona State should have little trouble putting points on the board as well.
Prediction: Arizona State 40, Sacramento State 0
No. 13: Missouri State vs. Iowa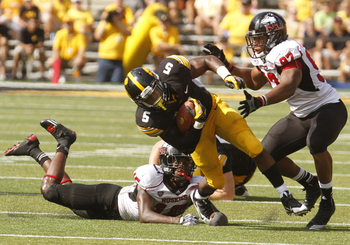 Matthew Holst/Getty Images
When: Saturday, Sept. 7, noon, ET

Both teams come into this game having lost their respective season opener. Iowa fell 30-27 to Northern Illinois, while Missouri State was defeated 23-17 by Northwestern State.
Iowa has now lost seven games in a row dating back to last season. This is exactly the cupcake it needs to get that bad taste out of its mouth.
Expect Iowa to win with defense and ball control. Fullback Mark Weisman carried the ball 20 times for 100 yards against Northern Illinois.
Look for him and the Hawkeyes to control the game on the ground and cruise to an easy victory.
Prediction: Iowa 44, Missouri State 3
No. 12: Samford vs. Arkansas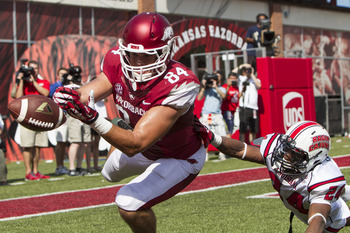 Wesley Hitt/Getty Images
When: Saturday, Sept. 7, 7 p.m.
Arkansas looked mighty impressive in a 34-14 opening victory over Louisiana-Lafayette. The Razorbacks did it with a steady dose of the run. Head coach Bret Bielema has already instilled his running philosophy. The Razorbacks carried the ball 51 times for 292 yards.
That came against a bowl team from last season. This week Samford comes to town. The Bulldogs were impressive in knocking off new FBS member Georgia State 31-21 last weekend, but this will be a huge step up in competition.
Look for Arkansas to have plenty of success on the ground and control this game from start to finish.
Prediction: Arkansas 49, Samford 7
No. 11: Alcorn State vs. Mississippi State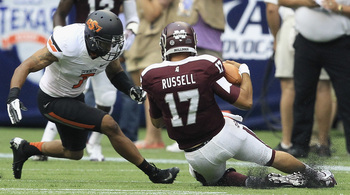 Bob Levey/Getty Images
When: Saturday, Sept. 7, 3:30 p.m. ET

Mississippi State struggled offensively in a 21-3 loss to Oklahoma State last weekend. Quarterback Tyler Russell went down with a head injury and did not return.
Whether or not he plays is not going to matter much when Alcorn State comes calling.
The Braves did defeat Edward Waters College 63-12, but the Bulldogs are going to pose a little bit more of a threat.
Backup quarterback Dak Prescott has the ability to easily lead Mississippi State to a victory over Alcorn State.
Look for solid defense all night long from the Bulldogs.
Prediction: Mississippi State 48, Alcorn St. 6
No. 10: Norfolk State vs. Rutgers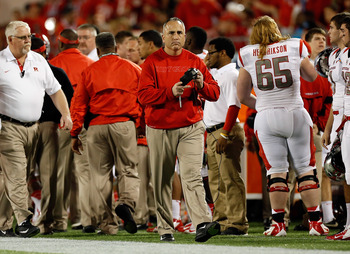 J. Meric/Getty Images
When: Saturday, Sept. 7, noon ET

This is another game that features two teams both coming off losses in Week 1. The Scarlet Knights fell 52-51 at Fresno State in overtime. Norfolk State lost 23-6 to Maine.
Rutgers quarterback Gary Nova proved he can lead this offense. He passed for 348 yards and five touchdowns in the opener. Expect similar numbers against Norfolk State.
This game should be a little easier for the Scarlet Knights. Norfolk is not going to pose much of a threat.
Look for Rutgers to put plenty of points on the board and the defense to be improved against the Spartans.
Prediction: Rutgers 56, Norfolk State 10
No. 9: Southeast Missouri State vs. Ole Miss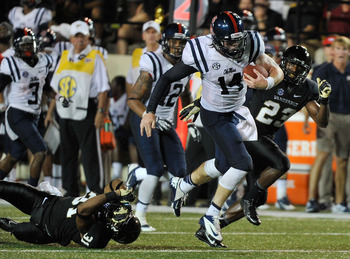 Frederick Breedon/Getty Images
When: Saturday, Sept. 7, 7 p.m. ET

Southeast Missouri State is downright awful. The Redhawks have struggled in recent years, including 2013. They were defeated 45-7 at the hands of Southeastern Louisiana in the opener.
Ole Miss is coming off a dramatic 39-35 victory over Vanderbilt. This has the potential to be the biggest blowout of the week, but expect Ole Miss to not play at quite the level as it did on the road against the Commodores.
If Ole Miss comes to play, this could get ugly. Odds are they are a little sluggish but still win big.
Prediction: Ole Miss 56, Southeast Missouri State 10
No. 8: Southeastern Louisiana vs. TCU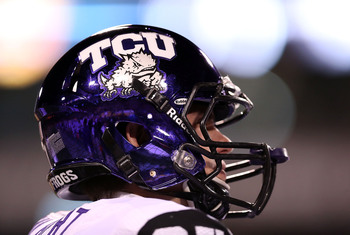 Christian Petersen/Getty Images
When: Saturday, Sept. 7, noon ET
Southeastern Louisiana dismantled Southeast Missouri State 45-7 last week, and TCU fell 37-27 to LSU.
Do not be fooled, as the Horned Frogs should have no problem letting out their frustrations on the overmatched Lions.
TCU has struggled mightily since joining the big boys in the Big 12. This will be one of the few chances this season to let out that frustration.
Expect both TCU quarterbacks to play and have huge games in a big TCU victory. The defense, which struggled at times against LSU, will get back to its old form.
Prediction: TCU 49, Southeastern Louisiana 0
No. 7: Austin Peay vs. Vanderbilt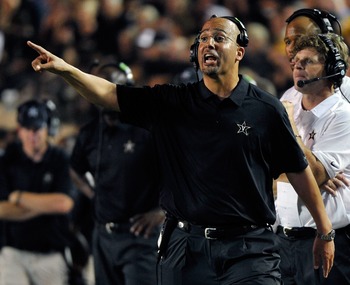 Frederick Breedon/Getty Images
When: Saturday, Sept. 7, 7:30 p.m. ET

It must be cupcake week in the SEC, as yet another school from that league faces a FCS opponent.
A week after losing 45-0 to Tennessee, Austin Peay now travels back to Tennessee to take on Vanderbilt.
Vanderbilt is fresh off a devastating 39-35 home loss to Ole Miss. The Commodores certainly have some frustration to take out.
Quarterback Austyn Carta-Samuels passed for 300 yards and two scores against Ole Miss. Look for him to have a huge day, along with talented wide receiver Jordan Matthews.
Prediction: Vanderbilt 49, Austin Peay 0
No. 3: Cal Poly vs. Fresno State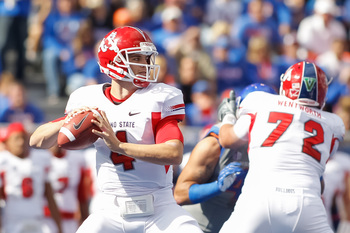 Otto Kitsinger III/Getty Images
When: Saturday, Sept. 7, 10 p.m. ET

Fresno State posted one of the most dramatic victories of the weekend in a 52-51 overtime win over Rutgers.
This week, the competition takes a step way back as Cal Poly comes to town. The Mustangs did defeat San Diego 38-16 on Saturday.
They will need an effort much better than that to even think about hanging around with Fresno State.
Quarterback Derek Carr passed for 456 yards and five touchdowns against Rutgers. Just imagine what he will do against a team like Cal Poly.
Prediction: Fresno State 70, Cal Poly 14
No. 6: Sam Houston State vs. Texas A&M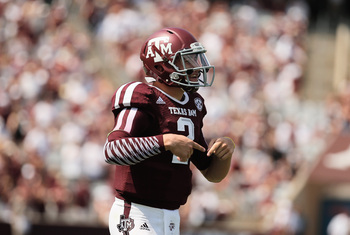 Scott Halleran/Getty Images
When: Saturday, Sept. 7, 7 p.m. ET

Sam Houston State might be the best team on this list, as far as cupcakes are concerned. But, Texas A&M is so talented, this is going to get ugly immediately.
Both teams posted huge victories in Week 1. Texas A&M knocked off Rice 52-31 and Sam Houston State clobbered Houston Baptist 74-0.
The Bearkats might just be the best team at the FCS level, but that does not mean they are any match for the Aggies.
Johnny Manziel should be unstoppable against Sam Houston State. Look for a huge game from him and the Aggies offense.
The Bearkats will be able to put up a few touchdowns but not enough to even keep it respectable.
Prediction: Texas A&M 70, Sam Houston State 21
No. 5: Stephen F. Austin vs. Texas Tech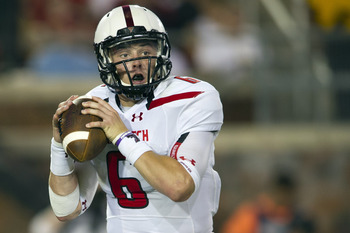 Cooper Neill/Getty Images
When: Saturday, Sept. 7, 7 p.m. ET

It does not really matter who the Texas Tech quarterback is when the Red Raiders take on Stephen F. Austin on Saturday night.
In the season opener against SMU, true freshman walk-on Baker Mayfield started at quarterback in the absence of Michael Brewer.
Mayfield certainly did not disappoint, passing for 413 yards and four touchdowns.
This week the Red Raiders take on a Stephen F. Austin team that just fell 50-40 at the hands of Weber State.
Expect Texas Tech to put up plenty of points in this one.
Prediction: Texas Tech 66, Stephen F. Austin 13
No. 4: Eastern Kentucky vs. Louisville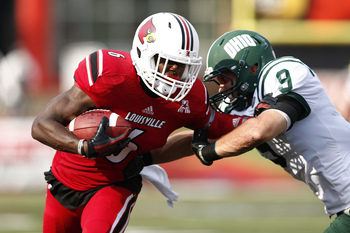 Joe Robbins/Getty Images
When: Saturday, Sept. 7, noon ET

Louisville looked very impressive in its 49-7 beatdown of Ohio on Sunday. This week the competition gets even easier with a meeting against in-state rival Eastern Kentucky.
The Colonels took down Robert Morris 38-6 last weekend.
After passing for 355 yards and five touchdowns on 23-of-28, Louisville quarterback Teddy Bridgewater is firmly supplanted in the Heisman race. He should not have any trouble having a repeat performance against Eastern Kentucky on Saturday.
Louisville will dominate this game from the start.
Prediction: Louisville 63, Eastern Kentucky 10
No. 2: South Carolina State vs. Clemson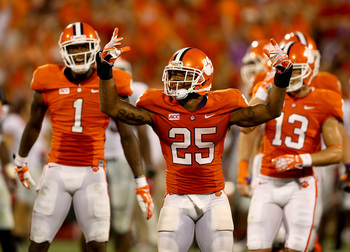 Streeter Lecka/Getty Images
When: Saturday, Sept. 7, 12:30 p.m. ET

The final two games on the list are head and shoulders above the others. The first of those is Clemson taking on South Carolina State.
The Tigers are fresh off a 38-35 victory over then-No. 5 Georgia. Now they will have their sights set on in-state rival South Carolina State.
South Carolina State is coming off a 27-20 loss at the hands of Coastal Carolina.
With the amount of talent Clemson possesses all over the field, particularly on offense, this has all the makings of being one of the bigger blowouts of the entire season.
Prediction: Clemson 69, South Carolina State 6
No. 1: Tennessee Tech vs. Wisconsin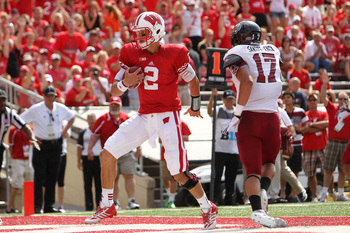 Mike McGinnis/Getty Images
When: Saturday, Sept. 7, noon ET

After what Wisconsin did to Massachusetts over the weekend, it is hard to imagine what the Badgers could accomplish against a team like Tennessee Tech.
The Badgers pounded UMass to the tune of a 45-0 final score. Tennessee Tech handled Cumberland College 63-7. Now it will get the unenviable task of trying to slow down the Wisconsin rushing attack.
Look for the Badgers to run early and often, averaging nearly 10 yards a carry for the game.
Wisconsin will prove that it is not impossible to score 10-plus touchdowns in a game when running the ball on nearly every play.
Prediction: Wisconsin 77, Tennessee Tech 7
Keep Reading