Raiders 2013 Roster Raises Questions About GM McKenzie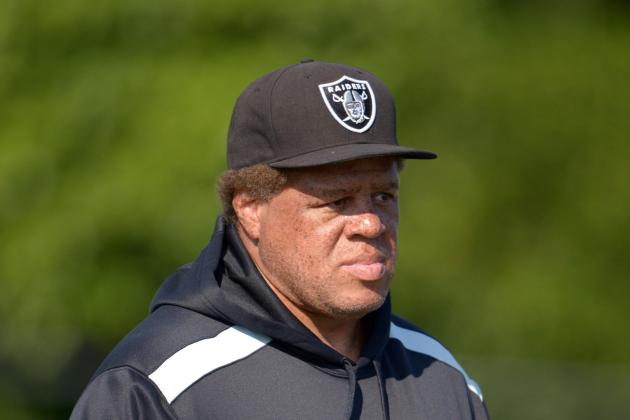 Kirby Lee-USA TODAY Sports
Reggie McKenzie
Reggie McKenzie has been applauded for getting Oakland's financial books in order, and rightfully so considering the budget disaster he inherited after being hired as general manager nearly 20 months ago.
McKenzie's work as a personnel man, however, has raised some doubts.
After an uninspiring draft in 2012, the Raiders made several risky picks this season. In some cases, like fourth-round pick Tyler Wilson who was left off the team's 53-man roster, the picks were apparently too risky.
There were a few other curious roster decisions that could land McKenzie in hot water if they don't pay off.
Begin Slideshow

»
Brian Bahr/Getty Images

SNUB: QB TYLER WILSON
The former Arkansas quarterback got off to a slow start in training camp, got buried on the depth chart and never got out of the basement.
There were a lot of problems, from footwork to technique. It didn't help that his reps in training camp dwindled with each practice. Wilson still has plenty of upside, and if he lands with another team and does well, McKenzie will have a lot of explaining to do.
Not only did the Raiders waste a fourth-round pick on the guy, but Wilson also walked away with nearly $500,000 in signing bonus money.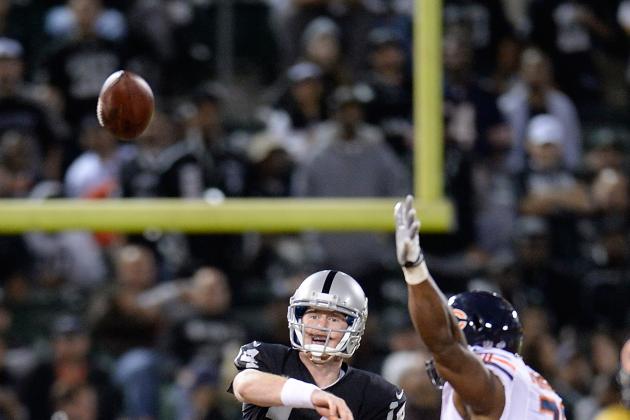 Thearon W. Henderson/Getty Images

SURPRISE: QB MATT McGLOIN
While Tyler Wilson was tumbling down the depth chart, McGloin was quietly working his way up the ladder despite initially being used as a scout team quarterback to throw during defensive drills.
It's easy to see why the Raiders kept him around. Though he's not very mobile, the 6'1", 210-pound McGloin throws a better deep ball than either Matt Flynn or Terrelle Pryor. While there are some accuracy issues, it's not a stretch to imagine the rookie starting at some point considering the shaky status of the two QBs ahead of him.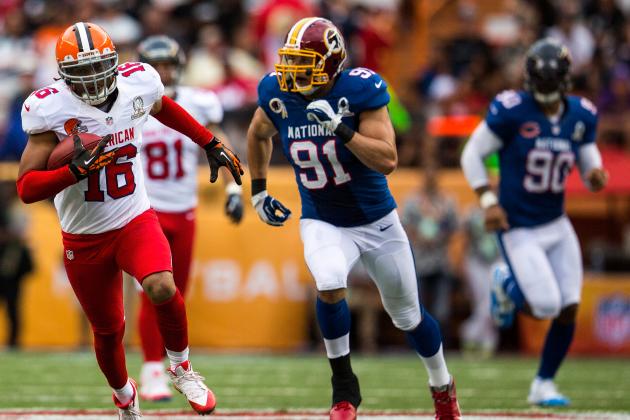 Kent Nishimura/Getty Images

SNUB: KR JOSH CRIBBS
The NFL's career record holder for kickoff returns for touchdowns was expected to give the Raiders special teams a big boost. Instead, the knee problems that hindered Cribbs marketability during free agency spelled his downfall in Oakland.
Cribbs put up decent numbers in the preseason but the explosive breakaway speed he once possessed was clearly absent. That, coupled with a healthy Jacoby Ford, put the writing on the wall for the return specialist.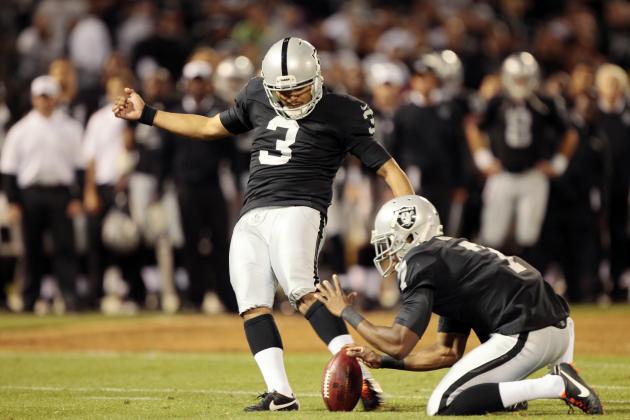 Brian Bahr/Getty Images
King's work as a holder will be as critical as his punting.
SURPRISE: P MARQUETTE KING
King was the underdog in the race to replace perennial Pro Bowl punter Shane Lechler, yet he somehow outlasted veteran Chris Kluwe in one of the most tightly competitive training camp battles.
King has the stronger leg of the two men and put up the bigger, more impressive numbers.
His direction kicking needs work, however, and his consistency has been a concern. He might boom a 70-yarder and follow it up with a 35-yard shank. The biggest issue for the Raiders is that King will be the holder for kicker Sebastian Janikowski.
That's something the young punter struggled with during the preseason and will factor in to how long he stays around.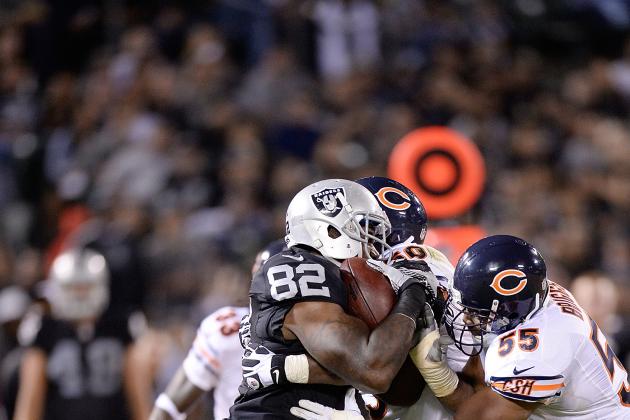 Thearon W. Henderson/Getty Images

SNUB: TE RICHARD GORDON
At one point in camp Gordon was getting time with the Raiders' first team offense while David Ausberry was hurt and rookies Mychal Rivera and Nick Kasa adjusted to a new offense.
The best run blocker of the run, Gordon also seemed to have the inside track because of Oakland's commitment to the ground game. He just didn't figure much into the passing game, and when Rivera and Kasa began to emerge late, Gordon's days with the Raiders were over.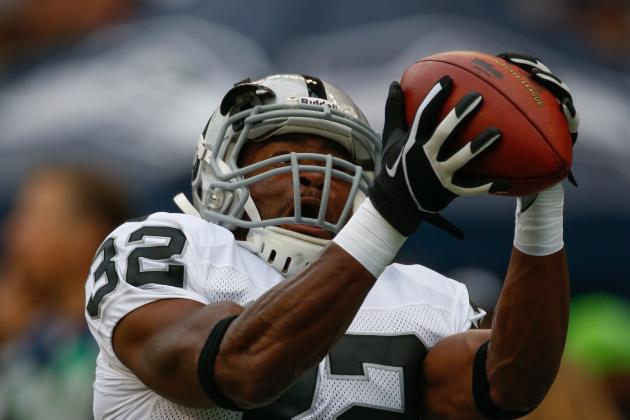 Otto Greule Jr/Getty Images

SURPRISE: RB JEREMY STEWART
Talk about a longshot.
Stewart went into camp behind Darren McFadden, Rashad Jenning and rookie Latavius Murray. He had to split time with Deonte Williams with the third-team offense before quietly earning more time. Then he had to wait for Murray to go on injured reserve before a spot in the backfield opened.
He'll still have to look to special teams for the bulk of his playing time because Jennings will get the majority of McFadden's leftovers. However, given that McFadden gets hurt every year, the Raiders need any and all of the depth they can find.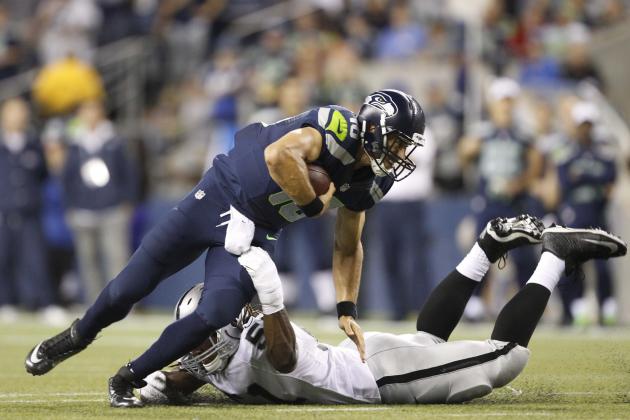 Joe Nicholson-USA TODAY Sports
Bass against the Seahawks
SNUB: DE DAVID BASS
The Raiders have a glaring need for pass rush help off the edge, and Bass seemed to provide that at times during the preseason.
Though he struggled at times to shed blockers, the seventh-round draft pick started showing up more on film in recent weeks when he started playing instinctively. Now the 265-pounder is in Chicago trying to catch on with the Bears.
More critically in Oakland, it's wasted draft pick. McKenzie and his staff simply can't afford those.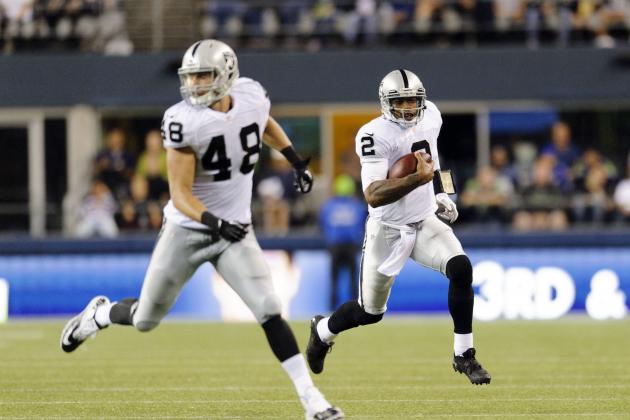 Steven Bisig-USA TODAY Sports
Mastrud blocking for Terrelle Pryor
SURPRISE: TE JERON MASTRUD
Why the Raiders chose to keep four tight ends is a mystery.
Mastrud, the former Miami Dolphin who has caught just one pass in an NFL regular season game, somehow managed to make it onto the 53-man roster.
Mastrud didn't do much to stand out during the preseason, and he isn't likely to play much on offense once David Ausberry gets back to full strength. He might get some early week while Kasa and Rivera continue to develop, though he's no long-term solution to Oakland's tight end situation.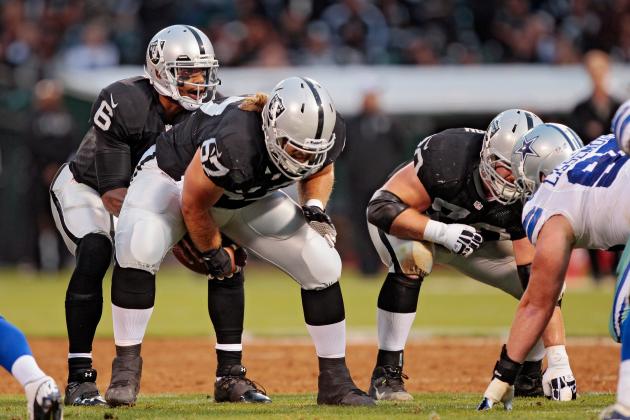 Brian Bahr/Getty Images

SNUB: G TONY BERGSTROM
Two weeks ago Bergstrom was penciled in to be the Raiders starting left guard. Then he suffered what the team called a significant foot injury, and the 2012 third-round draft pick was placed on injured reserve, ending his season.
It might not technically be a snub since he is still Oakland's property, but tell that to running back Darren McFadden who will have to run behind the Raiders' makeshift offensive line.