Storylines to Follow in New York Islanders Training Camp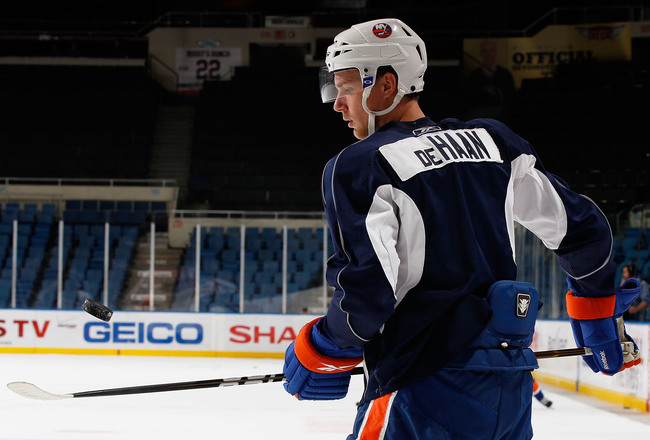 Mike Stobe/Getty Images
New York Islanders training camp will be underway this week, and it's sure to be one of the more competitive camps in the NHL.
With a handful of roster spots in flux and plenty of prospects who appear very close to being NHL-ready, rookies will be pushing the speed and intensity in every drill, scrimmage and preseason game.
Here are four storylines fans should be keeping a close eye on as camp progresses.
Where Do Brock Nelson and Ryan Strome Land?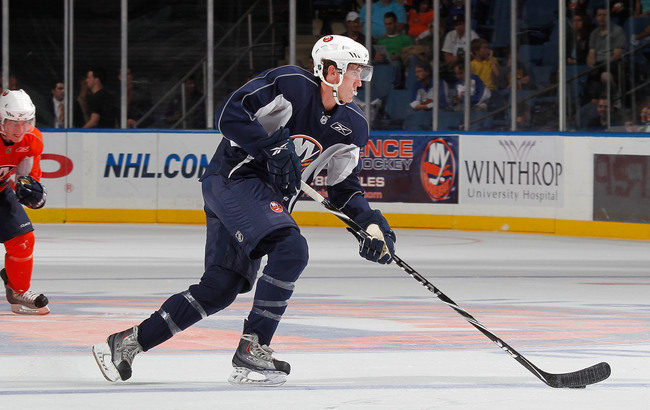 Paul Bereswill/Getty Images
The Islanders top two prospects are in an interesting spot. It's likely only one of them, if either, make the roster out of camp this season.
Ryan Strome is being hailed as a favorite, but Brock Nelson could be the better fit for the team in 2013-14.
John Tavares will be the team's No. 1 center, and odds are Frans Nielsen will center the second line again. Josh Bailey will likely play on the wing with Kyle Okposo and Nielsen on the second line or slide into Brad Boyes' old spot alongside Tavares and Matt Moulson.
Casey Cizikas will feel the heat from these young guns as he fights to maintain his spot as the third-line center.
Peter Regin and Anders Lee also figure to factor into the battle. Lee made his Islanders debut during the regular season and had a goal and an assist in two games. Regin comes in as a free-agent acquisition looking to rediscover his scoring touch while staying healthy, something he's struggled to do in the past three seasons.
A move to right wing is also a possibility for Strome. The thought of a Moulson-Tavares-Strome line is exhilarating, but it may be a little early to be dreaming up NHL 14-esque line combinations. However, even if Strome skates third-line minutes on the wing, he'll likely provide scoring depth and gain valuable experience.
Nelson is more of an all-around player with a solid two-way game. He's the one Cizikas should probably be more worried about. He's capable of playing in all situations, too.
It's an old adage, but this is a good problem that the Islanders have on their hands. The amount of talent should have management and fans very excited not just for this season, but what a year or two down the road might bring in terms of offensive production.
Who's Skating with John Tavares?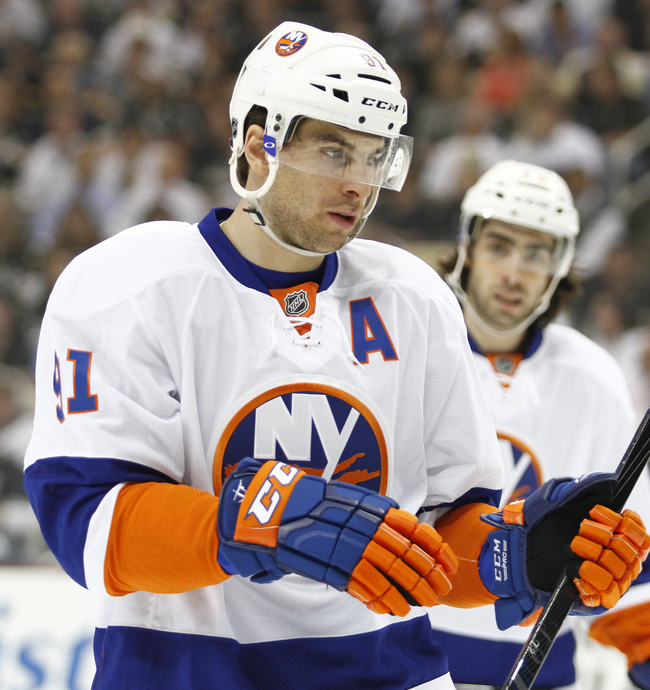 Justin K. Aller/Getty Images
There are a lot of first-line possibilities that could produce success for the Islanders.
Last season, John Tavares earned a Hart Trophy nomination with Matt Moulson and Brad Boyes as his linemates most of the season.
With added offensive talent, the Islanders could look to break up Moulson and Tavares to make the top two lines more balanced. It may sound counter-intuitive, but free-agent acquisition Pierre Marc-Bouchard could make a case for playing time with JT on the left wing. It certainly wouldn't be the first time Tavares has skated with someone of a lower caliber and made it work, as he's seen success with P.A. Parenteau and Boyes in the past.
On the right wing, things are even more wide open. Michael Grabner, Kyle Okposo and Josh Bailey could all get looks on the first line. Rookie Ryan Strome may also get consideration, too.
Tavares had a breakout year in the lockout-shortened season, and the entire league is anticipating what 2013-14 will bring. Good linemates could be the difference between a 70-point season and a 90-plus point season for the Islanders' new captain.
The Goaltending Situation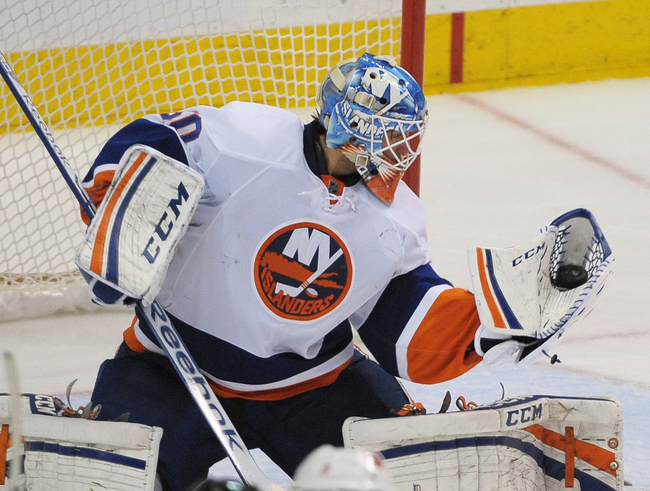 Eric Hartline-USA TODAY Sports
Evgeni Nabokov was not very good in the playoffs last season, and his performance is fresh in most fans' minds.
If the goaltending situation is going to work for the Islanders, Nabokov will need to be good, sure. But just as important will be the capability of his backup(s) to start 20 to 30 games—or more—and be effective.
Whether or not that help comes in the form of Kevin Poulin, and maybe Anders Nilsson or an outsider, will be something to pay close attention to not just in camp, but throughout the season.
The St. Louis Blues have two very capable goaltenders who are both due for new contracts next season in Jaroslav Halak and Brian Elliott, and with standout prospect Jared Allen waiting in the wings, the Blues may look to trade at least one, if not both before the season comes to a close. With talks still in the works on a new contract for restricted free agent Alex Pietrangelo, St. Louis may look to unload salary sooner than later now that camp is set to start.
Ryan Miller's name will be involved in trade rumors until Buffalo moves him, and as of Sept. 11, free agent Tim Thomas was said to be close to making a decision on where he will spend the 2013-14 season and recently Brian Stubits with CBS Sports reported he has been in talks with multiple teams.
Regardless of what the Islanders do, there's no debating goaltending is a weak spot. Nabokov will be much better if he has another goaltender to take some of the burden off of his shoulders. It could be the most important factor to the Islanders' level of success this season.
What Defensive Pairs Are Materializing?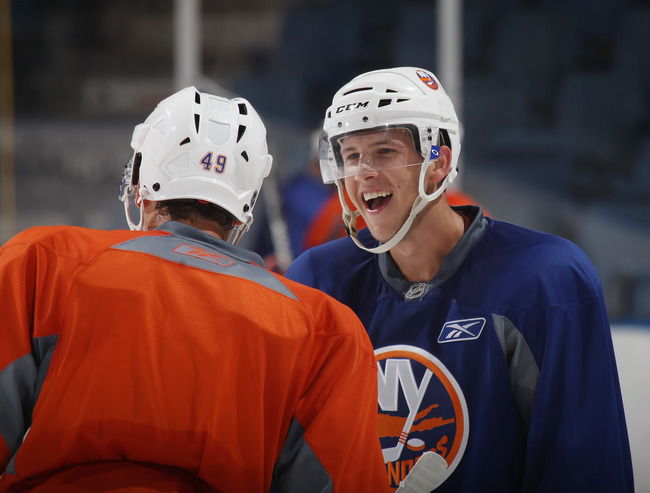 Bruce Bennett/Getty Images
While they may lack a legitimate top-pairing defenseman, there are a few that could be in the making. The Islanders have very deep depth on the blue line in the organization.
The top pairing in camp will likely start as Travis Hamonic and Brian Strait. It's what the team rolled with last season in the playoffs, and it's the closest they have to a shutdown pair.
Lubomir Visnovsky, Thomas Hickey and Andrew MacDonald are all locks to make the starting roster, but the sixth, seventh and maybe eighth roster spot for a defenseman promise to be a wide-open race.
Veteran Matt Carkner and 26-year-old Joe Finley will likely be given priority to earn these spots, but there's plenty of prospects who could be ready to graduate to the NHL. Calvin de Haan, Aaron Ness, Matt Donovan and Griffin Reinhart will all be watched closely in camp.
For de Haan, it may be his last chance to prove he belongs at an NHL level with the Islanders. He missed all but three games with the Bridgeport Sound Tigers last season with a dislocated shoulder and is entering the final year of his entry-level contract. To this point, the former No. 12 overall pick has not come close to meeting expectations.
Reinhart, Donovan and Ness, on the other hand, have done nothing but match and exceed expectations, and this camp, they'll look to do more of the same. Donovan, a former fourth-round pick, had a very impressive first year in the AHL, scoring 11 goals and 35 assists in 72 games for Bridgeport. Reinhart will skate his first pro season, whether it's with the Islanders or the Sound Tigers. As for Ness, he got a taste of the NHL for nine games in 2013, and he'll likely do everything he can to stay there.
Follow @jsempey
Keep Reading

New York Islanders: Like this team?