With the summer transfer window coming to a close on Monday evening, it is time that we start criticizing or praising certain clubs for the deals that they have made.
Tottenham Hotspur have been one club that has failed to keep themselves out of the transfer news all summer long.
By being one of the most active, and frugal, clubs in the summer transfer window, there is no reason not to name Tottenham the undisputed heavyweight champion of the summer.
Getting the obvious out of the way first, Tottenham did a splendid piece of business with Real Madrid for Gareth Bale.
OFFICIAL: Gareth Bale joins Real Madrid on 6-yr contract. The transfer fee was a WORLD-RECORD $100 million euros ($132M), via media reports.

— SportsCenter (@SportsCenter) September 1, 2013
No one would have believed you back in 2007 that Spurs would turn the left-back from the Southampton academy into a winger that cost Los Blancos a world-record transfer fee.
With Bale finally off of the books of the North London club, it is time to look at what the future holds for the club, and boy is that future an exciting one.
The spending spree began all the way back in the beginning of July when Brazilian midfielder Paulinho agreed to join the club from Corinthians.
A few weeks later came the cheeky signing of Nacer Chadli from FC Twente, which is a signing that everyone will forget about, if they have not already, due to the higher-profile names the club has brought in.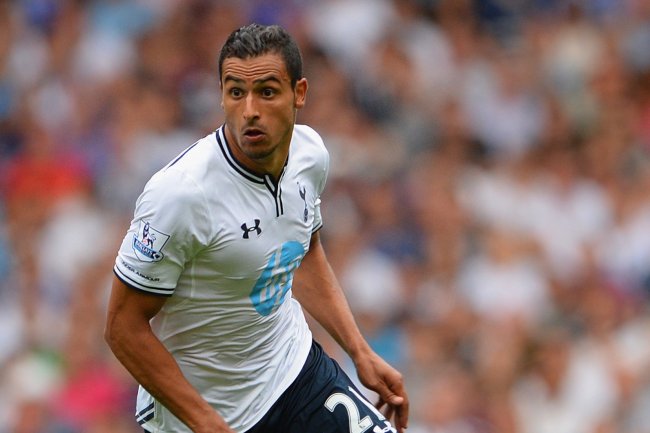 Michael Regan/Getty Images
Then, to put it politely, all hell broke loose on the white half of North London.
Two key elements to last season's squad, Steven Caulker and Clint Dempsey, were sent packing in favor of new, flashier players that will help deliver the club to the promised land of the UEFA Champions League.
Within days of the duo's departure, forward Roberto Soldado was brought in to solve the forward crisis that was looming large over the club for the whole of the 2012-13 campaign.
Fast forward to mid-August and Spurs were offloading midfielder Tom Huddlestone to Hull City, and with the 26-year-old's departure came the arrival of Etienne Capoue from Toulouse in Ligue 1.
Capoue was an instant upgrade over Huddlestone and Scott Parker, who left the club for Fulham four days after the Frenchman's arrival, in the holding midfield position alongside Paulinho.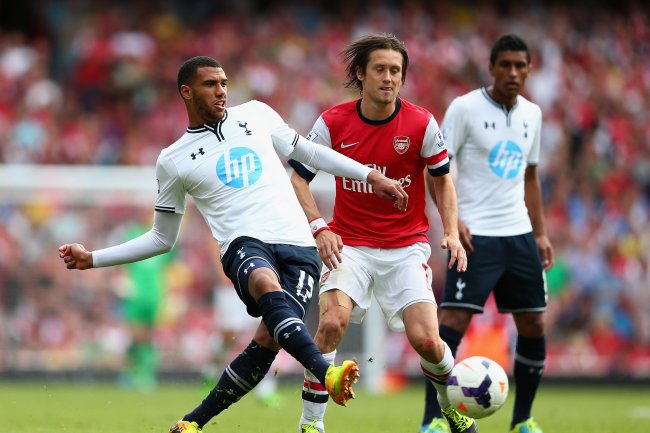 Clive Mason/Getty Images
Unfortunately for Spurs, Capoue was stretchered off during Sunday's North London derby with Arsenal, and the big, physical 25-year-old could be out for quite some time.
Right before that clash with the not-so-free spending Gunners, Villas-Boas locked up the signatures of Erik Lamela, Christian Eriksen and Vlad Chiriches.
With those three new signings on board and the sale of Bale on Sunday, AVB officially reigned in a new, prosperous era at the club this past weekend.
Eriksen is the No. 10 that Spurs fans have been begging for since the arrival of AVB and his 4-2-3-1 formation.
Photo confirmation of Christian Eriksen's transfer to Tottenham. (Source: @SpursOfficial) pic.twitter.com/AKwuzQOoyd

— Transfer News Live (@DeadlineDayLive) August 30, 2013
At just 21 years of age, Eriksen has an immense amount of experience at both the club and international levels that will help him adjust accordingly to the English Premier League.
Lamela gives Tottenham a playmaking winger that can pick up where Bale left off.
The Argentinian, who was acquired from Roma, should be able to link up with Eriksen and Andros Townsend in the attacking midfield positions of the 4-2-3-1 quite well.
Townsend's play this season so far has been welcomed with plenty of praise and a call-up to the England squad for the next two World Cup qualifiers.
Townsend's arrival in the starting 11 feels like a new signing since he has been out on loan so many times in his young career.
Whatever Harry Redknapp did for the English winger at Queens Park Rangers last season, it has paid off, and his future is as bright as it ever has been.
With the trio playing behind Soldado, there is plenty of reason to believe that the Spaniard will compete for the Golden Boot this season.
Who Will End Up Being Tottenham's Best Summer Signing?
Soldado is a player who has an embarrassment of riches behind him in the attack, and he would be a fool not to take full advantage of the opportunity presented right in front of him.
Shifting further back into the formation, the additions of Capoue and Paulinho have sent last season's consistent starter, Sandro, to the bench to open up the season.
Luckily for Spurs, they have a world-class player in Sandro to replace Capoue while he is out injured.
That brings us to the back four where one of the best signings of last summer's transfer window resides in Jan Vertonghen.
Vertonghen is expected to partner up with Chiriches at center-back to form one of the most feared defending duos in all of England.
The two positions that Villas-Boas has not tinkered with this summer are goalkeeper and full-back.
There are three reasons why the Portuguese manager did not spend at those positions and they are named Hugo Lloris, Danny Rose and Kyle Walker.
When the new signings eventually find their way into the starting 11, which could be as early as the September 14 clash with Norwich City, we will finally get to see why AVB spent so much money during the summer.
If Tottenham are as good as they are expected to be this season, we could be talking about this summer as a true turning point in the club's history.
One other thing we have failed to mention in this space that is crucial to the development of the side is the age of the players entering White Hart Lane.
There are just two players in the entire squad over the age of 30 and both of them, Jermain Defoe and Brad Friedel, will have minimal roles as the season progresses.
Tottenham confirms the signing of Christian Eriksen from Ajax. If even half of these impressive Spurs signings succeed, look out.

— Grant Wahl (@GrantWahl) August 30, 2013
As Tottenham embark on this new era, one thing has been made clear by Villas-Boas: This is a club that is not just looking to contend this season, but for the next four to five seasons.
With his players now in place at the club, it is time for AVB and the true winners of the summer transfer window to start bringing home some hardware, maybe as early as this season.
Do you think Tottenham is the winner of the summer transfer window?
Comment below or leave me a comment on Twitter, @JTansey90.