Atlanta Falcons: Biggest Snubs and Surprises from 53-Man Roster Cut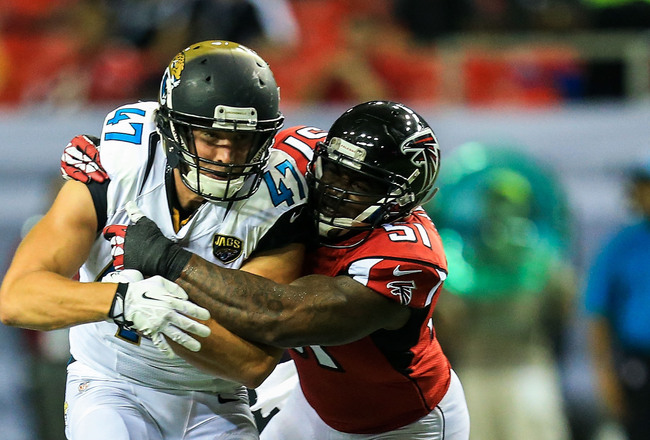 Daniel Shirey-USA TODAY Sports
The 2013 Atlanta Falcons have set their initial 53-man roster and practice squad, and, as in years past, there were a a few surprises when the final cut list was announced.
In this piece, we'll discuss some of the players who we felt Atlanta may have snubbed during the final roster cuts and contrast them against the players whose names many Falcons observers were probably surprised to see on the roster after Saturday's deadline.
In determining whether a player was a snub or surprise, we primarily considered the player's performance in the preseason as well as the team's depth at each player's respective position on the roster.
Let's begin.
Snub: WR Darius Johnson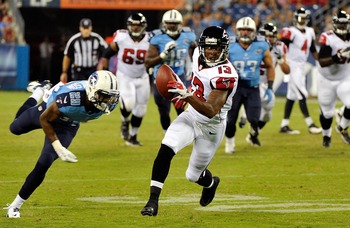 Frederick Breedon/Getty Images
Why He's a Snub:
Roddy White, Julio Jones and Harry Douglas are locked in as Atlanta's top-three wideouts, but there was a competition amongst Johnson, Kevin Cone, Drew Davis, Martel Moore and James Rodgers to fill the two roster spots behind them.
Johnson had an impressive touchdown reception against Tennessee in the team's third preseason game, and he led the Falcons in receptions and receiving yards in the preseason. His offensive production and Atlanta's lack of depth in the receiving corps after Harry Douglas seemed to suggest that Johnson deserved a spot on the 53-man roster, as opposed to the practice squad, where he signed following his release from the team.
Why He Didn't Make the Roster:
Atlanta uses Tony Gonzalez as its fourth receiver in most of its four-receiver sets. And if it's not Gonzalez lining up out there this season, you may even see Steven Jackson as the fourth wideout. Given that, Atlanta's fourth and fifth wide receivers on the roster must be effective special teams players on Sundays.
The Falcons were wise enough to place Johnson on their practice squad.
Surprise: WR Drew Davis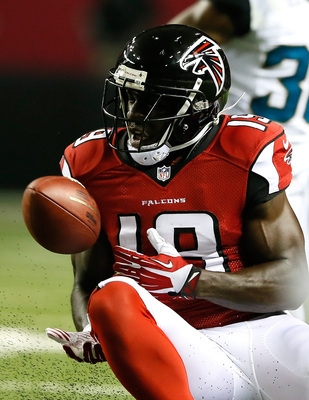 Kevin C. Cox/Getty Images
Why He's a Surprise:
Drew Davis made Atlanta's final roster last season and proved to be a reliable special teams player. He also caught a touchdown pass from Matt Ryan in Week 8 against the Eagles last season.
However, Davis showed little progression on offense this summer, and he struggled with a few dropped passes in the preseason. Darius Johnson appeared to out play him as a wide receiver, but Davis likely got the nod because the coaches believe he will be a better special teams player than Johnson.
Why He Made the Roster:
He most likely made the roster due to his play on special teams.
Snub: LB Robert James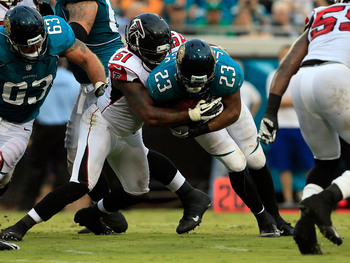 Sam Greenwood/Getty Images
Why He's a Snub:
Robert James had been one of Atlanta's better special teams coverage players since he joined the team as a fifth-round draft pick in 2008. In addition, he was the only reserve linebacker on the roster who had seen time on the field during the regular season, as the Falcons didn't have any other veterans behind Sean Weatherspoon, Akeem Dent and Stephen Nicholas.
Many believe that James solidified his roster spot with a strong outing against Jacksonville in Atlanta's final preseason game.
Why He Didn't Make the Roster:
Put simply, in undrafted free agents Joplo Bartu and "Better Call Paul" Worrilow, Atlanta found two athletic, young linebackers who can fill James' role as well as, or better than, he can.
Instead of keeping six linebackers, Atlanta has opted to keep five running backs and five safeties for now.
Surprise: S Shann Schillinger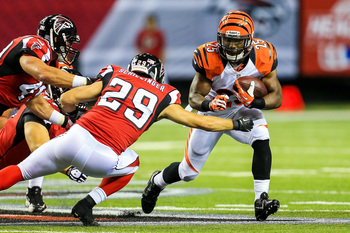 Daniel Shirey-USA TODAY Sports
Why He's a Surprise:
Schillinger has clung to a roster spot for a couple of seasons now, in spite of his limited progression at the position and nagging injuries. Then the Falcons drafted safety Charles Mitchell in 2012, and Zeke Motta and Kemal Ishmael this year.
The writing appeared to be on the wall for Schillinger.
However, Schillinger was one of the five safeties that Atlanta surprisingly kept on its initial roster.
Why He Made the Team:
Schillinger made just enough plays to oust Charles Mitchell from Atlanta's crowded field at backup safety. Perhaps the bigger surprise is the fact that Atlanta kept five safeties.
Snub: S Charles Mitchell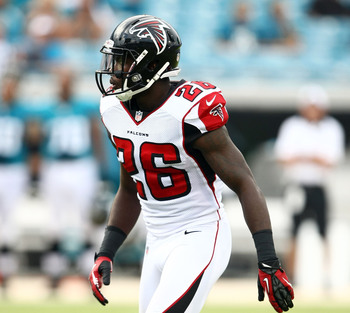 Douglas Jones-USA TODAY Sports
Why He's a Snub:
Mitchell was a mild surprise on the cut list because he saw time on the field during the regular season as a special teams player and a reserve safety last year while Shann Schillinger was on injured reserve.
Why He Didn't Make the Roster:
After spending two more draft picks on safeties this year, the Falcons pretty much had to release one or two players at this position to get down to 53 players. Mitchell just didn't make enough plays to stick.
Surprise: RBs Antone Smith and Josh Vaughan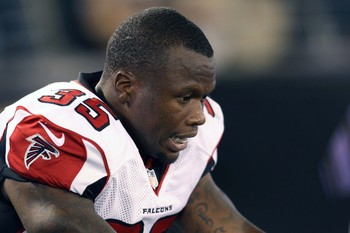 Mitch Stringer-USA TODAY Sports
Why They're a Surprise:
The general thinking was that Antone Smith and Josh Vaughn were competing for one running back spot behind Steven Jackson, Jacquizz Rodgers and Jason Snelling. Smith has been a key special teams contributor, while Vaughan flashed some offensive playmaking ability in the preseason.
Since Atlanta doesn't have too many carries to go around, most astute Falcons fans probably gave the edge to Smith because he is the better special teams player. Surprisingly, Atlanta chose to keep both players, giving them a grand total of five running backs.
Why They Made the Team:
It's a little tough to tell now, because the presence of five safeties and five running backs on Atlanta's roster suggest that the team may not be done finalizing this roster. Smith and Vaughan are both solid role players, though.
Snub: OGs Phillipkeith Manley and Jacques McClendon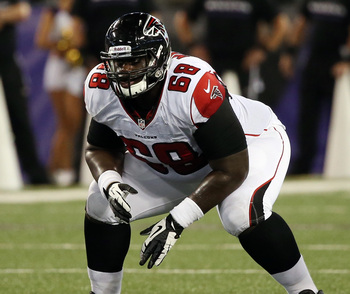 Rob Carr/Getty Images
Why They're Snubs:
Jacques McClendon is probably the bigger snub here since Manley found his way onto the practice squad after his release.
McClendon showed some power up front last season and, at times, looked like he had more upside than Harland Gunn, who made the final roster.
Why They Didn't Make the Roster:
As noted by John Manasso of FOX Sports South, Phillipkeith Manley reportedly got off on the wrong foot during OTAs, while Jacques McClendon was beat out by Harland Gunn.
McClendon has since been claimed by the Jaguars (h/t Washington Post).
UPDATE: The team has reached an injury settlement with Phillipkeith Manley
Surprise: OG Harland Gunn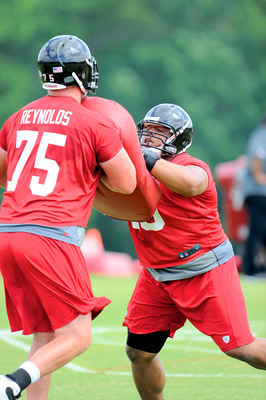 Dale Zanine-USA TODAY Sports
Why He's a Surprise:
The Falcons usually dress three reserve offensive linemen on gameday (generally a tackle, guard and center).
With Joe Hawley serving as the backup center, and with Ryan Schraeder and Terren Jones battling to be the top reserve tackle, Harland Gunn may be an injury away from starting.
That's quite a jump for a 2012 undrafted free agent.
Why He Made the Team:
Gunn was battling with Jacques McClendon and Phillipkeith Manley for the reserve guard spot, and he did enough in the coaches' eyes to beat both guys out.
Snub: DT Adam Replogle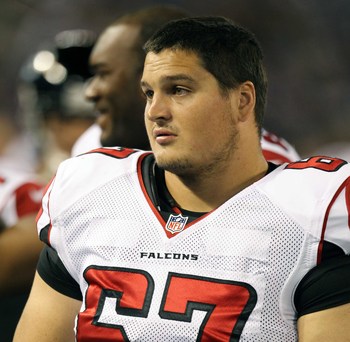 Mitch Stringer-USA TODAY Sports
Why He's a Snub:
Replogle isn't a huge snub, and he did accept an invitation to join the team's practice squad. However, he could have been on the final roster if the Falcons had kept five defensive tackles instead of five safeties or five running backs.
Replogle was a nice surprise during the preseason, netting seven tackles and a sack.
Why He Didn't Make the Team:
For the moment, the Falcons have chosen to go with more depth at safety and running back at the expense of their depth at linebacker and defensive tackle.
Surprise: OT Terren Jones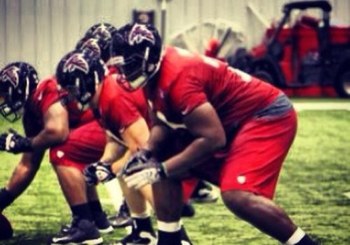 Photo courtesy of Twitter.com
Why He's a Surprise:
Jones was overshadowed a bit by fellow undrafted rookie Ryan Schraeder, but the former showed some intriguing skills as a run-blocker and pass-protector when he got his opportunity.
After passing on offensive linemen in the draft, the team that was 10 yards shy of a Super Bowl last year saw two undrafted rookies crack its final 53 this season.
Why He Made the Team:
Jones showed some impressive tools on film, and he'll be an interesting prospect for offensive line coach Pat Hill to develop, even if a waiver-wire signing pushes him to the practice squad.
UPDATE: Terren Jones has been released in favor of veteran offensive tackle Jeremy Trueblood.
Keep Reading

Atlanta Falcons: Like this team?