Western Carolina Catamounts vs. Virginia Tech Hokies Complete Game Preview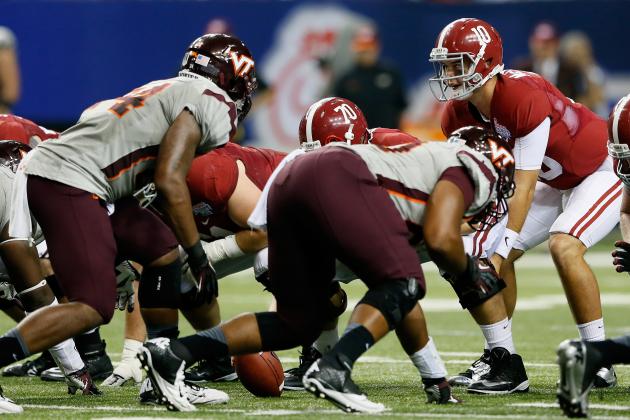 Kevin C. Cox/Getty Images

The Virginia Tech Hokies opened their 2013 with a daunting task; try and defeat two-time defending national champion Alabama. It didn't happen and the Hokies return to the friendly confines of Lane Stadium this Saturday for a matchup with the FCS Western Carolina Catamounts.
The Catamounts opened their season against Middle Tennessee, losing 45-24.
It should be a tale of two weeks for the Hokies: The Catamounts are one of the worst programs in all of the FCS. They have not won a conference game in the last two seasons and have just nine wins over the last five years.
This will be the first-ever matchup between the schools. They do have something in common, though; they've both lost to Alabama in the past calendar year. The Catamounts were defeated by the Crimson Tide 49-0 last November.
When: Saturday, September 7
Time: 1:30 p.m.
Where: Lane Stadium, Blacksburg, Va.
TV: ESPN3
Radio: Virginia Tech IMG Sports Network. Here is a complete list of stations by area.
Spread: There is currently no spread for this game.
Begin Slideshow

»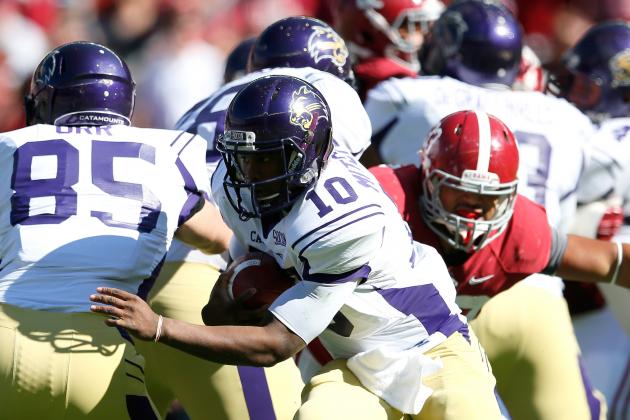 Kevin C. Cox/Getty Images
Western Carolina QB Troy Mitchell
Stick with Troy Mitchell at quarterback
The Catamounts rotated quarterbacks in Week 1. Junior Billy Sullivan, a Marshall transfer, and sophomore Troy Mitchell took turns behind center. Combined, the two were 19-of-36 for 257 yards with two touchdowns and two interceptions. Mitchell, the better athlete of the two, also rushed for 38 yards, second on the team.
Mitchell, although he only completed 47 percent of his passes, did throw the two touchdowns. He actually threw for two touchdowns in a period of 11 seconds. Overall, he is likely the better option because he can make things happen with his feet.
The Hokies' defense dominated Alabama's offensive line last week, so the Catamounts' line could be in a lot of trouble. If the Catamounts have any chance at all, they need the more athletic quarterback on the field.
Strike big on special teams
Easier said than done, sure, but the Hokies looked extremely vulnerable in this area against the Crimson Tide. One big play on special teams could cause the Hokies to doubt themselves a bit.
It is worth mentioning that the Catamounts do not have Christion Jones on their roster. For that, Hokie Nation, you can breathe a sigh of relief.
Score on defense
The Hokies were an abomination on offense in Week 1. Yes, they will be better in Week 2 with a major step down in competition, but this offense has a long ways to go. If Western Carolina can get pressure on Logan Thomas, anything can happen.
The defensive backs should also be very physical at the line of scrimmage with the Hokies' group of unproven receivers. They struggled last week and you don't want to be the team they begin to gain a bit of confidence against.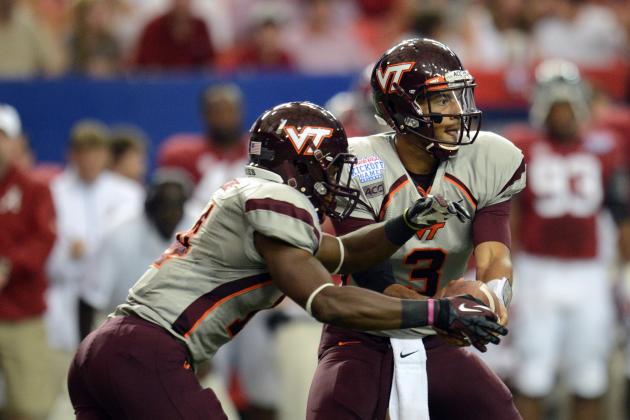 Dale Zanine-USA TODAY Sports

Run the ball
This was the only part of their Week 1 game plan that experienced success. The Hokies should give the ball to Trey Edmunds early and often. The Hokies also hope J.C. Coleman can return for this game. The key here is to get out to a big lead and give some of the other young backs, like Joel Caleb and Chris Mangus, some carries.
Force turnovers
As good as the Hokies' defense was against the Tide, they only forced one turnover. Look for that to change this week.
Defensive coordinator Bud Foster built his legacy by producing turnovers and turning them into points. They haven't done enough of that in recent years. That should change this season with an outstanding group of pass-rushers and some playmakers in the secondary.
Avoid special teams mistakes
You take out the special teams' gaffes against Alabama and it is a completely different game. No, the Hokies still would not have won, but they would have been in position to make a run late in the game.
Head coach Frank Beamer earned a reputation as the top special teams coach in America throughout the '90s and '00s. This unit has had more plays made against them recently than they have actually made. That has to change and this week would be a good time to begin getting this unit right.
Quarterback Eddie Sullivan
Sullivan is a more refined passer than Mitchell. In Week 1, he completed 12-of-21 passes, but for just 96 yards. He also took three sacks.
He will play this week, but if the Catamounts are to threaten the Hokies at all, he will need to take chances and stop playing so safely.
Quarterback Troy Mitchell
Mitchell completed just seven passes last week; however, they went for 161 yards. That is an average of 23 yards per completion.
Mitchell is fast and will likely need to run for his life this week against an excellent Virginia Tech defense. Mitchell will push the ball down the field and while that may cause more turnovers, it could also be WCU's only chance to stay close.
Middle linebacker Courtland Carson
Carson is the heart of the Catamounts' defense. In Week 1, Carson finished with eight solo tackles, one sack and a forced fumble. WCU needs him to be at his best because the Hokies are likely going to try and run it down the Catamounts' throats.
Strong safety Ace Clark
Clark led the team with 11 tackles vs. Middle Tennessee. At 6'3", 210 pounds, Clark is a physical presence which could bode well for Western Carolina. The Hokies, in particular senior receiver D.J. Coles, were unwilling to go across the middle against Alabama.
A player like Clark will undoubtedly look to get physical with the Hokies' unproven wideouts.
You can find the latest Western Carolina depth chart here.
Quarterback Logan Thomas
Thomas had one of the worst stat lines in recent history against Alabama. He was 5-of-26 for just 59 yards. That is a paltry 2.3 yards per attempt. This team will only go as far as Thomas will take them. Look for him to try and get the passing game going this week and may play deeper in the game, even if it becomes a blowout, in order to develop some confidence in his receivers.
Running back J.C. Coleman
Coleman, the projected starter at running back, missed the Alabama game with two sprained ankles. He did improve as the week went on and there is a very good chance he will play Saturday. For as good as Trey Edmunds was, the Hokies need Coleman. He brings a different style to the game and could give the Hokies their latest pair of outstanding running backs.
Wide Receiver Demitri Knowles
Knowles had an abysmal start to the 2013 season. He finished with just two receptions for three yards. He was targeted 11 times and on most of those throws, he dropped the ball. He will get better.
He was impressive as a freshman in 2012 and is a big-play threat. Look for Thomas to try and get Knowles involved early in the game.
Left Tackle Jonathan McLaughlin
McLaughlin, a true freshman, had one of the tougher assignments in all of college football last week. He was protecting his senior quarterback's blind side against No. 1 Alabama. He acquitted himself nicely. Can he continue that positive momentum?
This week is a big test for McLaughlin as the Hokies will try to isolate him more in one-on-one situations to allow the tight ends to get involved in the passing game.
You can find the latest Virginia Tech depth chart here.
Frank Beamer held his weekly press conference on Tuesday and shared some interesting tidbits.
On starting tight end Ryan Malleck's season-ending injury last week:
He was a guy that kind of caused a mismatch when you shift him around and try to get him lined up on a linebacker or whatever. He was going be a big, big part of the offense. So just got to go on without him and keep on moving.
Quarterback Logan Thomas on if he remains confident: "I mean, I'm still playing quarterback, aren't I? Yeah, my confidence is fine. Why would it falter now? I'm just excited to see where this season is going."
Offensive coordinator Scot Loeffler on Thomas' performance against Alabama:
There's times when the outside world's criticizing you, 'You didn't have this type of game,' when in actuality, I graded you out in a very positive manner. There's times when he goes 18-for-21 and everyone is going to tell him he did a great job and I'm going to come in and say, 'You didn't play well at all.'...There are things that are in your control and out of your control at the position.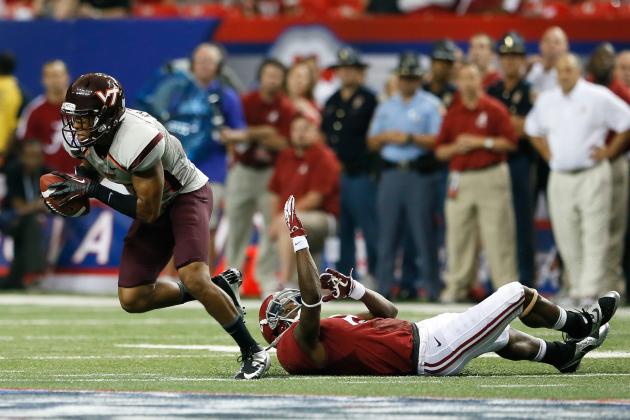 Kevin C. Cox/Getty Images
Kyle Fuller
It's truly tough to imagine that anyone believes Western Carolina has a chance in this one. The Hokies, returning home to one of the more intimidating home-field advantages in college football, are looking to get back on track after a disappointing Week 1.
However, the game must be played. When FCS Appalachian State upset Michigan in 2007, or when James Madison shocked the Hokies in 2010, those schools were among the best programs in the FCS. Western Carolina is one the worst over the course of the last five years.
Look for the Hokies to run the ball at will, force several turnovers and look to get an anemic passing game on track.
Virginia Tech 45 - Western Carolina 7