Kyle Busch won the AdvoCare 500 at the Atlanta Motor Speedway with a strong finish over Joey Logano, Martin Truex Jr. and brother Kurt Busch. It was his second career victory in Atlanta.
Busch came from behind in the final laps to edge out Logano by 0.740 seconds and incredibly jumped from 10th place up to second place in one fell swoop. He then made up eight spots in two turns to set himself up for the impressive win.
And @KyleBusch wins the #AdvoCare500 after coming from behind to take the lead in the closing laps #NASCAR

— NASCAR (@NASCAR) September 2, 2013
CHECKERED FLAG: @KyleBusch wins the #AdvoCare500. His 2nd career @amsupdates victory. #NASCAR

— NASCAR Stats (@NASCARStats) September 2, 2013
Martin Truex Jr., who was racing with a broken wrist, had his cast melt off at one point, as noted by his girlfriend, Sherry Pollex. He still managed to finish in third place despite the discomfort:
MT just said there's nothing left of his cast in his palm. He thinks its melted off. That's not good.

— Sherry Pollex (@SherryPollex) September 2, 2013
The race featured plenty of lead changes, a few minor crashes and some unfortunate but inevitable engine failures.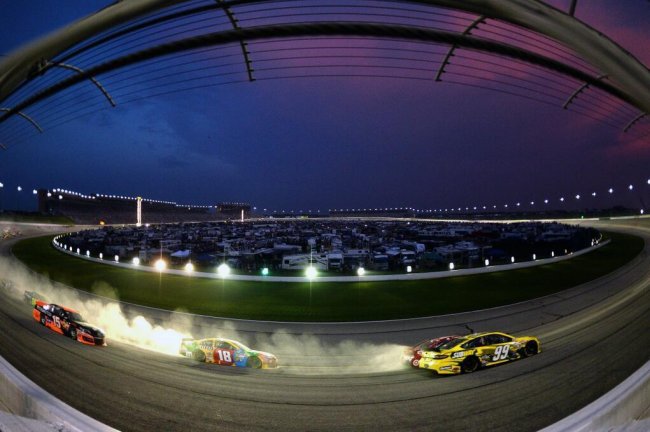 Here's a look at how the top drivers fared on Sunday night in Atlanta.
AdvoCare 500 Final Standings

| | | | |
| --- | --- | --- | --- |
| Pos. | Car | Driver | Time Behind Leader |
| 1 | 18 | Kyle Busch | -- |
| 2 | 22 | Joey Logano | 0.740 sec. |
| 3 | 56 | Martin Truex Jr. | 1.840 sec |
| 4 | 78 | Kurt Busch | 3.622 sec |
| 5 | 39 | Ryan Newman | 4.137 sec |
| 6 | 24 | Jeff Gordan | 6.658 sec |
| 7 | 42 | Juan Pablo Montoya | 8.056 sec |
| 8 | 88 | Dale Earnhardt Jr. | 8.690 sec |
| 9 | 29 | Kevin Harvick | 8.907 sec |
| 10 | 55 | Brian Vickers | 9.516 |
NASCAR.com
Note: For full standings, please visit NASCAR.com.
Kasey Kahne, who entered the race at No. 8 in the Sprint Cup standings, suffered a setback to his Cup hopes. The radiator and oil cooler was knocked out of his car in the early goings, as noted by Motor Racing Network, and writer Dustin Long was quick to note the implications in the standings:
Radiator and Oil Cooler knocked out of @kaseykahne's car. Crew is working to repair it in garage to get him back out. #AskMRN #NASCAR

— Motor Racing Network (@MRNRadio) September 2, 2013
#NASCAR … Kahne's woes means he'll likely fall out of top 10. With 2 wins he'll take WC spot. Not good for Newman. #AskMRN @MRNRadio

— Dustin Long (@dustinlong) September 2, 2013
It's never fun when things go wrong on race day, and Kahne wasn't alone in his frustration.
Clint Bowyer, who needed to score some points in a bad way, as noted by NASCAR, was leading the race when his engine blew up:
In desperate need of some bonus points heading into the Chase, @ClintBowyer is leading the way at @amsupdates #NASCAR pic.twitter.com/GirLBnvtYX

— NASCAR (@NASCAR) September 2, 2013
CAUTION! @ClintBowyer blows up while leading! Last radio was "It's blowing up boys. I can smell it." #AskMRN #NASCAR

— Motor Racing Network (@MRNRadio) September 2, 2013
Not much time had passed between Bowyer's blown engine and the next caution. Paul Menard bumped Denny Hamlin and sent him skidding sideways, forcing a caution.
The lead shifted many times during this race. With 100 laps to go, Brad Keselowski had the lead:
With 100 laps to go in the #AdvoCare500, Keselowski leads Logano, Harvick, Newman and Ambrose. #NASCAR

— NASCAR Stats (@NASCARStats) September 2, 2013
Thirteen drivers led for at least one lap at that point. Heading down the home stretch, it was anyone's guess who would come away with the victory.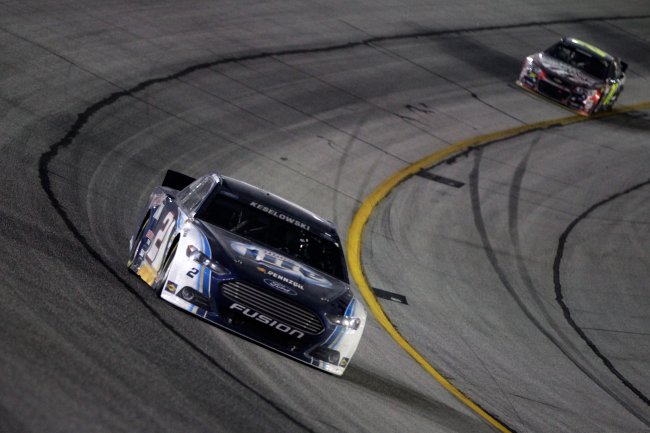 Matt Sullivan/Getty Images
Bowyer was not the only racer to have mechanical issues. Keselowski told his crew at one point that his engine blew, as noted by FoxSports.com's Lee Spencer, but he continued to race in the hopes of salvaging some much-needed Sprint Cup points:
Problems for @Keselowski "I just blew up" #NASCAR

— Lee Spencer (@CandiceSpencer) September 2, 2013
Unfortunately, Keselowski wasn't able to finish. The engine in his No. 2 car gave out with mere dozens of laps left in the race.
Three more minor accidents caused cautions (Nos. 7, 8 and 9 of the race) as the drivers worked toward the final laps. Jimmie Johnson, Brian Vickers and Jeff Burton all spun out in the latter stages of the race, badly hurting their final position.
The driver who consistently fared well in the restarts was Busch, and that helped him take the checkered flag.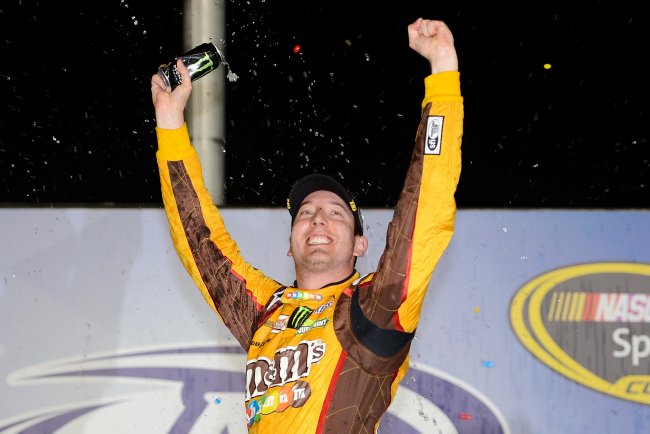 John Harrelson/Getty Images
For Busch, the victory was doubly sweet, considering that he, along with three others, clinched spots in the Chase. NASCAR released its unofficial top 10:
Harvick, Edwards, Ky. Busch and Kenseth clinch spots in the Chase after the #AdvoCare500 at @amsupdates. #NASCAR

— NASCAR Stats (@NASCARStats) September 2, 2013
Unofficial top-10: Johnson, Bowyer, Harvick, Edwards, Ky. Busch, Kenseth, Earnhardt Jr., Logano, Biffle, Ku. Busch. Gordon in 11th.

— NASCAR (@NASCAR) September 2, 2013
It was the 28-year-old Busch's fourth win of the year, which tied him with Jimmie Johnson for the second-most wins in 2013 behind Matt Kenseth, who has won five races this year.
Up next for Busch and the rest of the drivers is the GEICO 400 at Chicagoland Speedway on Sunday, September 15. The action was intense this week in Atlanta. But, as the race for the Chase continues to heat up, there's no reason to expect any less going forward.
Follow me on Twitter @JesseReed78