College Football: FCS Football Week 1 National Roundup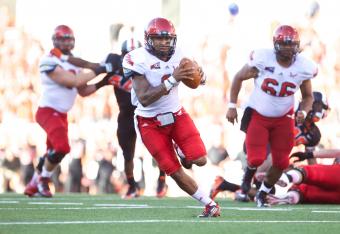 Jaime Valdez-USA TODAY Sports
The college football season has finally arrived, and the first week of play certainly did not disappoint.
It wasn't just the Football Bowl Subdivision (FBS) that had an exciting opening week. The Football Championship Subdivision (FCS) also saw its fair share of great football action. Let's take an in-depth look at what went on with the FCS teams in Week One.
Taking Down the Big Boys
Many FCS teams start off their seasons by accepting large paychecks from FBS teams to be that school's home opener, as the FBS teams can get their fans excited for the season by starting off with a big win over one of the "little guys." Sometimes, however, the little guys fight back, with the FCS team taking away both a large paycheck and a victory from the game. On opening week, an astounding eight FCS teams knocked off an FBS opponent.
The biggest giant-slayer of opening week was Eastern Washington.
The Eagles traveled six-and-a-half hours to Corvallis, Oregon and knocked off No. 25 Oregon State. Sophomore quarterback Vernon Adams was simply unstoppable, racking up 411 yards and four touchdowns passing and another 107 yards and two touchdowns rushing. Adams had a combined 518 yards, just nine yards less than Oregon State's total yards for the game.
The game was a shootout until the very end, but EWU scored the go-ahead touchdown with just 18 seconds left, giving the Eagles a signature 49-46 victory over the Beavers.
Fellow Big Sky Conference team Southern Utah also notched up an upset, taking down South Alabama 22-21 on a 28-yard Colton Cook field goal as time expired. Cook, one of the best kickers in the country at any level of college football, was clutch throughout the game, going three-for-three on field goals.
There were questions going into the season about whether the Thunderbirds would be able to find an adequate replacement for graduated three-year-starter Brad Sorensen, but JUCO transfer Aaron Cantu appears to be an adequate replacement, as he went 13-24 for 183 yards and a touchdown with no interceptions.
True freshman running back Raysean Martin appears to give the T-birds a major rushing threat now, as he had 107 yards and a touchdown on the ground.
Two-time defending FCS National Champions North Dakota State once again took down an FBS team, and have now gone four for four against FBS teams in the last four seasons.
After having beaten Kansas, Minnesota and Colorado State, the Bison took down their staunchest opponent yet, defeating defending Big-12 co-champions Kansas State 24-21 on Friday night. NDSU's always dependable QB Brock Jensen scored on a one-yard run with 28 seconds left in the game, capping an efficient night that saw him go 21-30 for 165 yards and two touchdowns, with only one interception. The Bison running game racked up an impressive 215 rushing yards, led by Sam Ojuri's 127 yards on only ten carries. The powerhouse Bison defense did the rest, holding Kansas State to just 321 total yards and intercepting QB Jake Waters twice.
The largest margin of victory went to the Southland's own McNeese State.
The Cowboys dominated USF from start to finish, leaving Tampa with a 53-21 victory. McNeese relied on a balanced offensive attack, combining 244 passing yards with 180 passing yards, for an impressive 424 total yards. Junior tight end Nic Jacobs had a breakout game, catching five passes for a whopping 122 yards and two touchdowns.
The Cowboy defense wasn't too shabby either, as they forced three turnovers, two interceptions and a fumble. One of those interceptions was returned 76 yards by senior CB Guy Morgan for a touchdown.
The first upset of the season came from the CAA's Towson, who took down UConn 33-18 on Thursday night.
Junior RB Terrance West, who came to the Tigers from nearby Baltimore, was just too much for the Huskies to handle. His 156 yards and two touchdowns on 36 carries dictated the pace of the game, and allowed the Tigers to dominate time of possession, with Towson having the ball for 36:23 as opposed to UConn's 23:37 of possession.
Northern Iowa stayed in-state in order to knock off Big-12 team Iowa State.
The Panthers took down the Cyclones 28-20. Homegrown running back David Johnson, from Clinton, Iowa had the game of his life.
He rushed for 199 yards on 23 carries, an impressive 8.7 yards per carry. That included two rushing touchdowns. He wasn't just a ground threat, however, as he also had four receptions for 41 yards and two touchdowns.
He single-handedly accounted for every one of UNI's scores, and outscored the Cyclones by himself.
Although not an upset of a full FBS member, Samford did beat transitioning Sun Belt Conference team Georgia State 31-21 in Atlanta. Senior Bulldogs RB Fabian Truss had two rushing touchdowns to lead his team over the Panthers.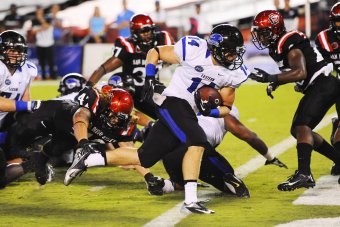 Christopher Hanewinckel-USA TODA
Perhaps the most surprising upset of an FBS team came from Eastern Illinois, who thrashed defending Mountain West co-champs San Diego State 40-19.
The Panthers dominated on both sides of the ball, racking up 533 yards of offense while forcing five turnovers on defense. Quarterback Jimmy Garoppolo had 361 yards and three touchdowns through the air. However, 140 of those yards and one of those touchdowns came from sophomore WR Keiondre Gober. With this performance, EIU announced themselves as a major contender in the Ohio Valley Conference this season.
Major FCS Matchups
Some top FCS teams chose to also test themselves in the first week of the season, but instead of an FBS school, they decided to prove themselves against another top FCS team. These were the marquee all-FCS matchups of week one.
The biggest FCS game of the opening week took place in Missoula, Montana on Saturday night.
The Montana Grizzlies and Appalachian State Mountaineers, two of the most powerful programs year in and year out at the FCS level, chose to meet one last time as FCS foes before App. State moves up to the FBS. In front of over 26,000 fans in an absolutely deafening WaGriz Stadium, Montana showed that it's still one of the elite FCS teams, crushing the Mountaineers 30-6.
QB Jordan Johnson showed that he still has it in his first game back after missing all of last season. He went 19 of 23 for 251 yards and two touchdowns. He never really needed to showcase the running side of his skill set, as the two-headed monster of running backs Travon Van and Jordan Canada combined for 230 yards and two touchdowns on the ground. The Griz defense was stifling, holding App. State to only two field goals.
The other major matchup of strong FCS teams came between Bethune-Cookman and Tennessee State, both of which spent time in the FCS top 25 poll last season.
The Wildcats and Tigers wound up engaging in a defensive struggle, as both teams were held to under 275 yards of offense each. In the end, Wildcat QB Jackie Wilson's six-yard touchdown pass to Jordan Murphy with about five minutes left in the game was enough to give Bethune-Cookman a 12-9 victory.
5 Standout Individual Performances
Vernon Adams, Eastern Washington QB (49-46 W vs. Oregon State): 23-30, 411 yards, 4 TD's. 16 carries, 107 yards, 2 TD's
David Johnson, Northern Iowa RB (28-20 W vs. Iowa State): 23 carries, 199 yards, 2 TD's. 4 receptions, 41 yards, 2 TD's
Kade Bell, Jacksonville QB (35-51 L vs. Delaware): 18-34, 261 yards, 4 TD's, 1 interception
Michael Nebrich, Fordham QB (51-26 W vs. Rhode Island): 17-25, 267 yards, 4 TD's. 13 carries, 31 yards, 1 TD
Kristaan Ivory, Cal Poly RB (38-16 W vs. San Diego): 14 carries, 185 yards, 3 TD's
Way-too-early Top 10
1. North Dakota State
2. Eastern Washington
3. Montana
4. Sam Houston State
5. Georgia Southern
6. Northern Iowa
7. Eastern Illinois
8. Montana State
9. Eastern Kentucky
10. Villanova
Post- Week 1 Payton Award Favorites
1. Vernon Adams, EWU QB
2. Jordan Johnson, Montana QB
3. Sam Ojuri, NDSU RB
4. Denarius McGhee, Montana State QB
5. Andrew Pierce, Delaware RB
This article is
What is the duplicate article?
Why is this article offensive?
Where is this article plagiarized from?
Why is this article poorly edited?