Biggest Snubs and Surprises from the Cleveland Browns 53-Man Roster Cut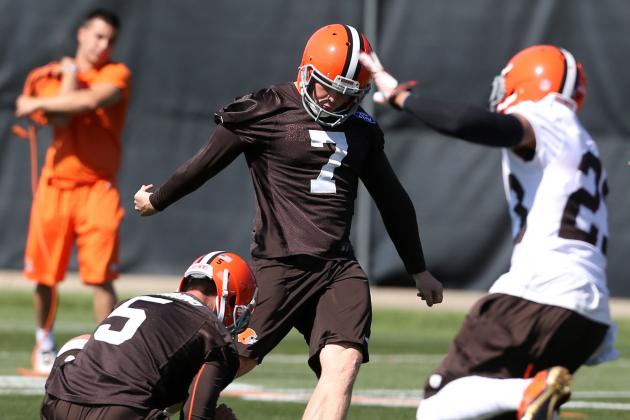 Ron Schwane-USA TODAY Sports

There is some irony to the NFL cutting about 30 percent of its workforce on Labor Day weekend. There is also room for plenty of debate when it comes to who should have made the team, who shouldn't have made the team and what roster positions need the most depth.
The Browns opted to keep 12 offensive lineman and nine undrafted rookies on their final 53-man roster. Both of those numbers are unusually high and helped to create the second-youngest squad in the NFL according to ESPN's Mike Sando.
With a new coaching staff in place, players had to prove their worth all over again and most positions were open for competition.
Here are the five biggest snubs and surprises from the Browns final roster cut.
Begin Slideshow

»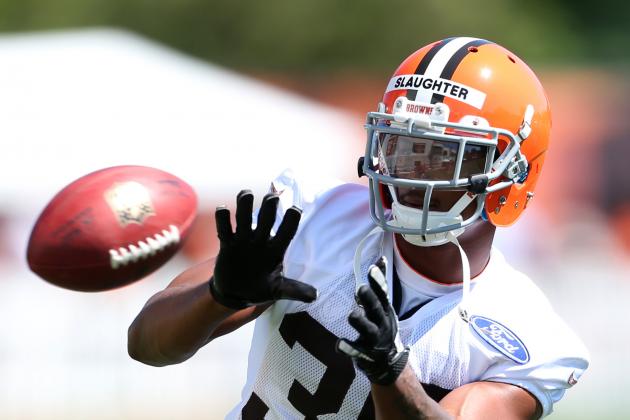 Ron Schwane-USA TODAY Sports

Slaughter was selected in the sixth round of the 2013 draft out of Notre Dame. Joe Banner and Michael Lombardi felt like he would bounce back from an Achilles injury that cost him nearly his entire senior season.
While the Achilles injury didn't cost him his job, a bevy of other injuries did. He spent most of training camp on the bike nursing hamstring and groin injuries instead of on the field.
When Slaughter was healthy, he showed good athletic ability and a nose for the football. He had fluid footwork and opened his hips well when covering receivers in on-on-one drills. Unfortunately, he just wasn't available enough to warrant a roster position.
Slaughter could, however, be a candidate for the Browns' practice squad which would allow them to keep developing the young safety and possibly re-sign him to the active roster in the future.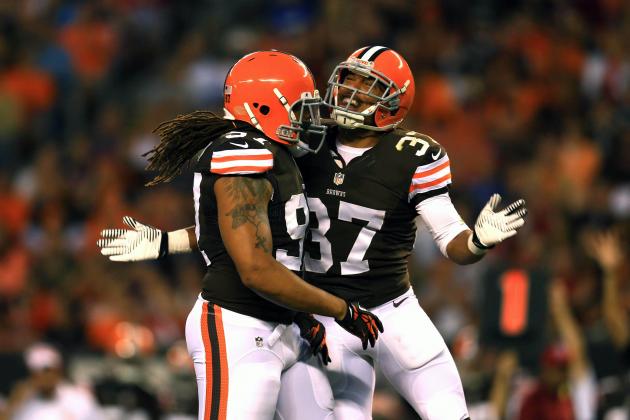 Andrew Weber-USA TODAY Sports

The undrafted rookie out of tiny Stephen F. Austin College wasn't on many radars leading into training camp but made his presence felt once he arrived.
Browns head coach Rob Chudzinski even said, "Josh came out of nowhere."
Aubrey is versatile, playing both safety positions in the preseason, and plays with a controlled anger. Some of the biggest hits in training camp were delivered by the 5'10" human missile.
He was one of the first players who really "flashed" early in camp and despite a lackluster final preseason game he did enough to make the team.
He will most likely be the backup to T.J. Ward, who has battled injures the past few seasons. If history repeats itself, not only will Aubrey be on the Browns roster but he could see some significant playing time as well.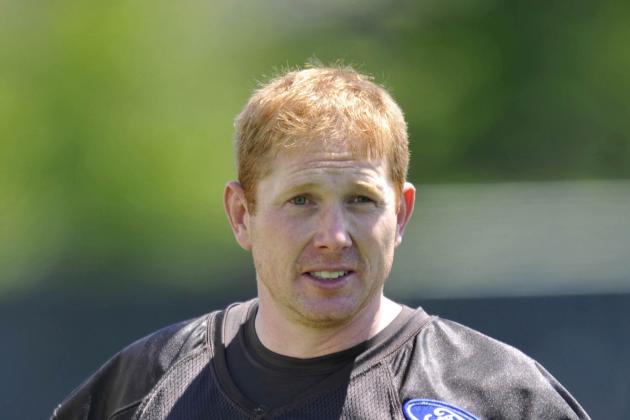 David Richard-USA TODAY Sports

It is tough to call Graham's cut a snub because he wasn't very consistent throughout training camp. What is odd, however, is that the Browns do not have a kicker on the roster anymore.
The NFL transaction wire showed Sunday that Brandon Bogotay was moved to the reserve/injured list.
After the departure of Phil Dawson, the Browns invested an entire offseason into two guys that won't play on their team this season. While kicker is the one position in football where you can walk in and contribute the next day without missing a beat, it is still an odd move.
It should be noted that both kickers were a combined 5-6 in the preseason with the only miss being a 54-yard attempt by Bogotay.
With names like Dan Carpenter and Billy Cundiff on the open market, there are certainly some quality options.
Whoever ends up winning the kicker job will have huge shoes to fill. Dawson was not only one of the most consistent kickers in the league but he also was a fan favorite. Nerves of steel, thick skin and no twitter account should all be requirements for the next man who boots the pigskin in brown and orange.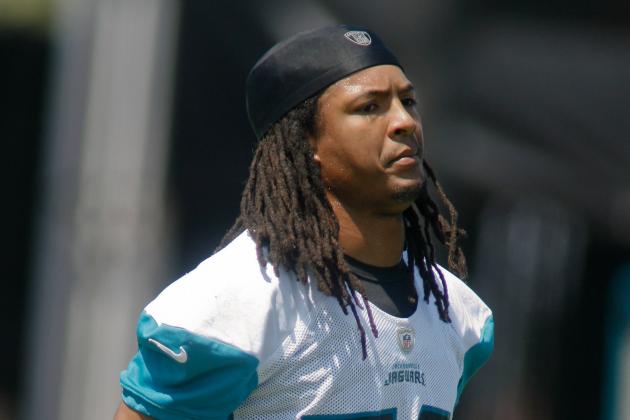 Phil Sears-USA TODAY Sports

Hazel, an undrafted rookie linebacker out of Western Michigan, was claimed by the Browns after being cut by the Jaguars just over a week ago. In his lone preseason game with Cleveland, Hazel had four tackles, one sack and two tackles for loss.
Chudzinski said he likes Hazel's pass-rush ability. With Ray Horton's blitz-heavy defense and an injury that will most likely have Barkevious Mingo missing regular season games, the Browns need as much of that ability as they can find.
At 6'5" and 227 pounds, Hazel is a lean, athletic outside linebacker who uses his speed rush well. He will play a heavy role on special teams but could see some time on defense with an injury or two.
The team also kept linebacker Eric Martin from Nebraska on the squad. He too was claimed off waivers just a few days ago.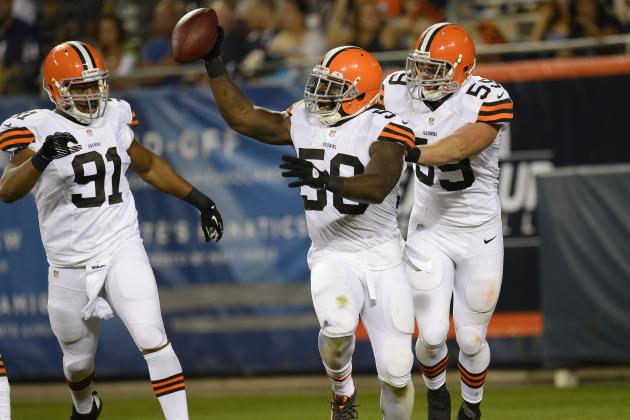 Mike DiNovo-USA TODAY Sports

Johnson was drafted by the old regime of Mike Holmgren and Tom Heckert and it was clear all preseason that he wasn't thought of very highly by the new coaching staff. He spent most of the time with the third-team defense and played the entire fourth preseason game.
After being drafted in the fourth round of the 2012 draft, Johnson was a key contributor down the stretch for Dick Jauron's defense and even started eight games last season.
Unfortunately for Johnson, the switch to the 3-4 defense was not kind to him. This scheme puts heavy emphasis on the middle linebackers to make plays and stay off blocks. Johnson too often got caught up in traffic and swallowed up by blockers.
The emergence of Craig Robertson as the second starting inside linebacker next to D'Qwell Jackson bumped Johnson down the roster and he never stopped sliding.
Johnson was claimed by Kansas City on Sunday.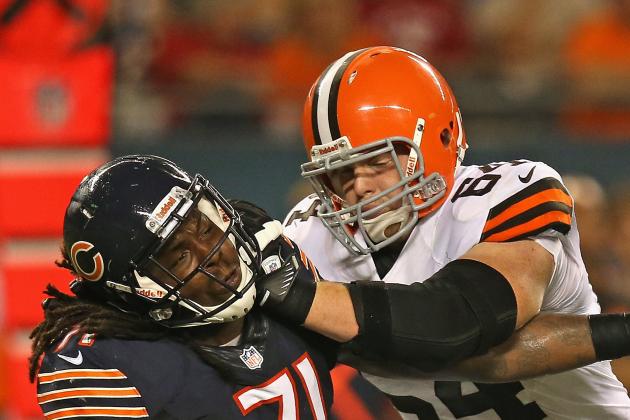 Jonathan Daniel/Getty Images

Wallace making the Browns final roster really wasn't a huge surprise. The undrafted rookie offensive tackle had a very solid camp and looks like he can contribute if called upon.
The surprise is the 12 offensive linemen the Browns decided to keep. That number needed to be high since they have two injured guards in Shawn Lauvao and Jason Pinkston, but 12 is quite a lot.
Joe Banner purged the roster of five former Tom Heckert draft picks and instead went with an infusion of younger players. With nine undrafted free agents on the final 53-man roster there is a lot of inexperience at key depth positions.
While most won't be asked to contribute on a regular basis, some will be forced into action because of injury. That's when we will find out just how good this regime is at talent evaluation.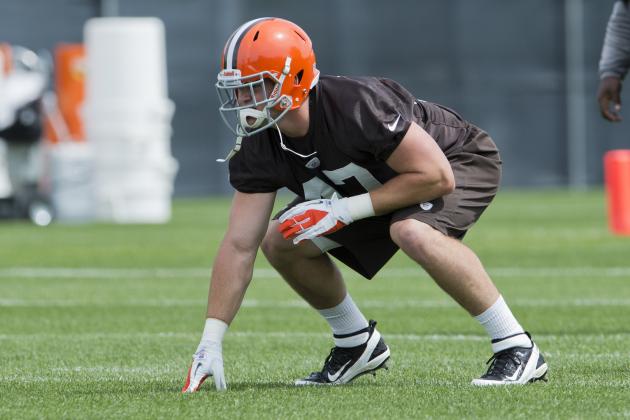 Jason Miller/Getty Images

Smelley may have made the 53-man roster on Saturday but that didn't mean he would be around long. Sunday he was cut.
The former seventh-round draft pick from Alabama never really found a role with this coaching staff. He was used as a tight end but did not excel. He was used as a fullback but couldn't grab that job either.
Even with tight end Gary Barnidge missing time due to an injury, Smelley could not make enough of an impact to garner a roster spot.
Smelley had a knack for making plays once the ball was in his hands but the problem was getting him the ball. He wasn't very quick, he didn't run the greatest routes and he had trouble beating linebackers. He had just three receptions for 37 yards this preseason and missed quite a bit of time with injuries.
The fact that he was a schematic misfit combined with a few drops in camp equals Smelley looking for work elsewhere in the NFL.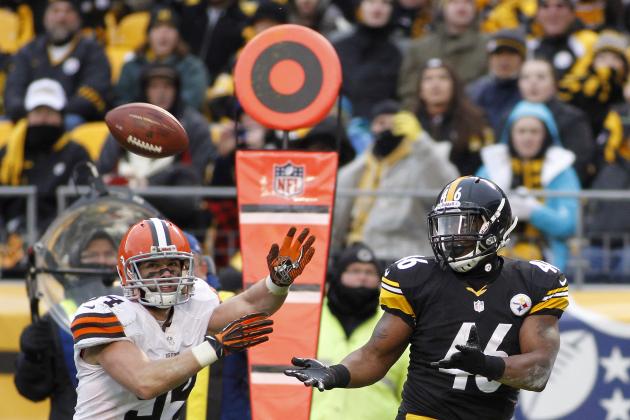 Justin K. Aller/Getty Images

Carder didn't just make the roster because of special teams, Ray Horton genuinely likes him as a linebacker too. Before the preseason started I did not think Carder would make it past the 75-man cut-down point but he certainly proved me wrong.
He tallied eight tackles and a half of a sack this preseason and was very stout in his run defense.
I still question whether Carder can be a productive linebacker in meaningful games. For the time being, however, he just has to be productive on special teams and soak up as much knowledge as possible from D'Qwell Jackson and Paul Kruger in the linebacker meeting room.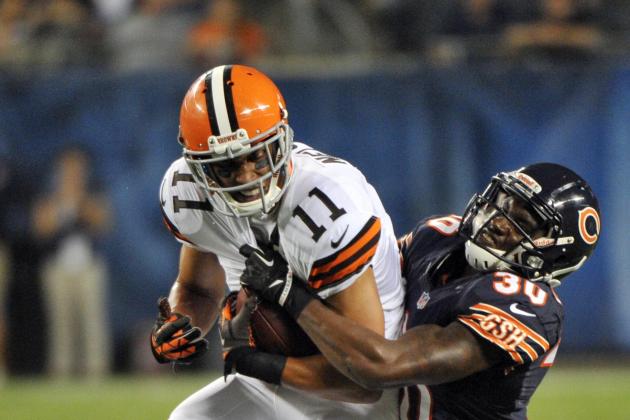 Rob Grabowski-USA TODAY Sports

David Nelson missed almost the entire 2012 season with a torn ACL and the Browns felt he could make a comeback here in Cleveland.
That comeback was short-lived, however, as he was hampered by a bone bruise throughout most of the preseason.
When he finally did play in the fourth preseason game against Chicago, he caught four passes for 54 yards but also had a drop and got cramps multiple times.
In a perfect world, Nelson could have been stashed away in hopes he could return to his 2011 form where he caught 61 balls for 658 yards and 5 touchdowns for the Buffalo Bills. Unfortunately, the Browns need all the extra roster spots they can find with multiple injuries on the offensive line and still no kicker.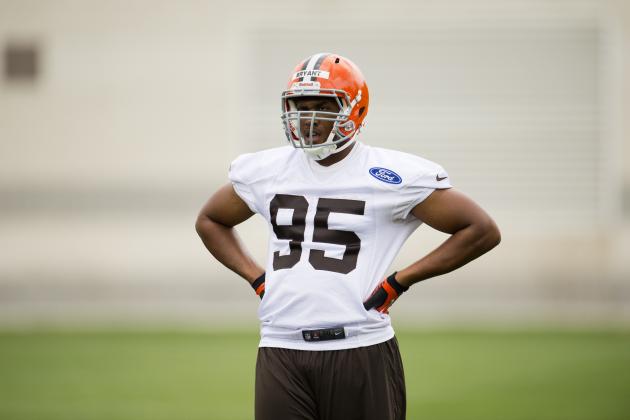 Jason Miller/Getty Images

The seventh-round pick from East Central Oklahoma University was charged with a DUI before he ever made it to training camp. He was also arrested in college for selling marijuana to an undercover police officer.
The Browns chose to ignore his personal transgressions, both past and present, because they saw a raw ability in the young man.
Bryant is 265 pounds of physical specimen. He doesn't just look the role of a disruptive defensive lineman though, he also lives it.
He racked up six tackles, one sack and forced a fumble this preseason. He also collapsed the pocket multiple times forcing the quarterback into bad throws or creating a sack opportunity for a teammate.
Bryant will play special teams mostly but Joe Banner really feels like he could be a diamond in the rough. Now he just has to stay out of trouble.
Unless otherwise noted, all quotes were obtained firsthand.