Deutsche Bank Championship 2013 Leaderboard Day 4: Scores and Results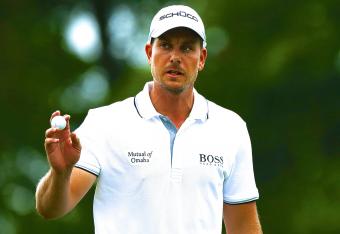 After coming close in his last five tournaments, Henrik Stenson rode a hot putter in the final round and won the Deutsche Bank Championship with a 22-under-par score of 266.
Third-round leader Sergio Garcia never played with the flair or confidence that he had in the first three rounds. He shot a two-over-par 73 and finished five strokes behind Stenson.
Once Stenson took the lead, none of the other golfers made a legitimate run at him. Steve Stricker came closest, finishing two strokes behind at 22-under, while Graham DeLaet finsihed in third at 18-under.
With the win, Stenson leaped ahead of Tiger Woods in the FedEx Cup standings.
Stenson finishes with a three-putt par, but it's more than good enough. He finishes 22-under-par and wins the Deutsche Bank Championship.
Too little, too late for Garcia. His third shot on the par-5 18th hits the flagstick. It's all Stenson today.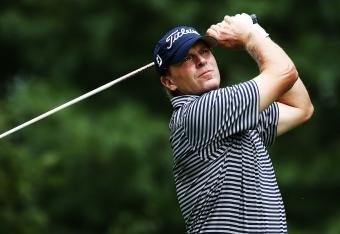 Stricker does not make his eagle, but he rolls in his birdie putt and finishes at 20-under par. A fantastic tournament for Stricker, who shot a four-under-par 67 in the final round. Stricker did not have a round above 68 in the tournament.
Like I said, #Stensonator. The Swede holes out from the bunker for breathing room. First trap he'd been in all week.

— Brian Wacker (@pgatour_brianw) September 2, 2013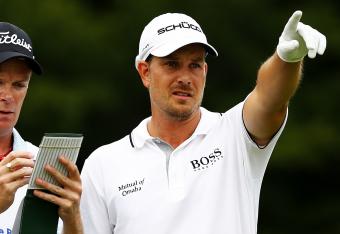 Are you kidding me? Stenson finds the bunker at 17, the first time he was in the sand all week. So how flustered was he? He holed out and went to 22-under.
Kevin Stadler makes a birdie on 18 and he finishes 17-under. He had 26 birdies throughout the tournament, more than any other golfer in the field. tied with Matt Kuchar and Jordan Spieth.
It's not over yet. Steve Stricker made his birdie putt on 17 to get to 19-under. If he can make a birdie on 18 and Stenson can bogey 17 or 18, we will have a playoff. Those are big ifs, because Stenson is playing so well.
Of course, Stricker could also force a playoff with an eagle on 18.
Here's how good Stenson has been this summer.
Stenson's last 5 starts: 3rd Scottish Open, 2nd at the Open, T2 WGC, 3rd at PGA Championship, then he slacked off last week at Barclays T43!

— Stephanie Wei (@StephanieWei) September 2, 2013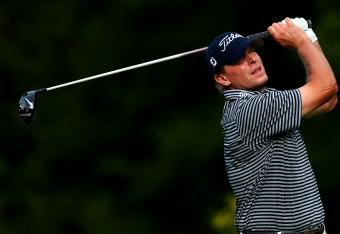 This is basically Stricker's last shot to make a move on Stenson. Stricker's approach shot on 17 is perfect and the ball lands four or five feet from the hole. If he can birdie 17 and 18 and Stenson can find some trouble on any of the last three holes, who knows. But Stricker must make his birdie putt here.
Why is Henrik Stenson winning the DBC by three strokes late in the final round? How about accuracy. He has hit 59 of 73 greens in regulation.
Another bogey for Garcia on the 14th hole leaves him at four-over for the day. Sergio tends to have a problem in the final round.
Sergio entered today ranked 165th in final round scoring average (72.33) and it's going to be higher after this mess.

— RonGreenJr (@RonGreenJr) September 2, 2013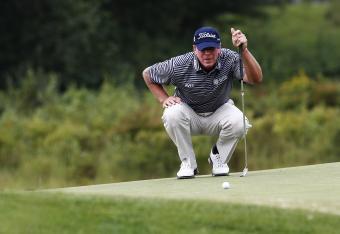 Steve Stricker had what looked like an easy opportunity for a birdie on 15, but he pushed his six-foot putt a bit and it rimmed out. A birdie would have brought him within two strokes of Henrik Stenson, but he remains three back.
Stenson remains in control because none of the other contenders can mount a legitimate charge.
Tiger had plenty of problems with what NBC analyst Johnny Miller likes to call his "flat stick."
Tiger took 32 putts today after 31 in the third round. Longest make in the final round was from 4'0" on 18.

— Will Gray (@WillGrayGC) September 2, 2013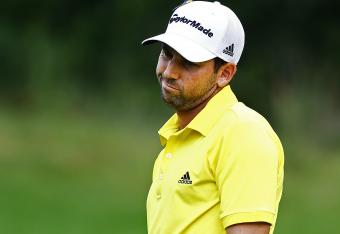 You would be hard-pressed to find worse body language than the type that Sergio Garcia is projecting at this point. After starting the day with a two-stroke lead, he now has a five stroke deficit.
Garcia has a hang-dog look on his face and his shoulders are slumping as he walks from the the 13th green to the 14th tee.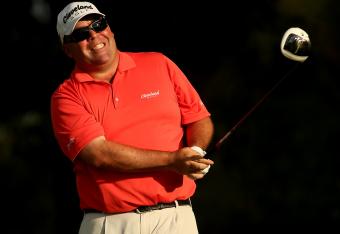 Don't sleep on Kevin Stadler. He made a 12-foot birdie putt on the 15th hole and that moves him to 16-under for the tournament. You have to give the son of the Walrus credit. He has earned his opportunity to play in the BMW Championship
Here's how it ended for Tiger. Not the best of weeks.
Tiger has about 20 ft left for par...dies off to the left for a closing bogey. 73 today, -4 for the week.

— GC Tiger Tracker (@GCTigerTracker) September 2, 2013
Not only is Stenson going for the DBC Championship, he will move to the top of the FedEx Cup standings if he can maintain his current position. He will edge past Tiger Woods, who will fall into second place overall.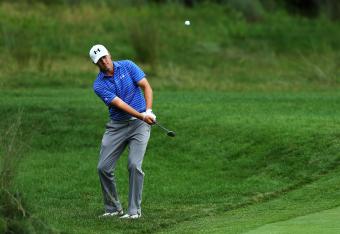 Let's not forget about what Jordan Spieth has done today. Not only does he have the best score of the day with a 62, it's not even close. No other golfer has shot better than 66. Spieth told NBC that it was the best round of his career.
You may not know him, but Brendan Steele has put him in a position to play in the BMW Championship, the third of the FedEx Cup playoff events.
Brendan Steele birdies the last four holes to get inside the top 70 and advance to the BMW...for now. IT'S JUST SO VOLATILE. #FedExCup

— Stephanie Wei (@StephanieWei) September 2, 2013
Ernie Els can still get into the BMW Championship, as long as Angel Cabrera doesn't improve over his final six holes.
Barring other developments, Ernie can still get in as long as Cabrera finishes dead last. And right now he's dead last. 1 birdie changes it.

— Doug Ferguson (@dougferguson405) September 2, 2013
Stenson should be starting to smell his first championship. He rolls in that long birdie putt on the 11th hole and he moves to 21-under. That gives him a three-stroke lead over Steve Stricker.
Stenson has the look of a golfer who is in the zone. By the way, that was no 20-footer. It was a lot closer to 30 feet and it went right in the middle of the cup.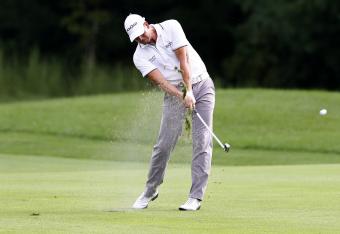 Stenson with a par on the 10th to remain at 20-under and then hits his tee shot on 11 right in the middle of the green. It will be a tough birdie putt, probably 20 feet from the hole.
Much of the talk has been about which golfers will make the President's Cup team from both the United States and Europe. Those are nice honors, the President's Cup does not carry the same prestige as the Ryder Cup and the announcers should not try to give the event equal weight.
NBC's Dan Hicks seems to be getting a bit carried away at this point with the event's importance.
Sergio may have had the lead after 54 holes, but that was not necessarily something that was good for him.
Sergio was just 3-for-10 in converting a 54-hole lead into a victory. Goes out in 39 in Boston. Make that 3-for-11 ...

— Ryan Lavner (@RyanLavnerGC) September 2, 2013
This article is
What is the duplicate article?
Why is this article offensive?
Where is this article plagiarized from?
Why is this article poorly edited?