8 Things We Learned About the New York Giants During Preseason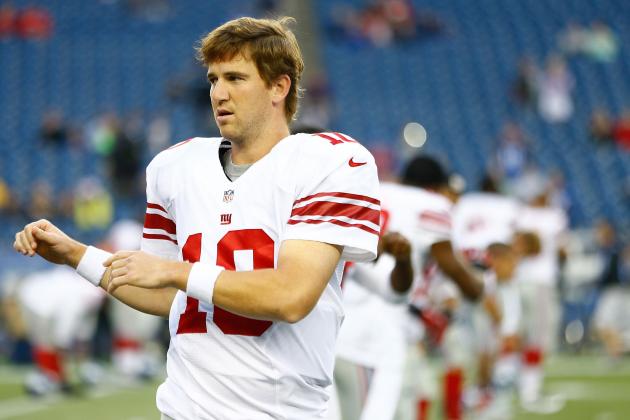 Jared Wickerham/Getty Images

The New York Giants came into their 2013 preseason with an eye toward improving their 2012 win-loss mark of 9-7 to at least 10-6.
If they can do that, it should be enough to get them into the postseason and get them closer to their other major goal of becoming the first team in league history to participate in a Super Bowl that's played in their home stadium.
While the Giants still have some early-season questions that need to be resolved, they did come away with some positive developments that could help them in their quest to make league history.
Begin Slideshow

»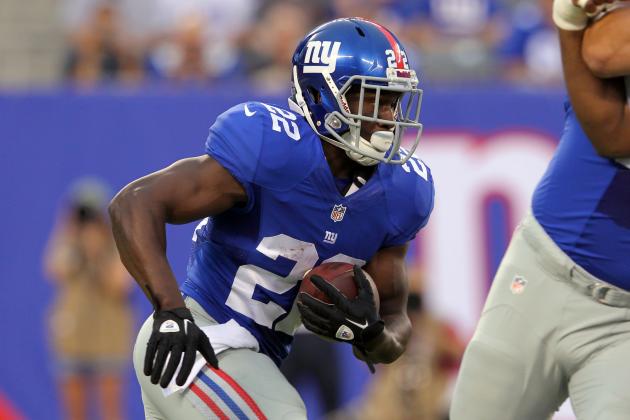 Brad Penner-USA TODAY Sports

One of the biggest concerns the coaching staff had as late as the end of the mandatory minicamp in June was if running back David Wilson, who last year didn't get on the field much because of his unfamiliarity with pass-blocking, could make enough progress in that area.
"You see a guy like David Wilson who started with no clue on who[m] to block, much less how to block, to a pretty good understanding of what it is that he has to do. Now it is a matter of doing it," Giants offensive coordinator Kevin Gilbride said at the conclusion of the team's June minicamp.
"He is still not 100 percent. He still makes mistakes, but there has certainly been some significant growth. Now until you get the pads on—and he has to show that he, as a smaller guy, can do the things necessary that other small backs in this league have done—you are still kind of holding your breath when you see him."
The good news for the Giants is that Wilson did indeed show improvement in pass-blocking.
He has not only shown that he knows how to pick out the right guy to block, he has also had success in chipping at defenders. An example of that came on the first-quarter, 37-yard pass completion from Eli Manning to receiver Louis Murphy Jr. on the Giants' first scoring drive.
Wilson's improvement will be huge for the Giants, who go into the regular season with Andre Brown sidelined and fullback Henry Hynoski not a lock to be available for the regular-season opener.
Wilson is happy to take on an increased workload.
"Whatever they want me to do," he said. "Like I said when I first came here, whatever the coaches need me to do. If they need me to kick a field goal, I'm going to go out there and give it 100 percent trying to kick a field goal. The carries or the workload, all that, is not a big factor for me. When I'm on the field, I want to be effective and help my team win games."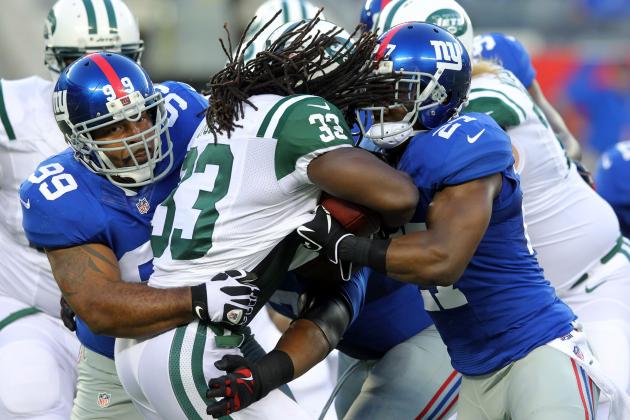 Brad Penner-USA TODAY Sports

The Giants raised a few eyebrows this offseason when they signed former Philadelphia Eagle and Green Bay Packer defensive lineman Cullen Jenkins to a three-year deal worth a reported $8 million.
Given Jenkins' versatility—he can not only play defensive tackle, where he'll be a starter this year for the team, but he can also move outside to defensive end—the Giants appear to have gotten a bargain.
"No preference, really," Jenkins said last month when asked where he preferred to play. "Each position has its benefits. I like being able to move around and go to different spots; I like to spend a little time outside at end at times and also be inside at tackle at times."
On the field, Jenkins is already starting to receive extra attention. Preseason opponents began to target him with double-teams.
To his credit though, Jenkins has vigorously fought off the extra blocking to help make plays against the run, an area that was on top of the Giants' list of things to fix defensively this year.
"I know firsthand what will happen if you're not stopping the run, if you're not getting the sticks in your favor, if you don't have the score in your favor in the game," Jenkins said.
"In Philadelphia, we went through the same thing up front where you come off a season with a lot of sacks and pressures, and then the next year teams kind of key in on you and things in the season don't go the way you hope."
Although it was in the preseason, the Giants defense had to be encouraged after holding opponents to just 84.2 rushing yards per game.
The key, obviously, will be to continue that production in the regular season.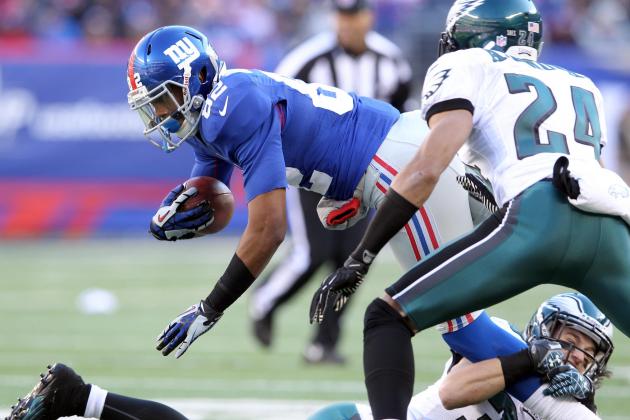 USA TODAY Sports

When he was selected in the second round of the 2012 NFL draft, Giants vice president of player evaluation Marc Ross described Rueben Randle as "NFL-ready" in the team's eyes.
The problem, though, is that Randle was anything but NFL-ready.
However, to his credit, he studied his playbook, and he attached himself to the hips of some of his veteran teammates to learn about the intricacies of preparing like a pro.
By the time the 2012 regular-season finale against the Philadelphia Eagles rolled around, Randle looked as though he finally had a breakthrough. He caught all four passes thrown his way for 58 yards and two touchdowns, including a 38-yard scoring reception.
The question, though, was whether Randle would build off that progress.
To the Giants' delight, the former LSU star did just that, taking advantage of the increased reps on offense created by the absences of Hakeem Nicks and Victor Cruz in the spring to earn the coaches' trust.
Randle didn't stop there. He continued to work hard to build himself into a quality NFL receiver.
"As a player, just maturing and understating what the organization wants out of me, understanding the offense and being able to play a lot faster, and just getting on the same page with (quarterback) Eli (Manning) has been the major difference for me," said Randle, whose daily training camp battles with cornerback Prince Amukamara were a training camp highlight.
By doing all the little things that he perhaps initially overlooked, the Giants now have themselves a legitimate third receiving option who should help deflect some of the double coverage that Cruz and Nicks might have otherwise received.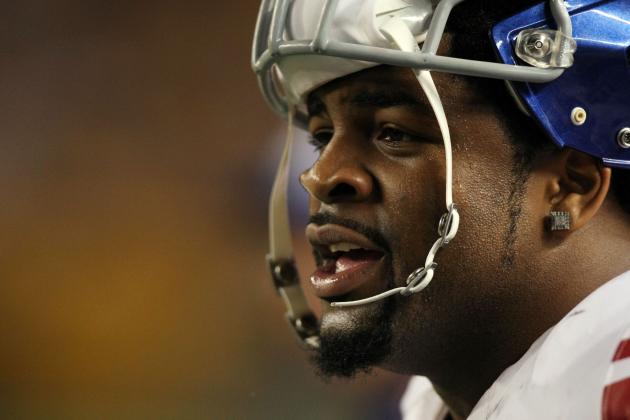 Jason Bridge-USA TODAY Sports

Although he missed the last three weeks of the preseason with a shoulder bruise, defensive end Damontre Moore, the Giants' third-round draft pick, captured the hearts and imaginations of Big Blue Nation with his strong showing in the first preseason game against the Pittsburgh Steelers.
In that game, the man known as "DaMonsta" logged four tackles (three solo), one tackle for a loss, one quarterback hit and one blocked punt.
That's not a bad night of work, but the rookie wasn't satisfied.
"It gave me a lot of confidence, to let me know that I can come out here and I can make plays and do things," he said shortly after that game. "At the same time, it gave me more motivation because I don't want to feel that experience just once. I want to feel it multiple times.
"To see that I helped put my team in a great situation, there's not a better feeling I could have. I use that as motivation to keep making it happen."
Moore, who has been practicing on a limited basis for the last two weeks, said his injury is "day-to-day," and that he was getting close.
He couldn't say if he thought he might have a chance of playing in the regular-season opener against the Dallas Cowboys. But it's probably not a stretch to think that when he is ready to return to game action, he'll be a part of the defensive end rotation on passing downs.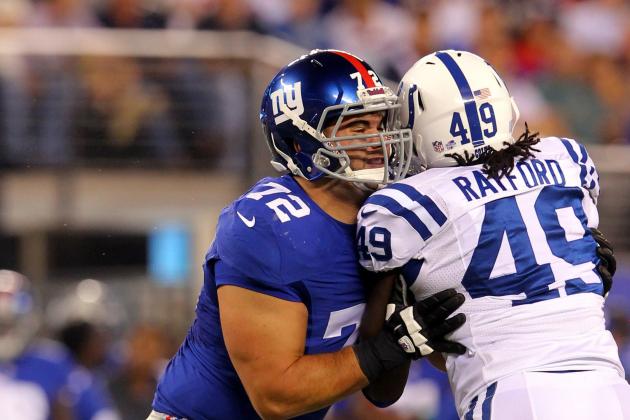 Brad Penner-USA TODAY Sports

With offensive tackle D.J. Fluker off the board and inside linebacker Alec Ogletree there for the picking at No. 19 in this year's NFL draft, plenty of fans were left stunned when the Giants selected offensive lineman Justin Pugh out of Syracuse.
While some probably still wish the Giants had gone linebacker, it's hard to be too disappointed with the Pugh selection. So far, the rookie overcame missing some early training camp practices due to a concussion, showing enough to be given the starting right tackle job when incumbent David Diehl had to have thumb surgery.
Pugh—6'4" and 301 pounds—has held his own in the preseason, matching power with power. He hasn't looked over-matched against defensive starters. The starting right tackle job now appears to be his to lose.
"He came across to me as a player that, first of all, football is important to him," said Giants offensive line coach Pat Flaherty of Pugh. "His demeanor (has) some physicalness [sic] to him, and the willingness to learn. God gave him some ability as most of the NFL players, where he can bend and move and do those types of things."
The good news is that Pugh hasn't even come close to hitting his ceiling, and Flaherty expects him to get even better as the weeks go on.
"For you to be able to be good, you just have to continue to study and go out and do it," he said. "He's shown that he is a good solid football player."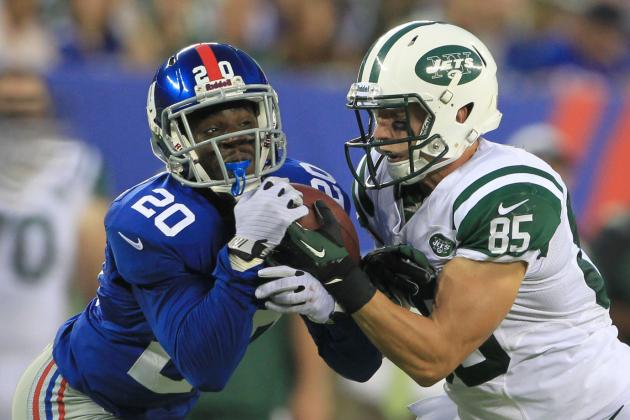 The Star-Ledger-USA TODAY Sports

Since 2008, Corey Webster has been the Giants' No. 1 cornerback.
However, Webster's reign at the top of the Giants' totem pole is likely coming to an end this year thanks to the breakthrough showing of Prince Amukamara, the team's first-round draft pick in 2011.
"Prince understands the defensive package right now. He feels much more comfortable with what we are doing defensively," cornerbacks coach Peter Giunta said last month.
"He's got a great relationship with the players, and more importantly he's had a full offseason to work out and get in shape. He's a completely different player now because he's had the opportunity to work the whole time."
Amukamara, who finished the preseason with six tackles, one interception and three pass breakups in his limited snaps, said he's driven by the goal of not only topping Webster, his teammate, but also potentially becoming one of the league's top corners.
"I know that's going to take work, but guys that came out of my draft class are doing great: Patrick Peterson and Richard Sherman, and those are the guys I kind of compare myself to, and I'm just trying to exceed all of them," Amukamara said back in June.
During training camp, Amukamara's daily battles with receiver Rueben Randle were a thing of beauty to watch. He has learned to play the receivers tighter, and he's also done a nice job of not letting receivers get their hands on him to knock him off-balance.
With the Giants possibly looking to switch their cornerbacks around in order to create more favorable matchups, it wouldn't be surprising to see Amukamara assigned to defend the opponent's top receiver—a task that, based on his preseason showing, he should be more than ready to handle.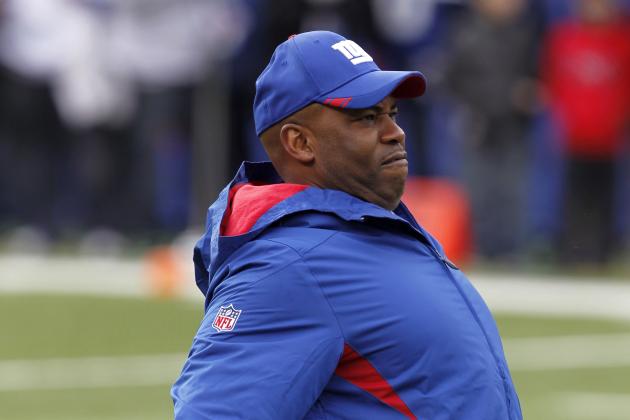 The Star-Ledger-USA TODAY Sports

When your defensive unit finishes 31st overall in the NFL, you know that something's definitely in need of fixing.
That's precisely what Giants defensive coordinator Perry Fewell is attempting to do. Given some new talent in all three defensive units, Fewell has been like a mad scientist working in a lab to concoct different personnel packages to elevate the defense's showings this year.
The most noticeable thing the Giants showed during training camp was the use of several more 3-4 alignments than usual, in which a defensive end took a two-point stance as either a pass-rusher or in coverage.
Another new twist that Fewell experimented with this preseason was moving around his personnel more. For example, starting cornerbacks Corey Webster and Prince Amukamara would switch sides of the field based on what Fewell perceived would give the defense the best matchups.
He also experimented a bit more in training camp with different pressure packages, some of which turned up in the preseason games.
Whether all the results met Fewell's liking remains to be seen, but give him credit for trying to do something to get his defense out of the cellar and back on top.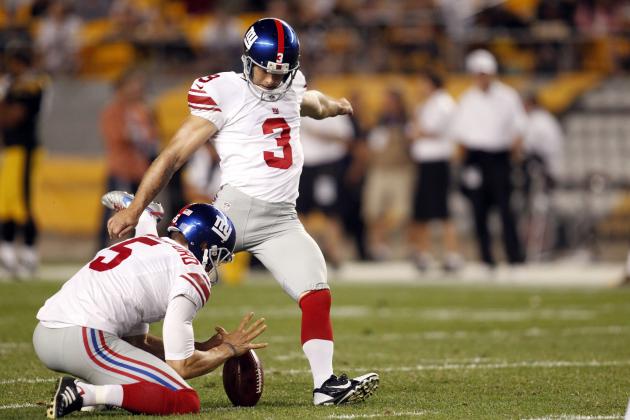 Charles LeClaire-USA TODAY Sport

Following the 2012 season, the Giants' front office made the decision not to pursue free-agent place-kicker Lawrence Tynes, who kicked for them since the 2007 season.
Enter Josh Brown, an 11-year, well-traveled veteran who had stints at Seattle, St. Louis and Cincinnati.
Over the course of his career, Brown has made eight game-winning kicks, four of which came with 0:00 left in regulation.
It's not just Brown's cool hand, er, foot in pressure situations that drew the Giants' attention, nor was it only his willingness to accept a one-year contract for the veteran minimum.
It was his strong leg on kickoffs that intrigued the Giants.
Brown has 79 regular-season touchbacks on 672 kickoffs. He has converted 81.3 percent of his regular-season field-goal attempts. He is 310 of 312 on extra points. And he's kicked at least one field goal of 52 yards or higher in every season except one, including a 58-yarder as a rookie in 2003 with the Seahawks.
This preseason, he finished with 10 touchbacks, two behind NFC co-leaders Steven Hauschka of Seattle and Blair Walsh of Minnesota.
On place-kicks, Brown converted 13 of 15 preseason attempts, his two misses from 38 and 53 yards, respectively.
He figures to be a valuable scoring option for the Giants, especially if their preseason red-zone issues continue into the regular season.
Patricia Traina (@Patricia_Traina) is the senior editor for InsideFootball.com. All quotes obtained firsthand unless otherwise noted.