5 Reasons to Keep Watching Seattle Mariners with an Eye on 2014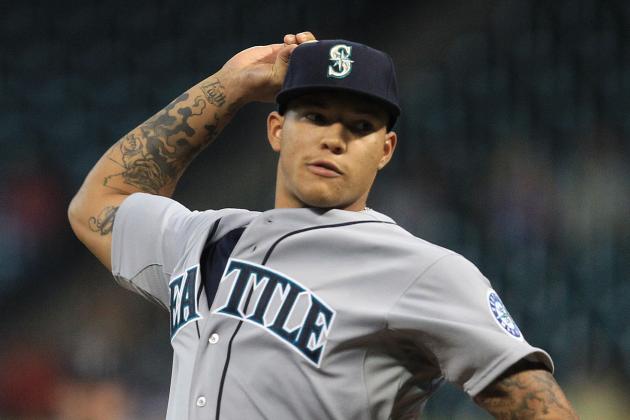 Bob Levey/Getty Images

The 2013 Seattle Mariners season is essentially over, at least from the standpoint of postseason play. This is where the casual fan is separated from the diehard supporter, as the casual observer will quickly move on to football.
Anyone who has followed baseball for any length of time knows that there is a process to building a team. Sometimes that process takes a number of years. In the case of the Mariners, the process has been painfully slow, and even the dedicated fans have to be wondering whether all of this rebuilding will eventually produce a consistent contender.
Baseball is a sport that is built around eternal optimism, as there is always the possibility that a team could put it all together next year and become a winning franchise. Unfortunately for Mariners fans, this will not be apparent until sometime next summer, if at all.
Still, there are reasons to keep watching, and here are five things that may point toward a positive 2014.
Begin Slideshow

»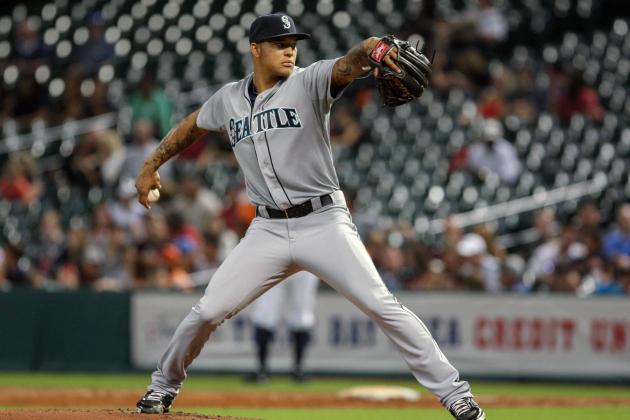 Troy Taormina-USA TODAY Sports

Conventional wisdom says that Taijuan Walker will not arrive at Safeco Field and dominate from day one. And yet, doesn't it feel like Seattle fans deserve for that to happen?
Fans are about to find out whether some or all of the hype has been justified now that the Taijuan Walker era has finally begun. Walker had a very impressive debut (5 IP, 2 H, 1 R, 2 SO) for his first major league win, even if it was against the lowly Houston Astros.
Management has to be excited that Walker is here but also nervous about whether their prized prospect was promoted too early. The next few weeks should be very interesting as the team thinks about the 2014 starting rotation. Wouldn't it be nice if Felix Hernandez, Hisashi Iwakuma and Walker could be penciled in right now?
Add one or two more members of the "big three," and it could an exciting group of pitchers.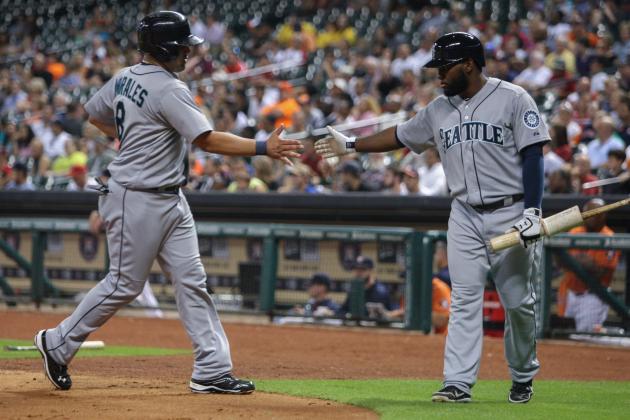 Troy Taormina-USA TODAY Sports

The one positive to being out of contention is that teams like the Mariners can essentially start spring training now while playing against franchises that are still motivated. That brings us to Abraham Almonte, who was just promoted on August 30.
Almonte came from the New York Yankees after the Mariners shipped reliever Shawn Kelley to the Bronx in February. In 2013, the speedy 24-year-old outfielder hit .314 with 11 home runs, 50 RBI and 20 stolen bases at Triple-A Tacoma. Almonte went 1-for-5 with two RBI in his debut with the Mariners.
You could argue that every outfield position may be up for grabs in 2014. Michael Morse is gone, Raul Ibanez may not return, and players like Dustin Ackley and Michael Saunders have hardly been dominant.
Could we see a whole slate of prospects patrolling the outfield at Safeco Field in 2014? We might. It could start with Almonte. Stay tuned down the stretch to see if he stakes a claim.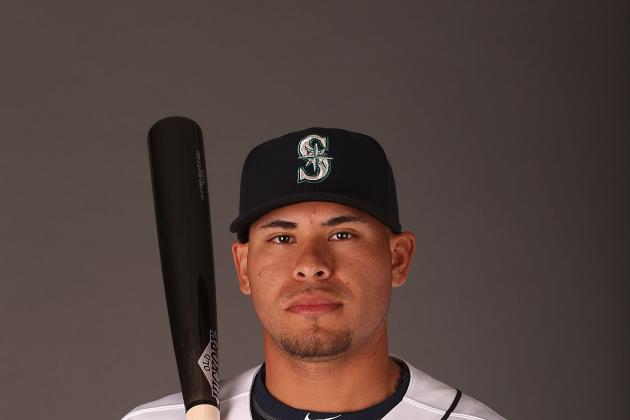 Christian Petersen/Getty Images

Abraham Almonte is not the only intriguing prospect that may be invited for a cup of coffee at Safeco Field in 2013. There are other promotions that could happen as management evaluates talent.
One player that might be intriguing to see is Stefen Romero. As mentioned, the outfield may be wide open when the Mariners go to camp in 2014. Romero is at the point in his career where he is either ready, or he isn't.
Through the end of August, Romero has hit .277 with nine home runs and 69 RBI. These are certainly not dominant numbers, but he has hit consistently at Tacoma. If he were to get promoted, it would be interesting to see if he could replicate that production in Seattle.
A outfielder that hits .270? Wouldn't that be a nice change?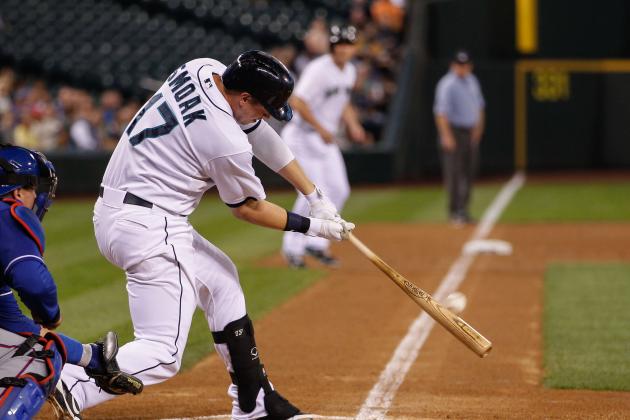 Otto Greule Jr/Getty Images

The addition of prospects and the experiment with various combinations will point toward what the 2014 lineup might look like for the Seattle Mariners. As the season winds down, the fans will have some sense of whether next season will have a more positive outcome.
There are certain players that look like mainstays at the moment. Granted, that can change quickly in baseball. Position players like Kyle Seager, Brad Miller, Justin Smoak and Nick Franklin have made big strides in 2013. Dustin Ackley may continue to rebound, and fans hope that Mike Zunino can return well from injury.
Seattle still has King Felix and they have Iwakuma under contract for another year. There are a number of young arms in the bullpen that could round out a very solid pitching staff.
In the final weeks it will be interesting to see some early position battles. Will anyone lock down a spot in the outfield? Will Smoak continue to hit well and solidify his position at first base? Can Zunino hit well enough to justify making him the top catcher in spring training?
Question, questions. Some may begin to be answered over the last few weeks.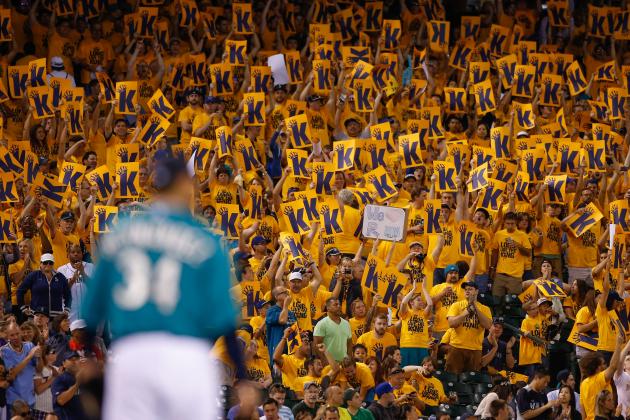 Otto Greule Jr/Getty Images

Why watch baseball down the stretch? Because that is what fans do.
Sure, it has been a frustrating few years. The Mariners have not been good, and the seats at beautiful Safeco Field have been largely empty.
Still, being a fan is about being loyal. Fans are welcome to be upset with management, because sometimes the people in the front office make poor decisions. However, you stick with your team because when they finally contend, you can truthfully say that you were there during the dark days.
Are the Mariners just playing out yet another unsuccessful season? Yes. There has been some progress, and hopefully that will build toward something even better in 2014.
A winning season in 2014? Stranger things have happened.
Follow Todd Pheifer on Twitter @tpheifer, "Like" him on Facebook and add him to your network on Google+.