Michigan State Basketball: What Each Projected Starter Brings to the Table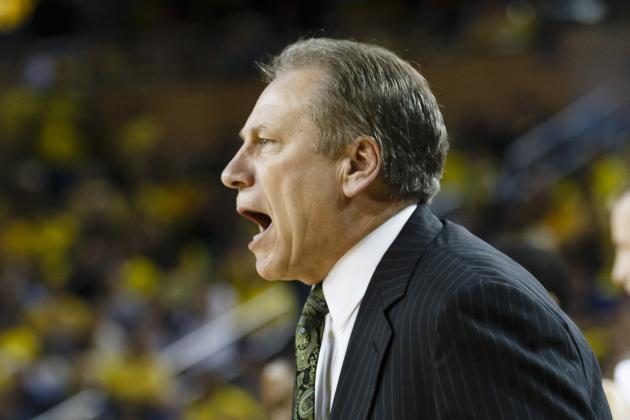 Rick Osentoski-USA TODAY Sports
Spartans coach Tom Izzo is Mr. March.
Shooting prowess.
Check.
Inside presence.
Check.
Add in a well-rounded roster, and Michigan State has a team built for trademark Tom Izzo ball this season.
The Spartans coach has long been heralded for his intense style that breeds brawny rebounding frontcourts and standout guards. High preseason rankings and even higher expectations are part of the job for Izzo, who hasn't been to a Final Four since 2010.
That could change this spring.
Gary Harris brings the scoring. Branden Dawson brings the athleticism and X-factor. Keith Appling, the driver of the offense, brings speed and handles.
Travis Trice picks up with stellar defense that complements his nose for the ball. Contributing muscle and size in the paint, Matt Costello should be invaluable to an offense losing Derrick Nix.
Denzel Valentine is a versatile guard who can score and defend.
As for Adreian Payne, well, he brings everything.
However, there's more than meets the eye when examining the 2013-14 Spartans, and this slideshow will give a deeper glimpse into each player's role from the court to the locker room. Predictions will be made based upon a projected starting five of Harris (SG), Appling (PG), Dawson (F), Payne (PF) and Costello (C).
Key bench contributors such as Trice and Valentine will also be included.
Begin Slideshow

»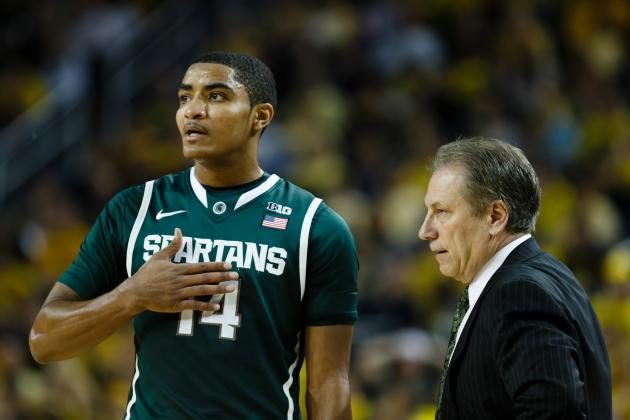 Rick Osentoski-USA TODAY Sports
Gary Harris is the No. 1 SG in the nation, according to the Sporting News.
Gary Harris is the best pure shooter since Shawn Respert.
And for that reason alone, Harris, only a sophomore, will be mentioned alongside Spartans greats for years to come. The lottery pick waiting to happen is among the favorites to win some type of national player of the year award before jumping into the Association.
When running in high gear, Harris is a 20-point threat with seemingly endless range. As a freshman battling shoulder problems, he tore up the Memphis Tigers with 23 points during a 70-48 romp in the 2013 national tournament.
Far from a rookie-like performance, the 2012 Mr. Basketball of Indiana's status vaulted from a well-known name in the Big Ten to a huge national-level name. At 6'4" and 205 pounds, he's literally the biggest thing at shooting guard since Shannon Brown for Michigan State.
The super soph brings a certain feeling (an aura) when he takes the floor for Izzo. The opposition knows about the Spartans' history and pedigree of their coach, which is intimidating enough. Having a marksman such as Harris only complicates matters for opponents—they know they're in for long night as soon as he sinks his first bucket.
Harris brings elite to the table.
Note: Harris suffered an ankle sprain and will be out four to eight weeks, per MLive.com's Diamond Leung.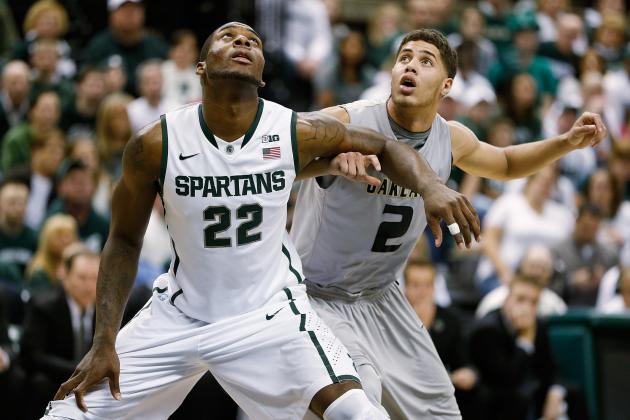 Gregory Shamus/Getty Images
Branden Dawson has improved his jumper.
There's no questioning what Branden Dawson gives Michigan State.
He's a 6'6", 220-pound highlight.
Power. Grace. More power.
His athleticism is comparable to former dunk-reel Maurice Ager, who starred alongside Shannon Brown during the Spartans' run to the 2005 Final Four. A more muscular version of Ager, Dawson attacks the rim with a similar vigor and energy.
The Spartans offense was beyond threatening with Ager on the break. He could also shoot, making him a dual-force threat, something that Dawson is trying to achieve. With a better jumper, the junior will finally have the polished game that he was destined to attain.
Dawson delivers dunking theatrics. He could soon add the mid-range game. An all-around skilled athlete, Dawson fills needs in rebounding, too. He's a stout defender.
He's more than a guy missing a jumper. He's more than a few dunks. He's in the midst of a progression, and the Spartans should see the fruits of that positive change this season.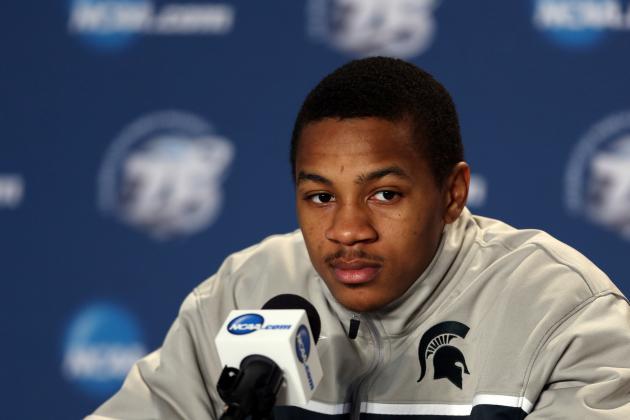 Brian Spurlock-USA TODAY Sports
Keith Appling is a next-level prospect, according to a recent Sports Illustrated interview with Tom Izzo.
A senior with an improved game, Keith Appling must now bring an improved leadership ability to the team.
As the point guard, it's his duty to orchestrate the offense on the court, but it's also his job to guide his men behind the scenes. The Spartans haven't had a player coach since Draymond Green left in 2012, so Appling is the heir apparent when it comes that role.
That's not to say that Michigan State lacks leadership from others nor is it meant to suggest that Appling isn't already an adequate leader. But there is always a new level for seniors to achieve, and Appling is on the cusp. He may be overshadowed by the statuses of Harris and Payne, but the Spartans are still his to command.
Tempo, mood and continuity are Appling's to dictate.
Jamie Rhodes-USA TODAY Sports
Matt Costello is developing into a respectable Big Ten center.
Successful Izzo teams seem to have the "Mid-Michigan" component in common.
Draymond Green hailed from Saginaw and helped lead the Spartans to a pair of Final Four appearances in 2009 and 2010. Morris Peterson and the Flintstones were from Flint, just 30 minutes south of Green, and won a national title in 2000, which was sandwiched by two Final Four showings.
Mid-Michigan works for Izzo, who loves the area.
"When I first got the [head coaching] job [at Michigan State], this was the first place I came," Izzo said of Flint to The Flint Journal's Eric Woodyard. Izzo has expressed similar admiration for Saginaw and the Tri-Cities, too.
Matt Costello is from Bay City, which is just minutes from Saginaw and is part of a talent-abundant prep hoops triangle. The Spartans are due for another dose of Mid-Michigan, and Costello could be that if he continues to progress at his current rate. He went from a so-so bench guy to a real-deal rebounder.
Impressively enough, he's only a sophomore. At center, the 2012 Mr. Basketball of Michigan's role is to throw around his weight, flex his muscle in the post and do the dirty work—you know, the blue-collar style that Mid-Michigan is famous for.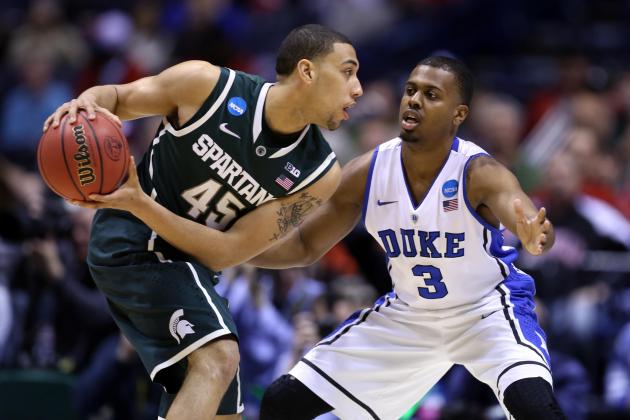 Brian Spurlock-USA TODAY Sports
Denzel Valentine has an array of skill.
Look at the Spartans Bench
This viewing of the bench will consist of the top three players. It's entirely likely that freshmen Gavin Schilling, a forward, and Alvin Ellis, a guard, will see decent minutes this year.
Travis Trice
Known for his defense, Trice, a junior, can be the Spartans' top scoring threat that no one knows about. He's sly, cuts to the rim with speed and can handle the ball. Quick, back-door looks for layups could be his bread and butter this season.
He provides energy and lockdown defense.
Denzel Valentine
A sophomore, Valentine has two more years to flourish at Michigan State. He's a great passer and streaky scorer, which is not a knock on his game—it's a compliment. Valentine isn't known as a big-time shooter, so he's an easy option for quick points.
The former Lansing Sexton star is capable of rattling off a couple of buckets before the defense catches on and guards him. In that case, a 10-point lead could be expanded to 14 or 16. Conversely, a 10-point deficit could be cut to just four or six points with a couple flicks from Valentine's wrist.
His best skill, though, is his ability to pass. Valentine can thread the ball through a keyhole.
Alex Gauna
Once a staple at Eaton Rapids High, Gauna's mission should be to complement Costello and Adreian Payne. At 6'9" and 240 pounds, Gauna has the size to fit in at center or power forward. He's not as athletic as his counterparts, but the junior demonstrated a stronger rebounding skill late this past season.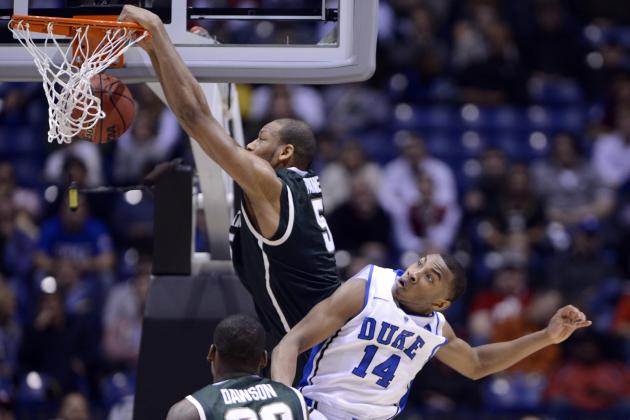 Jamie Rhodes-USA TODAY Sports
Adreian Payne has morphed into a national star.
The role of nucleus could be argued to no end.
Is it Keith Appling? He's the point guard, he controls everything. Of course he's worthy of being the central figure of Spartans hoops.
The same could be said for Gary Harris, the team's top scorer.
But Adreian Payne is it; he's the head of the monster that is Michigan State. Standing 6'10" and touting a 7'0" wingspan, Payne is the Spartans' last line of defense at the basket. If a team beats Payne at the iron, consider those points most certainly deserved and well earned.
This past year, Payne was the Big Ten's No. 3 rebounder with 7.6 per game, adding to his 10.5 points-per-game average. Expect those numbers to be closer to 15 points and 10 boards per night, with the sporadic 20-and-15 explosion.
Payne brings the evolution and maturity factor. He's a great example of just how well Izzo molds his players into young men as well as student-athletes.
Follow Bleacher Report's Michigan State Spartans basketball writer Adam Biggers on Twitter: @AdamBiggers81.