Washington Redskins: Biggest Snubs and Surprises from 53 Man Roster Cut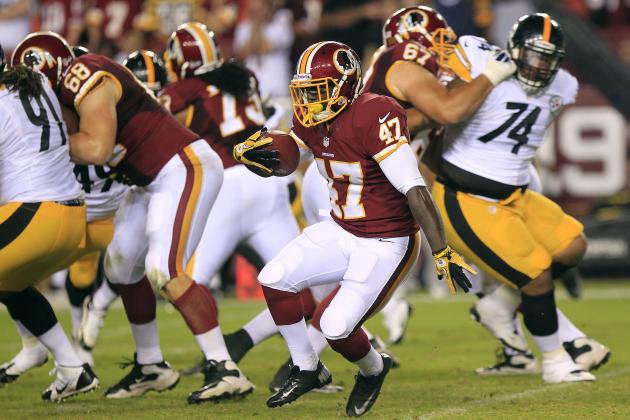 Geoff Burke-USA TODAY Sports

The Washington Redskins sprung a few surprise snubs at offensive tackle and in the secondary for their 53-man roster cuts. There was also the rarity of a late-round running back failing to impress head coach Mike Shanahan.
It may shock some that the team opted to thin its O-line depth to keep four quarterbacks. Yet even that does not feel as risky as the gamble Shanahan and general manager Bruce Allen took with the secondary.
That position group, which was already the most obvious concern on the roster, now features even fewer options. The Redskins parted ways with two cornerbacks and released a safety when they are hardly well stocked at either spot.
Here are the surprises and the snubs from the Redskins' roster trimming, beginning with two of the biggest snubs.
Begin Slideshow

»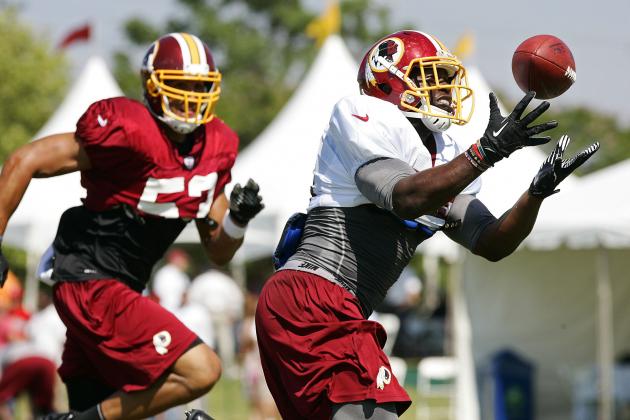 Geoff Burke-USA TODAY Sports
Chase Minnifield's time with the Redskins was injury-plagued and short-lived.
A rookie free agent in 2012, Chase Minnifield immediately faced an uphill battle to make the team. He came out of The University of Virginia having sustained a serious knee injury and the problem quickly recurred.
The Redskins kept him around, languishing on injured reserve, with hopes that Minnifield would rebound to make a strong impression this offseason.
His chances should have been good, given the lack of quality depth at the cornerback position. That is why it rates as a surprise that the Redskins could not convince themselves to keep him around.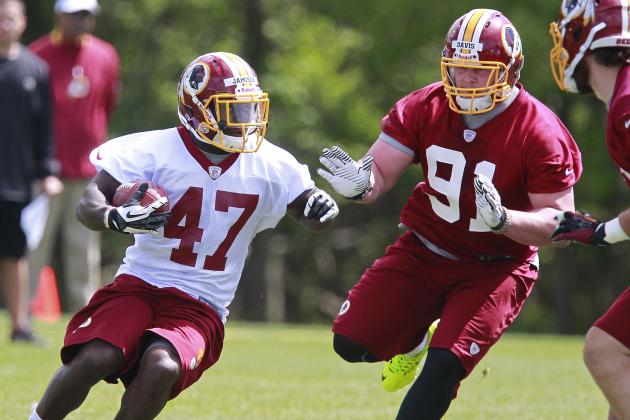 Geoff Burke-USA TODAY Sports
Jawan Jamison struggled to shine in a crowded rotation.
It was a mild surprise to see head coach Mike Shanahan give up on seventh-round pick Jawan Jamison. After all, Washington's coach has a great track record turning late-round running backs into stars.
However, former Rutgers rusher Jawan Jamison won't be joining the likes of Alfred Morris and Terrell Davis. Jamison received only limited opportunities during the preseason where he had only 16 carries and gained 54 yards.
Jamison initially appeared to be impressing as a savvy zone-runner. After the Redskins' second exhibition game against the Pittsburgh Steelers, John Keim of ESPN.com was quick to highlight Jamison's qualities:
Did like Jawan Jamison's patience. He's a good fit in this sort of system, though it would be nice if he were a couple inches and 15 pounds heavier. He gained 20 yards on five runs; I liked a 6-yard run in the fourth quarter where he exhibited patience and cutting ability. Jamison looked like he was headed wide and the linebacker flowed that way, creating a cutback lane for a 6-yard gain. It wasn't some highlight run, but it was an example of a good one. Thompson's explosiveness still bears watching, but Jamison knows how to run. If only…
Despite his feel for the zone scheme, the lack of standout intangibles Keim hinted at obviously doomed Jamison. It was always going to be a challenge to crack the Redskins' rotation at their most loaded position on the roster.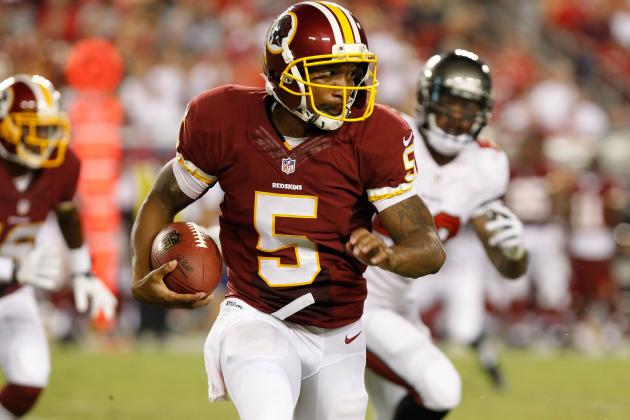 Kim Klement-USA TODAY Sports
Pat White survived the cuts and is the fourth quarterback on the roster.
Pat White stayed on to give the Redskins four quarterbacks. The read-option and Wildcat specialist gives the Redskins another true dual-threat quarterback.
White is the only quarterback who offers similar athleticism and rushing skills to starter Robert Griffin III. Keeping the former Miami Dolphins' flop around shows just how seriously Mike Shanahan is committed to an option-led attack.
White is a long shot to see the field once the regular season begins, unless the Shanahan brain trust opts to include some Wildcat looks in the playbook.
White was very streaky during the preseason, particularly in throwing the ball. But if the Redskins are enamored enough with his athleticism to retain him, they might craft a sub-package to use him in.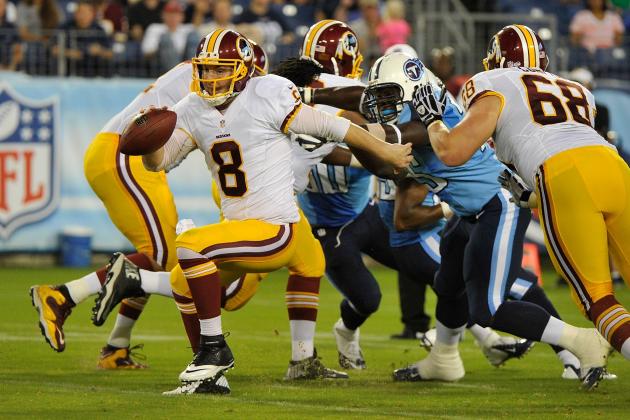 Frederick Breedon/Getty Images
Shanahan system veteran Rex Grossman also survived the cuts.
Pat White staying on the roster makes Rex Grossman still surviving the cuts a big surprise. He is long past his sell-by date as a starting option and does not possess the mobility this offense demands.
However, Grossman is a veteran of the Mike Shanahan system, particularly the version that did not include so many read-option looks. His knowledge of the playbook is apparently still deemed valuable.
In fairness, that is not an unreasonable view. Grossman is the only experienced option at a position otherwise stocked with talented, but raw youngsters.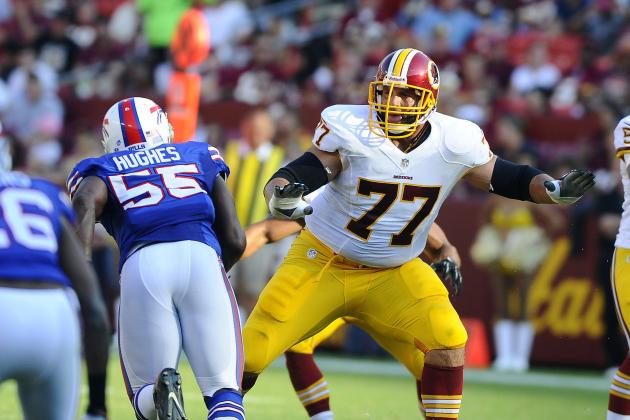 Brad Mills-USA TODAY Sports
Tony Pashos was one of three victims of a cull at offensive tackle.
The triple exodus at the offensive tackle position rates as both a snub and a surprise.
The Redskins considerably reduced their depth along the O-line when they released Jeremy Trueblood and Tony Pashos.
The two veterans were joined on the scrapheap by youngster Xavier Nixon. The undrafted rookie seemed a nice fit for Mike Shanahan's favored zone-blocking system, but Nixon did not make the grade and neither did his more-experienced competition.
Ditching this trio leaves Washington woefully short of help on the line there behind starters Trent Williams and Tyler Polumbus.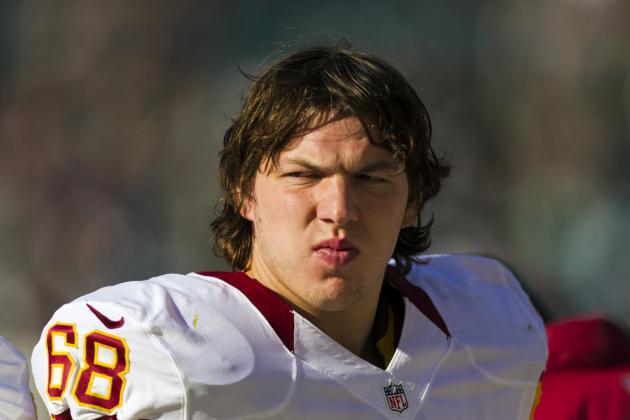 USA TODAY Sports
Tom Compton is the team's sole backup offensive tackle
The Redskins' clearout at offensive tackle leaves only Tom Compton offering any depth at the position.
The untested second-year pro was surprisingly favored over the more experienced duo of Jeremy Trueblood and Tony Pashos.
A sixth-round pick in 2012, Compton has yet to see the field in the regular season for the Redskins, but the former Dakota ace did made a good impression this preseason.
ESPN.com's John Keim noted that Compton was a standout among deputy linemen during exhibition games, particularly against the Steelers:
The offensive lineman who really stood out, at least with the second unit, was left tackle Tom Compton. That's the best I've seen him play (granted, the sample size isn't huge, but I'll include practices as well). I liked that he was facing rookie Jarvis Jones, who has a thing or two to learn but who is a talented first-round draft pick. The sort of guy Compton needs to do well against. Compton showed excellent balance and technique. On one rush, he was aggressive with his punch but Jones got into him a little. However, Compton was able to reset and anchor. That happened on another occasion as well. Later, Jones beat him off the snap another time, but Compton recovered to shove him off his path. His run-blocking was fine, too. All in all, a solid night.
The coaching staff must believe performances like that are a sign that Compton could handle regular-season demands if needed. That is certainly a gamble at such a key position.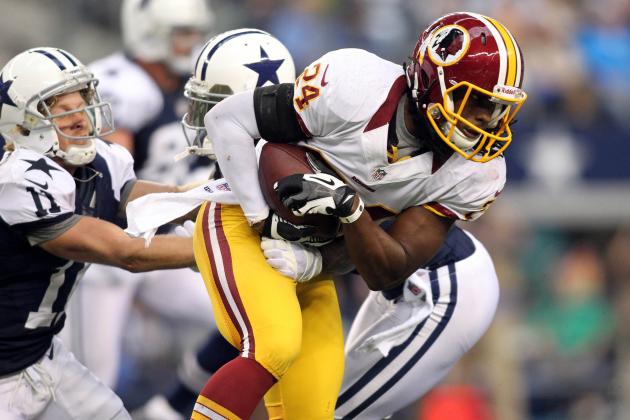 Tim Heitman-USA TODAY Sports
Despite being involved in the last two seasons, DeJon Gomes didn't survive the cuts.
Being deemed good enough to start eight games in two seasons was not enough to save DeJon Gomes. The aggressive safety was dumped as part of the team's purge in the secondary.
Given the paucity of options the Redskins possess at the position, it is surprising how they snubbed Gomes. Rookie sixth-round pick Bacarri Rambo and brittle veteran Brandon Meriweather are the starters.
But behind them, the only options are Reed Doughty and youngsters Jordan Pugh and Jose Gumbs. The Redskins declined on letting a player who tallied an interception and a fumble recovery in 2012 provide further cover.
According to Kevin Seifert of ESPN.com, Gomes was quickly picked up by the Detroit Lions. With fourth-round pick Phillip Thomas lost for the season after a Lisfranc injury, Gomes' old team appears desperately short at safety.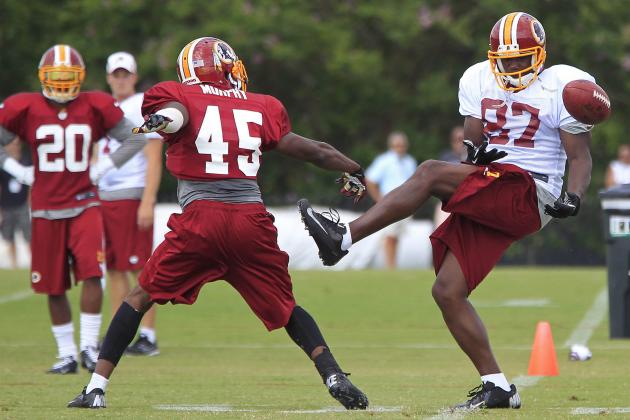 Geoff Burke-USA TODAY Sports
Jerome Murphy (45), stays on the roster.
The Redskins chose to waive a defensive back with experience like DeJon Gomes and another with potential in Chase Minnifield. Yet they surprisingly opted to retain Jerome Murphy, a cornerback who has played for four teams since 2010.
The 26-year-old has spent time on the rosters of the St. Louis Rams, New Orleans Saints, Detroit Lions and now the Redskins. He began last season in Detroit before ending the campaign in D.C.
Despite his scattered career path and a lack of meaningful statistics, the Redskins chose to retain Murphy. The season-ending injury suffered by Richard Crawford in Week 3 of the preseason probably influenced that decision.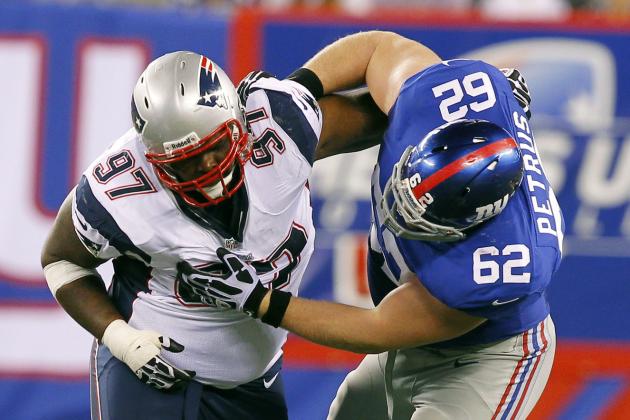 Jim O'Connor-USA TODAY Sports
Ron Brace could have provided cover at both end and nose tackle.
Ron Brace and Will Compton were two of the more obvious snubs among the Redskins' cuts. Although the Redskins are not short of quality options along the front seven, both players would have provided useful cover.
Hulking defensive lineman Brace could have covered both end and nose tackle. He possesses an ample frame for the 3-4 alignment and has a good knowledge of the system from his days with the New England Patriots.
It is a measure of how far the former second-round pick has fallen, that he could not make an impact in a scheme that suits his talents.
Compton may be an even more surprising snub. The tough and hustling inside linebacker appeared to be making a positive impression this offseason.
He had emerged as something of a preseason fan favorite and Compton could have provided some youth to the rotation at middle linebacker.
London Fletcher, now 38, starts and his deputy is 32-year-old Nick Barnett. With the unfortunate Keenan Robinson once again succumbing to serious injury, Compton appeared to have value.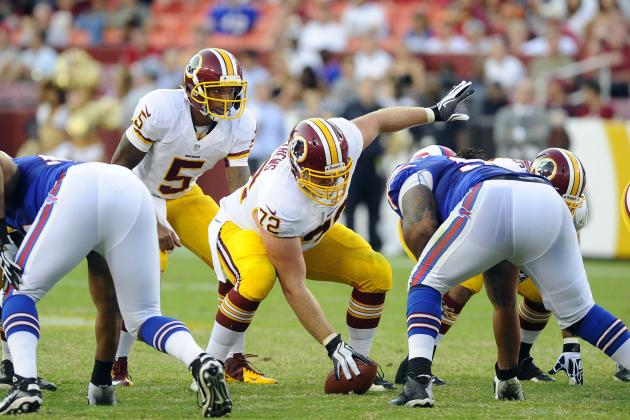 Brad Mills-USA TODAY Sports
Natural center Kevin Matthews did not survive the cuts.
When the Redskins dumped Kevin Matthews, they left themselves with only one natural center on the roster. Starter Will Montgomery now has no obvious backup.
That is a surprising choice, but the Redskins will rely on versatility along the interior. Both, starting left guard Kory Lichtensteiger and his deputy Josh LeRibeus, can fill in at center.
Trusting a few linemen to cover multiple positions is nothing new for the Redskins. Back in head coach Joe Gibbs' days, the likes of Jeff Bostic, Russ Grimm and Raleigh McKenzie all saw time at center.
But reports from Mark Maske of The Washington Post, indicated O-line coach Chris Foerster has been disappointed with LeRibeus. So it is surprising that 2012's third-round choice stayed on the roster and Matthews, who has started for the Tennessee Titans, didn't.
Despite the youth and versatility of the current group, the Redskins are carrying only three reserves for their offensive front. LeRibeus, Will Compton and guard Adam Gettis have been placed in that position thanks to the decision to keep four quarterbacks.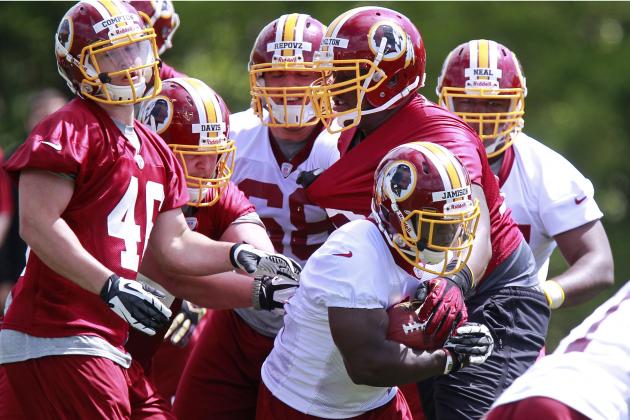 Geoff Burke-USA TODAY Sports
Jamison has found a home on the practice squad.
Many of the notable names among the final roster cuts have the mild consolation of landing on the Redskins' practice squad. Brian Tinsman of Redskins.com revealed that four of the players on this list made that squad.
They include Jawan Jamison, who may yet be able to prove his credentials as a zone-runner to head coach Mike Shanahan. There is also room for Xavier Nixon, who could well be forced into action if injuries strike at offensive tackle.
Compton will try and keep himself on the radar, as will Chase Minnifield. CSNWashington.com's Rich Tandler suggests Minnifield missed out because the Redskins opted for Jerome Murphy's greater experience.