UFC Fight Night 28: Preliminary Card Predictions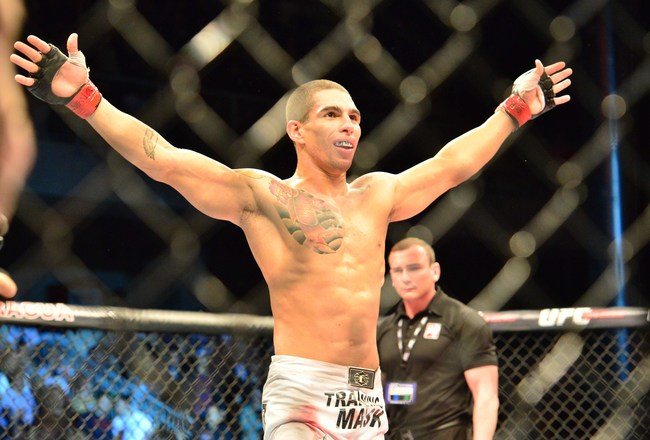 Jason da Silva-USA TODAY Sports
The UFC train keeps on rolling, as the third UFC event in a seven-day period comes to you live from Brazil. Headlined by Glover Teixeira and Ryan Bader, UFC Fight Night 28 promises to be an exciting card filled with top stars and up-and-coming talents.
The undercard has been plagued with crazy amounts of injuries. The most recent one saw a bout between Hugo Viana and Wilson Reis deteriorate and get completely pulled off the card.
With that, let's take a look at the prelims and make some predictions. Most of the fights have late replacements, which should be interesting.
Yuri Villefort vs. Sean Spencer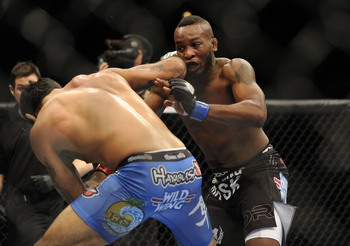 David Banks-USA TODAY Sports
In the only fight on Facebook, welterweight counterparts Sean Spencer and Yuri Villefort will square off with their jobs likely on the line.
Villefort finds himself on a two-fight skid in Strikeforce and the UFC. He dropped decisions to Quinn Mulhern and Nah-Shon Burrell, even though he was competitive in both outings.
Spencer made his UFC debut on short notice in the middleweight division against Rafael Natal, ultimately succumbing to a submission late in the fight. Notably, Black Magic has defeated Bellator veterans Jacob Ortiz, Eric Scallan, Derrick Krantz and Evan Cutts.
Villefort will have the jiu-jitsu edge, but Spencer has good wrestling. If the fight stays on the feet, it will be very competitive. I think in this case, Spencer will grind out a victory in a close fight.
Prediction: Spencer def. Villefort via decision
Keith Wisniewski vs. Ivan Jorge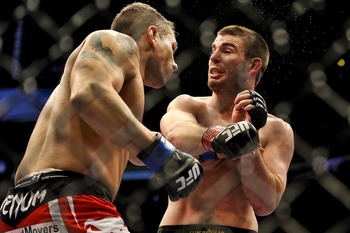 Paul Abell-USA TODAY Sports
Kicking off the preliminary portion of the Fox Sports 1 card are welterweights, as long-time vet Keith Wisniewski takes on late replacement Ivan Jorge. Jorge is one of the several late fill-ins that was a Jungle Fight champion upon arrival—in his case the lightweight champ.
Wisniewski has been a pro since 1998, and this is not his first stint with the UFC. However, in his current run with the company, he is 0-2 with losses to Josh Neer and Chris Clements.
Jorge finally gets a crack at fighting in the UFC, even though it's not in his natural weight class. The Team Tavares member is on a six-fight winning streak, which means momentum is on his side.
Size is going to be key in this fight, since the last time Jorge lost, it was at 170. He is the superior submission grappler, but Wisniewski is the better wrestler. If it comes to striking, it will be competitive.
I will go with size and full training camp.
Prediction: Wisniewski def. Jorge via decision
Lucas Martins vs. Ramiro Hernandez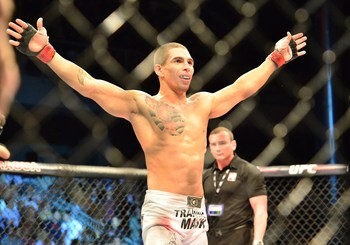 Jason da Silva-USA TODAY Sports
Up next are the bantamweights, as UFC newcomer Ramiro Hernandez takes on former lightweight Lucas Martins.
Martins dropped two weight classes for this fight, as he went 1-1 in his time there. He suffered a devastating knockout loss on short notice to Edson Barboza but struck back with a Fight of the Night knockout of Jeremy Larsen.
Ramirez enters the UFC on a two-fight win streak and has only lost to top talent. A list of the men he has defeated is impressive, as he has notched victories over UFC vets Drew Dober, Eric Wisely (twice) and Chris Tickle.
Ramirez is a grinder and is pretty well rounded. However, Martins has his Octagon jitters out of the way and has lethal striking. Perhaps there is a late stoppage in his future.
Prediction: Martins def. Hernandez via TKO
Joao Zeferino vs. Elias Silverio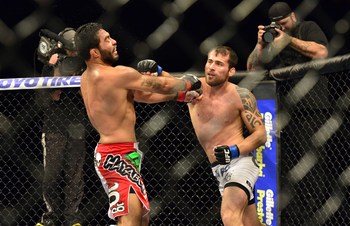 Jason da Silva-USA TODAY Sports
Next up are the welterweights, as Joao Zeferino drops back to his natural weight class against late replacement Elias Silverio. Silverio is also a Jungle Fights champion, owning the 170-pound belt.
Zeferino lost his UFC debut on short notice at middleweight against Rafael Natal. The Brazilian Samurai is a tapout artists who uses a variety of submission techniques to secure wins.
Silverio is a striker that has yet to lose in his professional career. This will definitely be a step up in competition, but if he can keep the fight upright, he will be successful.
I think that will happen, as Silverio is able to tag Zeferino a few times per round to earn the judge's nod.
Prediction: Silverio def. Zeferino via decision
Felipe Arantes vs. Edimilson Souza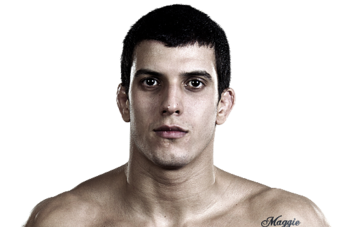 ufc.com
The featured bout on the prelims takes place in the featherweight division, as Felipe Arantes takes on Edimilson "Kevin" Souza from the Jungle Fights featherweight division.
Arantes is a muay thai striker with a solid ground game. His UFC career has seen mixed results, as he has defeated Godofredo Pepey and Antonio Carvalho, lost to Yuri Alcantara and drew with Milton Vieira.
Souza is a knockout artist himself, which could make this a stylistically fun match. Of his 13 wins, 12 have come via knockout and most of them are clean knockouts.
As a striking battle, this has the potential for Fight of the Night. However, all three of Souza's losses have come via submission and Arantes is competent on the ground.
Prediction: Arantes def. Souza via submission
Keep Reading