Biggest 2014 College Football Recruit at Every Position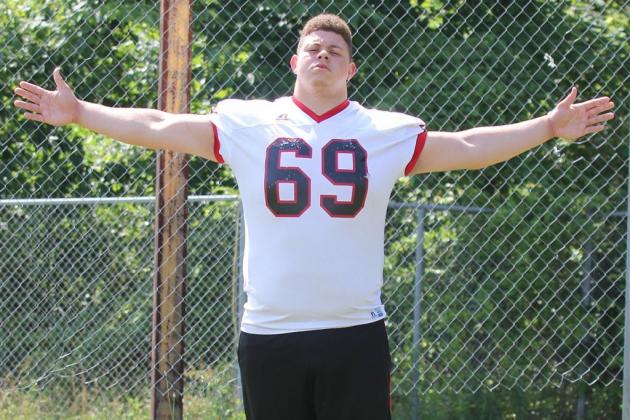 247Sports
Possessing good size is important at every position on the football field. Quarterbacks must be able to see over the rush, linemen must be physically able to hold up in the trenches and cornerbacks must be able to match up with big receivers.
The 2014 recruiting class has prospects who have excellent size at every position. These recruits have the ability to stand out on the hoof, intimidate their opponents and also physically look like they're ready for the college game.
A defensive tackle weighs 350 pounds, while an offensive guard could approach the 400-pound mark soon. A running back prospect could outgrow his position, while a receiver is so big that he'll likely be moved to tight end in college.
Player evaluations are based on review of tape at Scout.com, Rivals, 247Sports and ESPNU.
Begin Slideshow

»
A 5-star prospect, Jabrill Peppers is listed as an athlete on many lists, but he'll get an initial look as a cornerback at Michigan.
At 6'1" and 205 pounds, Peppers is a big cornerback who looks like he's a junior in college. He has a chiseled frame, strong shoulders and long arms.
However, the New Jersey native does not just look the part. He is an excellent athlete who possesses loose hips, quick feet and fantastic instincts. He could arrive in Ann Arbor weighing nearly 220 pounds as a freshman.
When Laurence Jones breaks the huddle, observers watching him for the first time often mistake him for a linebacker. He is 6'2", nearly 215 pounds, has long arms and has a muscular body.
However, Jones is a natural safety who has outstanding movement skills. He displays excellent speed, fantastic range and has the ball skills of a receiver. The 5-star prospect is not out of position in the secondary, so do not look for him to be moved to linebacker in college.
Although they have different skill sets, Jones will look a lot like Seattle Seahawks safety Kam Chancellor in a few years.
Raekwon McMillan looks like a grown man on the football field. He's a 5-star linebacker who is 6'2", 242 pounds and is still growing.
McMillan could sign with a school and weigh more than 250 pounds as a freshman. Reaching the 260-pound mark before he graduates is possible for the Georgia native.
Although his listed size could lead one to conclude McMillan is too heavy, he possesses explosive short-area athleticism, speed and range. The talented 'backer plays strong at the point of attack, has great toughness and hits with force.
Although he likely will be moved to defensive tackle in college, Malik McDowell is listed as defensive end by 247Sports. So, at 6''7" and 290 pounds, he is easily the biggest defensive end in the country.
McDowell has solid athleticism, can be quick off the ball and plays stout at the point of attack. He possesses the skills to be a solid five-technique defensive end in a 3-4 defense, but if he signs with a program that runs a 4-3 scheme, he will be moved inside.
Michigan is the 4-star defensive lineman's leader, per 247Sports.
Imagine being a high school offensive lineman in Kentucky. You hear your quarterback call the play, clap your hands and break your huddle with the mentality of dominating your opponent.
However, when you turnaround to approach the line of scrimmage, a 6'6", 350-pound defensive tackle awaits you. That feeling of shock that you likely just experienced is felt routinely by those who face 4-star defensive lineman Matt Elam.
A mammoth in the trenches who commands multiple blockers every snap, Elam has excellent strength and can be a powerful force inside. He will not obtain many sacks in college, but he can generate a great interior push in the pocket when rushing the passer
Damien Mama is a 5-star offensive guard who has a massive frame at 6'4" and a shocking 370 pounds. He plays tackle now, but he'll be a guard in college.
Mama has good quickness at the snap, but it's his size and strength that help him overwhelm his opponents. He's a monster at the point of attack, as he can powerfully punch a target, use his heavy hands to sustain his block and powerfully steer defensive linemen away from holes.
Mama is so big at 370 pounds that he likely will need to lose some weight before he goes to college.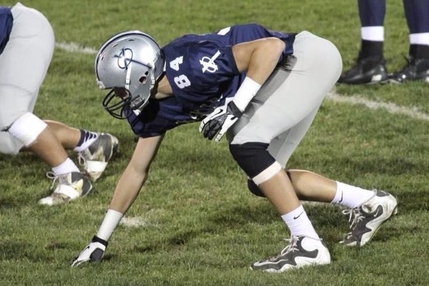 247Sports
At 6'8" and 250 pounds, Matt Nelson is a huge 3-star tight end prospect who is committed to Iowa. His size, long arms and solid agility make him a candidate to be moved to tackle in college.
However, Nelson is a terror in the seams due to his large strike zone and great ball skills. He snatches passes over defenders, shields them away from the ball and can be used on fade routes in the red zone.
Do not be surprised to see Mark Andrews be moved to tight end at Oklahoma, but he is still a receiver for now. Andrews is 6'6", 230 pounds and has excellent ball skills.
He is not the fastest or quickest receiver in the country, but he is always open due to his size and hands. He has put on nearly 15 pounds of bulk since his junior season, and he will continue to get bigger in Norman.
Jalen Hurd is listed as an athlete by many publications, but running back is his natural position. He is 6'3", 220 pounds and could grow into a tight end, H-back or linebacker.
However, Hurd has excellent speed and quickness, which is surprising since he is such a big runner. He displays great ball skills, can motion to the perimeter and has the ability to make big plays.
The 5-star Tennessee commit could weigh more than 240 pounds before he leaves Knoxville.
At 6'5" and 241 pounds, 5-star quarterback David Cornwell is as big as Pittsburgh Steelers quarterback Ben Roethlisberger.
Cornwell, who is committed to Alabama, has fantastic arm strength, accuracy and field vision. He is a deceptive athlete who can stand tall in the pocket and deliver strikes downfield to beat defenses.
He has the size of an NFL quarterback and will likely weigh more than 250 pounds during his days in Tuscaloosa.
Many of the nation's biggest recruits at each position are featured in the 2014 Bleacher Report College Football Recruiting Heat Map! This mobile-ready tool has the best 200 recruits in the country, great information and displays where all of the elite talent in 2014 is located.
Edwin Weathersby is the College Football Recruiting Analyst for Bleacher Report. He has worked in scouting/player personnel departments for three professional football teams, including the New York Giants and Cleveland Browns.