Louisville vs. Ohio: 10 Things We Learned from Cardinals' Win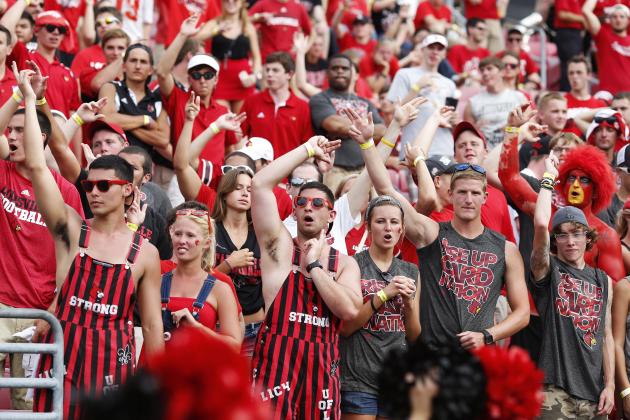 Joe Robbins/Getty Images

Louisville crushed Ohio's soul in the 49-7 rout at Cardinal Stadium Sunday. It was embarrassing to watch if you are an Ohio fan, but Louisville fans should be proud of their team and its potential. Mainly because Louisville is a legitimate National Championship competitor and Sunday just showed that.
That is one of the many things we learned during the Cardinals' slaughter of the Bobcats. Follow along as we go over the 10 biggest things learned from Sunday's demolition.
Begin Slideshow

»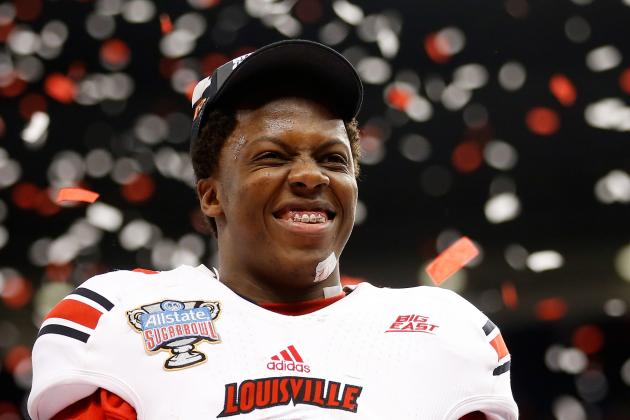 Chris Graythen/Getty Images

Teddy Bridgewater.
You are the best quarterback in college football, a legitimate Heisman candidate and a future top-five pick. Welcome to an elite club that will only include some of the best quarterbacks both currently in the NFL and in the NFL Hall of Fame.
Bridgewater's line of 23-of-28 (82.1 percent), 355 yards, five touchdowns and one interception is great for any quarterback. The fact he did it in just three quarters shows how talented he really is. He was on point with all but three of his passes all day and showed that he is elusive behind the line.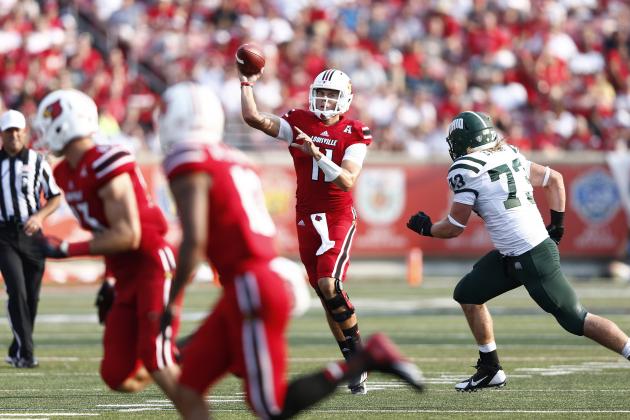 Joe Robbins/Getty Images

Sure, Will Gardner only threw a total of three passes. But what he did in three passes shows that he has excellent control of the offense and the ability to take over for Teddy Bridgewater when he either graduates or leaves for the NFL.
Gardner's three passes were all right to a receiver's hands, and while James Quick dropped his pass, Kai De La Cruz caught both of his for 61 yards and a touchdown in the process.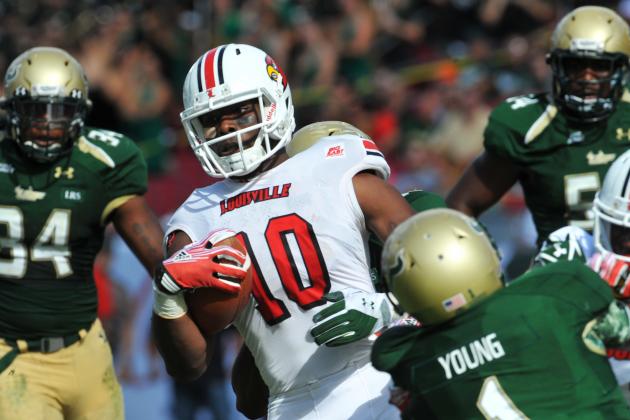 Al Messerschmidt/Getty Images

Senorise Perry is the power. Dominique Brown is the additional power with some wiggle. They combined for 98 yards on 20 carries for a 4.9 yards-per-carry average.
Perry can grind out the tough yards when the Cardinals need him to. His 6'0", 187-pound frame contains both power and quickness to gain the tough yards.
Brown is a 6'2", 216-pound Eric Dickerson-type who does have some power, but his main asset is his quick cuts and ability to burst through the seams in defenses.
Their combination will provide the bulk of the rushing attack for the Cardinals this year and create a balance to Bridgewater's top-tier passing game.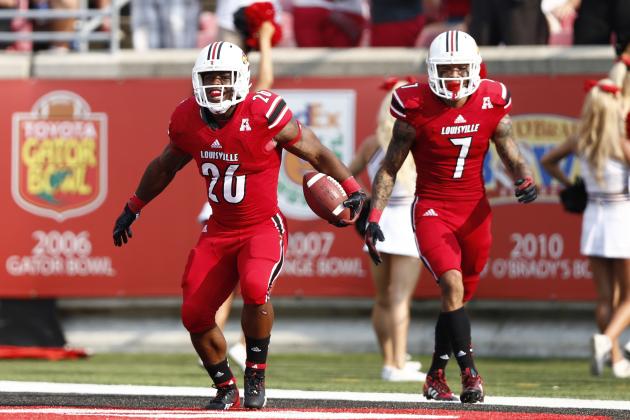 Joe Robbins/Getty Images

Michael Dyer was given just four carries on the day, but on those four touches, he had 48 yards and a touchdown. Unfortunately, those stats are skewed because of a 46-yard run that he broke in the third quarter.
He was very rusty outside of it. He had trouble picking up blitzers in the passing game and was getting caught up behind his linemen on the shorter runs. He's definitely a top-tier back who can provide a home run threat. But he needs to shake the rust off some more.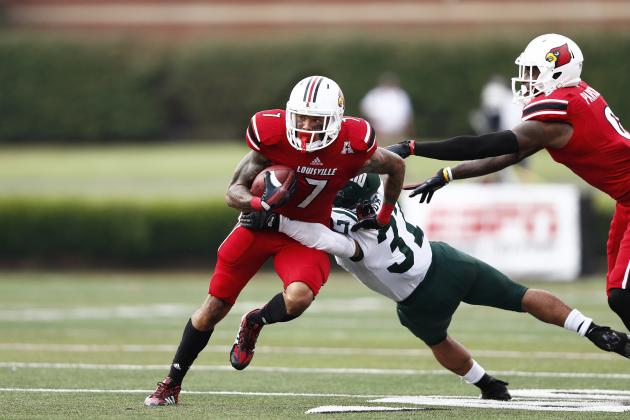 Joe Robbins/Getty Images

Damian Copeland is a ridiculously talented wide receiver. There were multiple passes that he was able to snatch out of the air that were off-target. His chemistry with Bridgewater is better than what almost any other receiver in college football has.
His six catches for 98 yards and two touchdowns don't show just how much he was able to get open. He was getting through double coverages, matchup zones and bracket coverages all day to create separation effectively. His yards-after-catch ability and ability to blow the top off of a defense truly set him apart from the rest of the competition.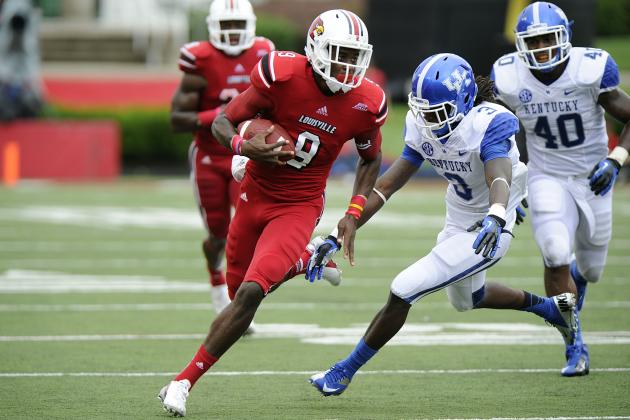 Jamie Rhodes-USA TODAY Sports

We've covered Copeland already. He's good. But DeVante Parker, De La Cruz and Gerald Christian are the same kind of caliber as Tennessee's receivers going into the 2012 season.
Parker is a 6'3", 205-pound receiver who can bust the top off of a defense but has the possession side of the ball down to a science. He's been nicknamed Spiderman by Bridgewater because of his catching radius.
De La Cruz is a speedy 6'0", 186-pound talent who can find the seams out of the slot and take one to the house by burning a defense after the catch.
Christian is a 6'3", 242-pound tight end who was highly recruited coming out of high school and can work the middle of the field with the best of them.
The four receivers combined give Bridgewater one of the best corps in all of college football. Much like the Da'Rick Rogers, Cordarrelle Patterson, Justin Hunter and Mychal Rivera combination was for Tyler Bray last season, they give Bridgewater a plethora of targets.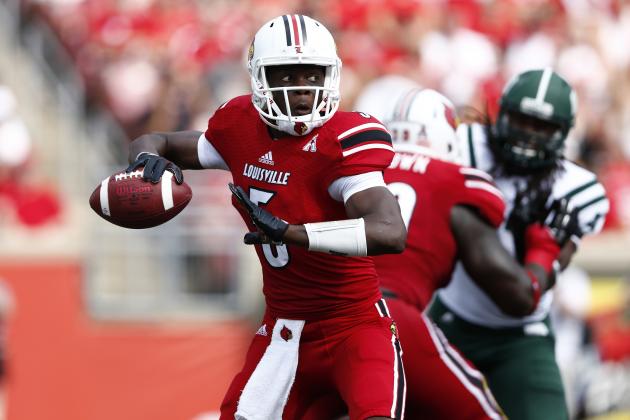 Joe Robbins/Getty Images

Bridgewater was sacked once all day. He was forced to run out of pocket for yardage just once all day as well. The rest of it? He was sitting back in what was a clean pocket unless Ohio decided to blitz.
And even then, it was picked up well.
If they can keep this up all year, then Bridgewater should easily be able to put up the big numbers that everyone will be expecting after the game Sunday.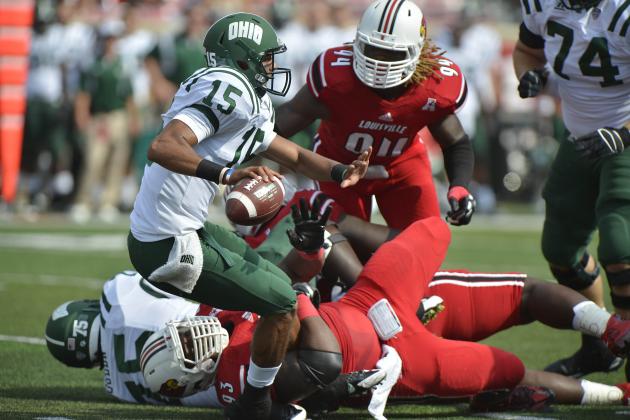 Jamie Rhodes-USA TODAY Sports

While the defensive line only got one sack on the day, they were constantly harassing Tyler Tettleton and Derrius Vick in the backfield, forcing bad throws.
This led to the pair of quarterbacks combining for a stat line of 15-of-31 (48.4 percent) for 192 yards, no touchdowns and an interception. And outside of the three big passes over 30 yards that combined for a total of 120 yards, the Bobcats had a total of 2.57 yards per passing attempt on the day.
The pass rush was a huge reason why they were able to hold the Bobcats to a total of seven points.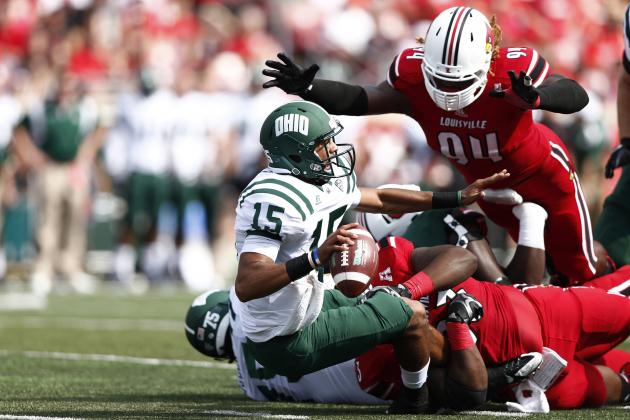 Joe Robbins/Getty Images

There are defenses that line up and go through the motions. Then there are defenses that fly around the ball, play disciplined and attack every single play. The Louisville defense is the latter. And that's no shock considering Charlie Strong's background is as a defensive coordinator.
Strong has his boys running the best kind of defense. And because of it, they will have one of the toughest units to score on in all of college football.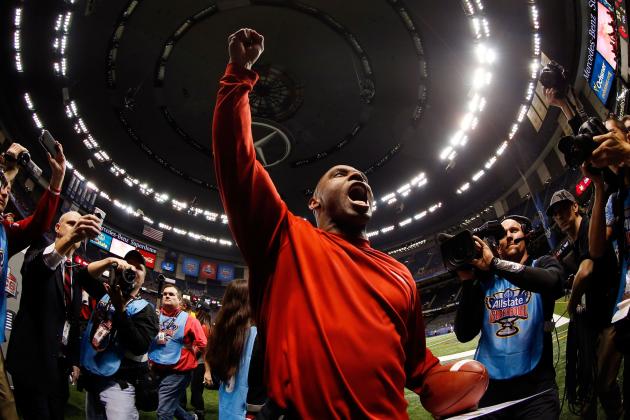 Chris Graythen/Getty Images

When starting a list of coaches who I would want to hire if I was to be installed as the general manager of an NFL franchise, I look at Charlie Strong first.
The biggest reason is because he took a horrible Louisville team with a bit of pro prospects on it and turned it into a legitimate national title contender.
Oh, and he brought in his own legitimate pro prospects, including the nation's best quarterback. Strong has also made Louisville such a good program that it has won multiple Big East titles and is now going to move to the ACC after this season.
When a coach can bring the entire image of a school up, that's huge. But that's what Strong has been able to do.
All stats used are either from Pro Football Focus's Premium Stats, ESPN, CFBStats or the NFL. All contract information is courtesy Spotrac and Rotoworld. All recruiting rankings come from 247Sports.com.
Scott Carasik is a Featured Columnist for Bleacher Report. He covers the Atlanta Falcons, NFL and NFL Draft. He also runs DraftFalcons.com.