Texas A&M Football: Grading Every New Starter's Week 1 Performance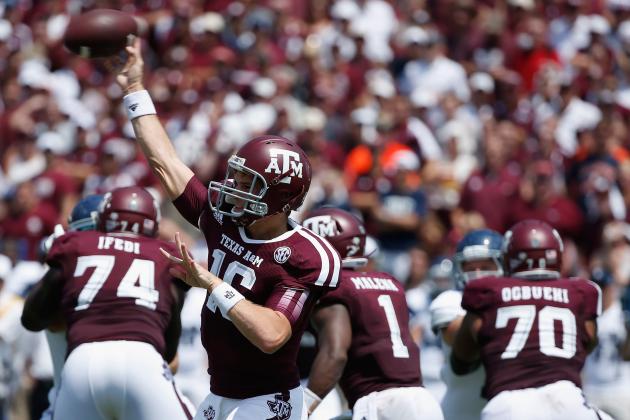 Scott Halleran/Getty Images

The Texas A&M football team defeated the Rice Owls 52-31 on Saturday in their home opener of the 2013 college football season. The Aggies had multiple players make their first career start due to suspensions on both sides of the ball.
Players come and go as part of the college football cycle. Seniors graduate and freshmen come in to try to make their own mark on the program every year. The 2013 season opener was different for the Aggies because they had their quarterback suspended for a half, and multiple defensive players were suspended for either half of or the entire first game.
With the typical attrition due to graduation and the suspensions, the Aggies' starting lineup had 12 first-time starters in it. That is a lot of turnover for a college football team.
The Rice Owls featured a veteran lineup with 19 returning starters. The Aggies were able to weather a quick start by the Owls and eventually pulled away in the second half.
This is a look at how all of those first-time starters performed against Rice.
Begin Slideshow

»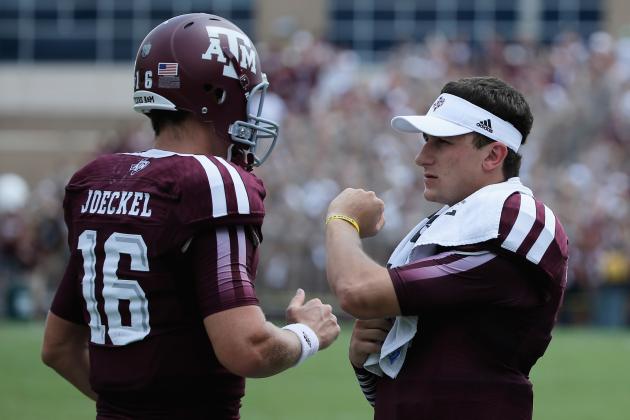 Scott Halleran/Getty Images

Grade: A+
Redshirt junior Matt Joeckel was tremendous in his first career start. Joeckel completed 14 of 19 passes for 190 yards with a touchdown. He only threw one bad pass during the first half.
Joeckel led the Aggies offense on four touchdown drives in the first half. He made the proper reads and showed good poise in the pocket.
The Aggies coaches have to feel very comfortable with the depth at their quarterback position right now. Joeckel proved that he can be counted on to effectively run the offense.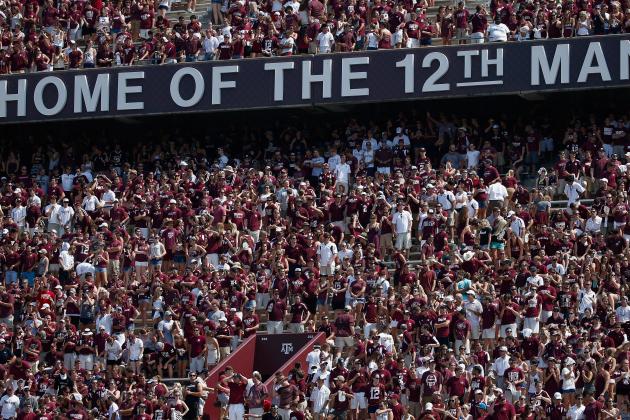 Scott Halleran/Getty Images

Grade: B+
Sophomore center Mike Matthews earned his first career start after serving as the backup behind Patrick Lewis in 2012. Matthews was solid throughout the afternoon.
He did miss a block on a linebacker which led to a tackle for loss, but for the most part, he did an excellent job of getting to the next level. Matthews had at least one pancake block which was noticeable during the game.
The offensive line was definitely a bright spot in the Aggies' debut. Matthews is part of one of the most elite units in the nation. He did a good job of carrying out his assignments against Rice.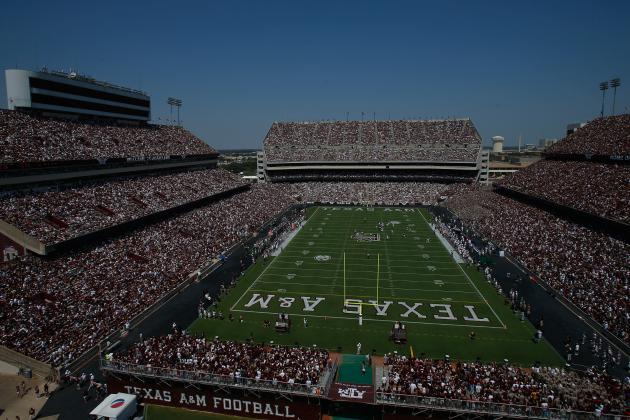 Scott Halleran/Getty Images

Grade: A
Redshirt freshman Germain Ifedi started at right guard against the Rice Owls. He was very solid in his debut. The Aggies offensive line returned three starters from the 2012 unit.
Only Jarvis Harrison would play the same position he played in 2012, with Jake Matthews moving to left tackle and Cedric Ogbuehi moving to right tackle. Ifedi took Ogbuehi's old spot at right guard.
The entire unit played well against Rice, and Ifedi was a big part of that. As he and Matthews gain more experience, the Aggies offensive line will evolve into one of the best in the country.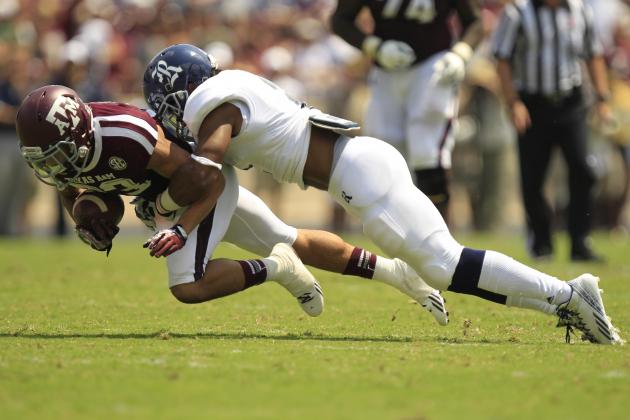 Thomas Campbell-USA TODAY Sports

Grade: B+
Sabian Holmes is a sophomore wide receiver who got the start at one of the slot positions. Holmes displayed good hands with two receptions for 21 yards.
All Homes needs to be an impact player is to catch the ball consistently. He was targeted two times against Rice, and he caught the ball both times.
Holmes has the speed, strength and elusiveness to be a very good receiver in the SEC. His start to the season is an encouraging sign for Aggies fans.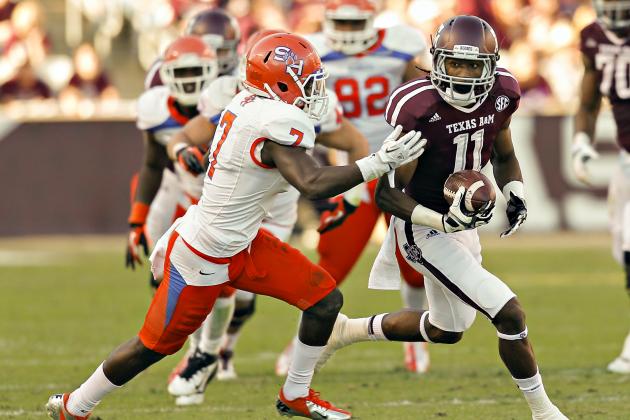 Bob Levey/Getty Images

Grade: B
Derel Walker did not have that much of an impact in the passing game for the Aggies. He finished the game with only one reception for six yards.
Walker deserves a good grade for his performance because he was excellent in blocking defensive backs down the field. He is going to struggle to hold onto his starting position at outside receiver with freshmen like Ricky Seals-Jones making big plays for the offense.
One of the ways that Walker will stand out to coaches on film is with his blocking. Walker is going to have to catch more passes if he wants to hold onto his starting spot, but his first collegiate start should be considered a successful one because of his blocking.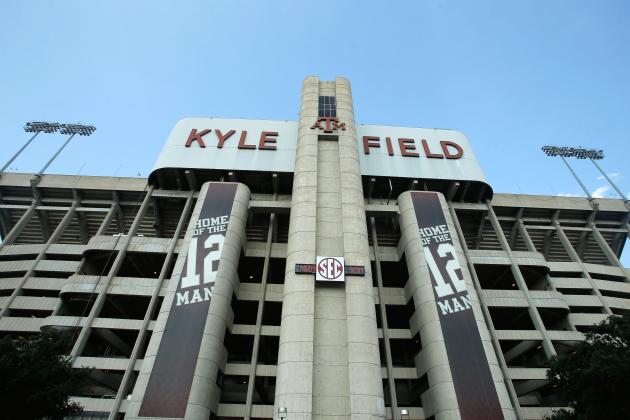 Scott Halleran/Getty Images

Grade: D
True freshman Hardreck Walker got the start at nose guard. He played in place of suspended nose guard Kirby Ennis.
Walker struggled mightily against the Owls offensive line. He was pushed around and did not get much penetration. The Aggies defensive line needs to be strong at the point of attack, and Walker failed in this area.
Rice was able to find success running up the middle all game long. Walker basically got a crash course in what college football is like.
He finished the game with one tackle. Walker needs to play with better technique and be stronger at the point of attack than he was in his first game. There will be growing pains with such a young team on defense, and the Aggies fans and Walker experienced some of those pains against Rice.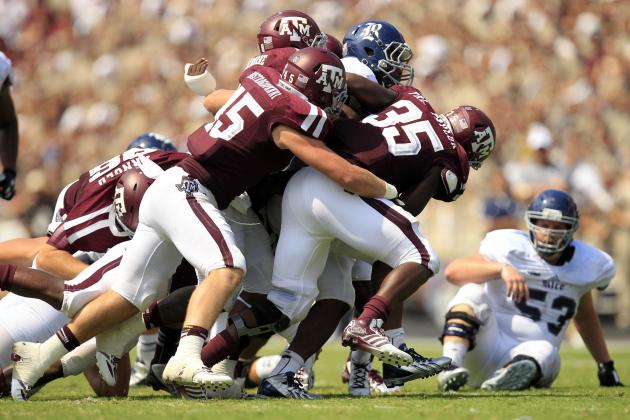 Thomas Campbell-USA TODAY Sports

Grade: C-
The Aggies started two weak-side or "rush" defensive ends against Rice. Tyrell Taylor started opposite from Julien Obioha.
Taylor is a 6'4", 230-pound defensive end who is a pass-rushing specialist. He struggled to hold up at the point of attack against Rice and was pancaked on at least one occasion.
Taylor was thrust into the starting lineup because of the suspension of Gavin Stansbury. He should be used on obvious passing downs for most of the season.
Taylor ended up registering three tackles with half a tackle for loss. He did a decent job for someone who was asked to play out of position.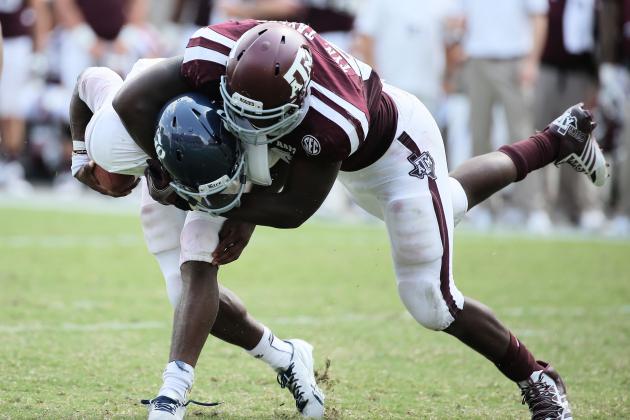 Scott Halleran/Getty Images

Grade: D-
Tommy Sanders is a junior college transfer who started his first game for A&M at strong-side linebacker. Sanders has exceptional speed and displayed that on a play in the first quarter.
Sanders read the option wrong, ran right past the Rice quarterback and allowed him to run for 58 yards down the field. Much to Sanders' credit, he did no give up on the play and ran down Taylor McHargue from behind.
Sanders finished the game with three total tackles. He obviously needs to improve on reading the option, and in wrapping up and bringing ball-carriers down to the ground.
The Aggies linebackers had a very poor game against Rice, and Sanders was a big part of that.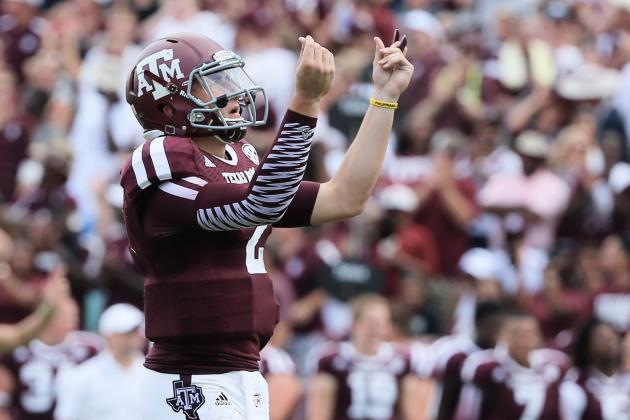 Scott Halleran/Getty Images

Grade: C+
With Deshazor Everett sitting out the first half, and De'Vante Harris suspended for the first two games, Alex Sezer got the start at cornerback. He was decent in the first action of his career.
Sezer had three tackles and a pass broken up against Rice. He struggled to get off of blocks and was often ineffective when trying to come up and play the run.
All of the cornerbacks besides Everett need to work on being more physical against the run. Sezer is definitely one of them.
He needs to get better at the fundamentals like form tackling and shedding blocks.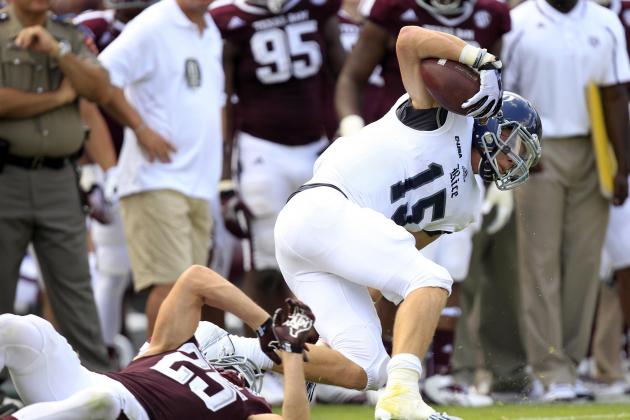 Thomas Campbell-USA TODAY Sports

Grade: C+
The Aggies opened up the game in the 4-2-5 defensive with Clay Honeycutt playing free safety. He put up decent numbers but did not have a great game.
Honeycutt finished the game with seven tackles and an interception. He did make some touchdown-saving tackles, but he needs to work on being stronger against the run.
Honeycutt was in the right place at the right time on the interception. The ball was thrown right at him, and to his credit, the former quarterback recruit caught the ball and returned it 18 yards.
Turnovers are one of the biggest factors to winning a football game, and Honeycutt did his part and created one.