Benson Henderson Next Fight: Who Should the Former Champ Face Next?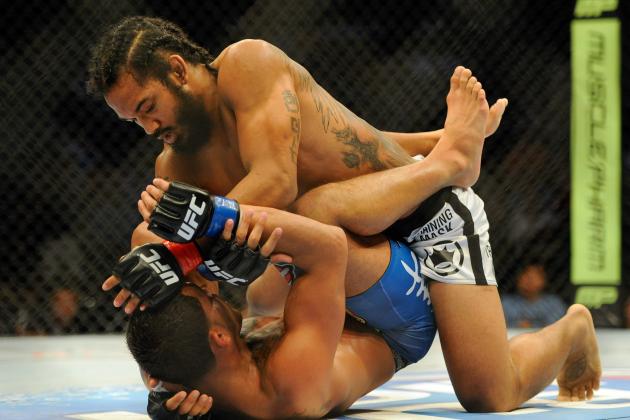 Benny Sieu-USA TODAY Sports

Benson Henderson is one of the most well-rounded fighters in MMA today, but every fighter has a weakness and, for Henderson, it appears that weakness is Anthony Pettis.
The former UFC lightweight champion hasn't been able to overcome the obstacle presented by Pettis, and after losing to Pettis at UFC 164, it's pretty clear that Henderson will have to do a lot to get another title shot.
Still, all is not lost for the former champion. There are plenty of fights available for Henderson at lightweight to where he can still be in high profile fights and possibly work his way back to a future title shot.
Begin Slideshow

»
Kyle Terada-USA TODAY Sports

Josh Thomson has been thrust into the top of the lightweight rankings after his impressive KO of Nate Diaz. But let's not forget his career had been uninspiring after losses to Gilbert Melendez, and a pedestrian finish to his Strikeforce career.
Thomson was looking to get a fight against top opponent like TJ Grant earlier this year, but Grant is likely to get the first crack at Anthony Pettis' lightweight title when he returns from the knee injury.
If Thomson still wants another high profile fight, he should face Benson Henderson. It goes against the usual method of matchmaking used by Joe Silva but outside of Grant, Henderson is the biggest name available for Thomson to fight.
Gary A. Vasquez-USA TODAY Sports

Gray Maynard is coming off a loss to the man who will likely get the next title shot at 155 pounds. Given that Bensons Henderson just lost the title, I believe it makes a lot of sense to match these guys up.
Maynard has been one of the lightweight division's most consistent performers over the past few years. However, like Henderson, Maynard ran into his own form of kryptonite in former UFC champion Frankie Edgar.
Aside from both men being highly ranked in the division and coming off losses, their styles could produce an interesting fight. Maynard is a powerful lightweight with some of the best wrestling in the division. He also has knockout power in his hands.
Henderson is a talented grappler in his own right, and has shown to be a dynamic fighter in the past.
Pat Lovell-USA TODAY Sports

Rafael dos Anjos has been surging up the lightweight rankings and should warrant at top five opponent for his next contest. Unfortunately for him, most of them are either already booked or coming off a loss.
However, one man who could face RDA despite coming off a loss is Benson Henderson.
Henderson needs another top-level opponent to stay in the mix should something happen to Anthony Pettis. Facing a surging lightweight like dos Anjos gives Henderson the high profile fight he wants without having to engage in a rematch.
For dos Anjos, it provides him a proper test to see if he truly belongs in the upper echelon of the lightweight division. Yes, he's won five straight bouts, but only one of those wins was over a guy in the top 10, and his win over Evan Dunham was mired in controversy.