Fantasy Football Sleepers 2013: Overlooked Youngsters Worth Gambling on Late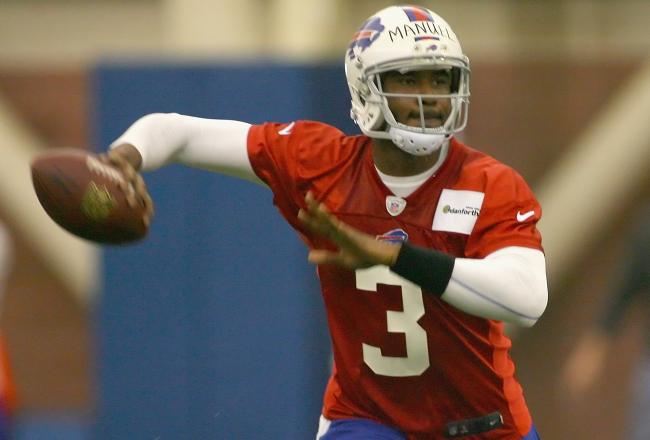 Rick Stewart/Getty Images
The final rounds of fantasy football drafts, especially in deep leagues, often feel like a pointless exercise in futility. Essentially all of the immediate contributors are off the board, so teams are left to sift through defenses, kickers and fourth-string running backs. Finding a useful player in the 15th round could mean the difference between winning and losing this season, however.
With that in mind, it's important for owners to avoid complacency in the closing rounds. Even though it's difficult to identify them now, there are going to be some players who are taken late or aren't taken at all but manage to put up starter-worthy numbers over the course of the season.
Here are three talented, young players who haven't received much fantasy hype heading into the regular season but will pay big dividends if you're bale to nab them in the latter stages.
As the top quarterback selected in April's draft, there has been plenty of talk surrounding E.J. Manuel's NFL prospects. The Buffalo Bills are hopeful that Manuel can lead them to the playoffs for the first time this century, but fantasy owners seem bearish when it comes to his fantasy prospects this season.
That is understandable since rookie signal-callers have historically been awful with the exception of the past two seasons, but Manuel has the skill set necessary to be a valuable player.
The main concern regarding Manuel, aside from the fact that he's a rookie, is the knee injury he is currently dealing with. Manuel's status for Week 1 against the New England Patriots is in question, but he threw prior to the Bills' preseason game against the Detroit Lions, and it's possible that he could be ready, according to Marc Sessler of NFL.com.
Even if he isn't, Manuel is certainly in line to be the starter for the remainder of the season. ESPN fantasy expert Matthew Berry is especially intrigued by Manuel's upside, as he believes that he could be a top-15 quarterback by season's end.
Kenbrell Thompkins over Dobson for Pats WR you want after Amendola. EJ Manuel will be Bills QB & offers too 15 upside due to rushing.

— Matthew Berry (@MatthewBerryTMR) August 17, 2013
Manuel showed flashes of brilliance in the two preseason games he appeared in as he threw for a total of 199 yards and two touchdowns. Manuel has a long way to go before he reaches his level, but his skill set is reminiscent of Carolina Panthers quarterback Cam Newton. Rather than taking a low-ceiling backup quarterback like Alex Smith or Philip Rivers late in your draft, gamble on Manuel's potential as it could pay off in a big way.
Bilal Powell
Generally speaking, it's never advisable to take a New York Jet, but all bets are off near the end of the draft. The 16th round is no time to get picky, but it is the time to take a chance on Jets running back Bilal Powell.
As bad as the Jets' offense looks right now, somebody has to put up decent numbers. It's unlikely that it will be quarterbacks Geno Smith or Mark Sanchez, but look for the Jets to lean on their running game. Chris Ivory appears to be the likely starter as of right now.
However, it wouldn't be surprising to see Powell usurp him at some point.
Powell was given some opportunities to produce last season as he rushed for 437 yards and four touchdowns. He wasn't particularly explosive, but he averaged a respectable four yards per carry. Powell was inconsistent during the preseason, but he did rush for 68 yards on just seven carries against the Jacksonville Jaguars, so he definitely has some ability. Yahoo! fantasy expert Scott Pianowski has made it a point to target Powell late in his drafts as well.
The Jets are a dumpster fire on offense, but I'd like to get Bilal Powell cheap everywhere I can. #FantasyFootballChat

— scott pianowski (@scott_pianowski) August 26, 2013
Ivory is the main roadblock standing between Powell and fantasy relevancy, but Ivory averaged just two yards per carry during the preseason. He also has a long history of injuries, so it remains to be seen how long he can stay in the lineup.
In addition to that, Powell already figures to get some third-down time since he is somewhat competent in the passing game. There won't be many potential starters available at the end of your draft, so Powell is definitely worth a flier.
Julius Thomas
Which deep sleeper will have the best fantasy season in 2013?
It's hard to remember a fantasy football position being as big of a crapshoot as tight end is this year. Aside from Jimmy Graham, Rob Gronkowski (when healthy), Jason Witten, Tony Gonzalez and Vernon Davis, there is a great deal of uncertainty.
Essentially anyone could potentially step up and become a top-10 option at the position, so it's advisable to wait on taking a tight end if you don't get one of the top five. Denver Broncos tight end Julius Thomas hasn't been mentioned much as a possible breakout candidate, but he's certainly worth monitoring.
The Broncos' offense could potentially be one of the most prolific in NFL history this season. With Peyton Manning throwing to Demaryius Thomas, Eric Decker and Wes Welker, opposing defenses will have to pick their poison.
It can be argued that having so many good receivers will adversely affect Thomas' targets, but on the other side of the coin, he'll always be open. Manning has done some special things with tight ends over the years as Dallas Clark can attest to, so Thomas shouldn't be written off. That is especially true now that he has been named the starter, according to Gregg Rosenthal of NFL.com.
Lost in shuffle: Julius Thomas named Broncos starting TE. Hillman starting RB.

— gregg rosenthal (@greggrosenthal) August 31, 2013
The 6'5", 250-pound athletic freak has just one regular-season catch over the course of his two-year career, but he recorded three straight four-catch games during the preseason, so he is clearly going to play a role in the offense. When Graham broke out with the New Orleans Saints a few years ago he was little more than an athlete, and he had plenty of competition for targets. Thomas may not reach that level right away, but he's a better option as a late-round tight end pick than guys who have been mediocre fantasy players in the past.
Follow @MikeChiari on Twitter
This article is
What is the duplicate article?
Why is this article offensive?
Where is this article plagiarized from?
Why is this article poorly edited?