AP College Football Rankings 2013: 5 Teams Sure to Rise in Top 25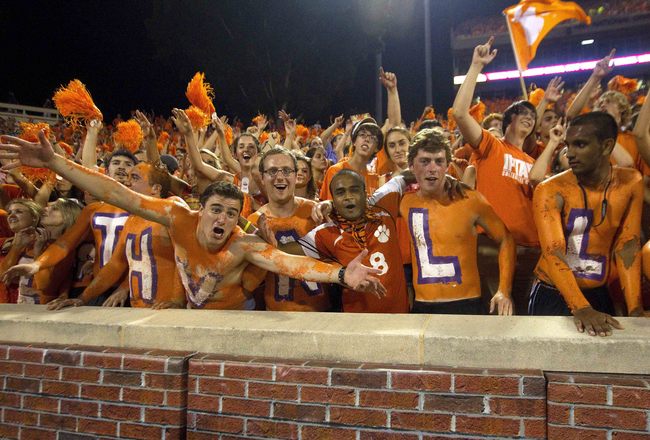 Joshua S. Kelly-USA TODAY Sports
Week 1 of this college football season is almost in the books and a few ranked teams made a statement in the season opener. However, most teams didn't do much for their poll value, as they opened the season up against a cupcake opponent and are guaranteed to not receive any love from pollsters.
But there were a couple of marquee matchups where the winner should skyrocket north in the latest AP Poll. There were also a few underrated teams that came away with a decent victory and should move up a couple of spots.
For example, an ACC contender could move into the Top Five and an SEC power should rise within the Top 10.
No. 23 Wisconsin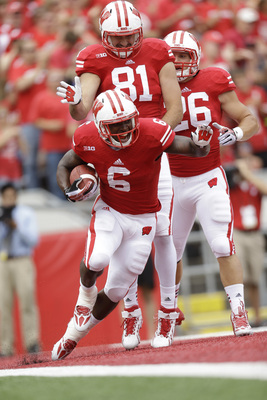 Mike McGinnis/Getty Images
No, a 45-0 win over Massachusetts isn't going to turn many heads. However, when you consider how well the team looked and the circumstances, the Badgers deserve a little credit.
Wisconsin had three running backs who topped 100 rushing yards. The offense averaged close to nine yards per carry, 598 total yards and converted eight of 11 third down attempts. The defense forced two turnovers and held the Minutemen to 100 rushing yards.
The Badgers made a head coach change and entered the season as a question mark. Some weren't sure how the team would respond without Bret Bielema on the sidelines.
Small victory or not, Wisconsin played well enough to believe it will be just fine.
No. 22 Northwestern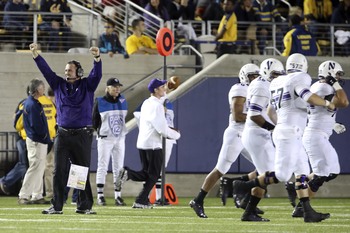 Kelley L Cox-USA TODAY Sports
Northwestern was one of the few ranked teams that went on the road to handle its business. The Wildcats traveled to California and knocked off the Golden Bears 44-30 in a thrilling game that went back and forth.
The defense forced three turnovers and held the running game to only 93 rushing yards. The offense also produced, as quarterback Trevor Siemian threw for 276 yards and running back Treyvon Green rushed for 129 yards and two touchdowns.
Sure, Cal entered the season with many concerns and a new coaching staff, but starting the season on the road is never easy. This was a tricky game that could have gone either way, but Northwestern found a way to prevail. Moving up a couple spots in the polls is expected.
No. 14 Notre Dame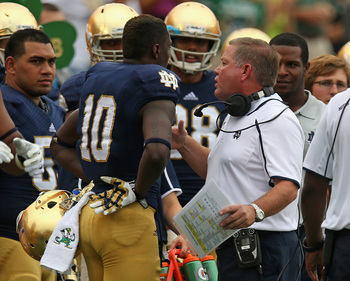 Jonathan Daniel/Getty Images
Notre Dame finally did it!
Although it was only a 28-6 win over Temple, the Irish actually played a consistent 60 minutes of football and didn't have the game come down to the wire. The offense surprisingly racked up 543 yards, and quarterback Tommy Rees threw three touchdowns and zero interceptions.
The defense played a bend-but-don't-break style, allowing 362 yards but only one touchdown to the Owls.
Notre Dame was shaky last season, as games constantly came down to the final possession. So, it was nice to see the Irish put away an inferior opponent early and not look back. They should be rewarded in the polls.
No. 12 LSU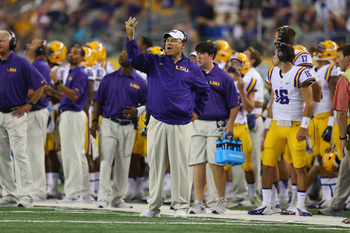 Ronald Martinez/Getty Images
So much for taking a step back, huh?
LSU managed to score 37 points against a respectable TCU defense. The offense dropped 448 yards and quarterback Zach Mettenberger looked completely different than a year ago. He appeared a lot more confident and threw for 251 yards and a touchdown.
Most importantly, the LSU defense held the Horned Frogs to 259 yards and forced two turnovers. The Tigers defense was expected to struggle early with a lot of new starters, but the secondary was polished and the defensive line continued to get consistent pressure.
LSU should no longer be underrated in the polls.
No. 8 Clemson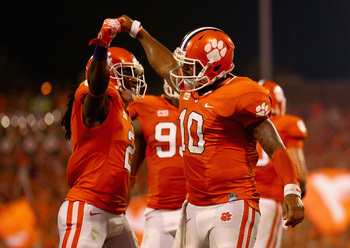 Streeter Lecka/Getty Images
Clemson easily had the most impressive victory of Week 1 with a 38-35 win over Georgia.
One of the favorites to win the SEC, the Bulldogs converted only four of 14 third down attempts and turned the ball over twice. The Tigers produced 467 yards and quarterback Tajh Boyd threw for three touchdowns. The Clemson defense must continue to make strides, but this win was a clear message that the ACC has a legit national championship contender.
Clemson has now beaten two straight SEC powerhouses dating back to last year's 25-24 Chick-fil-A Bowl victory over LSU.
The team began the season ranked eighth and made an honest case to climb into the Top Five.
Keep Reading