College Football Rankings 2013: Teams Guaranteed to Drop in Top 25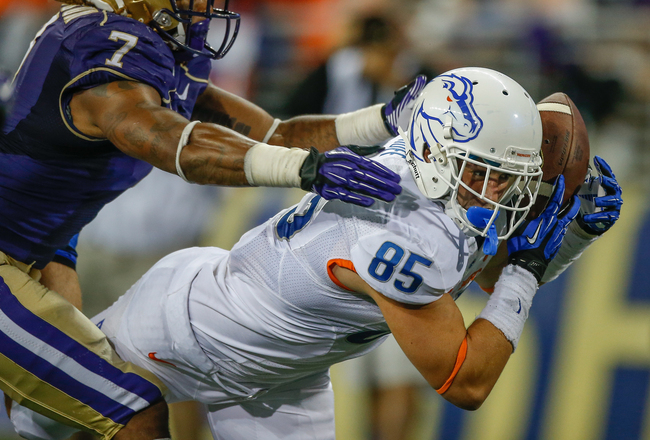 Otto Greule Jr/Getty Images
The preseason polls are as good as they can possibly be. Despite having an impossible job, they're a reasonable assessment of which teams should, based on talent, stay competitive.
But once the games are played, the polls will always, inevitably, prove incorrect and end up covered in red ink. And this year, despite just two Top 25 teams losing to unranked foes, was more of the same.
Other ranked teams lost to fellow ranked squads, which—fair or not—will consign them to a dip in (or completely out of) the rankings. And others, even in victory, looked bad enough to warrant the same fate.
All we know before the season is that we know nothing about the season. These teams are living proof.
No. 19 Boise State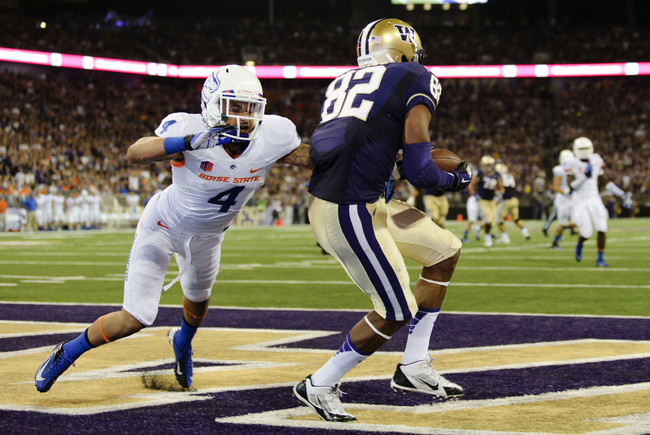 Steven Bisig-USA TODAY Sports
For the first time since...ever, Chris Petersen's team looked like an actual mid-major.
They stormed the gates of Seattle ready for a repeat of last year's Maaco Bowl, which Boise State won 28-26. But Washington instead dominated from start to finish, opening its new stadium with a 38-6 dismantling of the proud program from Idaho.
Voters put their faith in Petersen, despite massive personnel losses, to always field a blue-chip team in Boise. But those 12 departed starters proved too much to overcome, and Week 1 should be the first and only time BSU is ranked this season.
No. 5 Georgia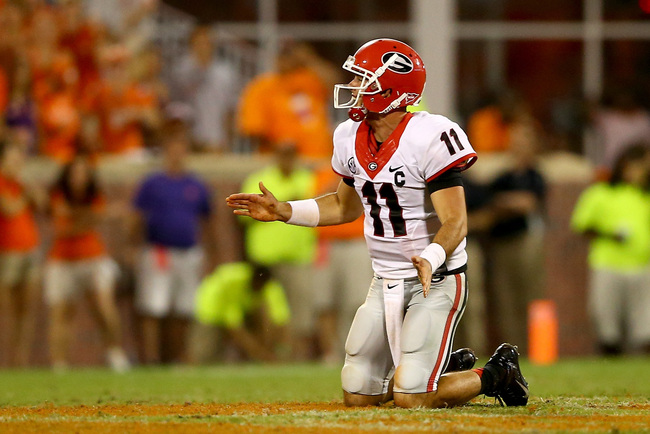 Streeter Lecka/Getty Images
There's no shame in losing to Clemson in Death Valley, especially by the tight score of 38-35. Georgia's offense looked good in an impossible environment (despite losing its best receiver in the first quarter) and should look just as good all season.
But this is the nature of college football. When a ranked team starts the year with a loss, no matter who it's against, that team is all but assured to drop. That holds doubly true for teams ranked in the Top Five.
Clemson will obviously pass the Bulldogs, as will South Carolina (who Georgia plays next week) and Cowboy Classic victor LSU. And that's at an absolute minimum.
There's no telling how far they'll fall beyond that.
No. 18 Nebraska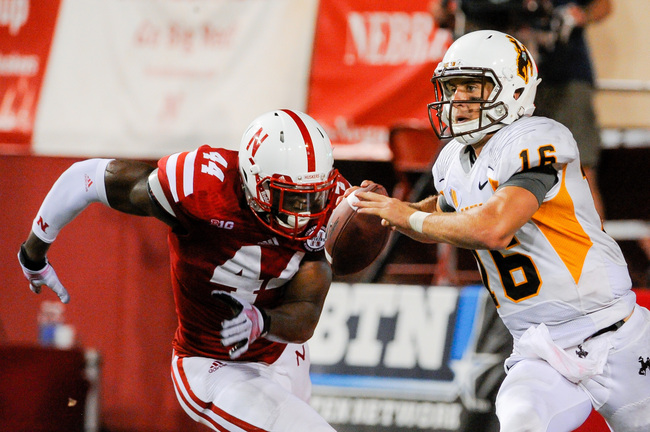 Eric Francis/Getty Images
The Huskers are who we thought they were—just to a dangerous extent.
Nebraska's defense, fresh off allowing 104 points in its final two games of 2012, picked up right where it left off against Wyoming. The Cowboys racked up 602 yards of total offense in Lincoln, scoring 34 points and having a real chance of winning up until the end.
A win is a win for T-Magic and the Huskers, but not all wins are created equal. If voters are feeling frisky, there's a chance they drop out of the Top 25 altogether.
If not, they'll at least fall a few spots into the 20s.
No. 25 Oregon State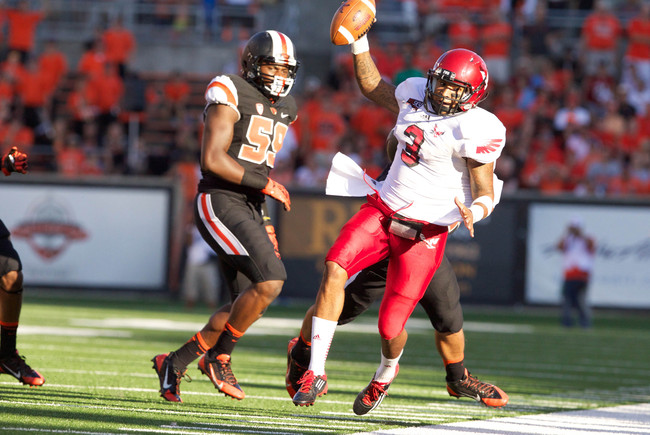 Jaime Valdez-USA TODAY Sports
Starting the season at No. 25 is a good thing, but it could go either way.
Last year, Louisville was 25th in the AP poll and went on to beat Florida in the Sugar Bowl. But that same season, in the coaches poll, Auburn started No. 25 and sputtered to its worst season since 1952.
Based on first impression, Oregon State resembles the latter. It allowed 49 points to FCS Eastern Washington—on its home turf—allowing sophomore QB Vernon Adams to run and pass for 500 total yards and six touchdowns.
The Beavers committed the cardinal sin of being ranked and losing not just to an unranked foe at home, but to one who's not even in their division. They should receive no votes in the next poll.
No. 20 TCU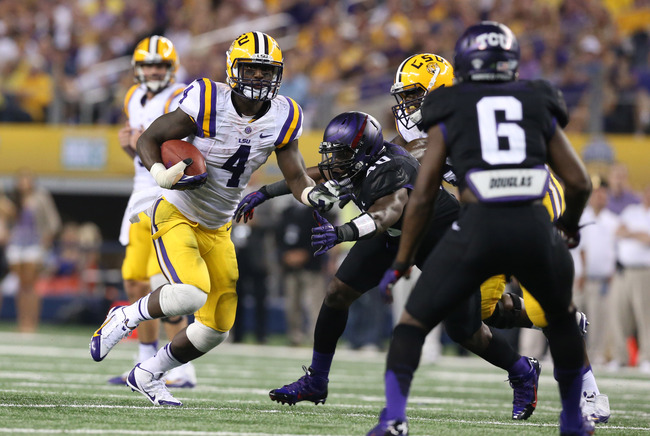 Matthew Emmons-USA TODAY Sports
Much like Georgia with Clemson, there is no shame in losing to LSU on a neutral field. And the fact that TCU kept it close for four quarters is something to be proud of.
But watching the game, it never felt quite as close as the score indicated. TCU had the benefit of a kick-return touchdown and a saw a litany of LSU near-misses.
It felt like the Tigers might blow things open at any minute, and to the Frogs' credit, they never did. But with so many impressive teams behind it and only a five-spot buffer, it's likely TCU goes unranked in Week 2.
No. 24 USC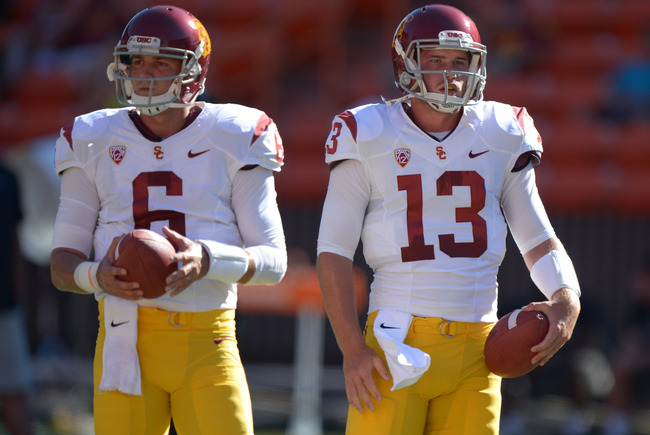 Kirby Lee-USA TODAY Sports
USC got the job done—technically—in Honolulu, beating Hawaii by 17 points and getting a much-needed victory. The Trojans had lost three straight games, and five of their last six, entering the season.
But getting that win was ugly.
USC thought it had the good kind of QB controversy, one in which they have two capable players fighting for one starting spot. Instead, as it turns out, they have the bad kind, in which neither QB has separated himself because both look so bad.
Clancy Pendergast's defense was awesome, which is big news and should bode well going forward. But this is a quarterback-driven sport, and until USC can prove it has one, voters will probably strip away its ranking.
Keep Reading