US Open Tennis 2013 Scores: Shocking Results That Have Changed Event's Outlook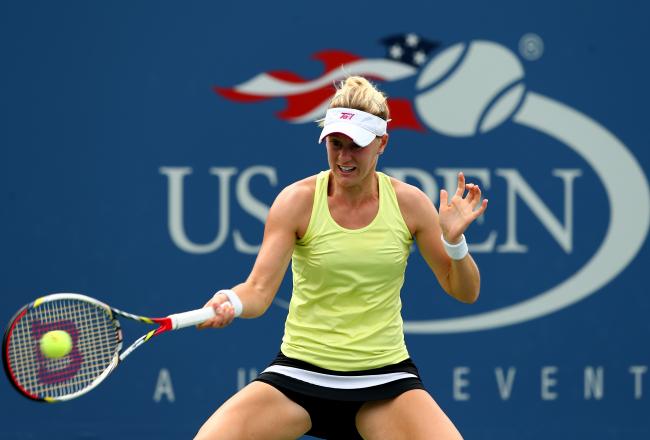 Alex Trautwig/Getty Images
While things have largely gone as expected in the men's draw at the 2013 U.S. Open with a couple of exceptions, the women's side has been incredibly unpredictable. Top seeds Serena Williams, Victoria Azarenka and Agnieszka Radwanska are all still alive, but the remainder of the draw is wide open, so essentially anything can happen.
Day 6 in Flushing Meadows, Queens, NY, certainly threw things for a loop as a number of seeded players and former Grand Slam winners were ousted on the women's side.
The expectation remains that Williams, Azarenka and Radwanska will reach the semifinals, but there is still another spot open, and it obviously isn't inconceivable that one of the top players will be upset based on the way this tourney has gone thus far.
Here are the three most shocking results from Saturday's play that will have a major impact on the women's tournament moving forward.
Alison Riske Defeats Petra Kvitova (6-3, 6-0)
The biggest story of Day 6 at the U.S. Open was clearly American wild card Alison Riske's shocking victory over former Wimbledon champion Petra Kvitova.
All signs pointed toward an epic clash between Kvitova and Azarenka in the quarterfinals, but Riske had other plans. Simply beating Kvitova was huge for Riske, but the manner in which she did it was even bigger. Ben Rothenberg of The New York Times doesn't believe that Kvitova played her best tennis, but beating a highly-seeded player to reach the Round of 16 is a major accomplishment nonetheless:
Alison Riske def No7 Petra Kvitova 6-3, 6-0. Kvitova nowhere near at her best, obviously, but an impressive first Slam R16 for Ali. #usopen

— Ben Rothenberg (@BenRothenberg) August 31, 2013
Kvitova was seeded No. 7 at the U.S. Open, and it seems as though her game is tailor-made for hard courts. The talented Czech is extremely tall and powerful, and hard courts exacerbate the effects of her monstrous serve even more.
That simply didn't faze Riske, though, as she went about her business in a very workmanlike performance. After shocking Kvitova in the first set, Riske had all the confidence in the world, and it showed as she held Kvitova to a goose egg in the second.
Reaching the quarterfinals may have seemed like an impossible proposition for Riske heading into the tournament, but that is no longer the case as she will face another unseeded player in the form of Daniela Hantuchova to get there.
Hantuchova is an extremely experienced player who was once considered to be a future star, but there isn't much of an intimidation factor. If Riske can get past her, then the biggest match of her young career will be next provided Azarenka is able to advance as well.
There is no doubt that the American crowd will be firmly behind Riske if that match comes to fruition.
Camila Giorgi Defeats Caroline Wozniacki (4-6, 6-4, 6-3)
Expectations are always high for Caroline Wozniacki, the former No. 1 player in the world. That is especially true at the U.S. Open as she reached the final in 2009.
Wozniacki has had mixed success since then, and she has yet to win a Grand Slam title. The draw was wide open for her to make some noise this year, but the Danish star let her opportunity fall by the wayside. Had Wozniacki defeated Italian qualifier Camila Giorgi to reach the Round of 16, she would have been heavily favored to reach the semis. However, Wozniacki ultimately faltered.
Wozniacki won the first set and seemed to be in control, but doubt started to creep in during the second set. Wozniacki is normally fine when playing with the lead, but once things get a bit dicey, she often wilts. That was the case on Saturday as the less-experienced and less-heralded Giorgi stormed back to steal the victory.
Wozniacki is often blamed by golf fans for the struggles of her golfer boyfriend Rory McIlroy, so Jason Sobel of GolfChannel.com wondered aloud whether McIlroy would receive similar treatment following Wozniacki's loss:
When Caroline Wozniacki loses a match, does the tennis media blame Rory McIlroy as much as the golf media blames her when he loses an event?

— Jason Sobel (@JasonSobelGC) September 1, 2013
Wozniacki obviously has nobody to blame but herself, though, as all the stars were aligned for a trip to the semifinals. Suddenly it is anyone's ball game in that quarter as Giorgi will face fellow Italian Roberta Vinci, while Flavia Pennetta will take on Simona Halep.
Knowing that she is more talented than all four of those players, Wozniacki is going to be kicking herself for quite some time after blowing such a glorious opportunity.
Flavia Pennetta Defeats Svetlana Kuznetsova (7-5, 6-1)
Which surprise winner will make the biggest impact at the 2013 U.S. Open moving forward?
Flavia Pennetta was once the No. 10 ranked player in the world, but injuries have plagued the 31-year-old Italian in recent years. Her talent is still present, though, and it has been on display throughout this tournament.
After ousting No. 4 Sara Errani one round earlier, Pennetta came up against yet another seeded opponent in the third round. No. 27 Svetlana Kuznetsova was heavily favored as she was viewed as a dark-horse candidate to win this tournament, but Pennetta battled and ultimately outclassed the Russian star.
Kuznetsova is a two-time Grand Slam champion, including the 2004 U.S. Open, so history was certainly on her side. After dropping the first set in difficult fashion, though, the wind seemed to come out of her sails. Kuznetsova has always been a resilient player, but she had absolutely nothing left in the second set.
Pennetta's dominance was made even more surprising by the fact that she has historically struggled against Kuznetsova, according to Erik Gudris of USA Today:
After six tries, Flavia Pennetta finally defeats Svetlana Kuznetsova 75 61. Veteran Italian back into fourth round of major again this yr.

— Erik Gudris (@ATNtennis) August 31, 2013
With a match against Simona Halep to reach the quarterfinals, Pennetta has put herself in an advantageous position. Eliminating two seeded players has really opened up her quarter, so a surprising semifinal appearance isn't out of reach.
As great as that is for Pennetta, it's even more disappointing for Kuznetsova. She would have had to beat Serena Williams to reach the final in all likelihood, but Kuznetsova did take a set from her at the French Open, so it wouldn't have been impossible. Now the story in that side of the draw is whether or not Pennetta can keep her dream run going.
Follow @MikeChiari on Twitter
This article is
What is the duplicate article?
Why is this article offensive?
Where is this article plagiarized from?
Why is this article poorly edited?