CLEMSON, S.C.—1981 was a special year in these parts.
That fall, an unheralded young coach named Danny Ford took an off-the-radar team that began the season outside of the top 25 to the Orange Bowl and a most unlikely national championship.
It marked the beginning of the best decade in Clemson football history, with five ACC titles.
However, the Tigers never won another national championship to pair with the crystal football that Ford's group won, which now sits in the atrium of Memorial Stadium's sparkling new WestZone addition.
He resigned under pressure in January 1990 following a pair of NCAA investigations regarding recruiting violations.
Thirty-two years later, another University of Alabama alum and Yellowhammer State native, Dabo Swinney, leads the Tigers in what they believe is a realistic pursuit of a BCS national title.
Saturday night, past and present came together.
Before No. 8 Clemson took on No. 5 Georgia, the program embraced Ford by placing him in Memorial Stadium's Ring of Honor, the highest honor a Clemson athlete, administrator or coach can receive.
The current crop of Tigers followed by showing they must be taken seriously in 2013's national title chase with a rousing 38-35 win over the rival Bulldogs, their first win over Georgia since 1990.
Coupled with last December's 25-24 Chick-fil-A Bowl win over No. 9 LSU, it marks back-to-back wins over top-10 SEC foes.
How many non-SEC teams have accomplished that feat? One: 2012-13 Clemson.
"It's real big. We'll probably be ranked top-five after tomorrow," said junior defensive end Corey Crawford. "This is something for us to grow on, for the world to see Clemson's coming, for real."
Senior quarterback Tajh Boyd, the ACC's reigning player of the year and a Heisman Trophy candidate, agreed.
"I think it was a good win," he said. "Nothing that we didn't expect in the program, but I think it turned a lot of heads in college football. It was a very monumental win for this university, for this program, for the (ACC) in general."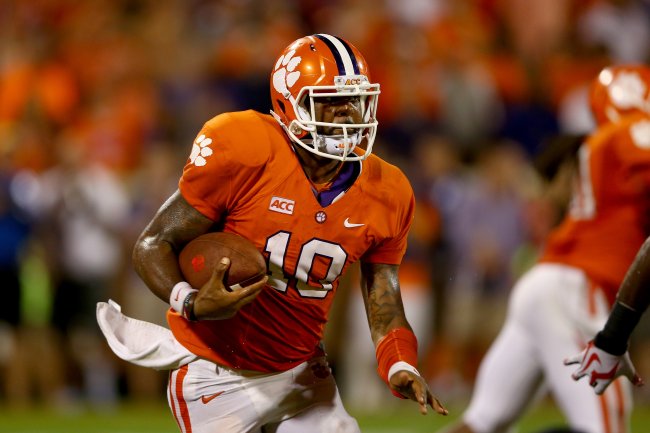 Streeter Lecka/Getty Images
These Tigers took their lumps, but they always hit back. When Georgia sophomore tailback Todd Gurley broke a 75-yard touchdown run, Clemson responded on the very next offensive play with a Tajh Boyd-to-Sammy Watkins 77-yard scoring connection.
They created Georgia mistakes. Midway through the second quarter, linebacker Stephone Anthony strip-sacked preseason All-SEC quarterback Aaron Murray, with fellow 'backer Spencer Shuey recovering.
Five plays later, Clemson had a momentum-shifting touchdown.
Four minutes later, Watkins fumbled a punt to the Bulldogs at his own 30. No matter. Crawford dropped into coverage and stepped in front of a Murray pass, ending the threat before it began.
Clemson sacked Murray four times, and while he threw for 323 yards, he had no touchdowns and the Crawford interception.
"I think the pressure coach (Brent) Venables was calling was causing us to get to Murray and I think we got him rattled a little bit," Crawford said. "We kept coming at them and coming at them."
With an ABC national TV audience watching and numerous national college football writers in attendance, it was Clemson's chance to make an impression, and it did just that.
The Tigers sealed the game with physical play on both lines and a balanced offense (270 yards passing, 197 rushing). Senior tailback Rod McDowell had a career-high 132 yards on 22 carries, and Boyd had 312 yards of total offense and accounted for five touchdowns (three rushing, two passing).
The win appeared to be cathartic for Swinney, who has tired of the ACC vs. SEC narrative fueled by the SEC's seven consecutive BCS national titles and the ACC's lack of success on a national stage (the league is 3-13 in BCS games, including Clemson's embarrassing 70-33 2012 Orange Bowl loss to West Virginia).
Swinney pointed out that six teams—Alabama, Clemson, LSU, Oregon, Stanford and South Carolina—have been ranked in the top 25 in each of the last 30 weeks, saying he loves being in the ACC and that his program "doesn't take a backseat to anyone."
"Clemson has been as consistent as anyone in the country. Other teams haven't won it all either. You're bringing up something that happened five years ago," he said. "Move on. Write a different storyline."
With only two likely top-25 opponents remaining in Florida State (which visits Oct. 19) and South Carolina (whom Clemson must visit Nov. 30), a run at an unbeaten season and BCS title game bid is a legitimate storyline in its own right.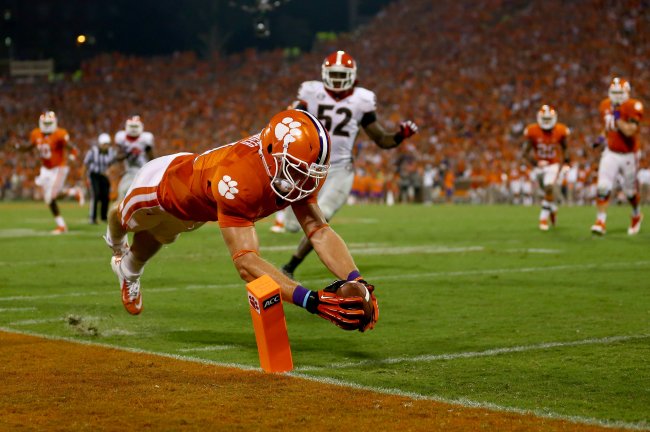 Streeter Lecka/Getty Images
The final scoring drive epitomized the night: 12 plays, 87 yards, eight rushing plays and four passing.
It ended with a nine-yard touchdown pass to sophomore tight end Stanton Seckinger, who was originally called out at the 2-yard line before the call was reversed after replay showed he had nicked the goal-line pylon with the ball.
Corey Crawford: ""This is something for us to grow on, for the world to see Clemson's coming, for real."

— Greg Wallace (@gc_wallace) September 1, 2013
Seckinger's number? 81.
Only fitting on a back-to-the-future night in Clemson.
"We retired Danny Ford (with) '81," Swinney said. "And Stanton Seckinger caught that last touchdown pass—and he's No. 81. It was a magical night in the Valley."
*Unless noted, all quotes were gathered first-hand by the author.