Six matches away from the beginning of the World Twenty20 in Bangladesh next March, England's plans are beginning to come together.
Top Order
Reluctant to embrace the widely accepted method of attacking in the early overs of ODI cricket, such restraint is impossible to brandish in the shortest format of the game. And in Alex Hales, Michael Lumb and Luke Wright, England have formed a preciously powerful and consistent trio at the top of the order.
A trio, it's worth noting, that have all played in franchise T20 leagues around the world.
Their aggression will be invaluable in Bangladesh where spin in the middle overs places even more importance on the early phase of the innings when the ball remains hard and the field restrictions in place.
England must eventually face the healthy dilemma of having to choose which one of their top-order triumvirate will make way for the return to the side of Kevin Pietersen, who will only strengthen the gains made in recent times.
The casualty will most probably be Lumb who has not performed as well as Hales and doesn't offer the bowling of Wright. He'll be unfortunate to miss out, if indeed he does, and England will be reluctant to break up his successful partnership with Hales but England's strength in depth make his retention difficult to engineer.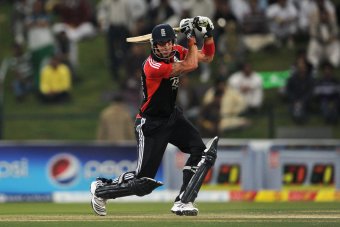 Gareth Copley/Getty Images
Middle-Order
Eoin Morgan, Joe Root, Jos Buttler and Ravi Bopara, in a flexible order, seem set to fill numbers 4-7 next March.
Root's 90 not out in the first T20 at the Ageas Bowl was an important innings for him, one that reaffirmed his attacking instincts after a summer of tentatively opening the batting in Test cricket. His success against India's spinners last winter bode well for him dealing with similar challenges in the World T20.
Injuries have disrupted Morgan's season and he's only played three T20 matches for England in 2013. However his selection for the tournament next year is almost guaranteed. He remains one of England's most powerful and innovative batsmen, has invaluable T20 experience and is a superb finisher.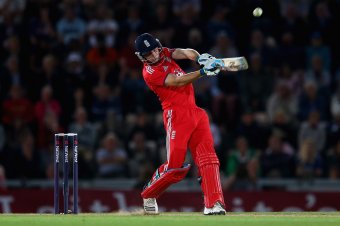 Julian Finney/Getty Images
Buttler has not missed a single T20 for England since his debut in August 2011 and will almost certainly take the gloves next March. His batting prowess, although sporadic, is undoubted and like Morgan he's proven himself to be an adept finisher. His glove work remains a work in progress and keeping on Asian wickets won't be easy.
Bopara's 2013 form has been somewhat of a revelation. His explosive batting, canny bowling and experience in Bangladesh T20—he's played a season for the Chittagong Kings—again make him certain for selection.
However, although England's top seven seems impressively stable it remains to be seen how well they can adapt to Asian pitches. That indeed will be England's greatest problem having struggled in Sri Lanka last October, albeit with rather different personnel.
Bowling
England's bowling is healthy. The spin of pairing of Graeme Swann and Danny Briggs could play together come March; and on Bangladeshi pitches they will hold England's key.
If England do opt to play two front-line spinners Steven Finn will probably be forced out of the team. His height, pace and bounce, although effective, will be less potent on drier Asian pitches. If however, England opt against doing so, Swann will simply return at the expense of Briggs.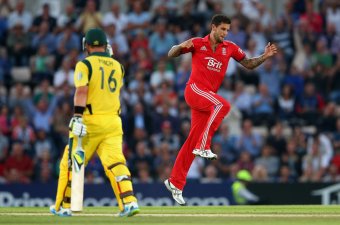 Julian Finney/Getty Images
Jade Dernbach continues to impress in the shortest format where his form remains strangely distanced from his more sporadic returns in 50-over and first-class cricket. He was England's bowler of the series against Australia by some distance and his variations will be invaluable in Bangladesh where he's in line to partner captain Stuart Broad.
Root and Bopara and to a lesser extent Wright and Pietersen will bowl the overs of the fifth bowler. Such reliance on part-time bowling has been singled out as a concern by some, and Root's sole over being clattered for 27 by Aaron Finch at the Ageas Bowl gave strength to that theory.
England will be reluctant to alter the balance of the side however and its highly unlikely a bowling all rounder will sneak into the side.
Squad members
Lumb and either Finn or Briggs, depending on who doesn't play, will be two certainties in the squad; as will James Tredwell. Michael Carberry's selection for the Australia series was strange in retrospect considering they didn't pick him, and with the return of Pietersen it's difficult to see him finding a place in the 15-man squad.
Samit Patel may well be someone worth considering. He hasn't played a T20 all summer but his spin could be useful and he had success with the bat at the last World T20. The reserve fast bowler could be any of a number of players, and although uncapped Boyd Rankin is the man currently in possession, that could well change by March next year.
What's to come?
Three T20s in Australia and three in the West Indies afford England plenty of time to prepare. Their team does appear relatively settled but easing Pietersen and Swann back in will be important. Thereafter, it becomes a matter of honing their strategy.
Success in T20 cricket is all about having a regular and reliable method in which all of the players are confident. Consistency of selection is a good start to building one and England should be commended for picking the squad they did for the series with Australia, rather than pandering to flavour-of-the-month picks and disrupting the side.
Tournament pressure is something that is difficult to recreate, but the series against Australia and the West Indies being three matches long allows the chance England to build up some winning momentum in a series that must produce a winner.
Why cricket administrators continue to schedule T20 series of only two matches is bizarre. The format deserves better than a schedule which so regularly produces uncompleted narratives and does nothing to satisfy teams or fans.