Houston Texans 2013 Team Roster: Report Card Grades for Every Position
Scott Halleran/Getty Images
The Houston Texans have one of the most talented and deep rosters in the NFL. On paper—which doesn't count for anything—the Texans are clearly one of the best teams in the entire league. In fact, they have a Pro Bowler at every single positional unit.
Of course, as all teams do, the Texans have their issues. Several positional units feature questionable depth and shaky starters. But, overall, they definitely have the roster to carry them to the Super Bowl.
Which positional units on the Texans are the best? Which will cause concerns for the team? Those questions are answered in the rest of the slideshow.
Quarterbacks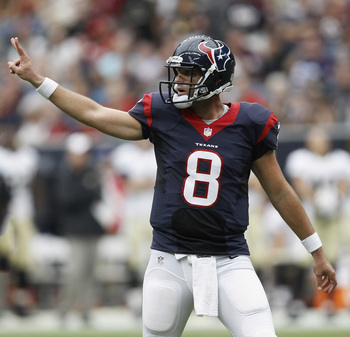 Bob Levey/Getty Images
Matt Schaub
T.J. Yates
Case Keenum
Never before in the history of the Texans franchise has the quarterback position been at the level it's at right now.
Say what you want about Matt Schaub, but he is a solid starting quarterback who certainly has the talent to lead the Texans to glory. His skill set perfectly fits the Texans' offensive scheme, and when the running game is clicking, he is deadly with the play-action.
T.J. Yates—if he is the backup quarterback—has a ton of experience in real game action and could certainly step in and play well if anything were to happen to Schaub.
And Case Keenum is a bona fide young upstart who has already won over the hearts of Houston's fans. Keenum still needs to fine-tune many aspects of his game, but his potential is sky high.
Overall, very solid depth at the quarterback position.
GRADE: (A-)
Running Backs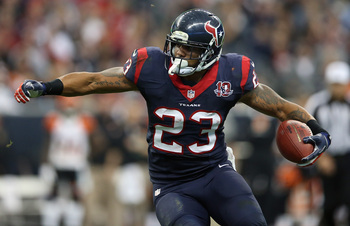 Ronald Martinez/Getty Images
Ben Tate
Cierre Wood
Greg Jones
As with the quarterback position, the Texans are absolutely loaded at running back.
Arian Foster, as everyone knows, is one of the best running backs in the NFL. His great vision and awesome one-cut ability are an unbelievable fit with the Texans' zone-blocking scheme.
Foster can churn out yardage relentlessly, beating down defenders until they are consumed with exhaustion.
Ben Tate struggled with injuries and consistency last season, but in 2011, he was one of the best backup running backs in the league. In fact, many teams would have loved for him to be their starter. If Tate can return to his 2011 form this season, the Texans' running game will feature an incredible one-two punch.
Cierre Wood—an undrafted back out of Notre Dame—is an unproven commodity, but he has plenty to offer. His skill set aligns very well with the Texans' running scheme, and he is a dangerous pass-catcher coming out of the backfield.
Greg Jones, signed out of Jacksonville to become the Texans' starting fullback—is a physical bruiser who strikes fear into the hearts of defensive linemen and linebackers. Foster, for the first time in a long time, will have a dominant lead blocker paving the way for him.
The running back position, when healthy, is by far one of the best on the Texans roster.
GRADE: (A)
Wide Receivers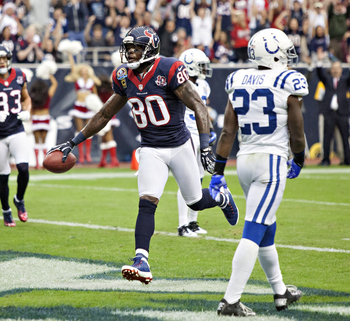 Bob Levey/Getty Images
DeAndre Hopkins
Keshawn Martin
DeVier Posey
Lestar Jean
Historically, the Texans have never had much talent behind Andre Johnson. And while not having a ton of super talented receivers sounds like a major issue in today's NFL, Johnson was so good that he carried the load all on his own.
Alas, though, he is aging. Although he did put up career numbers last season, there is no denying the fact that Johnson's days of absolutely dominating are coming to an end.
And the Texans realized that. In this year's NFL draft, they snagged DeAndre Hopkins in the first round. Hopkins—who is a great route-runner and possesses an uncanny ability to catch anything thrown remotely near him—is NFL ready and is the future of the Texans at the wide receiver position.
Rookie receivers often struggle in their first few years in the league, no matter where they're drafted. Hopkins certainly could play inconsistently throughout the season, but with Johnson operating on the opposite side of him, he will not often be faced with insurmountable coverage.
Behind the two starters, the Texans have several young and inexperienced receivers who offer a ton of potential in their own right. As they mature, Keshawn Martin, DeVier Posey and Lestar Jean all will have the opportunity to become viable threats in the Texans offense.
GRADE: (A-)

Tight Ends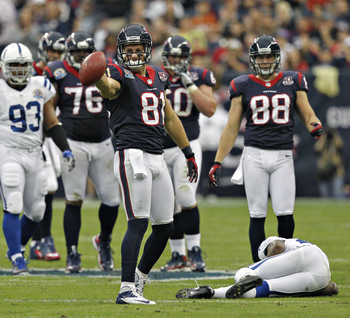 Bob Levey/Getty Images
Owen Daniels
Garrett Graham
Ryan Griffin
Owen Daniels, a Pro Bowler, is one of Matt Schaub's most reliable targets. In the Texans' offensive scheme, the tight end is often the second read for the quarterback.
Fortunately for the Texans, Daniels is well deserving of the extra looks. He is a very good route-runner and possesses a pair of exceptional hands. Whenever the Texans are in need of a first down, Daniels can always be depended upon to come through.
Garret Graham, a longtime backup who often never got see the playing field on offense, finally got his opportunity last season when Joel Dreessen left for the Denver Broncos.
He did not disappoint. He proved to be a reliable pass-catcher, especially in the red zone. With a year of experience under his belt, he should be even better. But temper your expectations for Graham, as he isn't much of a playmaker. He'll do is job and he'll do it well, but he won't make any spectacular plays.
Ryan Griffin, the Texans' sixth-round draft pick, is very similar to Graham. He's solid in short-yardage situations, but he won't make anyone's jaw drop.
GRADE: (B+)
Offensive Line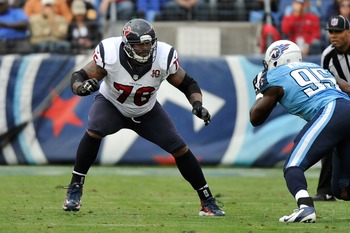 Frederick Breedon/Getty Images
Duane Brown
Wade Smith
Chris Myers
Brandon Brooks
Derek Newton
Ben Jones
David Quessenberry
Cody White

Andrew Gardner
The Texans' offensive line is the first position on this list that should actually concern fans. Sure, Duane Brown, Wade Smith and Chris Myers are all great, but the right side is filled with doubts and uncertainties.
Brandon Brooks, who will be replacing Ben Jones as the starting right guard, has a ton of potential. He's very big, but he moves like a man half his size. Brooks has the rare combination of size and strength that could one day make him a dominant offensive lineman.
He has very little starting experience currently, though, and there is no telling how well he will perform in his first season as a full-time starter.
Compared to Derek Newton, however, Brooks should present very little worries. Newton struggled heavily last season, in both the running game and pass protection. He made the right side of the line a black hole for Arian Foster, and he allowed pass-rushers to tee off on Matt Schaub.
If Newton did not improve significantly in the offseason—which he should have—then the Texans will continue to have a major problem on the right side.
Ben Jones, David Quessenberry, Cody White all present solid depth for the Texans, but they all are still inexperienced—with the exception of Jones—when it comes to real game action.
GRADE: (B)
Defensive Line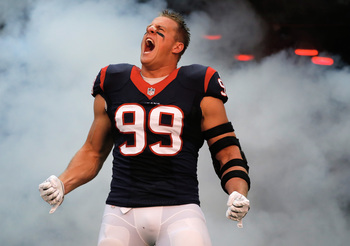 Scott Halleran/Getty Images
J.J. Watt
Antonio Smith
Earl Mitchell
Terrell McClain
Jared Crick
Tim Jamison
The Texans' defensive line presents the perfect mix of superstars, explosive pass-rushers and unlimited potential.
J.J. Watt, of course, is the star of the unit. The reigning Defensive Player of the Year has virtually no weaknesses; he is an exceptional pass-rusher and is absolutely dominant against the run. He's almost un-blockable.
Antonio Smith is a great Robin to Watt's Batman. Smith can get after quarterbacks consistently; he is definitely the second-best pass-rusher on the Texans' roster. Plus, his ninja sack celebration is truly an awesome sight to see.
Earl Mitchell, the former backup to Shaun Cody, has impressed throughout the preseason. His quick footwork and ability to penetrate the offensive backfield has been incredible, and if he can continue that play into the regular season, it will be nearly impossible to stop the Texans' pass rush.
Tim Jamison is a dependable backup who can play well whenever he is called upon to fill in for either Smith or Watt.
Jared Crick, the team's fourth-round pick from a year ago, has a ton of talent. He would have been at least a second-round pick if not for his serious injury issues, but now that he is fully healthy, he will finally be able to display his true abilities to the world.
GRADE: (A)
Linebackers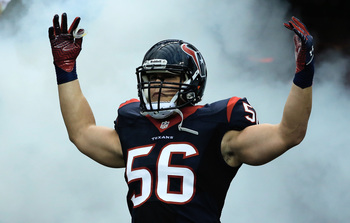 Scott Halleran/Getty Images
Whitney Mercilus
Brian Cushing
Joe Mays
Brooks Reed
Darryl Sharpton
Sam Montgomery
Tim Dobbins
Willie Jefferson
Justin Tuggle
Between Brian Cushing, Brooks Reed and Whitney Mercilus, the Texans would appear to have a very solid linebacker core. But while those three will certainly contribute greatly to the defense, there are still many issues with the Texans' linebacking core, most notably on the inside.
Behind Cushing, the team's inside linebackers consist of Joe Mays, Darryl Sharpton and Tim Dobbins. That should be enough to scare any Texans fan to death.
Mays, Sharpton and Dobbins are all effective downhill tacklers who are serviceable against the run. The problem exists with their coverage abilities. All three are prone to giving up big plays to tight ends and running backs.
This is why the Texans will revert to defensive sub packages often this season and bring an extra secondary player onto the field. It is simply too dangerous to leave an inside linebacker not named Cushing on the field in passing situations.
The outside linebacker depth is also a concern. Sam Montgomery, the Texans' third-round draft pick, did not impress during the offseason.
Willie Jefferson and Justin Tuggle, the remaining outside linebackers on the roster, both flashed during the preseason, but they are still very inexperienced and should not be expected to contribute much.
GRADE: (B-)
Cornerbacks
Bob Levey/Getty Images
Johnathan Joseph
Kareem Jackson
Brice McCain
Brandon Harris
A.J. Bouye
For the first time in years, the Texans will have a legit cornerback unit. Johnathan Joseph and Kareem Jackson are both very talented, and they will make life rough for opposing receivers.
And although Brice McCain played erratically last season and was ultimately placed on the IR, he still is very talented. When he is at his top form, he is one of the premier slot cornerbacks in the NFL.
Brandon Harris was thrown into the fire last season after McCain's season ended, and he certainly struggled at first. As Harris gained more experience, however, he gradually began to play better and better. He can be depended upon whenever he is on the field.
A.J. Bouye, an undrafted free agent, was terrific during training camp and preseason. The Texans coaching staff love his game, and they definitely think he can be a contributor somewhere down the line.
GRADE: (A-)
Safeties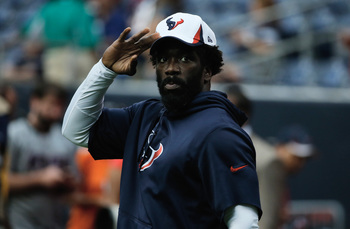 Scott Halleran/Getty Images
Ed Reed
Danieal Manning
D.J. Swearinger
Shiloh Keo
Eddie Pleasant
The success of the Texans' safety unit will come down to the health and play of Ed Reed. A former superstar, Reed is hurt and aging.
If he remains the ball hawk he has always been, the Texans should be fine at the safety position. But if Reed gets hurt or becomes a liability on the field, then the defense could have some issues.
Danieal Manning is solid, but the remaining three safeties are all unproven. D.J. Swearinger is certainly an exciting player, but it is never a good thing for a Super Bowl contender to rely heavily upon a rookie.
And Shiloh Keo and Eddie Pleasant are both inconsistent and prone to giving up big plays on defense. They are both excellent special teams' players, but they are also dangerous to the success of the defense.
GRADE: (B)
Special Teams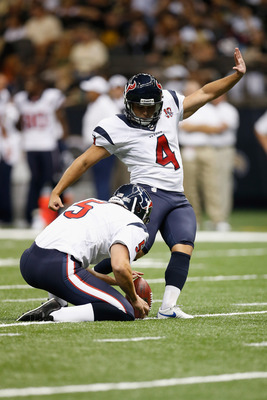 Chris Graythen/Getty Images
Randy Bullock
Shane Lechler
Jon Weeks
Randy Bullock, the Texans' fifth-round pick from last year, will finally be given his opportunity to start after the Texans coaching staff decided to go with Shayne Graham instead of him last season.
Bullock looked great during the preseason, and although consistency is a concern for such a young kicker, he certainly looks like he's ready to go.
Shane Lechler has been one of the top punters in the league for nearly the entirety of his career, and he should help the Texans greatly in field position battles throughout the season.
And while many have likely never heard of Jon Weeks, that is actually a great thing. It is never a positive when a long snapper makes the headlines.
GRADE: (A-)
Keep Reading

Houston Texans: Like this team?