UFC 164: 9 Memorable Moments from Henderson vs Pettis Fight Card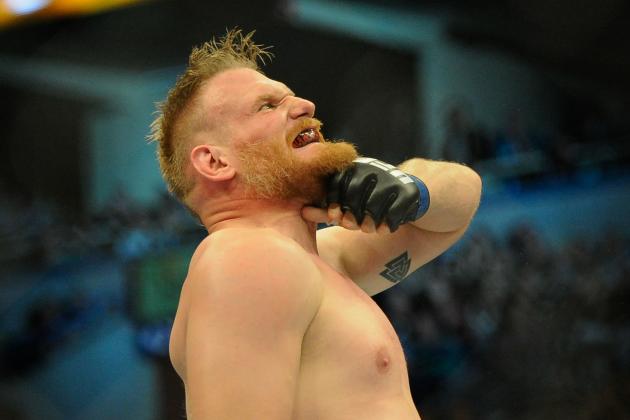 Benny Sieu-USA TODAY Sports

Don't put UFC 164 in the past quite yet. The event's 12 fights delivered from top to bottom.
We were given knockouts, submissions, back-and-forth battles and even a little comedy as well. It was a complete event hailing from Milwaukee.
Anthony Pettis submitted Benson Henderson to take his title for the second time. This time it was for the UFC Lightweight Championship, and he finished the fight in the first round. It was a stark contrast to their epic battle in the WEC that saw Pettis cap off a decision win with his "Showtime kick."
The main event wasn't the only thing that left a lasting impression.
These are the eight most memorable moments from Milwaukee.
Begin Slideshow

»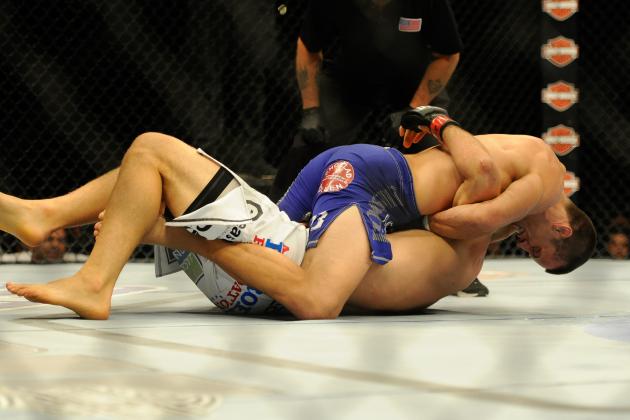 Benny Sieu-USA TODAY Sports

On Wednesday evening, we were treated to a very good guillotine submission by Jason High. The one at UFC 164 by Magnus Cedenblad was even better.
Cedenblad saw the opportunity, jumped on the choke and the momentum allowed him to roll into mount with it. The Swedish middleweight got the win, and then jumped on the mic to call out Dylan Andrews who knocked out his countryman on Wednesday in Indianapolis.
The submission happened so quickly, Joe Rogan did not even get to point it out until they were already on the mat. It was that quick.
A strong debut for the newcomer.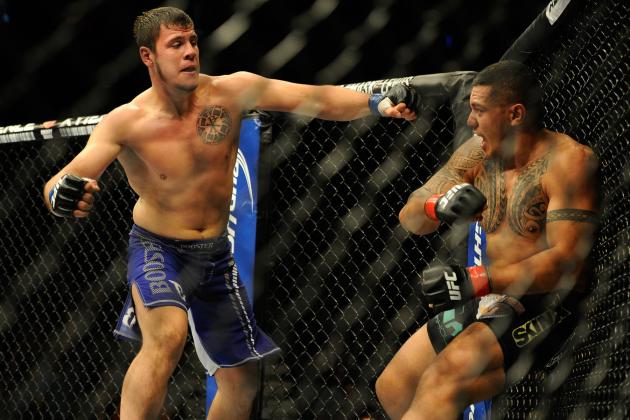 Benny Sieu-USA TODAY Sports

This fight was comical. Two heavyweights entered, quickly gassed and were very sloppy.
It wasn't a good look for the returning Soa Palelei or "Al Capone" Nikita Krylov. Palelei claims he broke his rib before the fight, and that it hampered his performance in the cage. If true, one must wonder how he even cleared pre-fight medicals.
Eventually, Palelei got the finish. The referee stood above and watched him rain down light shots (he couldn't muster the energy for anything powerful) while Krylov covered up. Eventually, the referee got the idea and stopped the fight.
It was sad, but humorous. Oh, heavyweights.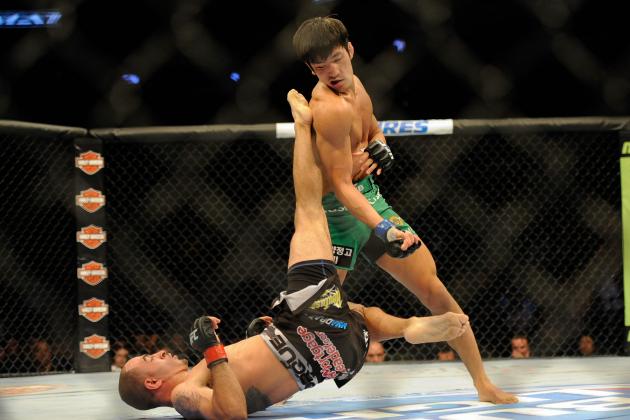 Benny Sieu-USA TODAY Sports

Chico Camus and Kyung Ho Kang fought in a tightly-contested battle that went to the scorecards.
The first round was for Ho Kang, the second seemingly went to Camus and the third could have went either way. However, the decision seemed to split the MMA contingent.
The 30-27 card was atrocious. There is no defending that scorecard, but the two 29-28 scores for Camus are fine. Admittedly, I also scored the fight 29-28 Camus.
Those who found fault with the outcome claimed it was because Camus was fighting in front of a local crowd. UFC analyst Kenny Florian even stated on the post-fight show that the crowd won the fight for him. I think that is a bit overboard in a fight that could have been called either way.
Regardless, it was the most controversial bout on the card and thus very memorable.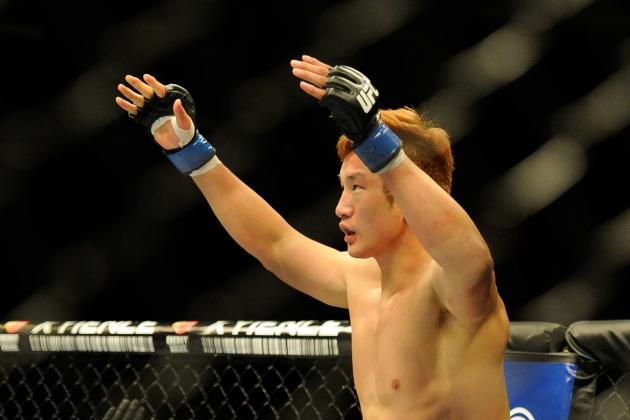 Benny Sieu-USA TODAY Sports

Lim is a monster of a welterweight, and it showed in the physical difference between himself and Krauss.
Krauss did alright standing with Lim early on. They exchanged in the center of the cage, and Lim didn't use his reach advantage very well. Eventually, the tide would turn.
Lim rocked Krauss, stayed on him and finished with a brutal knee.
Krauss had to be saved by the referee, and it was a strong outing for the Korean. The UFC may have another potential Asian star on their hands, and that will help their expansion efforts in the most densely populated area in the world.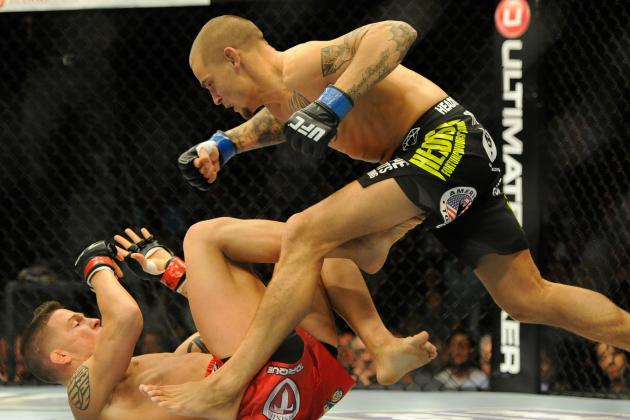 Benny Sieu-USA TODAY Sports

The first round of Dustin Poirier vs. Erik Koch was electric.
Poirier was hurting Koch on the feet, and then Koch locked up a triangle choke. It was deep, and it was tight. Poirier was on the brink of going out, but he managed to slip out of danger.
Poirier rebounded by hurting Koch again, dropping him with strikes. Koch was on the brink of having the fight stopped, but he kept fighting back. He showed the referee he was still able to be in the fight.
Finally, Poirier nearly finished the fight with a D'Arce choke. It was a roller coaster of a round that saw Poirier dominate aside from nearly being put to sleep. Worthy of a 10-8? I thought so, and so did two judges. However, there is a case to be made that it was not.
Either way, what a round.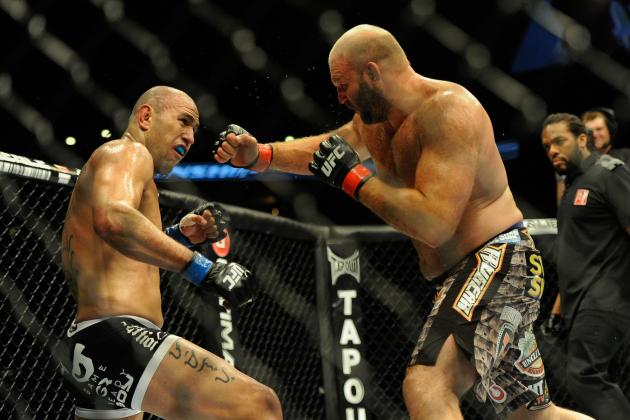 Benny Sieu-USA TODAY Sports

Brandon Vera was doing what he needed to do against Ben Rothwell until the final frame.
Vera was moving well, avoiding the power punches of Rothwell. Then he got cornered. Rothwell moved erratically, almost as if he was revving up, and then went in with a flurry. He caught Vera several times, and forced Herb Dean to step in to stop the bout.
Vera's return to heavyweight failed.
Rothwell took to the mic to call out Travis Browne after the fight, and he made it clear he needs the fans to demand the fight in order to get it. He knows his place in the division, but credit to him for wanting a top 10 opponent so he can try and enter the rankings with a win.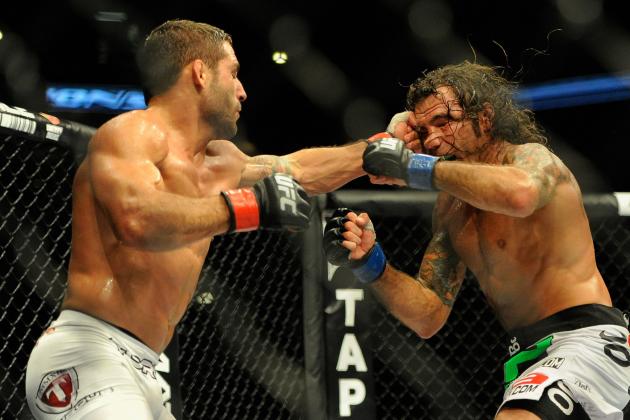 Benny Sieu-USA TODAY Sports

Guida did it again. Lots of movement, little to no action.
Mendes did well to strike when he could, and to take Guida down with his superior wrestling. Eventually, Guida tried to wrestle Mendes. That was a failure on all fronts.
In the third and final frame, Mendes caught Guida flush. The power he possesses hurt Guida, and it allowed Mendes to finish strongly. It was a good finish for the No. 1-ranked Mendes.
Now the question is what's next for Mendes? Aldo is out of action for a while, and he has earned the title shot. And what about Ricardo Lamas? The featherweight division is a mess.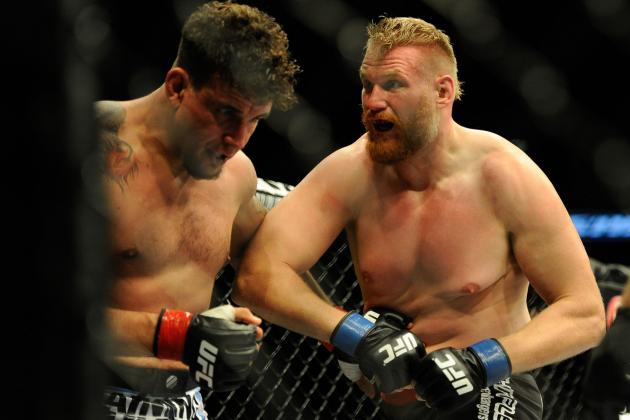 Benny Sieu-USA TODAY Sports

The blueprint to beat Frank Mir has been written already, and Barnett apparently read that to a tee.
Mir is a fantastic heavyweight, but he has flaws. They have been exploited frequently. Press him against the fence, overwhelm him with strikes and you will get the finish. It is important that you have the power to do damage. Barnett does and did.
Once against the fence, Barnett was relentless with his strikes. Punches, knees, elbows. One final knee sent Mir down in a heap. The fight was stopped, but some felt it was too soon. Perhaps Mir could have been given more of a chance, but if you are taking a lot of punishment and then drop like a bad habit the stoppage is justified.
It only took 1:56 for The Warmaster to nab his first UFC win in over a decade. Congratulations go out to Barnett.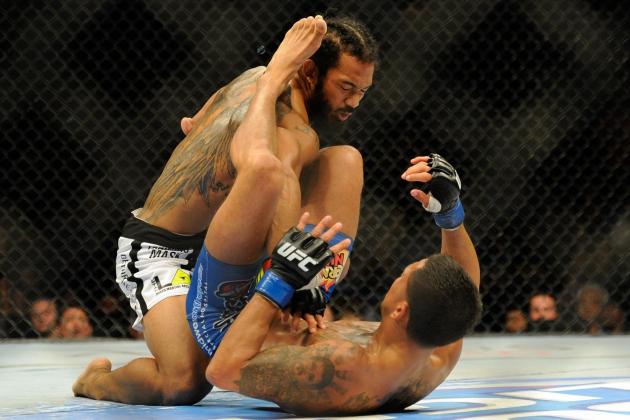 Benny Sieu-USA TODAY Sports

Anthony Pettis took Benson Henderson's WEC Lightweight Championship, and now he has taken his UFC Lightweight Championship.
This time around, however, Pettis finished the fight impressively.
Henderson went for takedown after takedown early on, but Pettis defended. He then threw a body kick that caught the attention of the champion. Noticing this, Pettis laced three more strong body kicks. All landed on target.
Henderson took the fight to the mat, and Pettis secured an armbar. The champion wasn't able to survive, and he had to verbally submit to Pettis. A new champion was crowned.
Pettis wears UFC gold for the first time, and the dynamic lightweight will be one of the most entertaining champions to watch moving forward.