Texas Football: Grading Every New Starter's Week 1 Performance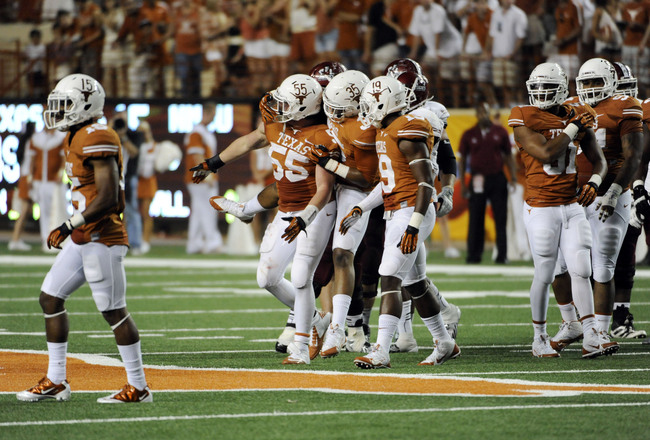 Brendan Maloney-USA TODAY Sports
It took nearly the entire first half for the Texas Longhorns to wake up offensively, and when they did, New Mexico State had no answer as the 'Horns racked up 56 straight points on the Aggies.
The Longhorns showed a vast amount of depth and experience as one of the most veteran teams in the FBS, and six new starters held their own on a memorable night in Austin.
Most of the impact was felt on defense, although a couple of offensive players played their part in a record-setting night for the Longhorns.
Let's check out the grade report.
Geoff Swaim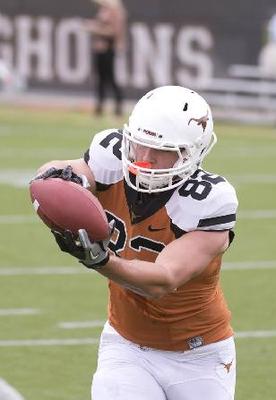 Junior college transfer Geoff Swaim earned the starting bid over Greg Daniels and M.J. McFarland at tight end, and he had a solid impact.
Swaim caught just one pass for three yards, but his blocking was what stood out the most.
Texas fans would have liked to see a little more production in the passing game, but with the 'Horns operating so effectively with the more explosive weapons, it would be hard for Swaim to press for more catches at this time.
Grade: B-
Cedric Reed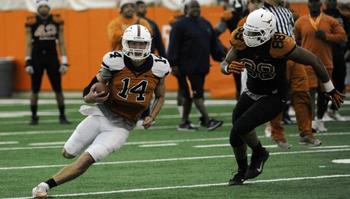 mackbrown-texasfootball.com
Of the six new starters, defensive end Cedric Reed stood out among the rest.
The junior end picked up seven tackles, one tackle for loss, one sack and two quarterback hits.
Reed was disruptive, big, strong and smart in his starting debut, and he established a great foundation on which to build. With Jackson Jeffcoat also having a productive night, Reed is in for a special season.
Grade: B+
Mykkele Thompson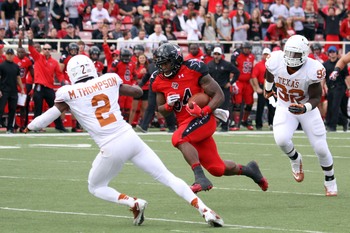 Michael C. Johnson-USA TODAY Sports
Junior safety Mykkele Thompson had a quiet game, but efficient nonetheless.
Thompson finished with five tackles on the night and held up his end of the bargain, delivering impact hits with good closing speed.
In some respects, it is hard to get a good gauge on his progress considering most of the action was taking place in front of him, but this was a good start for Thompson.
Senior Adrian Phillips' strong game will help Thompson ease into his starter's role, so look for some minute improvements and flashes of brilliance from the junior.
Grade: B-
Duke Thomas/Sheroid Evans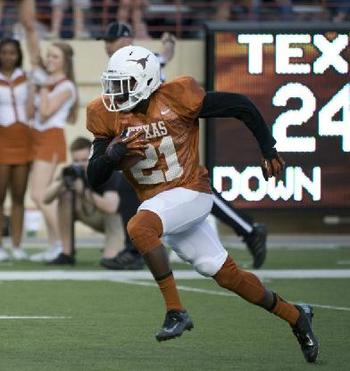 mackbrown-texasfootball.com
Duke Thomas is listed above Sheroid Evans on the depth chart, but it was Evans who appeared to see the field more.
Thomas recorded just one tackle in his limited work while Evans posted a respectable six tackles on the night, including five solo efforts.
It is easy the see the kind of depth the Longhorns are comfortable with in the secondary. Texas will not shy away from throwing five and six defensive backs into the mix.
Thomas' Grade: Incomplete
Evans' Grade: B-
Malcolm Brown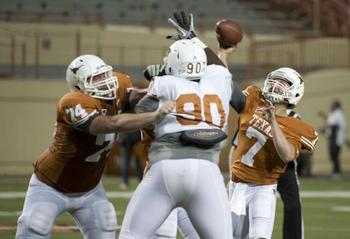 mackbrown-texasfootball.com
Texas' interior defensive line did a great job of penetrating and recognizing some plays, and Chris Whaley stood out the most.
Sophomore tackle Malcolm Brown posted five tackles and stayed pretty busy along the running lanes.
With Ashton Dorsey having moved on, the trio of Whaley, Brown and Desmond Jackson will have to up the ante. If Brown can become more consistent, the Longhorns will have some deadly combinations up front.
Grade: B-
John Harris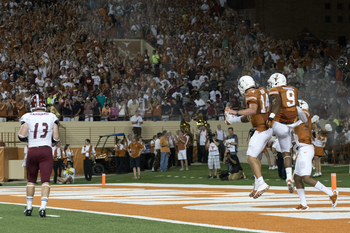 Cooper Neill/Getty Images
Junior wide receiver John Harris got the night started with his 54-yard catch-and-run touchdown late in the second quarter.
With Kendall Sanders suspended and the Longhorns needing more able bodies at receiver, Harris stepped up with a much-needed play at a crucial time in the game.
David Ash could use more of that veteran presence down the road. Even though Harris had just two catches, the long touchdown grab is encouraging.
Grade: C+
Keep Reading

Texas Longhorns Football: Like this team?