Detroit Lions' Biggest Roster Surprises and Snubs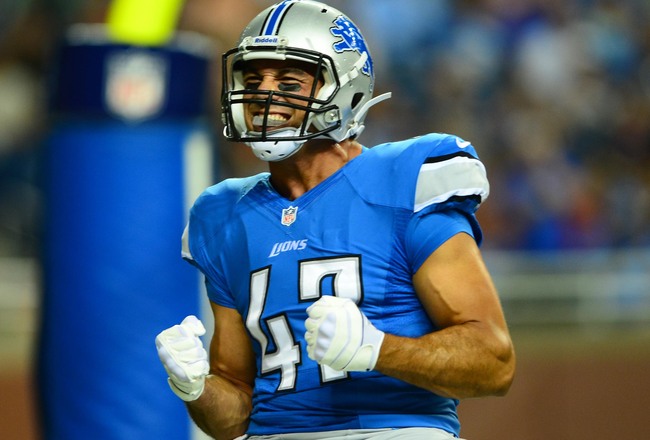 Andrew Weber-USA TODAY Sports
The Detroit Lion's 53-man roster is finally set. Months of projections, speculation and educated guesswork boiled down to a handful of announcements on Saturday of who had made the team and who had not.
Detroit's final roster was relatively easy to predict after some recent veteran signings filled some contested holes. Yet there were still some surprises on the roster and some unexpected cuts as well.
Surprise: LaAdrian Waddle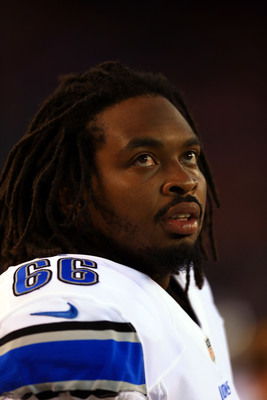 Andrew Weber-USA TODAY Sports
Offensive tackle LaAdrian Waddle is the sort of inspirational success story agents like to talk up to seemingly marginal NFL prospects. Waddle did not get a NFL combine invitation even though he earned first-team All-Big 12 honors in his senior season at Texas Tech.
The Lions, who had Waddle in for a predraft workout and visit, were enchanted by his thick frame and quick feet. They signed him to a free-agent contract. From there, Waddle began his ascent up the depth chart.
Waddle repeatedly stood out in all his preseason action, playing both left and right tackle. He was the most nimble pass-protector and showed he can be a devastating, road-grading run-blocker. He played well enough that he was a serious consideration for the starting right tackle position.
While he didn't ultimately crack the starting lineup, Waddle now figures prominently into the long-term plans. That's pretty strong for an undrafted rookie. With some polish on his technique and footwork, Waddle has a chance to be very good.
Snub: Jake Scott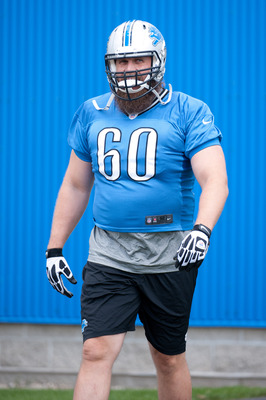 Tim Fuller-USA TODAY Sports
Guard Jake Scott played very well in his preseason audition with the Lions. His performance against the Patriots in the third preseason game was one of the most dominant single-game efforts of any player in the league, according to Pro Football Focus (subscription required). His 5.1 grade for that game reflected his outstanding smashmouth run blocking.
Scott was signed as a free agent after falling out of favor in Tennessee after several solid years, followed by one dreadful season on a dreadful Eagles team a year ago. At 32, the right guard was always something of a long shot in Detroit. His inability to play any spot other than right guard, along with his advanced age, played against his chances.
Scott performed well but not quite well enough to earn a spot on the final 53.
Surprise: Leroy Harris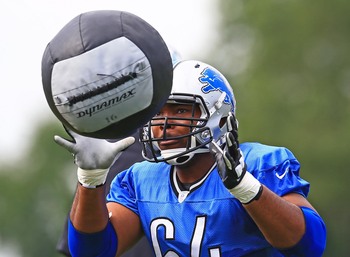 Andrew Weber-USA TODAY Sports
One of the reasons Jake Scott didn't make the Lions is his former Titans teammate, Leroy Harris. The two started together in Tennessee for several years, and Harris actually took over for Scott at right guard last year.
2012 was not a good season for Harris, either. He played hurt, and it showed, as a partially torn ACL greatly inhibited his agility and anchoring strength.
Harris did not really stand out in preseason games, though I said this about him after the Cleveland game:
He got into the action as the starting RG for the second half. On the awkward Shaun Hill scramble he did a great job getting into the pads of the defender and steered him well inside, creating a nice wide running lane. Harris sustained that block well after the play ended, something the coaches preach. Fired off the line and blew up a linebacker at the second level on a Bell 1st down run. Got high with his hands in pass protection but had a solid base. Found the proper rusher and even though he lost leverage a little his quick feet allowed him to keep his QB clean. One thing I noted is that he's much more effective and confident going to his inside than outside. He's played center in the past so that makes sense. If I were handing out grades here, Harris would earn the highest.
The key to Harris' roster presence lies in the penultimate sentence of that excerpt from DetroitLionsDraft.com. He has experience playing center as well as both guard spots. Multidimensionalism is a buzzword for coach Jim Schwartz, and Harris offers that.
Snub: Matt Willis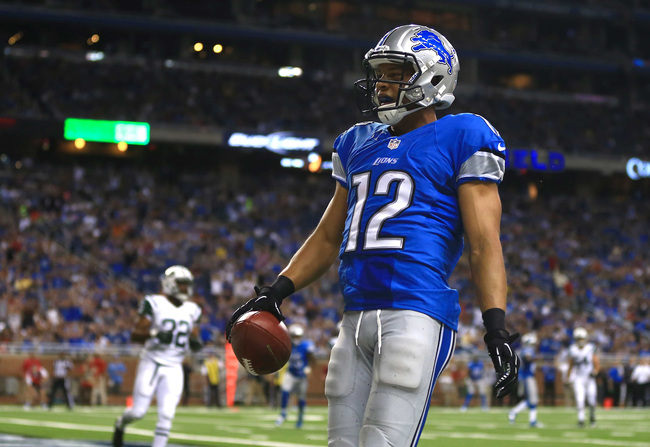 Andrew Weber-USA TODAY Sports
I'll admit it: I thought Matt Willis was a lock for the fifth wide receiver spot after his dynamic performance against the Jets. He also made a beautiful catch in the preseason finale against Buffalo. His strong hands and gritty style of play made him seem like a nice fit in Detroit.
Unfortunately for Willis, the Lions found themselves in need of more special teams help because of some injuries. Willis didn't offer much on special teams units, and it cost him his spot.
Surprise: Joseph Fauria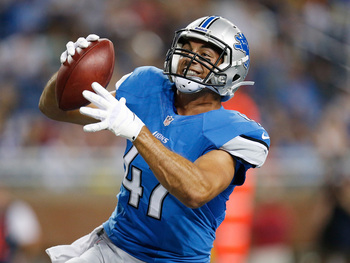 Gregory Shamus/Getty Images
Sometimes, a player needs a little luck to make a team. Tight end Joseph Fauria is no exception, but that discredits his adherence to the wisdom of the words "make your own luck."
When seventh-round pick Michael Williams broke his hand, Fauria seized on the opportunity. The undrafted UCLA Bruin showed a quick chemistry with QB Kellen Moore, scoring a touchdown versus New England and playing well in the preseason finale at Buffalo. Fauria showed enough that the Lions placed Williams on injured reserve, clearing any obstacle out of Fauria's way.
The Lions regularly use two tight ends on offense, and third tight end Will Heller saw almost 700 snaps in the last two seasons. Not only did Fauria make the team, but he could very well catch more than the 17 balls Heller caught in this role a year ago.
Snub: Corey Fuller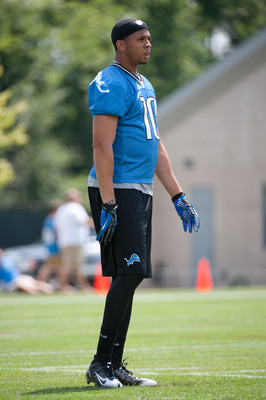 Tim Fuller-USA TODAY Sports
Wide receiver Corey Fuller showed enough promise during his time at Virginia Tech—and again during Shrine Game week—to merit a sixth-round pick. The Lions were hopeful the lanky, speedy Fuller could give them a field-stretching complement to Calvin Johnson.
Unfortunately, Fuller struggled during camp and preseason. His inability to handle the increased physicality of the NFL game hindered his progress. His confidence just wasn't where it needed to be, either.
While he wasn't expected to contribute much as a rookie, it's still pretty surprising the Lions couldn't find a spot on the final roster for Fuller. He did find his way to the practice squad, so all hope is not lost for him.
Surprise: Kellen Moore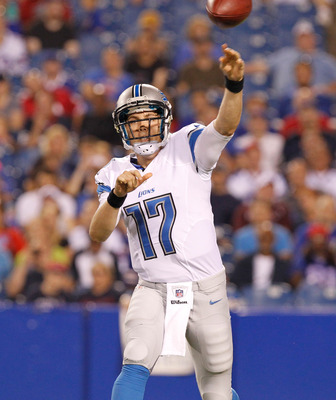 Kevin Hoffman-USA TODAY Sports
There was never a lot of doubt that Kellen Moore was the third quarterback for the Lions. The question was always: Will the Lions keep two or three quarterbacks?
Kellen Moore made that a very simple decision. Moore takes the honor of Most Improved Lion of the offseason thanks to his increased arm strength and augmented confidence. Everyone knew he made the team when Moore dramatically outplayed the far more heralded Ryan Mallett in the Patriots contest.
| Player | Completions | Attempts | Yards | TDs | QB Rating |
| --- | --- | --- | --- | --- | --- |
| Kellen Moore | 9 | 12 | 150 | 2 | 156.2 |
| Ryan Mallett | 11 | 22 | 96 | 1 | 77.1 |
Moore is a great example of a player creating an opportunity for himself through hard work, perseverance and humility. The Lions need more players like him, even though Moore will never see the field if things go to plan.
Snub: Tyrell Johnson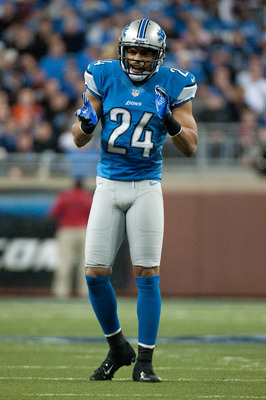 Tim Fuller-USA TODAY Sports
Tyrell Johnson is another case of a player who performed well but fell victim to circumstances largely out of his control.
Johnson played reasonably well in his quest to make the Lions as a reserve safety. He vanquished a couple of other competitors with strong coverage skills in the New England game, and the oft-traveled veteran also looked good in the finale against Buffalo.
In the end, the Lions opted to keep just four safeties because new addition Rashean Mathis can play both corner and safety. Johnson played well on special teams, but John Wendling already had the designated roster spot for reserve safety/special teams ace wrapped up from the start of camp.
Look for Johnson to find a job quickly, as the demand for competent safeties far exceeds the supply.
Surprise: Travis Lewis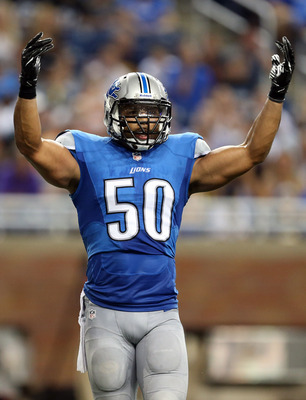 Mike Carter-USA TODAY Sports
The 2012 seventh-round pick had a very shaky preseason. Travis Lewis performed well in OTAs at linebacker, well enough that he entered the preseason with some buzz he could win a starting role.
That talk looked foolish when watching Lewis continually appear lost and slow in coverage. He's undersized and not a great athlete. For a team that spent the entire offseason looking to get bigger, faster and stronger on defense, Lewis seemed like a poor fit.
His familiarity with the system ultimately won him the spot over Chris White, who was acquired just a week ago. Lewis had better not get too comfortable with his role, however; he is pretty clearly no higher than the 52nd man on a 53-man roster.
Snub: Havard Rugland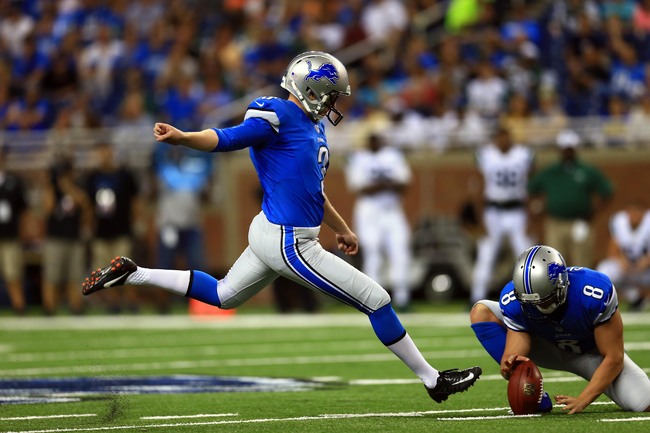 Andrew Weber-USA TODAY Sports
OK, the Norwegian trick-kick sensation didn't even last to the final preseason game. Once it was clear veteran David Akers was healthy, the writing was on the wall: "Kickalicious" was not going to make the Lions.
Havard Rugland earned a tremendous amount of respect from both the coaches and his fellow players. For a guy who had never been to a live football game or worn a pad in his life, Rugland acquitted himself very well in his brief time in Detroit.
While my dream of owning a Lions jersey with "Kickalicious" on the back fades to black, Rugland has stuck around America in hopes of landing with another team. He did nothing but prove he deserves another legitimate chance.
Keep Reading

Detroit Lions: Like this team?