Indianapolis Colts 2013 Team Roster: Report Card Grades for Every Position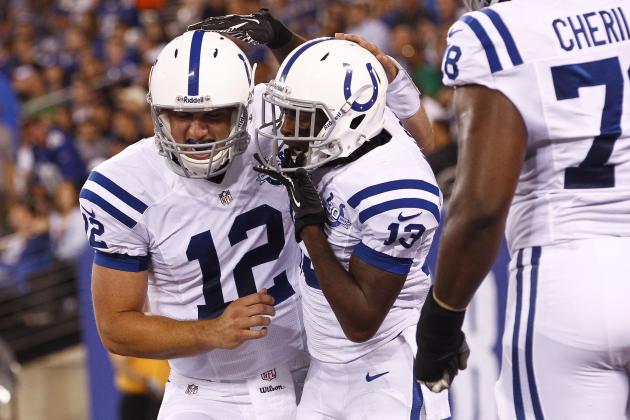 Jeff Zelevansky/Getty Images

With the Indianapolis Colts' final roster cuts being announced Saturday evening, we can begin to get a better look at what the team's game-day roster will look like.
Now comes the time where optimism reigns supreme. The team has clearly improved its roster in the offseason, there's potential across the board and any unexpected failures have yet to rear their heads.
But how strong is the roster really? That's the question we'll look to answer in these positional grades.
Each position was given a own grade based on a traditional letter-based grading scale. The grades were determined by the starting talent of the unit, as well as the depth, compared to the rest of the league. Basically, a "C" means a unit's talent is about average compared to the rest of the league.
So, where are the Colts strong heading into 2013? Where do they need serious help?
Begin Slideshow

»
Jeff Zelevansky/Getty Images

The Colts are in as good of a position as any team in the league with Andrew Luck at quarterback. Luck has the potential to be as good of a quarterback as the league has ever seen.
With his natural athleticism, throwing ability and excellence in clutch situations, he truly is the whole package. There's a reason—nay, many reasons—why the NFL.com Around the League panel named Luck the top quarterback under 25.
Matt Hasselbeck was brought in to back up the second-year sensation and shouldn't see the field. However, he does bring 14 years of experience to aid Luck's development.
While other young quarterbacks have their merits, Luck is currently the king of the crew. As long as the team can keep him upright, the Colts have the best possible situation at the position.
Grade: A+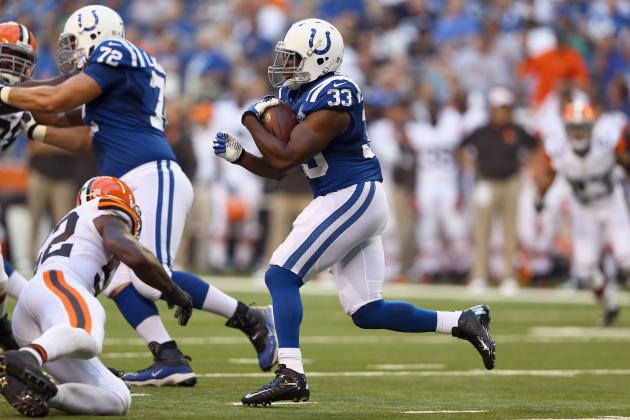 Andy Lyons/Getty Images

| | |
| --- | --- |
| Depth | Player |
| No. 1 | Vick Ballard |
| No. 2 | Ahmad Bradshaw |
| No. 3 | Donald Brown |
| No. 4 | Kerwynn Williams (waived) |
| FB | Stanley Havili |
The Colts' group of running backs lacks excellent talent overall, but it has versatility and depth.
Ballard and Bradshaw likely will split carries fairly evenly throughout the season. While Bradshaw is more naturally talented, his injury issues may keep him from overtaking Ballard on total carries (it's also the reason he's second on this chart. Ballard is currently healthy, while Bradshaw hasn't gotten game action yet).
The Colts' strongest between-the-tackles runners are Ballard and Bradshaw, which fits well with offensive coordinator Pep Hamilton's scheme.
Fifth-year back Donald Brown runs well behind a fullback, which is a new addition under Hamilton. Kerwynn Williams is extremely shifty and quick, and he will contribute on special teams (note: Williams was waived to make room for TE Jack Doyle).
None of the backs are ideal for a bell-cow role, but as a group, they'll do. The addition of Bradshaw gives the group star power, but he needs to get on the field, and stay on it, for it to matter.
Grade: C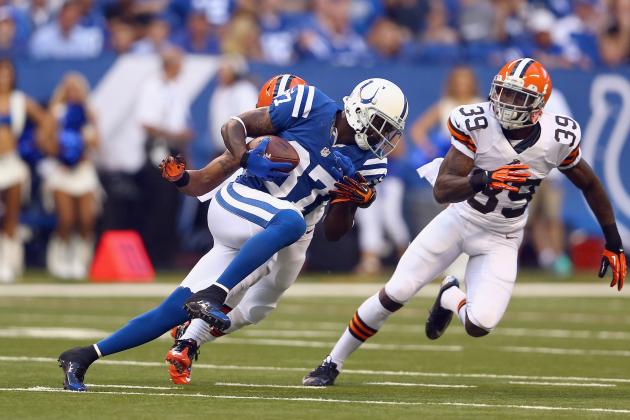 Andy Lyons/Getty Images

| | |
| --- | --- |
| Depth | Player |
| No. 1 | Reggie Wayne |
| No. 2 | Darrius Heyward-Bey |
| No. 3 | T.Y. Hilton |
| No. 4 | Griff Whalen |
| No. 5 | David Reed |
The Colts' top receivers have high potential, but the group suffers from a lack of depth and no true No. 1 receiver.
Reggie Wayne is the team's top receiver. He still has the hands and technically excellent route-running skills to be productive. He's not a physically dominating receiver and doesn't impose his will in every game, but over the season, he'll be dependable as a possession receiver.
Darrius Heyward-Bey and T.Y. Hilton round out the Colts' main group of contributing receivers. Both should receive a similar amount of snaps. While Hilton probably has a brighter future, Heyward-Bey has more experience and the prototypical size for a traditional "X" receiver. So he may get the official starts, but don't count out Hilton, who has a great rapport with Luck and a nose for the end zone.
Whalen and Reed won't contribute much on offense. Whalen could be a temporary fix as a possession receiver, but that's about it. Reed will compete with RB Kerwynn Williams as a returner.
If one of the top three receivers goes down with injury, the Colts will suffer. If they stay healthy, they'll be dangerous.
Grade: B+
*LaVon Brazill is currently suspended and will join the group after Week 4, likely at the expense of Whalen or Reed.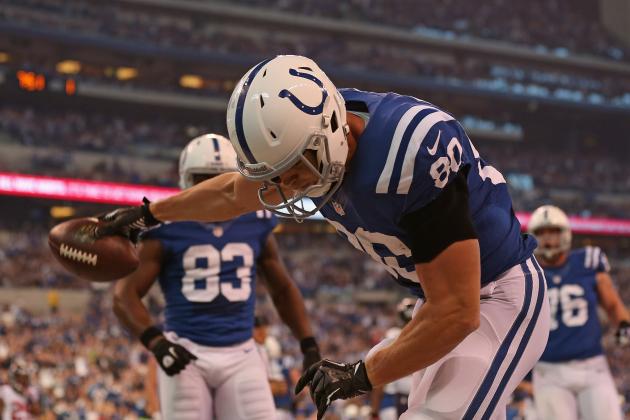 Jonathan Daniel/Getty Images

| | |
| --- | --- |
| Depth | Player |
| No. 1 | Dwayne Allen |
| No. 2 | Coby Fleener |
| No. 3 | Justice Cunningham |
| No. 4 | Jack Doyle |
Arguably the Colts' most promising position outside of quarterback, Indianapolis has managed to bring together a young, promising trio of tight ends, although there are uncertainties.
Dwayne Allen was already one of the best all-around tight ends in the league last season as a rookie, dominating as a blocker and showing dependent hands in the passing game. He has everything you want from a tight end, especially in an offense that depends on the tight ends' versatility.
While Coby Fleener does have some questions (namely about his lack of physicality and inconsistent hands), he still is in the best possible position to improve in his second year. He has the physical skills, and now he just needs to put it together on the field. If any coach can squeeze production out of him, it's Pep Hamilton.
Finally, there's Justice Cunningham. While he's failed to impress in the preseason, Cunningham should be able to come in on heavy sets and provide an extra blocker who can get out in the open field and be a target in the passing game if need be.
Note: Jack Doyle was added after final cuts, claimed off of waivers after spending the preseason in Tennessee. Doyle has talent, but is extremely raw.
Overall, the group is young, talented and versatile. Nothing is for certain, but the pieces are there.
Grade: A-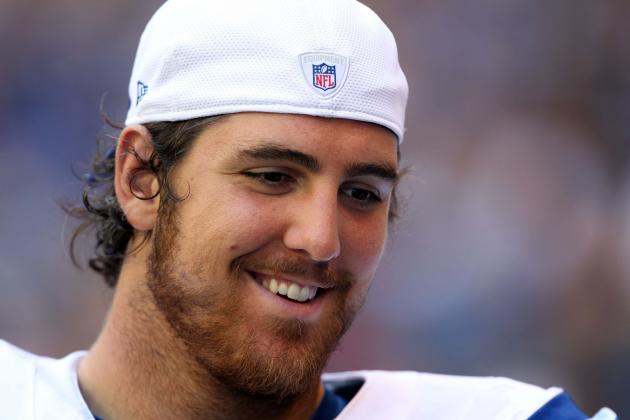 Brian Spurlock-USA TODAY Sports

| | |
| --- | --- |
| Position | Player |
| LT | Anthony Castonzo |
| RT | Gosder Cherilus |
| T/G | Joe Reitz |
While the Colts' offensive line is their biggest weakness, the starting tackles inspire some confidence. The depth behind them, however, is extremely concerning.
Anthony Castonzo enters his third NFL season after a strong 2012 campaign, one in which he improved as the season went on and finished as one of the Colts' top offensive performers. Castonzo gets out and moves very well in run-blocking, and his pass protection grew more dependable each week during the second half of 2012. If he can play like that for all of 2013, the Colts will have one less position to worry about on the offensive line.
The team's biggest free agent-signing in 2013 was Gosder Cherilus, who has been a bit concerning during the preseason. Cherilus was signed after a career year in 2012, when he was one of the league's best pass protectors. The Colts signed him to keep Luck clean from the right side, but he's struggled to do that thus far. However, his body of work in the regular season can't be undermined by a few meaningless preseason games.
Overall, Cherilus is a solid right tackle, even if he is overpaid.
Despite the strong starters, the position won't earn an impressive grade, as the team has merely a traffic cone and duct tape behind them in case of injury. Okay, so Joe Reitz is a little more than that, but he's been playing guard for the last two years. Jeff Linkenbach can play tackle too, but he's been at guard throughout August. Don't be surprised if the Colts sign a depth tackle in the coming days.
Grade: C+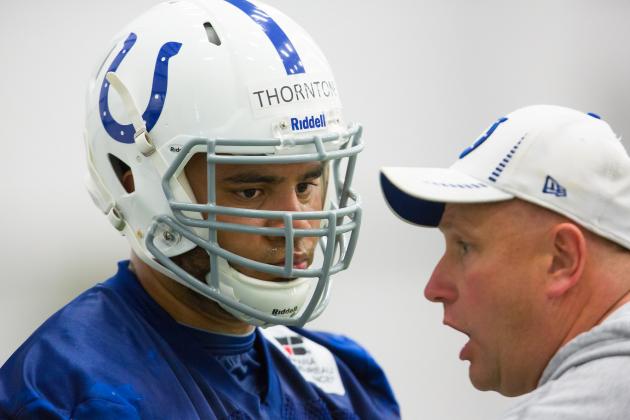 Michael Hickey/Getty Images

| | |
| --- | --- |
| Position | Player |
| LG | Donald Thomas |
| RG | Mike McGlynn |
| RG | Hugh Thornton |
| G/T | Jeff Linkenbach |
What was a dire situation may be looking up, but it all depends on rookie Hugh Thornton.
Mike McGlynn and Jeff Linkenbach return from last season, McGlynn as the starting right guard and Linkenbach as a do-it-all depth offensive lineman. Both players are below average at best, especially if thrust into a starting role. McGlynn as a starter is a particularly scary situation, and it's one that must be remedied if the Colts are to have an elite offense.
Fortunately, the solution may already be on the roster. Rookie Hugh Thornton was drafted in the third round of the 2013 NFL draft in order to compete at right guard. After an injury kept him out for most of training camp, he came into the Colts' third preseason game and performed very well before offering up a mixed showing in the fourth preseason game. If he can earn the starting spot this season, Indianapolis will be in a much better situation.
The final member of the group is Donald Thomas, who was signed by the Colts in March. Thomas was a strong run blocker for the Patriots as a depth player last season, and Ryan Grigson hopes that can transfer over into a starting role.
Grade: D+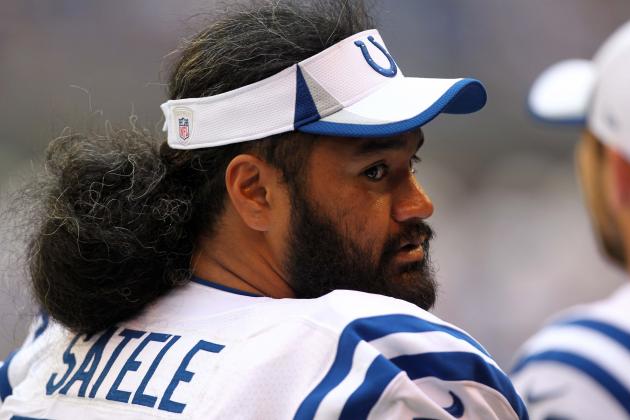 Brian Spurlock-USA TODAY Sports

| | |
| --- | --- |
| Depth | Player |
| No. 1 | Samson Satele |
| No. 2 | Khaled Holmes |
Possibly the Colts' biggest weakness if Thornton pans out at guard, the team has questions galore at center for 2013 and beyond.
The incumbent starter, Samson Satele, was one of the league's worst centers last year, but he was handed the starting position again this year due to a lack of options. Satele has some ability in run-blocking, but he is a volatile pass protector and is the weak link on the starting line, alongside McGlynn.
Khaled Holmes, the Colts' fourth-round pick in this year's draft, hasn't had much of a chance to prove his worth yet, as an ankle injury has kept him sidelined throughout August. He was healthy enough to play in the Colts' final preseason game, but he looked rusty. Fans hoping that Holmes wins a starting job sooner rather than later will be disappointed.
Grade: D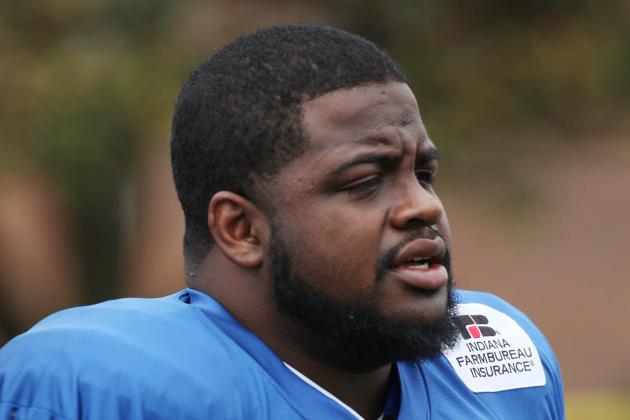 Brian Spurlock-USA TODAY Sports

| | |
| --- | --- |
| Depth | Player |
| No. 1 | Aubrayo Franklin |
| No. 2 | Josh Chapman |
The Colts get an upgrade over Antonio Johnson, but the position still isn't a strength for the defense.
After suffering through Antonio "Mookie" Johnson starting in the middle of the defense for much of the last four years, fans are relieved to see a change at nose tackle, with veteran Aubrayo Franklin joining the team for 2013. Unfortunately, Franklin alone won't be enough. At 33, he is slowing down and can't handle a snap-heavy load. While his performance bounced back last year after going back to a 3-4 defense, Franklin isn't a savior.
Josh Chapman, on the other hand, could be. The second-year player sat out his entire rookie year to heal from a torn ACL and meniscus in his left knee, but he's been praised heavily by coaches, per George Bremer of the Herald Bulletin. Chapman's preseason was mixed, but he certainly flashed the ability to plug the middle on running plays.
Grade: C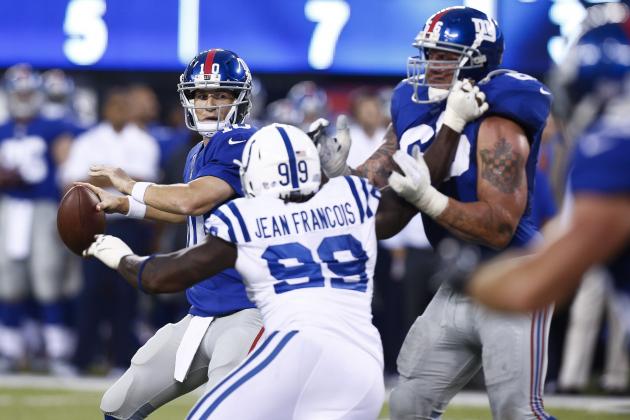 Jeff Zelevansky/Getty Images

| | |
| --- | --- |
| Position | Player |
| RDE | Cory Redding |
| LDE | Ricky Jean Francois |
| RDE | Fili Moala |
| LDE/RDE | Ricardo Mathews |
| LDE | Montori Hughes |
The Colts brought in two new players and have dramatically improved the depth, although the starting talent leaves something to be desired.
Veterans Cory Redding and Ricky Jean Francois will start for Indianapolis and should be a decent pair. Redding, when healthy, is a crafty player with oft-overlooked pass-rushing ability. Jean Francois was a depth player on a talented San Francisco defensive line and should see a larger role in Indianapolis. Whether or not he'll be able to handle that role is yet to be seen.
The strength of this group is the depth. Fili Moala and Ricardo Mathews could start for short lengths of time without too much drop off, and both players fit well in the 3-4 defense. Fans were upset by the release of Drake Nevis instead of Mathews, but it should not be forgotten that Mathews was just as impressive in the preseason as Nevis was, if not more so.
Finishing up the group is Montori Hughes, who had an inconsistent preseason at best. But he has as much potential, if not more, as any other player on this list.
Overall, it's a decent group, but a lack of star power at the top holds it back.
Grade: C+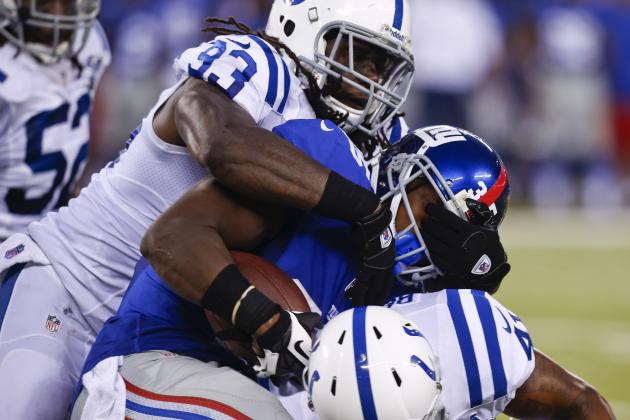 Jeff Zelevansky/Getty Images

| | |
| --- | --- |
| Position | Player |
| ROLB | Robert Mathis |
| SOLB | Erik Walden |
| OLB | Bjoern Werner |
| OLB | Caesar Rayford |
Two rookies with potential back up veterans with questions at a position that the Colts desperately need production from.
Familiar face Robert Mathis returns to the team for his 11th year, but for the first time in his career, he won't have Dwight Freeney across from him—or any established pass-rusher, for that matter. He won't be an elite sack artist, but Mathis showed last year that he can be very good. Unfortunately, he'll have little help from the rest of the crew.
Erick Walden is the best of the four against the run, but he has no history of being able to get to the quarterback. At strong-side outside linebacker, he doesn't need to be a double-digit sack guy, but he needs to be effective enough to make offenses think twice.
The depth includes two rookies with very different backgrounds: Werner was the Colts' first-round pick this season, while Rayford was an undrafted free agent who has spent the last five years in the AFL and CFL. Both players flashed pass-rush ability in preseason but are raw and need coaching.
Grade: C-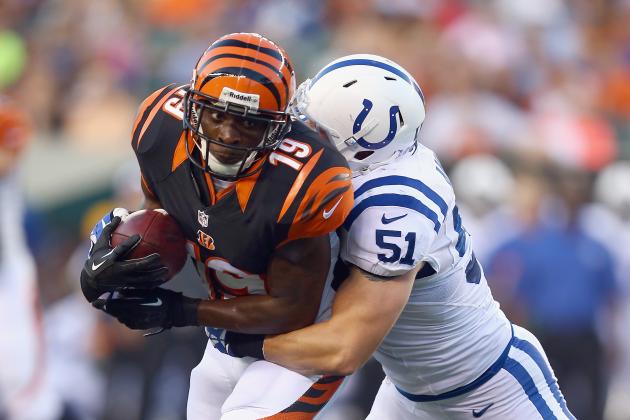 Andy Lyons/Getty Images

| | |
| --- | --- |
| Depth | Player |
| No. 1 | Jerrell Freeman |
| No. 2 | Pat Angerer |
| No. 3 | Kavell Conner |
| No. 4 | Kelvin Sheppard |
| No. 5 | Mario Harvey |
The Colts have a group of active, aggressive run defenders who have struggled in coverage. Without improvement there in 2013, the group will be an average one at best.
With Jerrell Freeman and Pat Angerer in the starting lineup, Indianapolis has two linebackers who have finished in the top five in total tackles in the last two years (Freeman in 2012, Angerer in 2011). Both players can always be found around the ball and seem to fly all over the field.
Freeman is the most well-rounded linebacker, hence his No. 1 status. He finished with a plus-2.7 pass coverage grade from Pro Football Focus last season, easily the team's best coverage grade for a linebacker.
Behind those two come Conner and Sheppard, who will fight for playing time in nickel roles and rotation. Conner's worked on his coverage this offseason, but is it enough to be a nickel linebacker? We'll see.
Mario Harvey is the final ILB, but he will see the field mostly in a special teams role.
Grade: C+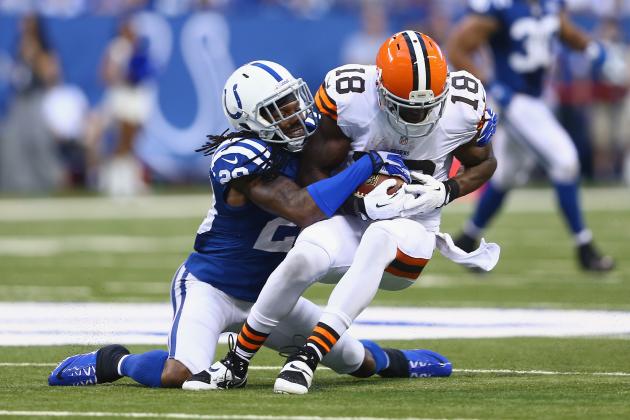 Andy Lyons/Getty Images

| | |
| --- | --- |
| Depth | Player |
| No. 1 | Vontae Davis |
| No. 2 | Greg Toler |
| No. 3 | Darius Butler |
| No. 4 | Cassius Vaughn |
| No. 5 | Josh Gordy |
This group has a ton of potential if the starters can stay on the field, but the depth is weak.
Greg Toler and Vontae Davis give Indianapolis the best, most physical and injury-prone pair of starting corners since Marlin Jackson and Kelvin Hayden. Davis can be a shutdown corner if he can stay focused and play like he did down the stretch in 2012. Toler, meanwhile, provides a ball-hawking turnover machine on the other side of the field—a perfect match for Pagano's defense.
Of course, it's all dependent on health. Both players have missed significant amounts of time in recent history, and staying on the field is key to being a top-10 cornerback duo.
Behind them are three corners who saw time for Indianapolis last season, and none impressed to the point where one could take over as a starter. Butler is a decent nickel back a best, while Vaughn and Gordy may still be replaced before the season opener, as neither offers a high ceiling or dependability.
Grade: B-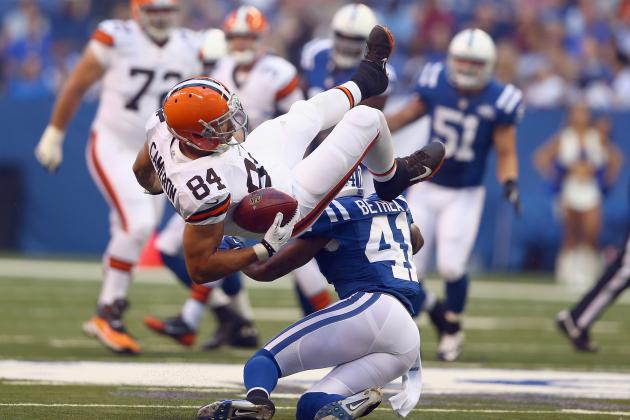 Andy Lyons/Getty Images

| | |
| --- | --- |
| Position | Player |
| SS | LaRon Landry |
| FS | Antoine Bethea |
| FS | Sergio Brown |
| S | Joe Lefeged |
| S | Delano Howell |
Arguably the best position group on defense, the starters pack a punch and the reserves mix youth with experience.
The starting duo of Landry and Bethea should strike fear into the hearts of receivers going up the seam, as both players aren't afraid to lay the wood onto incoming receivers. Both are generally strong in run support as well, which should help the Colts refrain from allowing 10-plus-yard runs on defense. While the two can be manipulated in coverage by veteran quarterbacks, it's a welcome sight to see a real starter next to Bethea.
Lefeged and Brown are both solid special teams players, but Lefeged also brings extensive experience playing in a few different systems. Brown may not last long on the roster, but if he does, it will be as a special teams demon.
Delano Howell was extremely impressive during the preseason, flying all over the field and getting tackles both in run support and the passing game. He didn't make any outstanding plays, but he was dependable when given a chance.
Grade: B+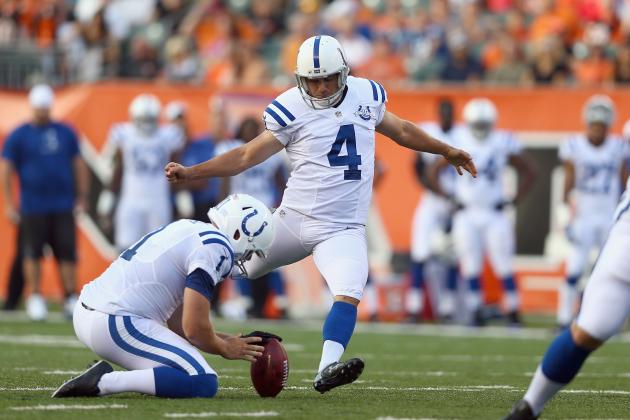 Andy Lyons/Getty Images

| | |
| --- | --- |
| Position | Player |
| K | Adam Vinatieri |
| P | Pat McAfee |
| LS | Matt Overton |
Old Man Adam Vinatieri is grouped with two youngsters to make a strong unit.
Vinatieri didn't have the most consistent year last season, and his leg isn't the strongest in the league. Still, he's hit more clutch field goals than any other kicker in the league and is dependable in that regard.
The punter, on the other hand, doesn't seem to have any limitations at this point. McAfee has the leg to kick 60-plus-yard punts with ease, and he has noticeably improved his accuracy over the last year. With his additional kickoff duties and tackling ability, he has both the essentials and a few bonus features in his arsenal.
Finally, long snapper Matt Overton is never talked about, which means he's doing it right.
Grade: A-