UFC 164 Results: Grades for Every Main Card Fighter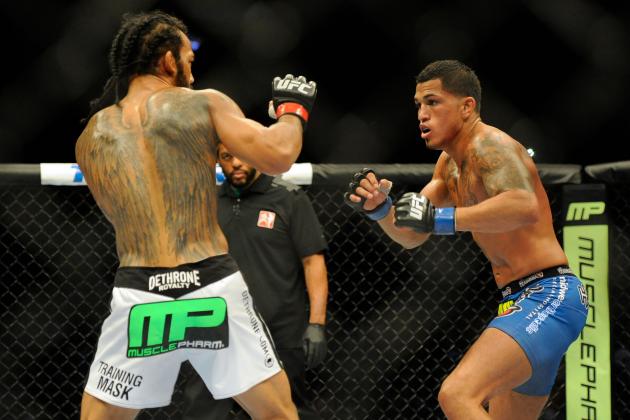 Benny Sieu-USA TODAY Sports

UFC 164 electrified the BMO Harris Bradley Center in Milwaukee, WI, with a stacked main card dotted by some of the promotion's biggest stars.
While the lightweight title fight between champion Benson Henderson and challenger Anthony Pettis assumed top honors as the night's main event, several other fighters showed up in prime shape and impressed in front of the rowdy Wisconsin crowd.
Begin the slideshow to see how the night's main card fighters fared on the evening.
Begin Slideshow

»
Benny Sieu-USA TODAY Sports

Dustin Poirier handled Erik Koch with ease in the UFC 164 main card's opening matchup.
While many thought Poirier and Koch to be mirror images of one another, "The Diamond" had a clear power advantage, and he looked to be the better all-around fighter Saturday evening.
Poirier used his striking and his submissions to threaten the finish in Round 1, but Koch showed his resilience by sticking around and firing back throughout the contest.
Aside from an early triangle choke and some late ground-and-pound from Koch, Poirier enjoyed total control in this one, coasting to a clear unanimous-decision victory.
After dropping two of his last three fights, Poirier bounced back in a big way against Koch at UFC 164.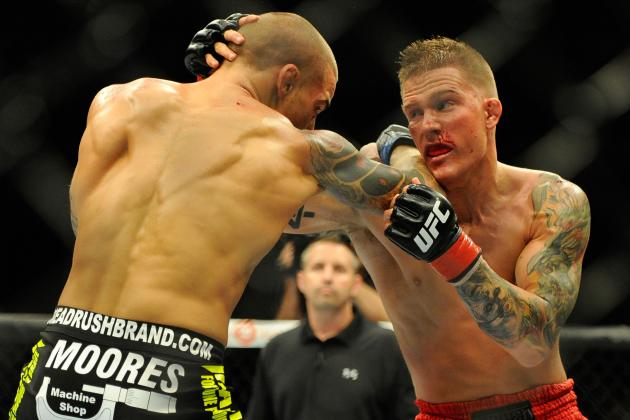 Benny Sieu-USA TODAY Sports

Erik Koch received a beating at the hands of Dustin Poirier Saturday evening at UFC 164.
"New Breed" almost put Poirier to sleep early with a tight triangle choke, but this featherweight fight was completely one-sided in favor of "The Diamond" from that point forward.
Koch could not get comfortable in this one, and Poirier battered him with power shots and smothering grappling en route to a lopsided decision.
For Koch, the loss drops him to 0-2 in 2013, and he will need to rededicate himself and come out much better in his next fight if he hopes to stick around in the top 10 of one of the UFC's deepest divisions.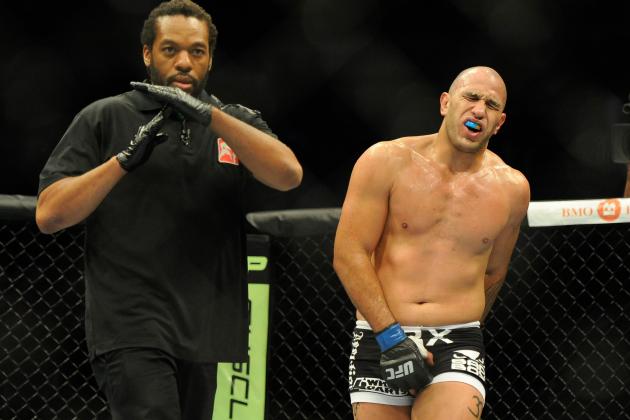 Benny Sieu-USA TODAY Sports

Brandon Vera is just not an elite fighter at this point in his career.
Despite finding success in Rounds 1 and 2, Vera's offense did not come in overflowing abundance, and it was not particularly impressive.
We saw nothing new from "The Truth" (aside from some added bulk), and he again faltered in the later rounds against a physically more powerful opponent.
The loss is devastating for Vera's career, and a huge question mark now hangs over his future.
Benny Sieu-USA TODAY Sports

I love what I saw from Ben Rothwell at UFC 164.
He looked quick, powerful and in prime condition against Vera, a fact which became obvious in Round 3.
After dancing around and taunting Vera a bit early in the third, Rothwell unleashed a world of fury upon his opponent's face, leaving him shattered and unable to continue.
This was, in my opinion, the most impressive victory of Rothwell's UFC career, as it showed off his cardio and his ability to handle a quicker, more technical opponent with relative ease.
Well done, you hairy beast.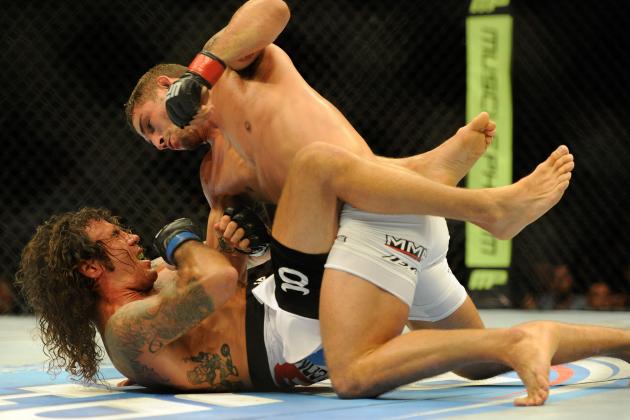 Benny Sieu-USA TODAY Sports

I'll give Clay Guida this: He was not boring in his fight against Chad Mendes.
The Greg Jackson product channeled his 2009 form in this bout, constantly moving forward and looking to press the action against his foe.
Unfortunately for Guida, Mendes is a superior fighter everywhere, and "The Carpenter" was out-struck, out-wrestled and plain out-worked before being rocked and finished by a series of vicious punches early in Round 3.
This loss signifies a disappointing step back for Guida in the featherweight division, and it is becoming increasingly clear that he will not reach the upper echelon of any division in the near future.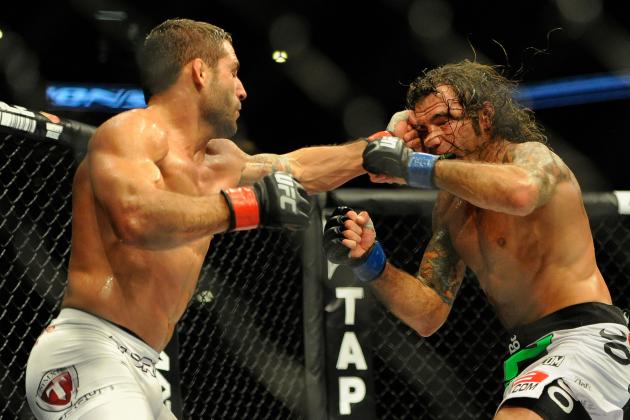 Benny Sieu-USA TODAY Sports

So, Chad Mendes is really, really good.
I know I just ripped Clay Guida a bit in the previous slide, but Mendes' performance showed us everything we needed to see to know that he is ready for another shot at Jose Aldo's featherweight strap.
Even though Guida may no longer be a championship-caliber fighter, his cardio is still ridiculous, his chin is still strong, and his wrestling base is still frustrating for a lesser fighter.
Mendes overcame all of this, becoming the first man to knock Guida out in professional action and cementing himself as the scariest featherweight outside of Aldo on the planet.
High marks for you, Mr. Mendes. You've earned yourself an "A."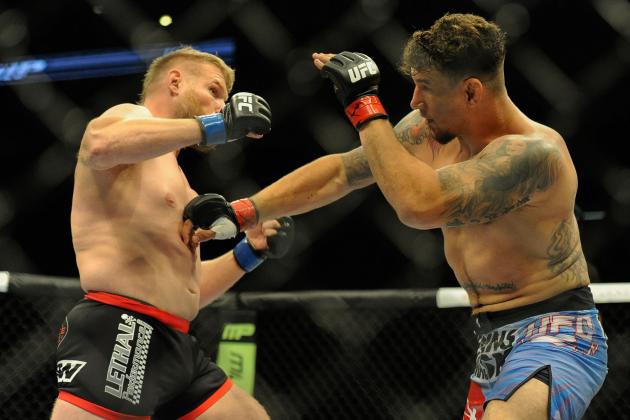 Benny Sieu-USA TODAY Sports

Frank Mir did not fare so well against Josh Barnett in the co-main event Saturday evening.
Mir found himself in an early clinch battle with "The Warmaster," and he ate some ferocious elbows, knees and punches from this position.
One huge knee literally floored him, and the referee intervened before Barnett could fire off any follow-up shots.
Now, this is where my grade gets tricky.
Was Mir done?
Even though he popped right back to his feet and protested the stoppage, I think Mir clearly failed this test. The knee certainly rocked him, and if the referee had not called the fight at that moment, Barnett would have unloaded power shots upon a wounded animal, resulting in nothing but a more gruesome ending 10 seconds later.
We didn't really need to see that, did we?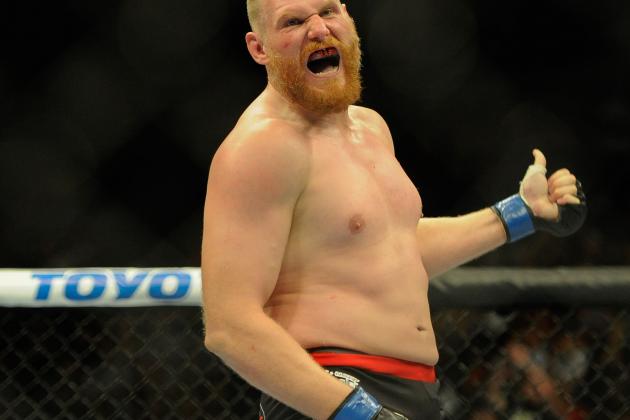 Benny Sieu-USA TODAY Sports

"The Warmaster" did exactly what he needed to do against Frank Mir at UFC 164.
Stealing Shane Carwin's game plan, Barnett overpowered Mir against the cage, unloaded heavy shots and notched the quick victory.
You cannot ask for much more than that.
The only reason Barnett does not receive an A+ for the quick stoppage is because that D chord on his air guitar was a little flat.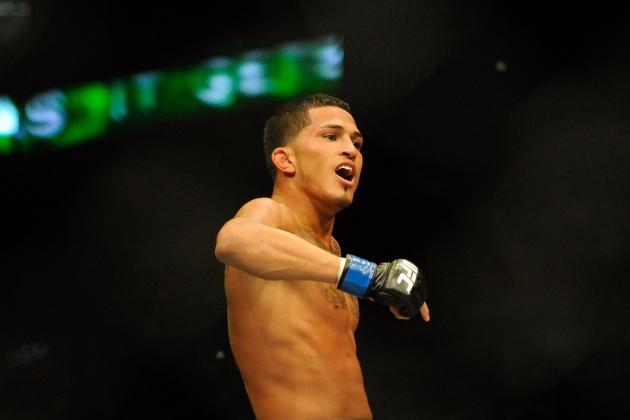 Benny Sieu-USA TODAY Sports

Is that an eBay feedback rating, or did Anthony Pettis do something special at UFC 164?
Benson Henderson just earned his Brazilian jiu-jitsu black belt, has been active in grappling tournaments and wore his gi to the Octagon Saturday evening.
Pettis is known as a striker who blends technicality and flash to create a crowd-pleasing style unlike any other.
If there was one area where Pettis would be overwhelmed in this bout, it was on the ground, where Henderson would smother him and rack up points en route to a unanimous-decision victory.
Pettis ended up on his back early, and rather than wither under Henderson's pressure, he attacked with a smooth armbar from the bottom, forcing the champion to verbally tap out and hand over his shiny golden belt.
Despite a relatively anti-climatic finish because of the nature of a verbal tapout, Pettis' performance was absolutely perfect in my eyes. He landed some crushing body kicks before the finish, showing that he could out-strike and out-grapple the champ.
Now that he's 2-0 against Henderson, there is no question that Pettis is the best lightweight mixed martial artist in the world.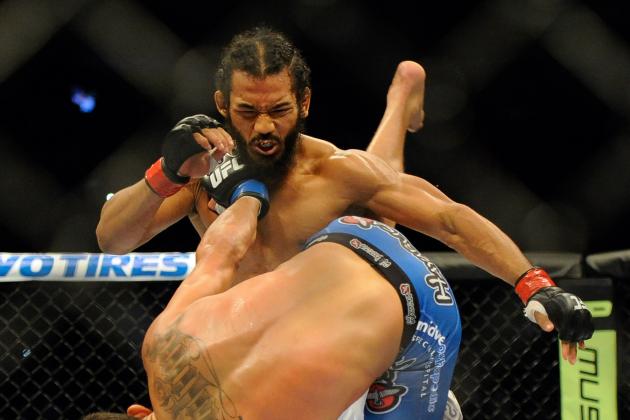 Benny Sieu-USA TODAY Sports

Is an "F" too harsh?
Perhaps.
However, Benson Henderson went 0-3 on his takedown attempts, got hurt by body kicks and was finished late in Round 1 against Anthony Pettis.
Even worse, it wasn't Pettis' dynamic striking that put him away—it was "Showtime's" grappling, the one area where the (former) champion figured to have the greatest advantage.
Henderson got beat at his own game, and the loss was quick and definitive.
That earns him an "F" in my book.