Texas Football: 10 Things We Learned from the Longhorns' Win over the Aggies
Cooper Neill/Getty Images

Phew.
The Texas Longhorns overcome a sluggish first 28 minutes of the game to throw up 56 points on New Mexico State to open their 2013 season with a good win in Austin.
The offense sputtered early on, as a Mike Davis turnover seemed to put a drag on the consistency. But Texas shrugged off the slow start to pour on the yard via the big play.
More importantly, the Texas defense's overall body of work was very strong.
Here are 10 things we learned from the 'Horns dominant win over the Aggies (no, not those Aggies...)
Begin Slideshow

»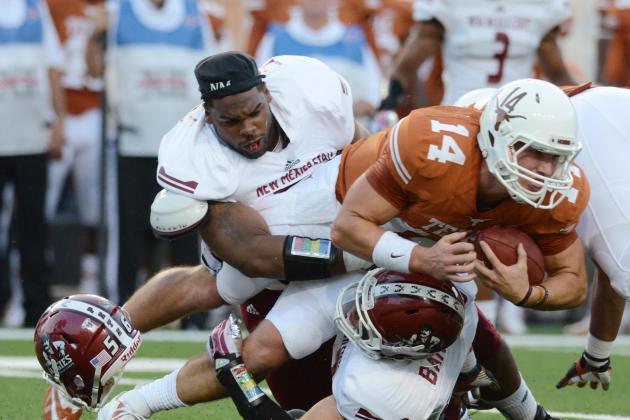 Brendan Maloney-USA TODAY Sports

Yes, it was against New Mexico State, one of the worst teams in the FBS last season, but there was still a need to make play after play.
After two interceptions, Ash responded with four touchdown passes. Moreover, Ash had a 55-yard touchdown score in the third quarter.
Ash's 434 total yards, 91 rushing yards and five touchdowns are all career-highs for the junior signal caller, and although he faced a seemingly overmatched New Mexico State defense, it was a good sign that Ash was able to execute the offense with ease late in the game.
Now it is time to look for a quick start.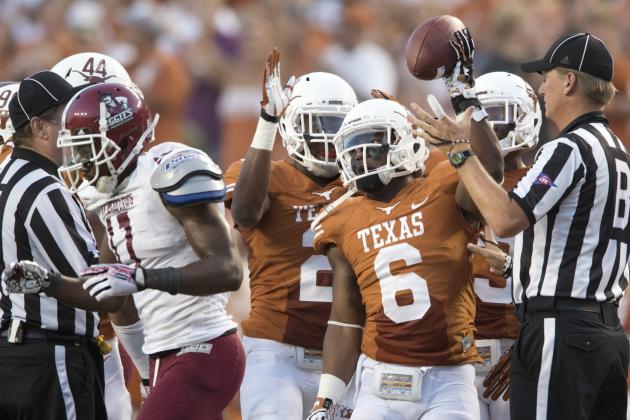 Cooper Neill/Getty Images

Say what you want, but Texas responded incredibly after getting punched in the mouth when New Mexico State struck first blood.
On both sides of the football, the Longhorns managed to wrestle control of the game late in the second quarter, and completely in the second half.
Big plays on either side had the 'Horns running away with a 42-0 run at one point.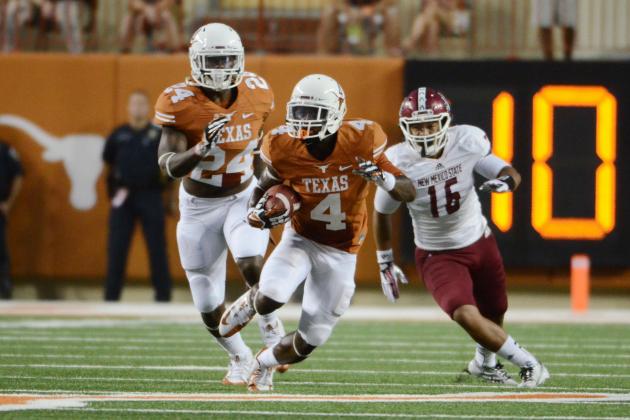 Brendan Maloney-USA TODAY Sports

If it ain't broke, don't fix it.
Sophomore RB/WR Daje Johnson racked up 129 yards from scrimmage and two touchdowns on nine touches. Keep getting this kid the football.
Co-offensive coordinator Major Applewhite did a great job of getting Johnson the ball with room to work, and if Texas can continue to do that, its offense will be in great shape down the road.
As long as Johnson continues to post big play after big play, there is no reason not to believe he can help carry the Texas offense.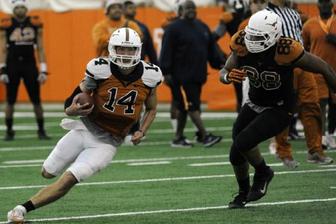 Junior defensive end Cedric Reed had a really good first start to his career.
Jackson Jeffcoat may be the go-to guy on the edge, but the 6'6", 260-pound Reed was able to put his size and athleticism on showcase as the Texas defensive line put in a good performance.
Reed proved to be strong at the point of attack, and he has an opportunity to build off of a strong first outing of the season.
He is no Alex Okafor, but Reed may have the highest ceiling of any defensive end who has recently come through Texas.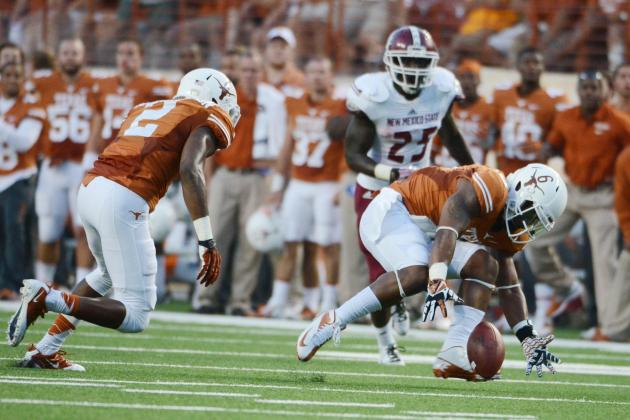 Brendan Maloney-USA TODAY Sports

With the good always comes the bad.
Although Texas' special teams coverage wasn't pitiful, it was far from acceptable as the 'Horns just couldn't squeeze the running lanes enough.
Texas typically prides itself on special teams, and it will need to see some big improvements as the non-conference schedule pours on.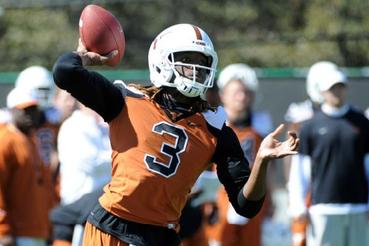 Texas got to test its depth at running back, and my is it deep.
Johnathan Gray did limited work in his touches, but Malcolm Brown, Joe Bergeron and Jalen Oversteet—a former quarterback—all have ripped off huge gains in both the running and passing game.
Late in the game, however, Overstreet picked up 92 yards on nine carries, including two touchdowns, one of which went for 38 yards.
Is Overstreet the newest weapon in Texas' backfield arsenal?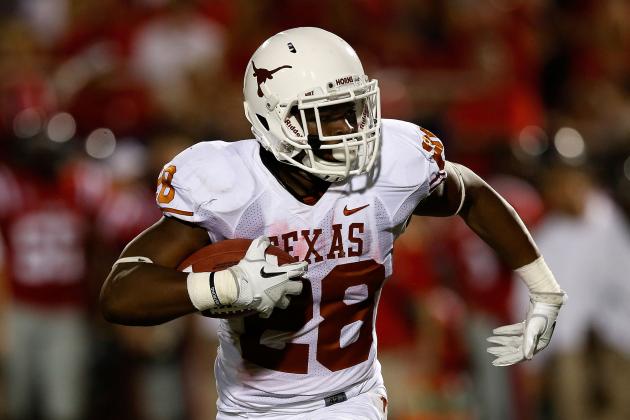 Scott Halleran/Getty Images

Texas' top two receivers against New Mexico State were running backs.
Malcolm Brown led all pass-catchers with 109 yards on just three receptions, one of which went 74 yards for a touchdown.
Daje Johnson picked up 67 yards on his three catches, nearly all coming from a 66-yard dump that went to the house.
The 'Horns have weapons in the backfield, and they will be using them in every phase of the offense.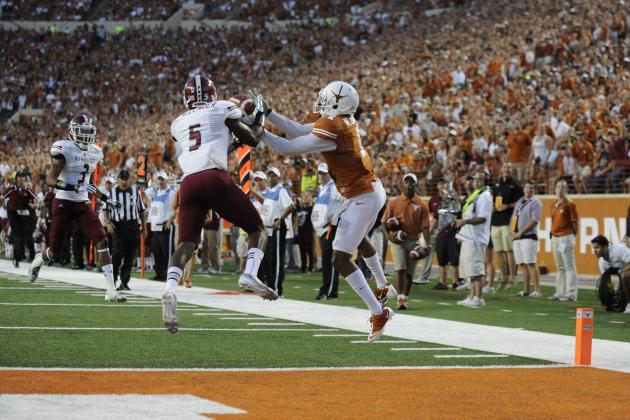 Brendan Maloney-USA TODAY Sports

One thing that stood out in Texas' dominant win was the blocking by the receivers, which helped spring big plays from Daje Johnson and David Ash.
Darrell Wyatt, one of Texas' co-offensive coordinators along with the receivers coach, made the move to Austin in 2011, and his work with the receivers has been far from reproach.
Wyatt has helped Mike Davis turn into a complete receiver with improved blocking, and Davis has become one of the biggest weapons on Texas' offense.
Keep up the good work, Coach.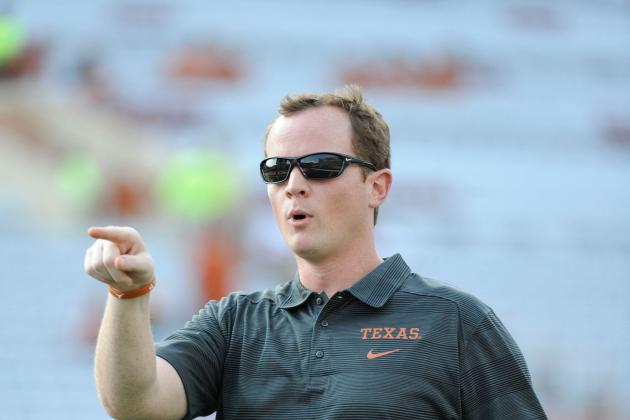 Brendan Maloney-USA TODAY Sports

Co-offensive coordinator Major Applewhite did a great job of staying with the offense and finding his playmakers in space.
David Ash and Daje Johnson were two of the biggest contributors on offense for most of the night, and it was Applewhite's gameplan with Ash's execution that helped the 'Horns tag 56 consecutive points on New Mexico State.
The slow start was the opposite of what Applewhite wanted, but the way he was able to manufacture points with speed is what the Longhorns will be looking for this season.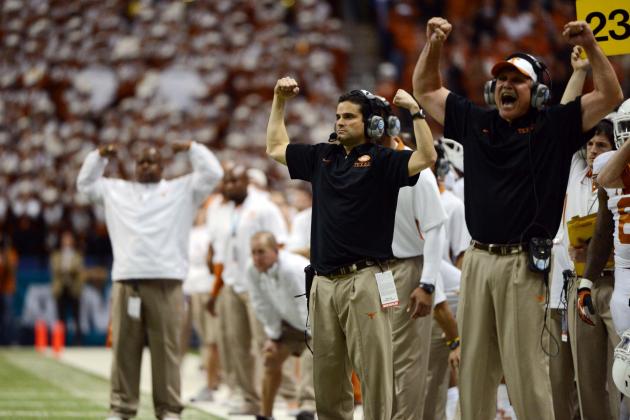 Brendan Maloney-USA TODAY Sports

Texas looked susceptible in the first-half as the Aggies pounded the flats with a short passing game. Complemented by a running game that really had some success with the option, New Mexico State had some really good things going for it in the first 30 minutes.
But the overall product on defense is praiseworthy.
Better form tackling, much fewer defensive letdowns and some big plays along the interior line are reasons that defensive coordinator Manny Diaz won back some fans on Saturday night.